U.S. Open
U.S. Open 2022: Once a revolutionary, Bryson DeChambeau is now just another guy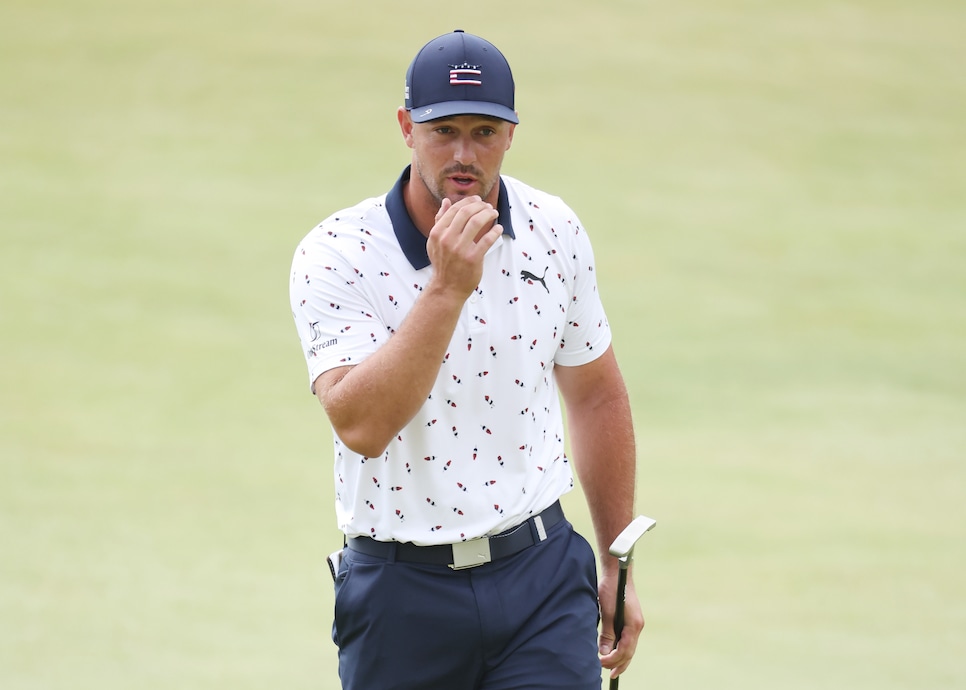 Bryson DeChambeau reacts on the seventh green during the second round of the 122nd U.S. Open Championship.
Warren Little
BROOKLINE, Mass. — For all the noise he had stirred it was awfully quiet. Initially this was chalked up to the Boston faithful taking Friday morning off after a draining Thursday night, their beloved Celtics falling short in the NBA Finals. This was quickly disproved, though, as crowds could be seen gathered around other holes and shouts and cheers heard from other recesses of the course. In this case the simplest theory proved correct: the player who had mattered so much suddenly did not matter much at all.
"Wait, is that Bryson DeChambeau?" a fan asked another while DeChambeau was lining up a putt on the fourth hole. "Didn't know he was here."
Bryson is here. A pair of 71s through two days at the U.S. Open will keep him here two days longer.
But the Bryson Phenomenon is over.
IT WAS ABOUT THIS TIME two years ago that DeChambeau's physical transformation—a transformation that was conceptually ambitious and aesthetically jarring—in pursuit of more distance became the sport's preeminent storyline. He contended in the tour's first three events in return from its three-month pandemic sabbatical and won the fourth at the Rocket Mortgage Classic. A month later he turned in his first top 10 at a major with at T-4 at the PGA Championship, and a month after that captured the U.S. Open at Winged Foot. It was seen not just as a personal triumph but a paradigm shifter that left the game at large in dazed resignation. When fans returned in 2021 DeChambeau was the main draw, his performance a spectacle in every sense in the word.
Not all publicity is wanted publicity, however. DeChambeau's play took a backseat to his personal feud with Brooks Koepka that spun wildly out of his control. He was nine holes away from defending his U.S. Open crown at Torrey Pines, only to stumble home with a back-nine 44. Then DeChambeau's caddie quit on the eve of the Rocket Mortgage Classic, he ripped his equipment at the Open Championship, had to withdraw from the Olympics after a COVID-positive test, made a misinformed statement about vaccination and began a media protest after his statement was ridiculed. Nevertheless, he stole the show at the Ryder Cup, did better than expected at a long drive tournament and made nice with Koepka, at least nice enough for both to earn a hefty paycheck for a Thanksgiving exhibition.
Entering 2022, DeChambeau was arguably the sport's second biggest needle mover behind a certain 15-time major winner. His performance, along with a perpetual gravitational pull to oddities both big and small, made it impossible not to have an opinion on who he was or what he was trying to do. If you had a conversation about golf, you would ultimately find yourself talking about DeChambeau.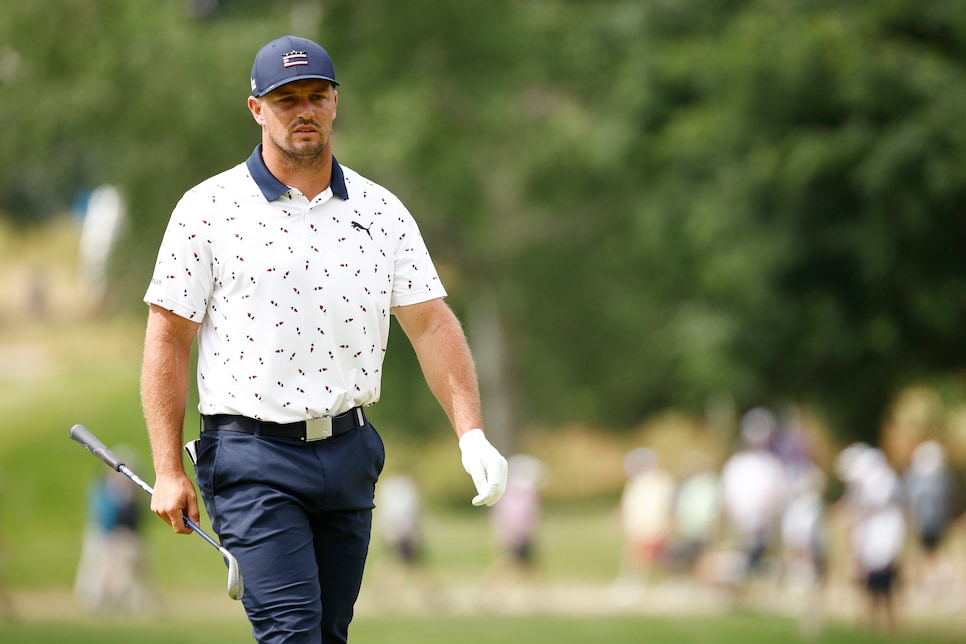 But that was then and this is now. And now, well, now DeChambeau seems like an afterthought.
This may seem cruel, but for all the discussion that has surrounded and been spurred by the beefy man over the past two years, DeChambeau has been largely ignored at Brookline. Theoretically some of that could stem from his slump, with a capital-S. It is a performance correlated to injuries, a torn left hip labrum and a hairline fracture in his left hand, with surgery on the latter forcing him out of the PGA Championship. Still, DeChambeau hasn't broken par since January and has not made a cut at a full-field event since August. If there's any solace to be found, it's that he doesn't have to worry about the cut line much longer.
Last week DeChambeau, after denying rumors on multiple occasions that he was defecting to LIV Golf, defected to LIV Golf, reportedly for a nine-figure signing bonus. In a taped interview earlier this week, DeChambeau called it a "business decision," a decision that means he is suspended from the PGA Tour and puts his future at major championships in question. On the back of that controversial move, in a rare public appearance, at a tournament he won so emphatically less than two years ago would seemingly portend a bigger spotlight to the actor who has dominated golf's stage for two years running. Instead he's been no more than an ancillary character.
GIVE BOSTON FANS this: DeChambeau has been treated well by those at Brookline, at least compared to the vitriol he has faced in a post "Brooksie" world.
Following DeChambeau Friday morning, one would have a tough time explaining to an outsider than the man in the Hogan cap has been one of the most divisive figures in the game. There were plenty of "Let's go Bryson!" shouts, and to almost all of them he would reply with a nod. When fans would reach out their hand for a clap on the way to the tee box DeChambeau would clap them back. On the seventh green a kid waved at Bryson and Bryson waved back. Those responses seem simple and they are, yet there is something to be said for letting galleries know they are heard. Yes, there were a few knuckleheads, but there are always knuckleheads, and even then those catcalls were mostly dumb ("Hey Bryson, make the right calculations!") than malicious. There were zero mentions of his decision to join the fledgling circuit that threatens to tear the professional game apart.
Then again, perhaps part of that reception stems from the fact there haven't been many to receive him.
DeChambeau was grouped with Gary Woodland and Justin Rose, and for the most part they were left to themselves. Fans instead gravitated to the super-pairings of Scottie Scheffler, Brooks Koepka and Cam Smith and Justin Thomas, Viktor Hovland and Tony Finau. A good contingent remained fascinated with the return of the prodigal Phil Mickelson. Some fans just wanted to walk the course, whoever was inside the ropes be damned, and the few times the group had a decent following it was because they came to a hole where fans were camped out, oblivious to the golf played in front of them.
Thing is, Bryson played well. He didn't do much to emit strong, positive reactions, missing a handful of makeable birdie looks. But birdies are rare at the U.S. Open, and just as valuable is keeping the bad at bay. Aside from a double-bogey hiccup at the fourth, DeChambeau did what he needed to do to keep himself in the proceedings. After the morning wave DeChambeau was in a tie for 45th, yet he's also only five shots off the lead. For the third straight year, DeChambeau will enter the weekend with a shot at the U.S. Open.
But fan sentiment is about more than score, and that so few were around to watch him asserted a hard but incontrovertible truth. There are dozens of marquee attractions this week at The Country Club. DeChambeau is simply not one of them.
It's somewhat hard to square, that the man who spurred a one-man revolt against the game's norms now works in silence. Maybe the distance was a novelty. Maybe after sucking so much oxygen the sport needs a second to breathe. Maybe fans do not recall who they regularly do not see. Maybe they know he is headed for the door and don't mind that he's heading that way. Whatever the case, Bryson DeChambeau, the once revolutionary, has become just another guy.
MORE U.S. OPEN COVERAGE FROM GOLF DIGEST