Look Ahead
British Open 2021: Jon Rahm's counterpunch, Rory at a crossroads and three other things to watch for Friday at Royal St. George's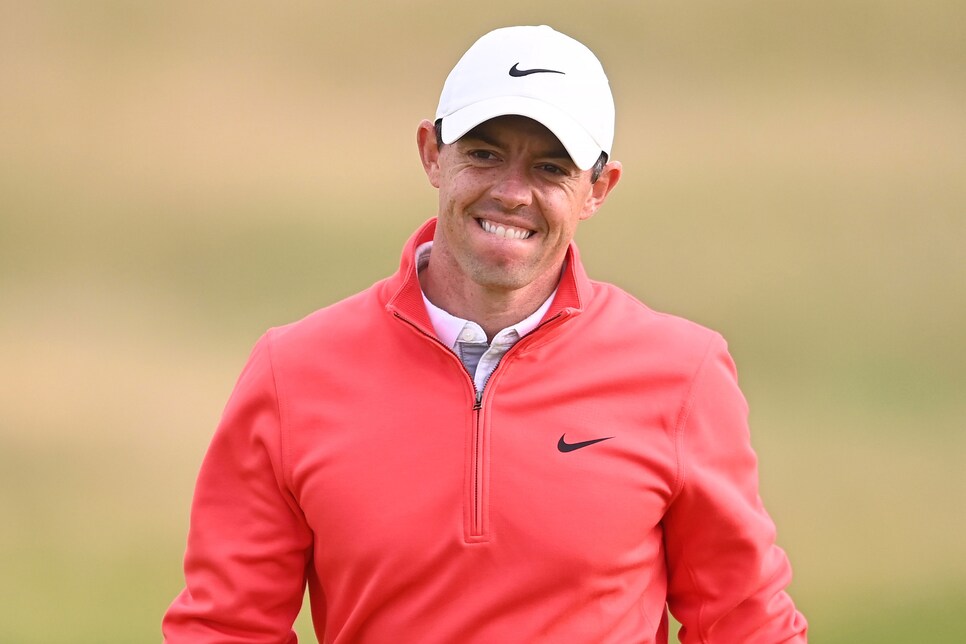 SANDWICH, England — The Open Championship does funny things with your sense of time. Assuming you're reading this in the United States, and assuming you're a golf nut like the rest of us—the first step is acceptance—you've likely been up since some ungodly hour, slamming way too many cups of coffee while watching the action from Royal St. George's. For our friends on the West Coast, first-round play will wrap up around lunchtime only to start up again at 10:35 p.m. All this to say: this is a piece previewing Day 2 of the Open Championship, but you'll be better off thinking in terms of rounds. So, Round 2.
Thursday's action saw Louis Oosthuizen, who seems intent on usurping Brooks Koepka's crown as King of the Majors—post a 64 amid gentler morning scoring conditions. Jordan Spieth is squarely in it after an easy-breezy 65, and while a number of other top-ranked players kept themselves within inside-voice distance of the lead, plenty of stars have serious work to do if they're to get back into it before the year's final major weekend.
Here are five things to keep an eye on heading into round two:
Can Jon Rahm get back into the mix?
For the first time since last year's Masters, we had a clear favorite heading into a major championship. With his play over the last month-plus—a blitzing of the field at the Memorial (before his frustrating WD), an epic U.S. Open victory and a solid showing in Scotland—the Spaniard put some distance between himself and everyone else in best-player-in-the-world conversation. Could he become the first player since Tiger Woods in 2000 to win both the U.S. Open and the Open Championship in the same year?
It's still possible, but it's a helluva lot less likely than it was 24 hours ago. Rahm played alongside Oosthuizen and defending champ Shane Lowry in the morning wave, where the vast majority of the low scores came from … and he simply never got off the mark. His one-over 71 wasn't disastrous, nor is a seven-shot deficit insurmountable over 54 holes. It should be noted, however, that 52 of the last 60 Open winners have been within four shots of the lead after the first round. And making just two birdies and failing to take advantage of either of the par 5s hardly qualifies as an ideal start. Rahm will have to stew on it for quite a bit, as he does not tee off in Round 2 until 2:59 p.m. local time, and he's one bad start away from having to worry about the cut line as the afternoon wind swirls on a seaside links. At the majors, life comes at you fast.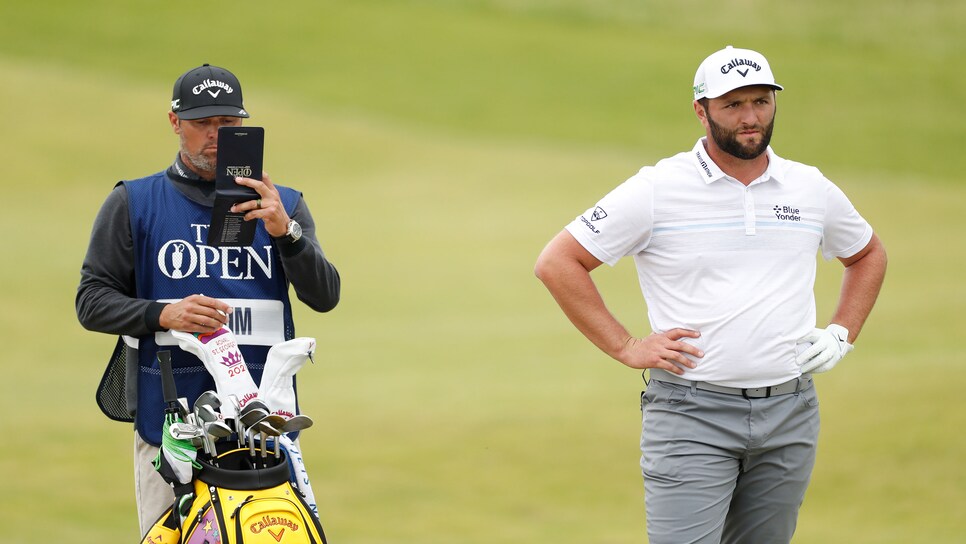 Will Royal St. George's punch back?
Thursday's leader board at the Open looked an awful lot like last Thursday's leader board at the Scottish Open. Red, red, red. Brian Harman sprinted out the gates, birdieing four out of his first five. Next came Mackenzie Hughes, who had it to five under for a while, Jordan Spieth got there and stayed there, only to be leapfrogged by Oosthuizen. Anyone who failed to break par on Thursday had to feel like they missed an invite to the party. We'll leave it to Dustin Johnson (two-under 68) to explain Thursday's conditions, for he tends to say a lot by saying a little.
"It's definitely a bit of wind out there today. It didn't play easy, but it was scorable if you were in the fairway."
And yet, there's longer than a long way to go, and a lack of rain the forecast should continue to dry this place out. It's still much greener than you'd expect from an Open venue, the product of significant precipitation on Sunday and Monday. And the R&A, as Jordan Spieth pointed out—"they put a few pins in some really fun spots for us today, where you could get at them in some bowls … if you hit some wedges you could feed it in … you might see some shots holed today"—threw the guys some bones. Smart money suggests we see more venomous test tomorrow. Remember last year at Winged Foot, when Justin Thomas shot 65 and 21 players broke par on Thursday? The USGA took note, adjusted, and only three broke par on Friday. Don't be surprised if the lead heading into the weekend is pretty darn close to where it is right now.
What driver will be in Bryson's hand?
It sure as hell doesn't seem likely to be the one he gamed on Thursday. After hitting just four fairways in an opening-round 71, DeChambeau railed against his custom 5-degree Cobra driver.
"With the driver right now, the driver sucks," he said. "It's not a good face for me, and we're still trying to figure out how to make it good on the mis-hits. I'm living on the razor's edge like I've told people for a long time. When I did get it outside of the fairway, like in the first cut and whatnot, I catch jumpers out of there and I couldn't control my wedges."
In turn, Cobra tour operations manager Ben Schomin—who caddied for DeChambeau at the Rocket Mortgage Classic after his abrupt split with Tim Tucker—responded, telling Golfweek: "It's really, really painful when he says something that stupid" and "it's like an 8-year-old that gets mad at you." How this will end is anyone's guess, but what is certain is that DeChambeau once again finds himself at the center of attention at a golf tournament, and it's not for his play.
Who from that second tier will emerge?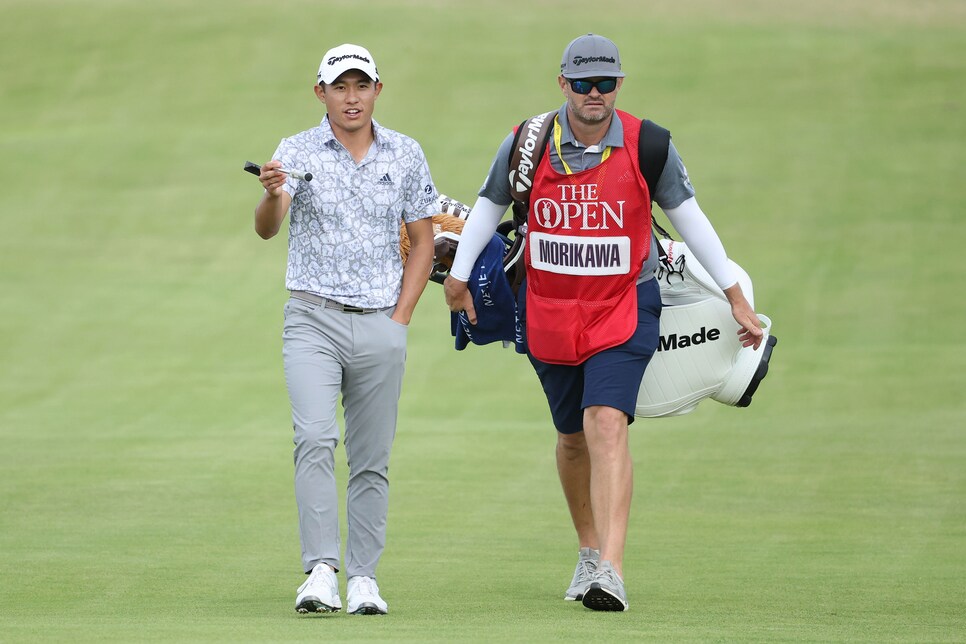 Lost amid the Louis-Jordan fireworks this morning was how a number of world-class players did exactly what they needed to in Round 1 of a major. Scottie Scheffler, who closed with 63-67-69 in his links tune-up last week in Scotland, opened with 67 in his first Open Championship. The Texan has been T-19 or better in each of his last five major starts and a big finish this week would do wonders for his Ryder Cup candidacy. Collin Morikawa, also in his first Open, made a late equipment tweak after struggling with making solid contact in Scotland—he replaced his TaylorMade P730 blades with a more forgiving P770 model from the 7-iron through the pitching wedge—and the early returns are positive for he matched that 67 in tougher conditions this afternoon. So did Tommy Fleetwood, thanks to a birdie at the last. Viktor Hovland, Paul Casey, Sergio Garcia and Dustin Johnson all sit on two under, officially in "lurking" territory. The thing about lurking, though, is it implies the lurker will eventually pounce.
Can Rory avoid repeating his Open heartbreak of 2019?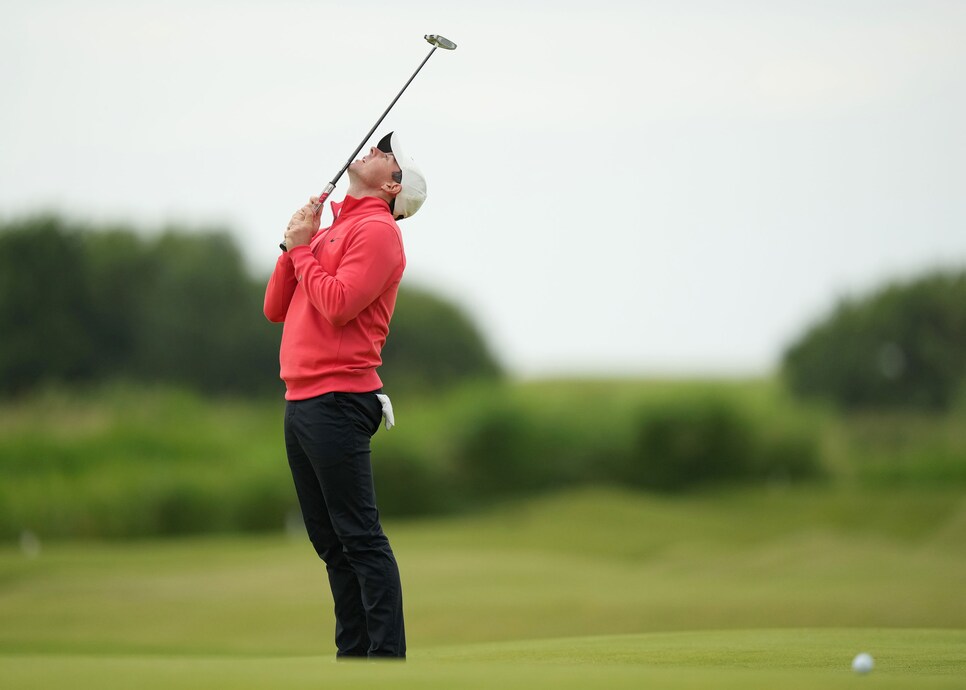 He'll never play a more emotional tournament than two years ago at Royal Portrush, on home soil in Northern Ireland. Recall, McIlroy made quadruple bogey on the first hole, shot 79 on Thursday, then clawed back with 65 on Friday only to miss the cut by one, fighting back tears after the round. This week presented an opportunity to flush away that fraught memory, and he got off to a perfect start, birdieing the first and giving himself a good look at the second. But the round stalled then with a missed putt, and he needed to play his last five holes in two under to get in the house at even par. An impressive battle back, but Rory's swing tweaks still look a work in progress—he finished T-51 against a week field at the Irish Open and missed the cut at the Scottish—and a second straight missed cut in an Open remains a possibility.