Glad he made the trip
British Open 2021: The man who didn't want to play in the Open is among its leaders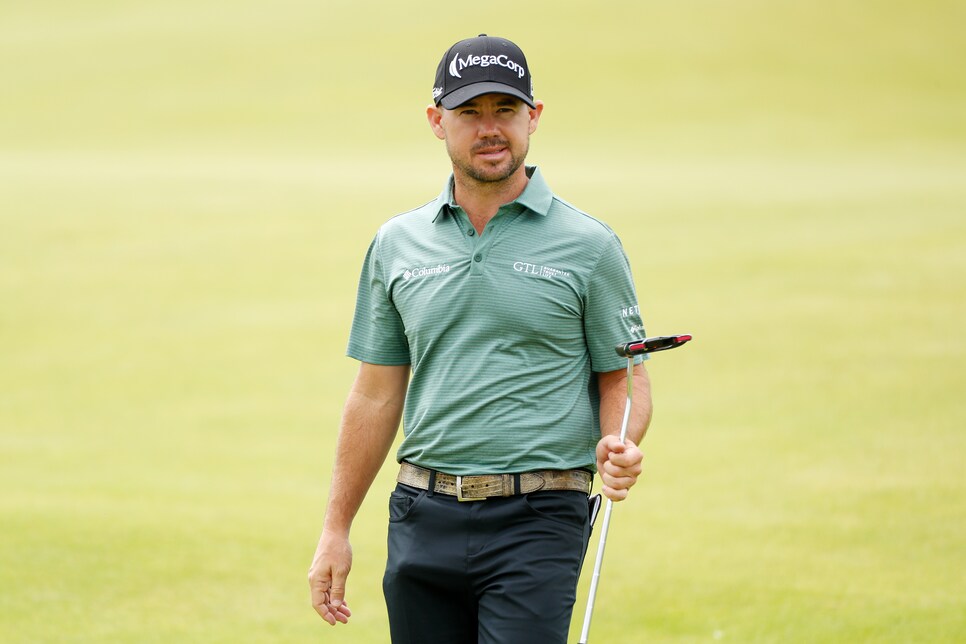 He almost didn't come, deterred by travel restrictions and perceived hypocrisy. He ultimately did thanks to a bit of carpe diem and a creeping sense of career mortality. Judging by his Thursday performance, Brian Harman is glad he came.
Harman, who a week ago expressed doubts on playing in the Open, is now hovering near the top of its leader board with an opening-round 65.
"I'm driving it well, but it was nice to hit some really good iron shots with some command," Harman said Thursday. "Just clean it up a little bit and I think I'll have a decent chance."
The 34-year-old's day is a simple one, really. Got hot, opening with four birdies in his first five holes. Stayed cool, traversing the next 12 in even par and finishing his round off with a 15-foot birdie. He stayed out of the gorse (10 of 14 fairways) and gave himself a birdie look on 15 greens. It was not necessarily a magical round as much as it was surgical.
"Well, for me it's about getting on the greens," Harmon said. "That's been my struggle this year is trying to get the ball on to the green. I've been putting good. My short game has been great, so I've been able to hang around."
The course was gettable in the morning wave, the wind mostly down and the fairways and greens tame, failing to generate the usual displays of ricochets and bounces seen in this championship. Still, Harman is only looking up (on the yellow Open boards, that is) at Louis Oosthuizen, who by golf bylaws must be among a tournament's leaders for said tournament to count as a major.
Now the Open is famous, arguably notorious, for producing champions that seemingly lack major championship pedigree. On the surface that would apply to Harman, who has enjoyed a nice, lucrative career, yet a career that's produced just two PGA Tour wins in more than 280 starts and a lone top-10 finish in 21 major outings. Conversely Harmon carries a reputation more robust than his profile conveys.
He is affectionately known among the press as a "big game hunter," a guy who punches above his weight. Admittedly it is a bit rooted in his diminutive stature (5'7", 150 lbs.) and relative lack of pop (143rd in distance) in a game that punishes anything less than large, instead going about his business in the old-school manners of a sound short game (16th in SG/putting) and keeping the big numbers at bay (14th in bogey avoidance). It is also a reputation stemming from an ice-cold demeanor that announces "I will take on anyone anywhere anytime" with the bite to back up the bark. He's played on two U.S. Walker Cup teams and posted four top-10s in his last six WGC appearances and three finishes of T-8 or better in his past six Players starts. He is not a star but is a gigantic pain in the behind to play against, in the most complimentary tone possible.
In that same breath, Thursday was unexpected. Harman had played in five previous Opens and missed the cut in four of them. And just eight days ago in a press conference at the John Deere Classic, Harman expressed his displeasure at the rigid protocols in place at Royal St. George's, especially against the juxtaposition of the crowd size.
"Unfortunately, now that we're used to the changing scenarios, we've gone from different states and we've had to deal with the different local health officials, so it's annoying," Harmon said. "I'm excited to go play the British Open. I think it's a little silly to let in 32,000 fans but to treat the players like—we're treated differently than the fans are, and that's the frustrating part. I know the R&A kind of has their hands tied, but we'll go over there and we'll make the best of it, but it'll be nice to come home, too."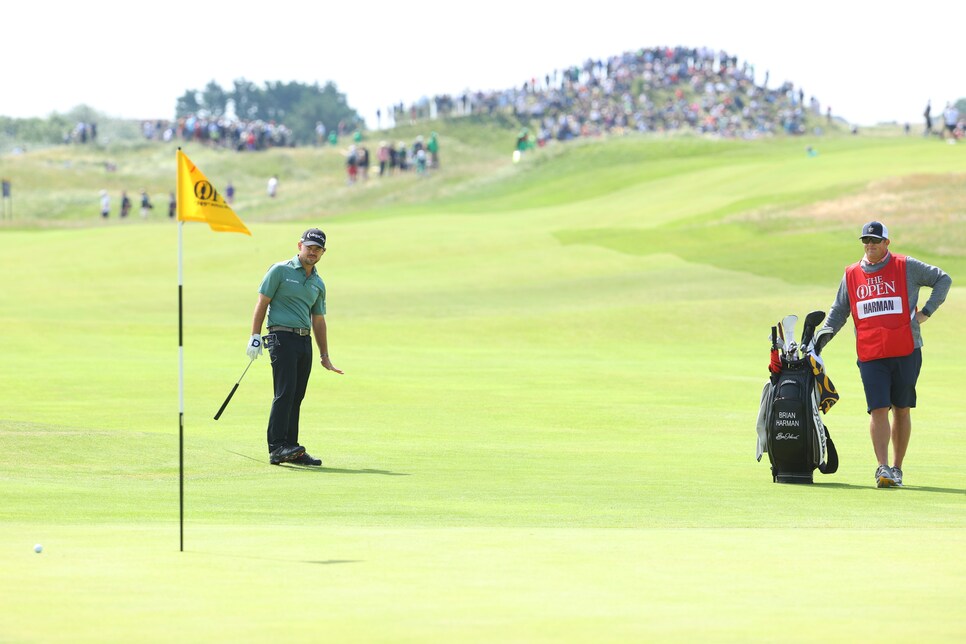 So what spurred Harmon to make the trip? He is playing well, with four top-10s and eight top-20s in his past 10 starts. However, call it self-awareness, or maybe a realization of the impermanence that's associated with professional golf. Harmon understood the opportunity before him, and that the opportunity had a shelf life.
"What made up my mind to go is that I'm 34 years old, so the way I see it I've probably only got maybe 10 more realistic chances to try to win the British Open," Harman says. "You know, my time is limited. It's hard to think about, but I'm probably around halfway through my career, and yeah, I'm not going to … very rarely does someone compete when they're 50 over there. It's hard to do.
"I'm playing well. I really want to win that tournament, and that's why I'm going."
Through 18 holes, he's doing just that. In keeping with Harmon's concept of time, 18 holes, particularly on a Thursday, are fleeting. They can be made forgotten by Friday. Thursdays also shouldn't be dismissed; last time we checked, they still count.
"Yeah, you don't want to be playing catch-up in majors. I've definitely gotten burnt doing it a couple times," Harmon said. "Just going to try to keep going what I had going today and see what the course gives me."
It is the proper mentality. A hunter's mentality. That's the paradox of hunting, actually. You let the prey come to you. It's about positioning and making the most of the chance when it comes.
Harmon took care of the first matter by making the trip to Royal St. George's. The second is off to a good start.
MORE BRITISH OPEN 2021 STORIES FROM GOLF DIGEST: