It's been quite a year in golf. A dramatic one, if nothing else. And like any good drama, the stage was set with different characters, hitting their lines, playing their parts in moving the story along. So, now, with that analogy not tortured enough, let's dive into to the key plot points of the year, and what they meant at the time.
'U missing cuts is getting old!' —Kevin Na, Jan. 14
If you recall, Murray took issue with Na walking in putts. Na zinged Murray for missing so many cuts. Which then led Murray to jab at Na for slow play. It was the kind of side drama that used to be an unforgettable story during an ordinary golf season. Of course, this was to be no ordinary year…
"The media rights are but a small fraction of everything else. And it is the tour's obnoxious greed that has really opened the door for opportunities elsewhere." —Phil Mickelson, Feb. 2
"They're scary motherf****ers to get involved with. We know they killed [Washington Post reporter and U.S. resident Jamal] Khashoggi and have a horrible record on human rights. They execute people over there for being gay. Knowing all of this, why would I even consider it? Because this is a once-in-a-lifetime opportunity to reshape how the PGA Tour operates." —Phil Mickelson, Feb. 18
Never one to bite his tongue, Phil Mickelson spent the early part of 2022 laying the groundwork for his eventual defection to LIV Golf. First came his interview with Golf Digest's John Huggan at the Saudi Invitational, where the World Golf Hall of Fame made public his frustration with the PGA Tour over, in his opinion, their perceived hoarding of media rights around individual players. Complaining about "obnoxious greed" turned out to be fairly tame, however when, later that month, the Fire Pit Collective published a conversation writer Alan Shipnuck had with Mickelson while researching a biography on the the golfer. During their interview, conducted the previous November, Mickelson acknowledged that those critical of LIV's potential rise in the golf world because its funding was coming from Saudi backers guilty of a shameful record on human rights had valid points. Even so, Mickelson was willing to ignore that to have the chance to upend the tour's status quo. In an instant, Lefty had made himself the singular enemy of both tours. His sponsors fled the ship, as did the players who were preparing to sail with him into open waters.
"It's dead in the water." —Rory McIlroy, Feb. 20
"We are and we always will be focused on legacy, not leverage." —Jay Monahan, March 8
In many ways, the tour's response to an existential threat like LIV was cast back in 1996, when Tiger Woods—a once in generation marketing, cultural, industrial and golf icon—turned pro and began to compete on tour. At the time, the European Tour was a seemingly stout competitor. But the rise of Tiger brought with it hoards of attention and money, which drew talent that otherwise may have plied its trade in Europe. It consolidated professional golf singularly on American shores and insulated the tour from the fomenting concerns that would eventually set the stage for a disruptive internationally-focused force, such as LIV.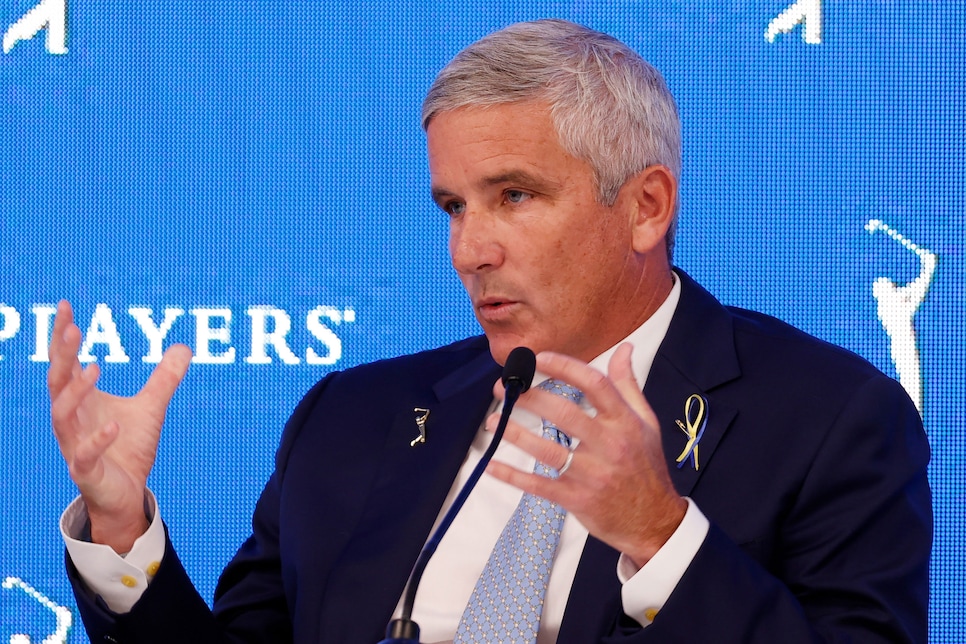 The 2022 Players Championship encapsulated the kind of dismissive attitude throughout LIV's rise. McIlroy had declared the league "dead in the water" in the midst of the fallout to Mickelson's comments at the Genesis Invitational, and commissioner Jay Monahan chose the Players to take his own victory lap. The PGA Tour would proceed down its current course, and players would need to fall in line. It proved hopelessly premature. The next battle would be soon to come, and it's perhaps fitting that the eventual champion of the tour's flagship event was an Aussie who a few months later, had found a new home tour.
"I cried like a baby this morning. I was so stressed out. I didn't know what to do." —Scottie Scheffler, April 10
But amidst the off-course drama, Scottie Scheffler was quietly and clinically performing some astonishing feats on it. The young Texan came into the season winless, then ran hot. Really hot. He won three times in five starts and had risen to World No. 1 ahead of the Masters. Then, he slipped on the green jacket. Scheffler was defined by his even-keeled, laissez faire attitude throughout it all, but in his victory press conference he finally pulled back the curtain.
"It's that time of the month. I know the ladies watching are probably like, 'yeah, I got you.'" —Lydia Ko, May 1
A quick shoutout to Lydia Ko for speaking with more honesty than any professional golfer this year. Stumbling down the stretch at the LPGA's Palos Verdes Championship, Ko spoke about it being "that time of the month," which caused her back to get tight and her game to suffer as a result. The answer caught then Golf Channel reporter Jerry Foltz so off guard, he struggled with a follow-up. But give credit to Ko; it's not often a professional athlete will speak so openly about a relatable and human issue.
"I wish I could do it again." —Mito Pereira, May 22
All week at the PGA Championship, we were waiting for upstart Mito Pereira to come back to earth. For three rounds it didn't happen. He was leaking oil during his final round, but time was running out. When he got to the 71st hole, the Chilean led by one. He was going to hold on just enough.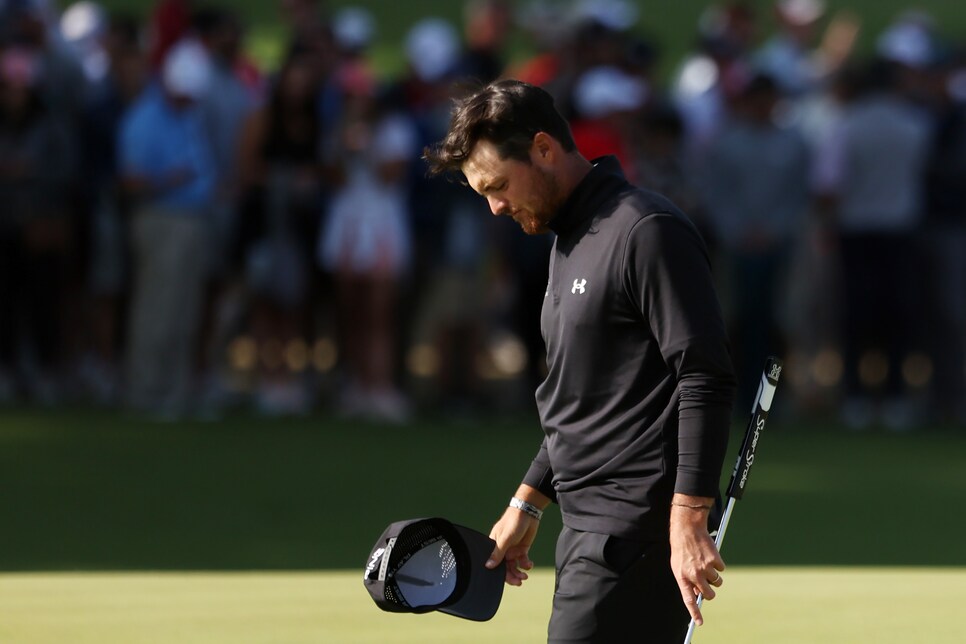 Maddie Meyer/PGA of America
Then, it all came tumbling down. A drive into the water, then a drop and an iron shot long of the green. With the green sloping away from him, it took him three more shots to get down. His double-bogey 6 meant he missed the playoff by one shot. Devastated, Pereira showed his true character and class after the fact, when he answered every question from reporters as the tournament rumbled on without him.
"I'm a golfer. I'm not that smart. I try to hit a golf ball into a small hole." —Talor Gooch, June 7
"I haven't played a Ryder Cup or a Presidents Cup, but can't imagine there's a whole hell of a lot of difference." —Talor Gooch, July 2
June marked the start of the LIV golf season, at Centurion Club outside of London. With it brought a barrage of cutting questions from the notoriously ruthless British press. The responses from players can be described, at best, as muddled, as was the case for Gooch. But it marked the start of the trend of the summer: LIV dominating every conversation.
The funny part about Gooch's first quote is that many people were using it as an explanation for his second one. The notion that a LIV Golf's first event in the U.S. at Pumpkin Ridge Golf Club had an atmosphere like a team match play event was simply prepostorous, as the expression on Patrick Reed's face standing next to Gooch when he uttered the line suggested. Gooch admitted that he took quite a bit of heat from fellow players for his observation, eventually causing him to say "Maybe a little bit aggressive of a comment."
"This might have been my last Open at St. Andrews." —Tiger Woods, July 15
Tiger Woods struggled through his third round at the PGA Championship in obvious pain, then withdrew and subsequently skipped the U.S. Open. It was a bitter blow, but for golf fans, those rounds were a means to an end. Everything was geared towards the 150th Open Championship.
The Old Course is Tiger's favorite course—one he had claimed victory on twice before—and wasn't physically demanding like this others. But the golf gods are a ruthless bunch. Tiger's swing looked stiff, and his short game rusty. He missed the cut, and perhaps his final chance of winning a St. Andrews Open.
"I just won the British Open, and you're asking about that. I think that's pretty not that good. … I don't know, mate. My team around me worries about all that stuff. I'm here to win golf tournaments." —Cameron Smith, July 17
Another awkward LIV moment, this time from St. Andrews. Smith's answer to the question of his interest in jumping to LIV Golf in his victory press conference set off a fire storm of speculation that lasted through the end of August and the conclusion of the FedEx Cup Playoffs, when the Aussie finally, indeed, jumped to LIV.
"If LIV Golf is elite golf's future, what do [the players] care about the dust-collecting trophies of a bygone era?" —U.S. District Judge Beth Ann Labson Freeman, Aug. 11
The world of professional golf had descended into a full-blown civil war by this point, and a California courtroom had become a new battlefront. When the tour banned LIV participants from playing in PGA Tour events, a group of players followed through with LIV Golf CEO Greg Norman's threat of suing on antitrust grounds.
Ruling in LIV's favor would've allowed players to temporarily bounce between tours, but Beth Ann Labson Freeman came down on the side of the tour. An oversimplified explanation of her logic makes sense: If the PGA Tour had truly proven itself a monopoly capable of stifling competition, LIV Golf as an entity wouldn't be able to exist.
"It's been a giant pain in my ass. There's no other way to put it. It's been brutally difficult in many ways, not just for the Presidents Cup but also because I'm a member of the PGA Tour and DP World Tour." —Trevor Immelman, Aug. 23
Outside of PGA Tour Commissioner Jay Monahan, LIV's rise made nobody's job more difficult this year than Presidents Cup International Team captain Trevor Immelman. Two if his top four players—including Players and Open champ Cameron Smith—were off the team thanks to their decision to jump to LIV.
It was a loss that threatened to make the contest uncompetitive. But the International team fought through it. Tom Kim rose as an unexpected star, and the underdogs made the Presidents Cup both entertaining and closer than anybody would've expected.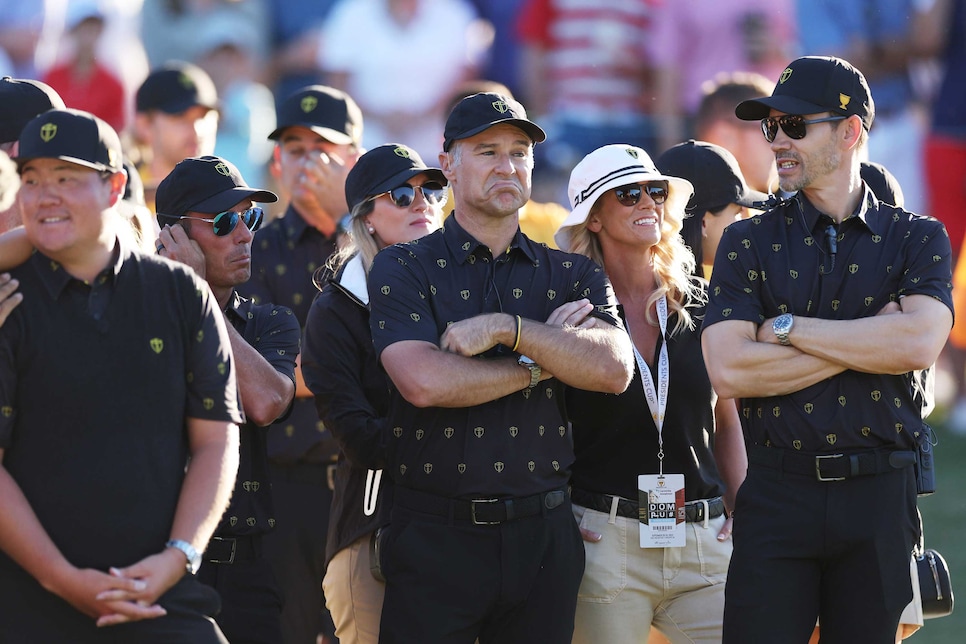 "I didn't know if this moment would ever come." —Jodi Ewart Shadoff, Oct. 9
"I've worked so hard over the last 12 months to get back to this place." —Rory McIlroy, Oct. 23
October was a month for comebacks.
Rory McIlroy rose to become the star both on and off the course in 2022. It was quite the shift from 2021, when McIlroy admitted he mired himself in too many technical golf swing thoughts which, in practice, would lead to these wicked double-crosses. But McIlroy built himself back, and during his CJ Cup victory, he dominated in every facet of the game. It was McIlroy back to his very best.
On the LPGA Tour, the winless streak was a little longer—but it made the taste of victory all the more sweet. It took 246 starts across 11 years for Jodi Ewart Shadoff to snag her first win. But it finally came, at the LPGA Mediheal Championship. The 34 year-old Englishwoman led the tournament wire-to-wire, and claimed the victory by a shot over former U.S. Open champ Yuka Saso.
"Stand on that bridge, start waving, and everyone goes, 'So, is that it?' Yeah, it is. It would have been a glorious way to go. The stands were full, the world's TV cameras—from all continents—were on him, he's walking up there on his own, tears were in his eyes, obviously, you can't beat that walk. I've done it myself. When the stands are full, you cannot beat that walk. … I tell you what, that is a special, special arena. It's a theatre. That was the time for Tiger to say, 'OK, I bow out.' Why go on? Go out at the top. It's something that very few can do." —Colin Montgomerie, Dec. 12
Colin Montgomerie, of course, caught some heat for explicitly saying that Tiger should've retired at St. Andrews on The Bunkered Podcast. It wasn't intended to be mean spirited—and it wasn't—merely a reflection that Tiger has earned his right to relax, stop playing through pain, and ride into the sunset.
It's something we've all wondered about, so it's worth remembering why Tiger never takes that advice: Because to him, the grind, the hard work preparing, the competing; that is the fun of it. He's spent his life doing exactly that, and even with his body failing him, there's nothing he'd rather keep doing.