Oops!
British Open 2022: Tour pros are giving Talor Gooch all sorts of grief for his LIV/Ryder Cup comparison
ST. ANDREWS, Scotland — Yes, Talor Gooch knows he caused quite a stir a few weeks back. Comparing the atmosphere of one of the biggest events in golf to that of an upstart tournament was, in hindsight, a mistake. If he didn't know that from the social-media beating he took in the wake of comparing the LIV Golf Invitational at Pumpkin Ridge to a Ryder Cup—"I haven't played a Ryder Cup or a Presidents Cup, but can't imagine there's a whole hell of a lot of difference."—he certainly has learned it this week while playing at the Open Championship.
"Maybe a little aggressive of a comment," Gooch said on Friday after finishing his second round at the Old Course. "Rightfully so, I've taken a little bit of heat for it."
Not from fans necessarily, although the occasional catcall has been heard. Rather it's his fellow players who have been having fun with at the 30-year-old's expense.
"Yeah, a bunch of players came up, and they're like, 'Really? Really?'" Gooch said. "I was like, hold on a second, guys. Give me a little break. I just won [Gooch's team had won the team competition]. I was in the moment."
And just what did they say?
"I don't know if I can say it out loud. It's everything you could expect. … It's been everything you can imagine. Hey, that's all right."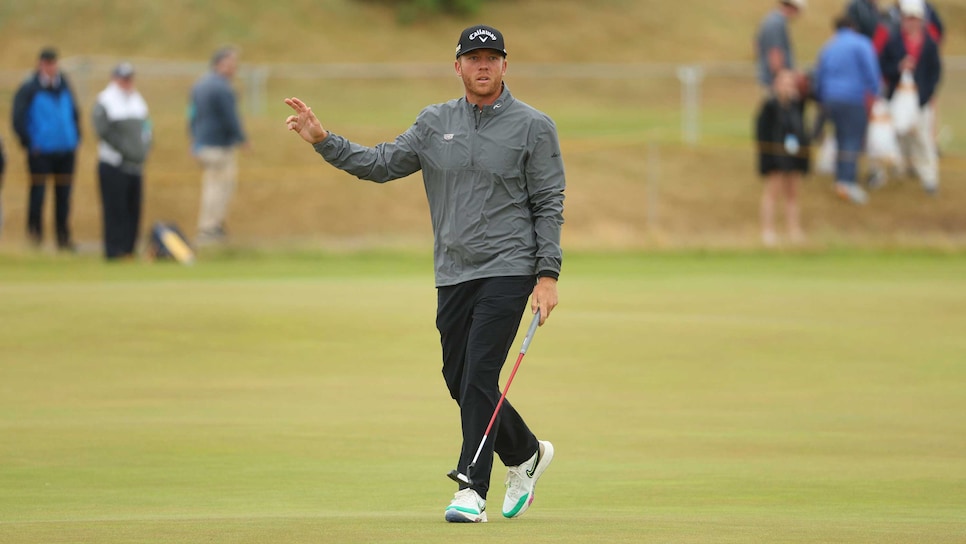 Talor Gooch is playing in just his second Open Championship and eighth career major.
Andrew Redington
Suffice it to say, Gooch has been able to keep the backlash from being among the 23 LIV golfers in the field this week at St. Andrews from impacting his game. After shooting an opening-round 68 under the more difficult afternoon conditions on Thursday, Gooch followed with a three-under 69 Friday to sit two back of Dustin Johnson after the finish of the early wave.
Gooch said conditions were noticeable softer on Friday, thanks to some morning rains, but the hole locations were more difficult than in Round 1. He had four birdies with a lone bogey coming after a three-putt on the 16th green.
"I was able to keep the ball in the fairway," Gooch said. "I avoided the bunkers today and was able to … the pins were really, really good today. They were really, really challenging. It was tough to get it close."
He knows there are some hoping he doesn't stick around the leaderboard on the weekend, a faction of the game rooting against those players tied to the Saudi-backed LIV Golf series. In that sense, he feels a bit galvanized.
"Yeah, for sure. Everybody, it feels like, is against us, and that's OK," Gooch said. "Like you said, it's kind of banded us together, I think."
Gooch reiterated that it was not actually his intent to play full time on the breakaway circuit, but rather just in the debut event at Centurion Club outside of London. But after the PGA Tour suspended him, he decided to go ahead and sign a full agreement with LIV.
By doing this, Gooch knows that getting into major championships might become more difficult, having. seen his World Ranking fall from 31st early in 2022 (not long after his lone PGA Tour win at the RSM Classic) to 40th entering this week. It will continue to fall since he won't be playing in events that award World Ranking points in the near term. Perhaps that's why he is trying to soak up the atmosphere of this major, the only the eighth he has participated in during his career, in particular. It's just his second start in an Open and his first time at St. Andrews, a moment special enough that he made sure to bring his wife and 1-year-old along for the trip.
"I'd like to think that the majors would like to have the best players in the world playing in their events in spite of everything that's going on," Gooch said. "But obviously that's not up to me. It's up to other people. Hopefully this won't be my last one."
If he plays well enough on the weekend, he can make sure that isn't the case.