LIV Golf
British Open 2022: That cold shoulder LIV players are sensing from the R&A is not just in their heads
ST. ANDREWS, Scotland — The R&A is a decorous bunch, officials strategic when they speak and careful with their words when they do. They are not prone to hyperbole—if anything, they err on the side of vanilla, forcing you to read between the lines to decipher their true feelings on a matter. Telling, then, that chief Martin Slumbers rebuked LIV Golf as firmly as he did on the eve of the historic 150th Open Championship at St. Andrews.
"Professional golfers are entitled to choose where they want to play and to accept the prize money that's offered to them," Slumbers said Wednesday during his annual press conference ahead of the championship. "I have absolutely no problem with that at all. But there is no such thing as a free lunch. I believe the model we have seen at Centurion and at Pumpkin Ridge is not in the best long-term interest of the sport as a whole and is entirely driven by money. We believe it undermines the merit-based nature and the spirit of open competition that makes golf so special.
"I would also like to say that in my opinion the continued commentary that this is about growing the game is just not credible and if anything is harming the perception of our sport that we are working so hard to improve."
While USGA CEO Mike Whan noted at last month's U.S. Open that he was "struggling" with how the insurgency from LIV Golf was "good for the game," the USGA stayed outwardly cordial toward the players themselves, bringing in LIV Golfers for press conferences and assigning players groupings commensurate with their status in the game. The R&A? Not so much.
Their not-so-subtle stiff-arming of the defectors—there are 23 players in the field who have either played in a LIV event or committed to doing so in the future—began before the week even started, when they asked Greg Norman not to attend the the ceremonial festivities being held in conjunction with the 150th playing of the event. Their justification: this week should be about the 150th Open, and his presence would be a distraction. Essentially: this is our party, and you're not invited.
It continued into the early part of the week, when the press conference schedule did not feature a single LIV player. Not Phil Mickelson, an Open Champion and legend of the game, and not Louis Oosthuizen, a runaway winner at St. Andrews in 2010. Not Dustin Johnson, a two-time major winner who's had plenty of close calls at the Open. Not Bryson DeChambeau, a U.S. Open champion with a massive following. And not Brooks Koepka, the best major championship player of the last half-decade.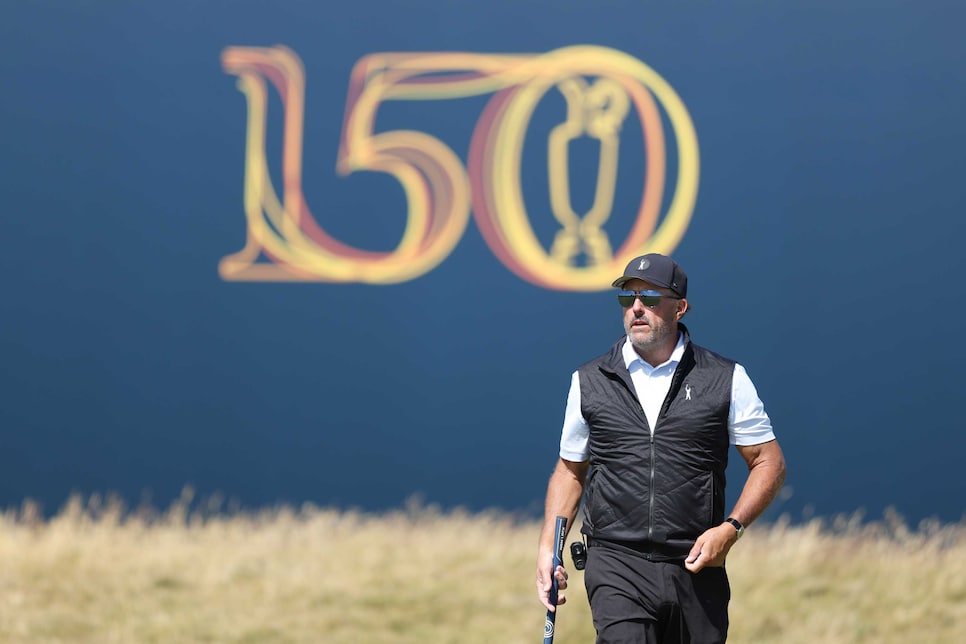 Phil Mickelson looks on during a practice round prior to The 150th Open.
Richard Heathcote/R&A
Next came the release of the opening-round pairings, which included your usual dose of "supergroups." Rory McIlroy, Collin Morikawa, Xander Schauffele. Tiger Woods, Matt Fitzpatrick, Max Homa. Justin Thomas, Viktor Hovland, Shane Lowry. Will Zalatoris, Tony Finau, Hideki Matsuyama. The thing is, none of these loaded threesomes include any LIV Golfers.
World No. 21 Abraham Ancer is playing with Emiliano Grillo (No. 128) and Yuto Katsurgawa (No. 128). Before pulling out with an injury on Thursday of the U.S. Open, he was set to play with Thomas Pieters (No. 34) and Sam Burns (No. 11) DeChambeau is with John Daly and Cameron Tringale, this week. At Brookline, Bryson played with fellow U.S. Open winners Gary Woodland and Justin Rose. Lee Westwood will play with J.T. Poston and Stephen Dodd on Thursday. At last year's Open, the Englishman played the first two rounds with major winners Stewart Cink and Martin Kaymer.
Perhaps the most egregious: Phil Mickelson, six-time major champion, will play his first two rounds alongside Lucas Herbert and Kurt Kitayama, the latter of whom only got into the field with a runner-up finish at the Genesis Scottish Open last week. At the U.S. Open, Mickelson was paired with Oosthuizen and Shane Lowry.
When told of Mickelson's grouping, Kevin Na appeared shocked. He's done his best to avoid paying attention to the bickering, as most of the LIV guys have, so he did not know, and he made it clear that he had the utmost respect for both Herbert and Kitayama, both of whom are excellent players. But it's rather hard to imagine Mickelson getting the same pairing had his last event been the Scottish Open rather than LIV Portland. Ancer, among the more amicable presences in world golf, is choosing to ignore the noise.
"Personally, I haven't felt any tension. Everyone has been really welcoming and nice to me. Obviously it's a very sensitive topic right now, and everyone has their own opinion and views on it," Ancer said. "I try to put my blinders on. I can't control anything beside what I do. I block it out, do what's best for my game, what's best for my preparation. The game's hard enough."
Other LIV players aren't feeling quite so diplomatic, and they're increasingly hanging around each other. On Wednesday, Mickelson played a practice round with fellow LIV players Bernd Wiesberger, Sergio Garcia, Jediah Morgan and the newest LIV commit, Paul Casey.
That's a natural progression given the team aspect of LIV, but it's also a case-study in social psychology: when one group feels a touch ostracized, they band together. In Portland, Talor Gooch told Golf.com that the LIVers have "been banded together by all the scrutiny, by what other people think." In St. Andrews, Na suggested he too, felt a sense of camaraderie with his new peers.
"It's not necessarily negativity that's bringing us together—it's our shared belief in a concept that we think is new, exciting, and going to be successful," Na said. "You're definitely seeing LIV guys play more practice rounds with LIV guys, fist bumping, all that stuff. We're having fun, and we're on the same page with things."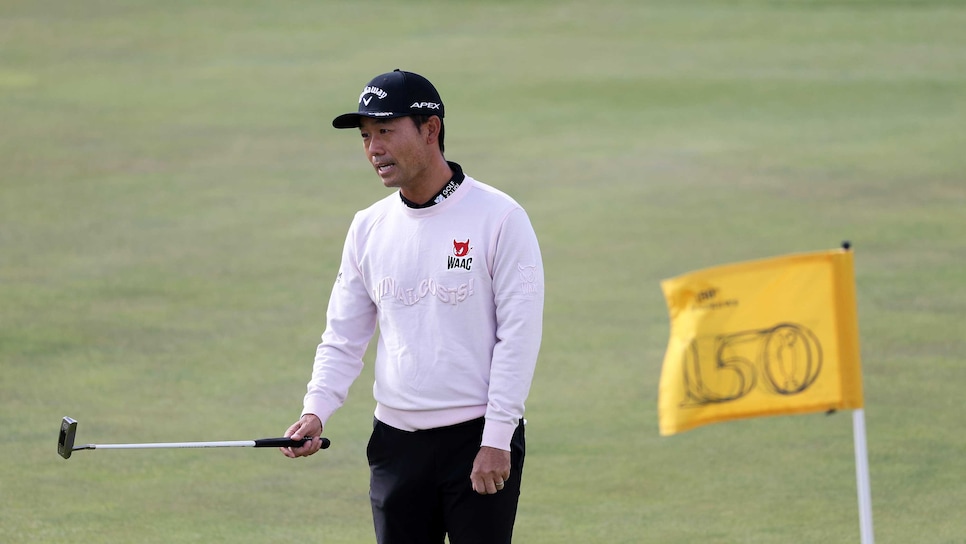 Kevin Na was stunned when learning of the threesome group that the R&A had put Phil Mickelson in.
Harry How
It's a different page than the R&A seems to be on, at least for now. LIV players are concerned with their own careers—which, of course, makes sense—but they mostly represent the tip-top of the men's professional golf. The R&A, and the USGA, and the PGA of America, have a much broader landscape to consider and fund than just their flagship championships. And the massive influx of guaranteed money going to a select few men has driven a wedge in "the ecosystem" and given these organizations a big ol' headache.
"My primary concern about the ecosystem is we spend multi-millions every year—the proceeds from this championship—in grassroots and amateur golf, from top to bottom, bringing people into the sport and playing elite golf," Slumbers said. "I know that I can look you in the eye—because this is men's golf we're talking about at this point—I can look in the eye of any boy or any parent of that boy and know that, if he comes into the game and wants to get to the top, wants to play this game, that there is a pathway to the top totally based on his ability and his willingness to work hard. And that has been fought for by our sport for 100 years, that pathway from picking up a golf club to playing at the top level. And I think that is something that is fantastic about our sport. And I think it's worth fighting for."
Worth fighting for suggests a belief there is a fight on their hands. A fight which, according to one LIV player who requested anonymity, they don't feel all that sure about winning.
"The way they've acted this week," he said, "it just shows how threatened they all are."
MORE OPEN CHAMPIONSHIP 2022 STORIES FROM GOLF DIGEST