ST. ANDREWS, Scotland — The greatest player of his generation is prepping for this tournament like a wide-eyed rookie soaking in his first taste of Open Championship magic. Tiger Woods touched down in Scotland on Saturday, promptly cruised over to St. Andrews and, alongside bestie Justin Thomas, chipped and putted his way around the Old Course. He finished in the shadows of the R&A's headquarters not long before midnight and was back at it not 10 hours later, the centerpiece of a surreal scene when he played a full 18 holes in front of … well, anyone. The course functioned as a "bar was open to the public," as is always the case on Sundays, and the public wanted to watch a 15-time major winner do his thing at the most special venue. It could be the last time.
Woods acknowledged this himself. It's the reason he's had this week, the 150th Open at St. Andrews, circled on the calendar since he resumed golf activities late last year. A few minutes after he finished up at the Masters in April, with his leg screaming in pain after two terrible weekend rounds, he was asked about whether he'd play the following major, the PGA Championship in May. "I'm not sure, but I'll be playing St. Andrews," Woods said. He did play that PGA but he wasn't able to finish it—these leg problems, they're not going away—and then he faced a choice: push to play the U.S. Open in June, or rest for St. Andrews in July. For Tiger, a no-brainer.
"I had some issues with my leg, and it would've put this tournament in jeopardy and there's no reason to do that," Woods said at last week's J.P. McManus Pro-Am. "This is a pretty historic Open that we're going to be playing. I'm lucky enough to be part of the past champions that have won there and want to play there again. I don't know when they're ever going to go back when I'm going to play at a high level, and I want to give it at least one more run at a high level."
Woods is not just giving it a run; he's emptying the tank. The three-time Open champ knows he'll be PGA Tour Champions-eligible the next time the Open returns to the birthplace of golf, and who knows what kind of condition he'll be in then. Woods is nowhere close to where he was physically pre-accident, but he can walk (limp?) and he can swing, and he can shoot under par in major championships. Given his history at St. Andrews, and his deep stubbornness, that's enough for him to believe he can win.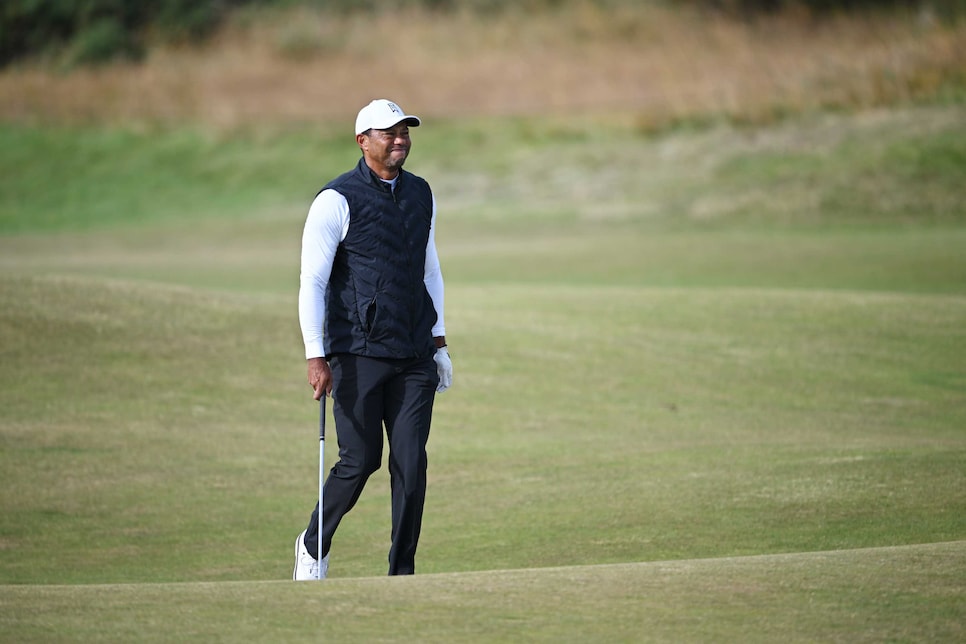 Tiger Woods walks gingerly during a practice round on Monday prior to The 150th Open.
Stuart Franklin/R&A
And so Woods returned to the Old Course again on Monday morning for nine more holes, and he was back again on Monday afternoon to play in the four-hole Celebration of Champions. The man with a fused back and Inspector Gadget right leg will have walked 49 holes by sundown on Monday evening.
He appears hell-bent on milking every ounce of strength and activity out of his piecemeal body because there's simply nothing else to save for. Not for at least six months, that is. He will push to a level he was not willing to at Southern Hills or The Country Club, for this week still loomed large in that decision making. Now? The only tournaments left in 2022 that Woods would consider playing in are the PNC Challenge, where he can ride around in a cart with his son, and his foundation's Hero World Challenge, which is a good five months away.
But that'd be the case for any Open Championship, now that it bats cleanup in this new breakneck cadence. But this, of course, is anything but any Open Championship. Woods adores the Old Course; he's called it his favorite in the world, and that includes Augusta National. He completed the career Grand Slam here as a 24-year-old with an eight-shot victory in 2000, and he cruised wire-to-wire when the Open returned five years later. Woods has won more at Augusta, but the undulating nature of that course makes it a tall ask at this age, with this body. But dead-flat St. Andrews, where accuracy will be rewarded more than power? Woods thinks he's still got a chance.
At heart, he is an old-school player, a feel-first golfer who relishes the opportunity to rip stingers under the wind and hold draws into it. He's said multiple times that he feels wedge distances with his hands. He spent the fat part of his career without a Trackman, and he did just fine. Woods' game is the antithesis to the paint-by-numbers, driving-range-style golf often found on the PGA Tour, and no venue is further from that formula than this one.
"You play one type of golf here in the States, where basically everything is airborne," Woods said as part of the R&A's brilliant Chronicles of a Champion Golfer series. "The ground is never your friend. You're always trying to carry bunkers, carry water, place it on top of shelves, make it stop. It's just, How high can you hit it? Then once you get around the greens it's just, 'Here, give me my lob wedge. Give me my lob wedge. Give me my lob wedge.' Hack out of the rough. That kind of stuff. It's always the same shots. When you play links golf, it's not."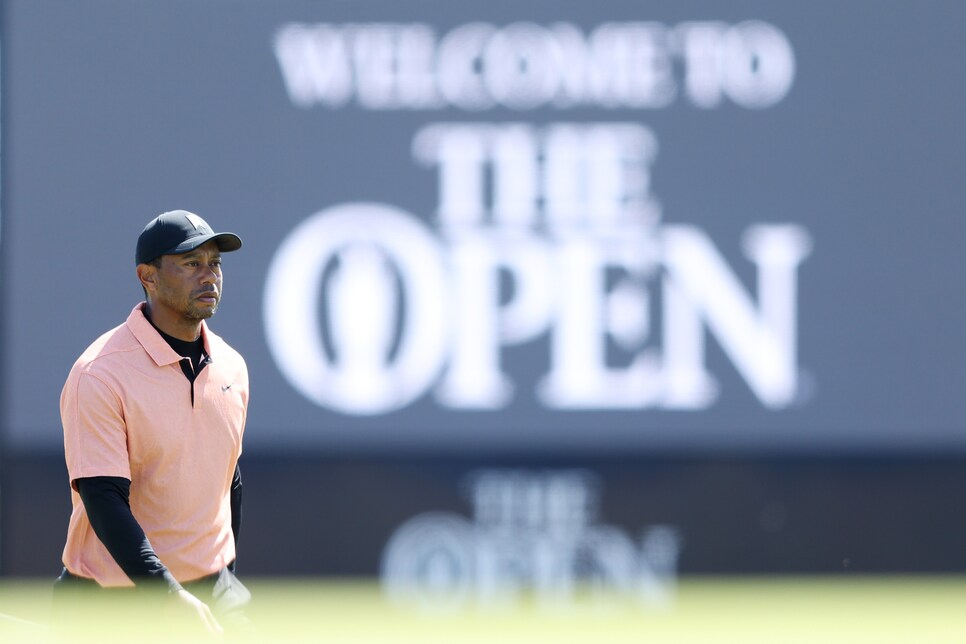 Tiger's dedication to competing this week is a nod to appreciating the history of St. Andrews and the import of the venue to the game.
Richard Heathcote/R&A
He's also a bit of a golf history geek with a soft spot for our sport's old-timey axioms. He knows the role this venue has played in the evolution of the professional game, the success his predecessors have had here, and that today's top players view him the same way he viewed Hogan and Palmer and Nicklaus.
"Any time I'm able to see him, any time any of us are able to see him, we have to appreciate it because we don't know how many times he's going to play here," says this week's defending champion Collin Morikawa, who was 3 when Woods won here in 2000. "He might play one. He might play 1-. Who knows? Any time you're able to be around someone like that where you've idolized him for so long, it's amazing."
Woods' reverence for St. Andrews, and his clear prioritizing of this week, has led to some online speculation that he could "retire" after this week. Which, of course, is bollocks. Woods has maintained throughout this latest comeback that his days of playing a full-time schedule are over, that he'll have to pick and choose events moving forward. The only certainty about his playing future is its uncertainty—maybe the leg will get stronger and he'll play more next year. Maybe it won't. Maybe he'll turn a corner in 2024. Maybe he won't. Apart from essentially guaranteeing he'd be at St. Andrews this week, Woods has not been in the business of any definitive scheduling statements. He has earned the right to play whenever he wants and wherever he wants. Golfers of Woods' status don't retire like team-sport athletes. There are no contracts to work out. No roster spots to consider. No rigorous training-camp regimen. No team dynamic to fit into. Golfers don't hold press conferences to say goodbye; they simply play less and less frequently until they alert those who care that one particular event would be it.
Arnold Palmer played his last Open at St. Andrews. So did Tom Watson. Jack Nicklaus of Ohio chose to play his last-ever major championship near the Scottish sea. Woods could well do the same. It just won't be this week.