Tiger Watch
Open Championship 2022: Giving it 'one more run' at St. Andrews is big motivator for Tiger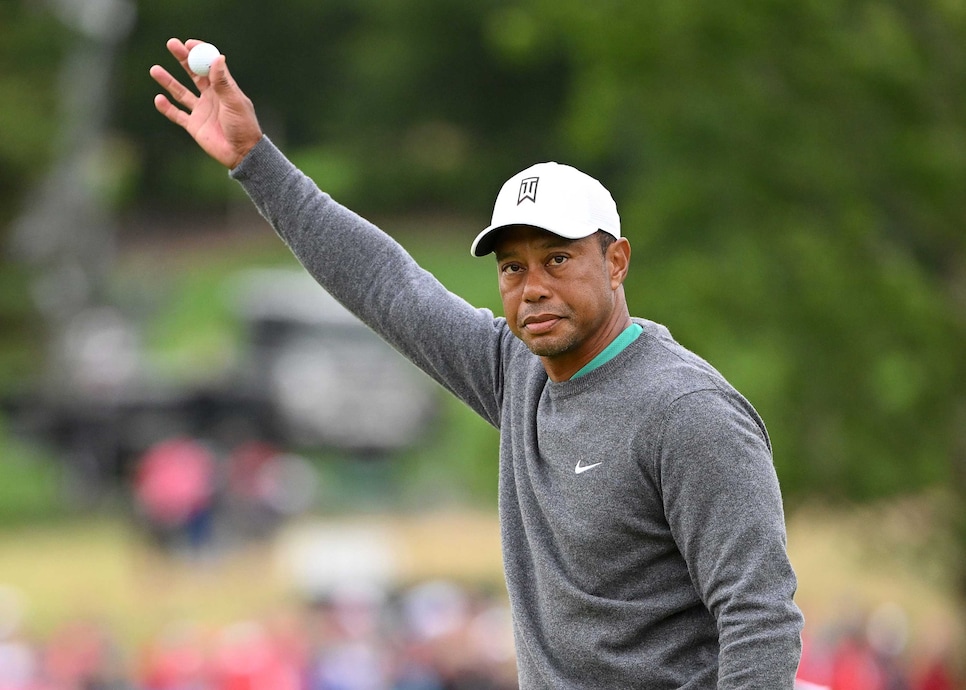 Tiger Woods waves at the 18th green as he finishes his round during Day Two of the JP McManus Pro-Am.
Ross Kinnaird
Tiger Woods shed some light on his post-PGA Championship activity when he spoke after his final round Tuesday at the JP McManus Pro-Am, which marked Woods' first public appearance since withdrawing prior to the final round at Southern Hills—and his last appearance ahead of competing next week at St. Andrews in The 150th Open.
Woods, who shot seven over for the two-day charity competition at Adare Manor in Ireland, said he initially did plan to play last month's U.S. Open but that his body had other thoughts.
"Physically, I was not able to do that," Woods said of competing at The Country Club. "There's no way physically I could have done that. I had some issues with my leg, and it would have put [The Open] in jeopardy and so there's no reason to do that.
"This is a pretty historic Open that we are going to be playing. I'm lucky enough to be part of the past champions that have won there, and want to play there again. And I don't know when they are ever going to go back while I'm still able to play at a high level, [so] I want to be able to give it at least one more run at a high level."
Woods has played just two official events since sustaining traumatic injuries to his right leg in a single-car accident in February 2021. He made the cut at the Masters in April before fading on the weekend, finishing 47th, and also made the weekend at the PGA Championship in May only to withdraw after shooting a third-round 79 during which he was in visible pain.
Woods has won two of his three claret jugs at St. Andrews, completing the career Grand Slam as a 24-year-old at the Home of Golf in 2000 and winning again when the Open returned five years later. He has maintained throughout this latest comeback the importance of competing in the Open given his personal history at St. Andrews and the significance of the 150th Open.
"For me, it's more about history I think than anything else," Woods said. "For me personally, knowing Arnold [Palmer], when Arnold's the one who made the British Open what it is and he came over and qualified, finished second, qualified, finished first, qualified, finished first; if you ever make me qualify, I'm not coming back, so here we are.
"But just look at the names on [the claret jug] and you just go right through time, it's like a time warp, and just how they put the names on and they start at the bottom and they added the lip and they added the bases and just the little things. And everyone who won that championship, they know how hard it was and looking at some of the scores, I'm thinking, even with a gutta-percha, how did they shoot those scores. It's awfully impressive and to have won The Open Championship and for me specifically to have won at the Home of Golf is even more special."
Woods leg is still a work in progress—he rode in a cart during the pro-am and, while he drove the ball relatively well, he did show significant rust. Woods will remain overseas until the Open rather than fly back to Florida, but he did not disclose where he will practice for security and privacy concerns.
As has been his sentiment since the accident, Woods expressed gratitude for simply keeping both his legs and being able to do things with his children, even if it's at a slightly lower place. He insisted again that he has no estimate for how much longer he'll be able to compete at the elite level.
"I don't know. I really don't. If you asked me last year whether I would play golf again, all of my surgeons would have said no. But here I am playing two major championships this year.
"I will always be able to play golf, whether it's this leg or someone else's leg or false leg or different body pieces that have been he placed or fused, I'll always be able to play. Now if you say play at a championship level, well, that window is definitely not as long as I would like it to be."