Majors
Open Championship 2022: R&A snubs Greg Norman, not inviting him to 150th Open celebration events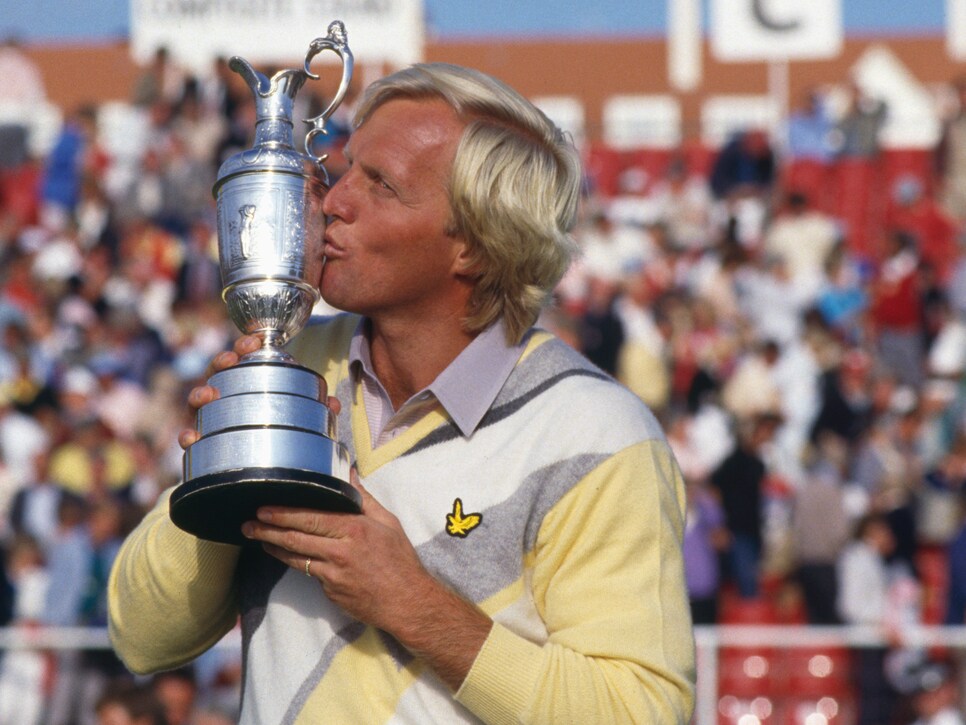 Greg Norman kisses the claret jug after winning his first major title in 1986. He'd win again in 1993, but in 2022 he has been asked to stay away from the Celebration of Champions and Champions' Dinner at St. Andrews ahead of the 150th Open.
David Cannon
GULLANE, Scotland — What a difference a day makes. Less than 24 hours after the R&A announced the first two groups taking part in the "Celebration of Champions" that will precede the 150th Open Championship, the governing body showed a more ruthless side to its nature. Greg Norman, champion golfer of the year in 1986 and 1993, will not be present Monday when reigning Open champion, Collin Morikawa, hits the opening shot in the four-hole event held over the first, second, 17th and 18th holes on the Old Course at St. Andrews.
"In response to enquiries regarding The R&A Celebration of Champions field and the Champions' Dinner, we can confirm that we contacted Greg Norman to advise him that we decided not to invite him to attend on this occasion," said the R&A in a statement on Saturday. "The 150th Open is an extremely important milestone for golf and we want to ensure that the focus remains on celebrating the Championship and its heritage. Unfortunately, we do not believe that would be the case if Greg were to attend. We hope that when circumstances allow Greg will be able to attend again in future."
This public denunciation of Norman would appear to be the R&A's way of tacitly showing its disapproval of the Australian's high-profile involvement in the LIV Golf Series, as well as support for the opposing stance taken by the PGA Tour and the DP World Tour. There will surely also have been a feeling that Norman's presence would only have been an unwelcome distraction from the feel-good business at hand.
Whatever, Norman, who received a letter telling him not to attend, was not slow in responding.
"I'm disappointed," he told Australian Golf Digest. "I would have thought the R&A would have stayed above it all given their position in world golf. It's petty, as all I have done is prompt and grow the game for golf globally, on and off the golf course, for more than four decades."
Still, the 67-year-old Norman can hardly have been surprised. Earlier this year his request to play in the 150th Open received short shrift. Norman floated the notion of getting to play in the championship given his two previous wins, and the R&A quickly replied:
"The entry forms and conditions for the Open stipulate that a champion must be aged 60 or under or have won the championship in the previous ten years to be exempt from qualifying. That remains the case for the 150th Open and we have no plans for any additional exemptions."
Perhaps significantly, this latest R&A statement is not attributed directly to CEO Martin Slumbers. In contrast, one day earlier the Englishman had been effusive in his enthusiasm for the curtain-raising event, although his phrasing does, in the wake of Norman's banishment, carry more than a little irony.
"We have planned a very special celebration of golf for fans to attend, and I'm sure they will be excited at the prospect of watching the greatest names in golf, as well as the future stars of the sport, come together to play over the Old Course at St. Andrews," Slumbers said on Friday. "We are deliberately inviting a field that represents the past, present and future of this game we all love and reflects our purpose to ensure that golf is seen as welcoming, accessible and can be played by anyone who wants to."
For the record, Morikawa will play alongside reigning AIG Women's Open champion Anna Nordqvist, Jess Baker, who won the Women's Amateur Championship at Hunstanton last month, and Keita Nakajima, the Asia-Pacific Amateur champion and 2021 Mark McCormack Medal winner. Also confirmed are three-time Open champion Tiger Woods and 2014 winner Rory McIlroy, who will play alongside 2018 AIG Women's Open champion Georgia Hall and Lee Trevino, two-time winner of the Open in 1971 and 1972.
One last thought. Someone with a sense of humor might have invited Norman to play—LIV-style—three-quarters of the four-hole event. With a shotgun start of course.