Live Blog
British Open 2022 live updates: Cam Smith shoots 64, Rory is only 3 back, and Tiger's tough week ends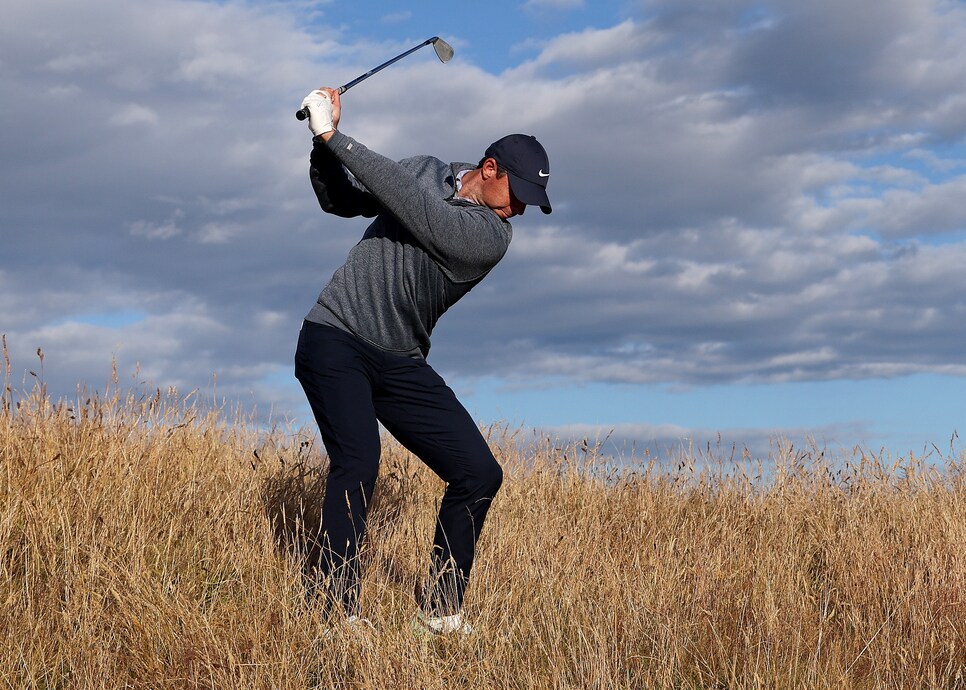 Rory McIlroy plays his second shot on the 15th hole during the second round of the 150th Open.
Warren Little
When a major championship is hyped as much as this week's Open Championship—this being the 150th edition being played at the "Home of Golf"—the worry is that it has no chance to possibly live up to the expectations. And let's face it, with due respect, the last two champions from the Old Course, Louis Oosthuizen and Zach Johnson, didn't stir emotions the way Tiger Woods did in 2000 and 2005.
But after two days of this spectacle, there is every reason to believe this could be one of the better Open weekends in recent memory. The leaderboard is packed with the recognizable names of World No. 6 Cameron Smith, No. 2 Rory McIlroy, No. 1 Scottie Scheffler, No. 9 Viktor Hovland and No. 18 Dustin Johnson—each of whom has the pedigree to rightfully lift the claret jug.
(Scroll down for the Open live latest updates)
Heading into Saturday, they are chasing Smith, the Aussie putting machine who made rolls of 47 feet (at 1), 27 feet (at 8) and a wildly breaking 64-footer for eagle at the 14th in shooting eight-under 64. Smith's 36-hole total of 13 under is the best score at this point in any of the 31 times the Open has been played at St. Andrews.
Playing with Smith on Saturday is the other Cam—Smith, the American PGA Tour rookie who impressively hung tough with a 69 that has him only two shots back. McIlroy, who will clearly be the crowd favorite, and Hovland are tied at 10 under, with Johnson four behind and Scheffler five back.
Friday did mark one stirring but melancholy moment, when a tearful Woods walked over Swilcan Bridge and up to the 18th green to a rousing applause—maybe for the last time in competition at St. Andrews. The Open's likely return to St. Andrews is in 2026, when Tiger will be 51 years old.
Open Championship 2022 latest updates (all times in eastern):
4:02 p.m.: As we wrap up the day, Collin Morikawa must be gutted. He just didn't have his best stuff while playing with McIlroy and Xander Schauffele, and last year's Champion Golfer of the Year missed the cut by a shot at one over (72-73). He' the first defending Open champion to not make the weekend since Darren Clarke 10 years ago. The other big names to go packing: Tiger, of course, Koepka, and a few former Open champs: Phil MIckelson, Henrik Stenson, Louis Oosthuizen, Padraig Harrington and Zach Johnson.
3:45 p.m.: Hovland has secured a tee time with Rory on Saturday. He made a virtual tap-in for birdie at 18 to shoot 66 and join McIlroy at 10 under. They'll go second-to-last off for the third round behind the Cams—Smith and Young. Hovland knocked Dustin Johnson (nine under) out of the spot with Rory, and there are some who will disappointed by not getting a PGA Tour vs. LIV Golf tussle. But it's not like Rory and DJ were going to be pissy to each other. The one we'd have liked to see is Rory vs. Brooks. But Brooks is probably already halfway across the Atlantic going home.
3:32 p.m.: Can you produce a fairly stirring round and still walk away with smoke coming out of your ears? You can if you're Rory McIlroy. He was mad—really mad—when he didn't covert a birdie at the easy 18th after leaving himself an awkward putt over the mounding after his drive. Still, the Irishman gave this touranment a tremendous storyline for the weekend with a 68 that puts him only three shots back of leader Cam Smith. Rory's iron play was stellar on Friday. He hit all but one green in regulation.
3:30 p.m.: Called it. Rory is done and coverage now switching over to Peacock. Sorry, Viktor Hovland.
3:24 p.m.: Good stat from broadcast: The two times that McIlroy was 10 under through 36 holes in a major, he won.
3:14 p.m.: Goose bump moment! Rory just played the Road Hole almost perfectly, rolling in a 23-footer for birdie to produce a huge roar from the massive gallery. He's at 10 under and only three back. The reception at 18 is going to be Tiger-like.
3 p.m.: Whoa! So yesterday the broadcast switched from USA to Peacock at 3 p.m. ET with Tiger finishing up his round. Today, they're staying with USA to probably follow Rory in through 18. Diss on Tiger and his fans? Golf Twitter, have at it.
2:48 p.m.: Viktor Hovland is in this thing! He just holed his approach at the 15th for eagle and now he's tied with Rory at nine under. At five under for the round, the Norwegian has a wild back nine going: birdie, bogey, par, birdie, eagle.
2:35 p.m.: No troubles for Rory. He had a decent lie in the wispy stuff, got on the green and made a nice two-putt for par. At nine under, four back of Cam Smith, McIlroy seems like the only guy other than Viktor Hovland to have a shot at any further serious climb up the board.
2:22 p.m.: Rory made a "bad" par on the par-5 14th when his second shot came up short of the green and rolled back. His rollercoaster "putt" from there came up short and he missed the birdie roll. That ended his streak at three straight birdies. And now ... McIlroy hit a wayward drive at 15.
2:01 p.m.: Cameron Young just will not go away. After an opening 64 he rebounded with a second-round 69 and sits in second place at 11 under par, two shots behind Cam Smith. Young closed with birdie on the 18th hole from 14 feet on a day where he made five birdies and two bogeys. It could be an all-Cam final pairing Saturday at the 100th Open, unless Rory McIlroy makes a couple birdies coming in.
1:58 p.m.: The U.S. Open champ weighs in with respect paid to his playing partner for the past two days.
1:54 p.m.: Pace of play, in a word, is BRUTAL. Again. Still. Rory McIlroy teed off just about four hours ago. He's on the 13th hole. Laughable relly.
1:48 p.m.: It's a trifecta of birdies for Rory McIlroy, or a turkey I suppose if you're a bowling fan. The last one coming on the par-4 12th hole from only three feet. So, again, Rory has birdies Nos. 10, 11 and 12 and is 10 under par and tied for second place, three shots behind Cam Smith.
1:27 p.m.: Cam Smith put the finishing touches on an eight-under 64 with a disappointing par on the 18th hole. The 64 matches Cameron Young's 64 from the first round. Smith is 13 under par and leadds Young by three shots, although Young has two holes remaining. Dustin Johnson is done and tied for third place at nine under. Rory McIlroy is also at nine under, but still has seven holes left.
1:23 p.m.: Then there's this from our Dan Rapaport. Koepka shot 75 and ends the week at four over par. A late double bogey on the par-4 Road Hole put him well outside the cut line.
1:18 p.m.: And just like that Rory McIlroy had made back to back birdies to get to nine under, only four shots back. He's tied for third place. The latest birdie was on the par-3 11th hole from 16 feet. He now heads to the 12th to head back into town.
1:07 p.m.: Rory McIlroy is hanging tough, although he's still quite a bit behind. He just missed eagle by mere inches on the 10th hole but made the easy birdie to get to two under on the day and eight under overall, five shots behind Cam Smith. It's odd because, although Rory is five shots back, he's only tied for fourth place, meaning he doesn't have many people to pass to get to the top. But expecting Smith to back up would not be a wise strategy.
12:56 p.m.: Phil Mickelson is done and will not make the cut, even though he did make birdie on the 18th Friday to end the second round. He shot 72-77 and finished at five over par, four shots better than Tiger Woods.
12:42 p.m.: Going to do our best to continue to give you updates on the rest of the field, but it's sort of difficult to pay attention to anyone other than Cam Smith blitzing the field.
12:29 p.m.: OK, let's take a break and catch up with some of the bigger names, keeping in mind that Cam Smith is destroying the top of the leaderboard at 13 under. Dustin Johnson (-9), Scottie Scheffler (-8), Adam Scott (-7), Matt Fitzpatrick (-6), Xander Schauffele (-5 with 11 holes remaining), Jordan Spieth (-4), Jon Rahm (-4), Bryson DeChambeau (-3 with three remaining), Justin Thomas (-1 with 11 holes remaining), Will Zalatoris (even with 12 remaining), Brooks Koepka (+1 with four remaining), Tiger Woods (+9).
12:21 p.m.: Cam Smith. Cam Smith. Cam Smith. The man is absolutely putting on a stripe show right now. He just made eagle on the par-5 14th hole to get to eight under on the day and 13 under for the championshpi. He now holds a three-shot lead over fellow Cam, Cameron Young.
Noon: McIlroy just misses making a second consecutive birdie on No. 6 so he remains at seven under. Up ahead, Cameron Smith has really "cooled off" with three consecutive pars. At 11 under, he still leads by one shot over Cameron Young with Dustin Johnson another shot back before you get to guys like Scottie Scheffler and Rory. What a leaderboard! And we've still got a lot of golf ahead.
11:51 a.m.: Another betting favorite, Justin Thomas, needs to make a move just to stick around for the weekend. But he, too, takes advantage of the par-5 fifth, draining a long putt for eagle to get into red figures. One player who won't stick around for the weekend barring a miracle is Phil Mickelson. The six-time major champ is four over with four holes to play as the cut line is likely to wind up being at least even par.
11:45 a.m.: Rory McIlroy makes his first birdie of the day, but it didn't come easy. After that ridiculous drive on the par-5 fifth, his gap wedge(!) stays on the front of the green and his eagle putt from 67 feet comes up about 15 feet short. But he makes the put to move to seven under. Xander Schauffele two-putts for birdie as well to move to five under. The two betting favorites coming into this week are right in the mix.
11:30 a.m.: In case you're wondering if the pace of play is any better today, well, it isn't. Apparently, the pairing of Rory McIlroy, Collin Morikawa, and Xander Schauffele waited 26(!) minutes before teeing off on No. 5. It didn't seem to affect any of them, though, as they all hit bombs of 370-yards-plus. With the wind changing, suddenly the lone par 5 on the front nine is an easy par 4.
11:15 a.m.: Cameron Smith bounces back from that grotesque par by two-putting for birdie on the par-4 10th. But his lead is again cut to one by fellow Cameron, Cameron Young, who birdies No. 9 to make the turn at 10 under. Across the world, golfers who are expecting parents are sliding Cameron to the top of their baby name list.
11:00 a.m.: Cameron Smith is human. After driving the par-4 ninth green, he three-putts from about 30 feet. Shocking! Still, it's a five-under 31 to start his second round and he still holds the lead at 10 under. Elsewhere, we should note that Patrick Cantlay and Sahith Theegala both finished their first 36 holes at seven under. And Jon Rahm remained within shouting distance of the leaders (for now) by draining a 24-foot birdie on 18 to move to four under.
10:50 a.m.: The winner of the low-Cameron competition might just wind up winning the whole thing this week. Day 1 leader Cameron Young finally missed a green after 19 in a row to start the tournament and made his first bogey on No. 2. But he bounced back with a chip-in birdie on 3 and another birdie on 4 to move to nine under. He may not be from "the streets of New York," but he's proving to be pretty tough in majors during his rookie season on the PGA Tour.
10:40 a.m.: More from Tiger Woods, who admitted to Cara Banks on USA that this (gulp) might be his final competitive round at St. Andrews. "I don't know if I'll be physically able to play another British Open here at St. Andrews. I certainly feel like I'll be able to play more Opens, but I don't know if I'll be around when it comes back around here. So the warmth and the ovation at 18, it got to me." Don't worry, Tiger. It got to us, too.
10:30 a.m.: Cameron Smith is giving Sunday at the Players Championship vibes. The Aussie rolls in a birdie on No. 8 for a fifth birdie of the day already to grab the solo lead. Smith is the first player to reach double digits under par and amazingly, one of the only holes he didn't birdie was the lone par 5 on the front nine when he missed a short putt.
10:15 a.m.: What an amazing scene as Tiger Woods finishes up his second round. After speculation that he might say goodbye to St. Andrews, he didn't even consider stopping on the Swilcan Bridge to pose for photos. In fact, that looked like the fastest he's moved all week. But as the crowd saluted him, Tiger became very emotional. Just an incredible moment. Have a look:
He gathered himself and hit a classy chip shot to about four feet, but unfortunately, missed the birdie putt. Still a great moment on one of golf's greatest stages.
9:55 a.m.: Gosh, it feels like Jon Rahm could be right up with the leaders, though his reactions to putts make it seem like he's going to miss the cut. In reality, he's right in the middle, at three under after an all-world par save at 16. The wind is supposed to pick up for a bit this afternoon, so he'll still be in the mix if he can get this round to the house
9:40 a.m.: Could it finally be Patrick Cantlay's time in a major? The dude is nails in regular season events, but has more missed cuts in majors in the last two seasons than career top 10s. He birdies the 14th to get to six under on his round, eight under for the tournament and still one behind Dustin Johnson.
At 16, U.S. Open Champion Matt Fitzpatrick makes a long birdie putt to get to six under. That's his fifth birdie in his last 10 holes. He'd be the first Englishman to win the Open since Sir Nick Faldo in 1992. Also at 16, Tiger's stretch of nine straight pars comes to an end as a moonball of a flop shot comes up inches short of being perfect, rolls back into a bunker and then he fails to get up and down. He'll now close out what might be his last competitive appearance at the Old Course with two of the most iconic holes in the world.
9:33 a.m.: Jordan Spieth is doing the thing. He bounces back from a bogey at 13 with a tidy birdie at 14 to get back to five under. A lovely approach at 15 sets up another look. Few people can ride a heater like Spieth, so watch out if this goes down. On the other hand, few people can put together rollercoaster scorecards like Spieth, so, uh, watch out for that too.
Cam Young missed another green, but this time atoned for his sin by chipping in for birdie, which was pretty cool, but not nearly as cool as John Daly canning a kilometer-long eagle putt to move to one under, which may or may not end up being the cutline.
Also, in the time it took to type this, Spieth missed that birdie putt, so there's that.
9:01 a.m.: Overnight leader Cam Young misses his first green of the week at the second and subsequently makes his first bogey of the week. He drops back to seven under, in a tie for fifth.
Ahead at the 14th, Tiger blasts a 5-wood out of the hay into Hell Bunker. On the broadcast, Nick Faldo quotes Winston Churchill: "If you're going through hell, keep going." And keep going Tiger does, playing a beautiful shot that lands on top of a knob right in front of the green and trundles out to 15 feet. Unfortunately for Mr. Woods, he'll have to keep going some more as his birdie putt hits the hole but stays out.
8:50 a.m.: Hello, Cam Smith. The reigning Players champion has birdied each of his first three holes to jump into a tie for second at eight under.
8:32 a.m.: A pair of Scotts finish up their second rounds with plenty to smile about. Adam Scott, who, at one point on Thursday, was four over, rides a heater right into the locker room with a stress-free birdie at the last to post 65. He's seven under for the tournament and two behind Dustin Johnson.
Scottie Scheffler also birdies the home hole to close out a second consecutive, four-under 68. The World No. 1 is one behind Johnson. He's looking to join Jack Nicklaus and Tiger Woods as the only peoople to win the Masters and the Open Championship in the same calendar year.
8:26 a.m.: Garrick Higgo has birdied the first four holes to rocket up the leaderboard. In just over an hour, he's climbed 41 spots up to a tie for 14th. He's four under, five shots behind Dustin Johnson.
8:05 a.m.: After making par on the Road Hole, DJ drives it hole high, about 50-60 feet away on the 18th. He leaves his first putt 10 feet short but confidently rolls in the birdie putt to post nine under, taking the solo lead. Like we've said, he opened with 10 under for his first 36 holes here in 2015 (ultimately finished T-49). He'll look for a better weekend performance this time around as he leads at the Old Course.
7:52 a.m.: Jordan Spieth (quietly?) rolls in his fourth birdie of the day on the ninth to go out in four-under 32. He's got it to five under for the week, just three shots back of the lead.
7:41 a.m.: Tiger's birdie bid at the ninth slides just by. He cards a one-over 37 going out to make the turn at seven over. Woods won't see the weekend at the Old Course, and the inward nine will likely be the last competitive golf we watch him play for several months. Soak it up, folks.
7:37 a.m.: Dustin Johnson rolls in a birdie on the 16th to become the first player to match Cameron Young's lead at eight under. DJ led here at St. Andrews after two rounds in 2015 but stumbled on the weekend with a pair of 75s.
World No. 4 Patrick Cantlay is off to a fiery start, carding four birdies in his first seven holes. He's up to six under, just two shots back. Surprisingly, he hasn't recorded a top 10 in a major championship since the 2019 PGA (though he finished T-14 at last month's U.S. Open).
7:25 a.m.: Let's take a look at some of Friday's biggest movers so far. Adam Scott is six under on the day and for the week, moving up to T-6 after starting today T-55. Aaron Wise shot five-under 67 to finish at five under, moving inside the top 10 from starting T-55. Sergio Garcia has made the biggest move up the board today, starting the day T-119 and now inside the top 25 as he's six under for his round through 17 holes.
7:13 a.m.: Talor Gooch drives the 18th green and two putts for birdie to shoot a Friday 69 and post a 36-hole total of seven under. Gooch is playing in just his eighth career major championship this week. Collin Morikawa captured The Open last year playing in ... his eighth career major championship.
7 a.m.: As many on the east coast pour their first cup of coffee, it's noon on Friday at St. Andrews. A quick update on the morning's play. With softer greens from overnight rains, the course is yielding some good scores. Still though, no one has been able to reach Cameron Young's lead at eight under. He starts his second round in about an hour-and-a-half. World No. 1 Scottie Scheffler and Dustin Johnson (who led after 36 holes here in 2015) sit tied for second at seven under. Tiger is one over on the day through seven holes and seven over for the week.
6:44 a.m.: World No. 1 Scottie Scheffler cards his third consecutive birdie on the 12th hole to move to seven under (three under on the day), just one shot back of Cameron Young's lead. The last player to win the Masters and The Open in the same year? Tiger Woods in 2005, when he captured The Open at St. Andrews.
6:29 a.m.: Tiger hits his approach to about seven feet from the pin … on the 13th hole. The problem? Woods is playing the fifth hole. Finding the wrong side of the double green, he had 117 feet left for his eagle attempt on par-5 fifth. After only hitting his first putt about a 100 feet, he missed the 17-foot birdie attempt. That adds up to a five at the 555-yard par-5 fifth.
6:15 a.m.: With four birdies and an eagle so far through 13 holes, Sergio Garcia is six under on the day, which is currently the best round on the course. After opening with a three-over 75 and sitting T-119th, he's now inside the top 20. Talk about a Friday move for a guy who's trying to avoid missing his third consecutive cut in a major.
6:03 a.m.: Well that didn't last long. Tiger misses what appeared to be a three-footer for par on the fourth. After an encouraging sign with the flat stick on the third, his struggles on the greens resume. Back to even par on the day, six over for the week and well outside the cut line.
6:01 a.m.: With Talor Gooch and Dustin Johnson both two under on the day, they join Rory McIlroy in a tie for second. Certainly an interesting trio, given the circumstances surrounding the professional game with the ongoing LIV vs. PGA Tour/establishment battle. It will be a fascinating storyline at The Home of Golf this weekend if this holds.
5:45 a.m.: After an average approach on the par-4 third from Tiger, he knocks in the 30-footer for birdie! He's back to five over for the week.
5:40 a.m.: The threesome of Spieth, Rahm and Varner all tally birdies at the par-4 second, with Spieth knocking it to a foot with his approach. For Rahm, that's two consecutive birdies to open the day and get back into red figures at one under.
5:32 a.m.: 62-year-old Mark Calcavecchia, who won the 1989 Open, crosses the Silwcan Bridge on the 18th hole in his 23rd and final Open Championship. Calc intended for his last Open to be in 2020. With that championship being cancelled and him unable to compete last year after having back surgery, he wrote a letter to the championship committee asking to play his final Open in 2022 at St. Andrews. Though The Open typically extends invitations to past champs under 60, they accepted Calc's request and invited him to play this week. A fitting end for a past champion.
5:23 a.m.: Tiger opened with a 78 for the third time in his career at a major championship, having done the same at the 2018 U.S. Open and 2019 Open. In the second round at those events, he shot 72 at the U.S. Open and 70 at The Open, missing the cut both weeks. He'll likely need something 66 or lower to play the weekend at St. Andrews. Tiger's tee ball on the second finds the right side of the fairway and his approach sticks about 20 feet past the hole.
5:08 a.m.: Tiger's approach shot on the first is a far improvement from Thursday, finding the back of the green. A two-putt par gets the day off to reasonable start.
4:58 a.m.: A bundled Tiger Woods smiles on the first tee and finds the fairway with an iron. Not to get sappy or maudlin, but this could be the last competitive round that Woods plays at the Old Course, something that will be an undercurrent throughout the round.
4:49 a.m.: Paul Casey hasn't played a stroke-play tournament since the Players Championship in March, but afforded himself well with a one-under 71 Thursday. And with three birdies in his first seven holes on Friday, he surprisingly has his name on the leaderboard (albeit still four shots back of Cameron Young).
4:39 a.m.: It's a little early, but not that early, to start to think about the 36-hole cut at St. Andrews. Datagolf.com currently has a 43.9 percent chance that even-par 144 is the number, with one-over 145 clocking in with a 34.7 percent probability. If the winds don't blow in the afternoon as they did on Thursday. There's a decent chance though those numbers could creep a little lower. The last time the cut at the Open Championship was as low as even par? St. Andrews in 2015.
4:30 a.m.: Tiger Woods is on the driving range, preparing for his Day 2 round which tees off in about a half hour. Of course he's hoping to bounce back from a disappointing opening 78 in which struggling mightly on the putting greens. Woods has been on the property at the Old Course since 5 a.m. local time to get a start on the extensive routine needed to get himself ready to play.
4:21 a.m.: Not that we don't want you following all our coverage the next three days, but if history holds at St. Andrews, the winner of the claret jug on Sunday is down to just four players: Cameron Young, Rory McIlroy, Cameron Smith and Robert Dinwiddie. That's because since 1939, no Open winner at the Old Course has been more than three shots off the lead after 18 holes. In fact the winners have all had pretty impressive first-round scores:
2010: Louis Oosthuizen, 65
To help you follow along: Young tees off at 8:26 a.m. Eastern, McIlroy at 9:59 a.m., Smith at 8:04 a.m. and Dinwiddie at 6:04 a.m.
4:14 a.m.: A few tidbits from the R&A on course set-up for the second round. The greens have been double cut but are still rolling at only 10.3 on the stimpmeter. And here are the hole locations:
4:08 a.m.: There are two major champions is on the leaderboard lurking among the early wave of players: Dustin Johnson and Scottie Scheffler, who both shot four-under 68s in the opening round. Interesting, though, both also bogeyed the first hole on Friday.
4:01 a.m.: As we sign on here, Cameron Young remains the leader at eight under, after an impressive-opening 64 that could have been even lower. And he continues to have a two-stroke lead, but now not just over Rory McIlroy but a second golfer. Talor Gooch, teeing off in the sixth group, has made two birdies in his first three holes to get to six under.
It will be a little while, however, until Young starts his second round. The 18-hole leader doesn't tee off until 8:26 a.m. eastern time
3:58 a.m.: For the curious, the overall scoring average on Thursday was 72.699. But scoring got progressive harder. Groups 1-13 had an average of 71.49, Groups 14-26 were 72.46, Groups 27-39 shot 73.31 and Groups 40-52 (the last of which finished in the dark close to 10:30 p.m. local time, 73.51. A total of 26 players broke 70 during the day, but 17 of those were players in the early half of the draw.
3:53 a.m.: We mentioned the weather in the intro. Here is the official forecast from the Met Office:
3:50 a.m.: We've already had a prime candidate for the most quirky shot of the day. Haotong Li was playing his approach on the first and, well, this happened:
MORE OPEN CHAMPIONSHIP 2022 STORIES FROM GOLF DIGEST