Working on the Weekend
British Open 2021: How the 36-hole cut is determined at Royal St. George's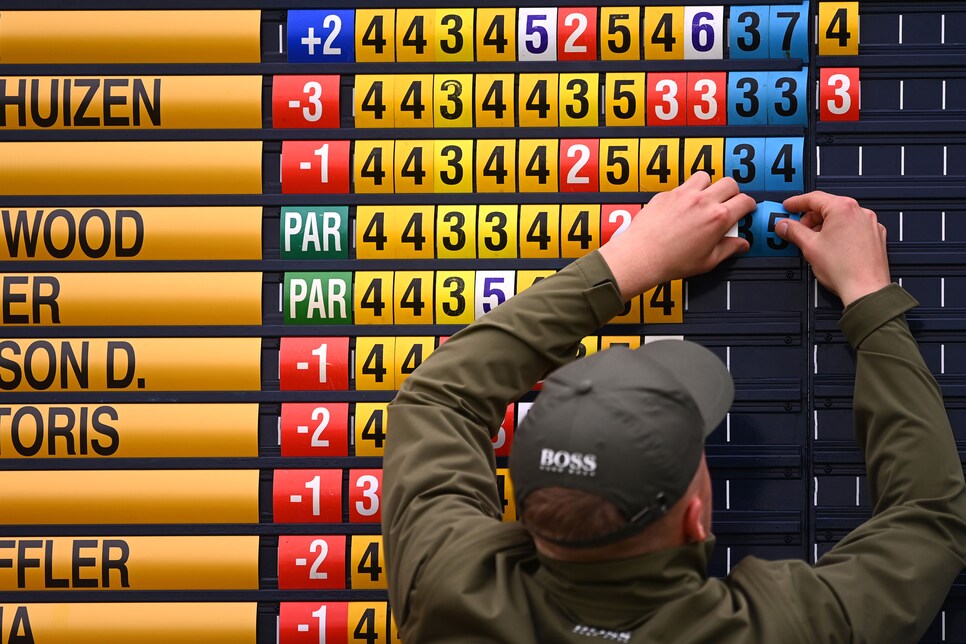 An official updates the scoreboard during Thursday's opening round at Royal St George's.
Harry Trump/R&A
Cut day at the Open Championship brings with it plenty of stress and anxiety as players well down the leader board are still keeping a close eye on the scores to figure out where they stand, and whether the numbers they're posting will be low enough to play on the weekend.
The rules for who makes the cut at Royal St. George's are similar to those at the PGA Championship: low 70 players and ties advance to play all four rounds. This differs from the U.S. Open, which makes the cut at low 60 and ties, and the Masters, which keeps the low 50 and ties around on the weekend. And there is no "10-stroke rule" in effect to help determine the British Open cut.
All this is, of course, particularly relevant for trio of the game's biggest names: Bryson DeChambeau, Jon Rahm and Justin Thomas. DeChambeau wasn't happy with how he was hitting his driver en route to a one-over 71, causing some controversy on Day 1. A wayward driver also got the best of Rahm (71), the favorite coming into the tournament, while Thomas' putter let him down as he shot a two-over 72
What are their chances of this trio making British Open 36-hole cut and playing the weekend? Well if the cut was made after just 18 holes, you needed to shoot even-par 70 or better to be inside the top 70 and ties. With 47 players posting under-par scores in the first round, the projected cutline from datagolf.com at the start of Friday was a 43.4 percent probability of one-over-par 141, a 23.9 percent probability of two-over 142 and a 23.5 percent probability of a even-par 140. So DeChambeau and Rahm would have to shoot at least an even-par 70 while Thomas needs a one-under 69. (By 7 a.m. ET, the probability of the cut falling at one over was up to 65.6 percent.)
As a point of reference, here's what the British Open 36-hole cut line has been for the last 10 Opens:
2019: 143 (+1), Royal Portrush
2018: 145 (+3), Carnoustie
2017: 145 (+5), Royal Birkdale
2016: 146 (+4), Royal Troon
2015: 144 (E), St. Andrews
2014: 146 (+2), Royal Liverpool
2013: 150 (+8), Muirfield
2012: 143 (+3), Royal Lytham & St. Annes
2011: 143 (+3), Royal St. George's
2010: 146 (+2), St. Andrews
And here is the cut for the last five Opens at Royal St. George's
2011: 143 (+3)
2003: 150 (+8)
1993: 143 (+3)
1985: 149 (+9)
1981: 150 (+10)