Instruction
How one word won Rory McIlroy the 2014 British Open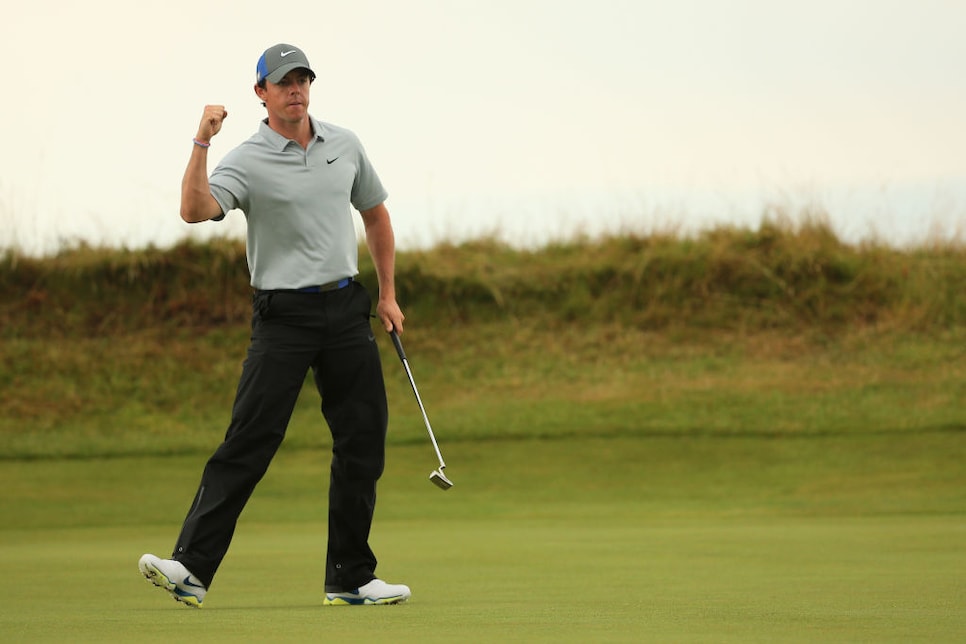 Looking back, the result appeared to be a foregone conclusion. Rory McIlroy came into the 2014 Open Championship the best player in golf. His one-shot lead after 18 holes at Royal Liverpool grew to four after 36, and six after 54 holes. The notion of a Friday Curse—the theory that McIlroy was doomed by a recent trend of substandard second rounds in major championships—was a big storyline that year. It was vanquished when he lifted the claret jug on sun-splashed Sunday afternoon in the Liverpool suburb of Hoylake. The rightful winner of the golf's oldest championship had prevailed. Happily ever after.
Even so, that triumph nine years ago wasn't quite as simple as it appeared. Yes, McIlroy prevailed, but every major champion has a momentary wobble. For the then 25-year-old from Northern Ireland, his came on Saturday afternoon. It was a brief time lost to history by a clever in-round reminder that realigned McIlroy's path towards winning his first—and so far only—claret jug.
After back-to-back rounds of 66, McIlroy's hot hand had cooled considerably during the early part of his third round. Rickie Fowler's, however, was warming up. As McIlroy played his first 12 holes in even par, Fowler birdied seven of his first 12, and jumped from six-under into a tie for the lead at 12 under. For the first time since early Thursday, McIlroy no longer owned the lead alone.
On the 193-yard par-3 13th hole, it looked like McIlroy may drop out of the lead altogether. He flared his tee shot right of the green, into a sidehill lie. He followed with a good recovery chip shot that banked off an uphill slope, but still had upwards of 12 feet to save par.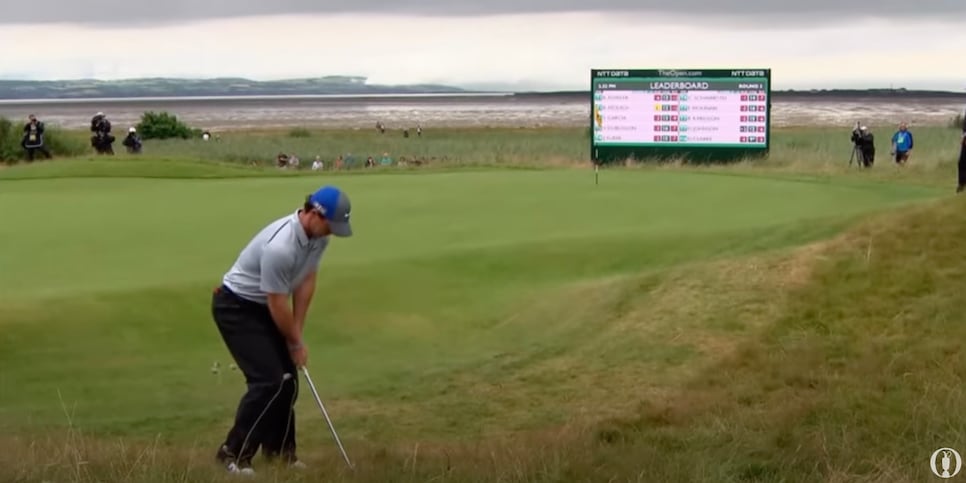 This, in many ways, was the pivotal putt of the championship. McIlroy knew it, too, and he was feeling the pressure of the moment. How did he handle it? By repeating to himself one mantra:
"It was a big putt to save par. I felt quite nervous. I tried to take the end result out of my mind. I focused on a spot two or three inches in front of the ball. I said: 'Right, all you need to do is roll it over your spot … that's all I kept telling myself. Roll it over your spot. Roll it over your spot."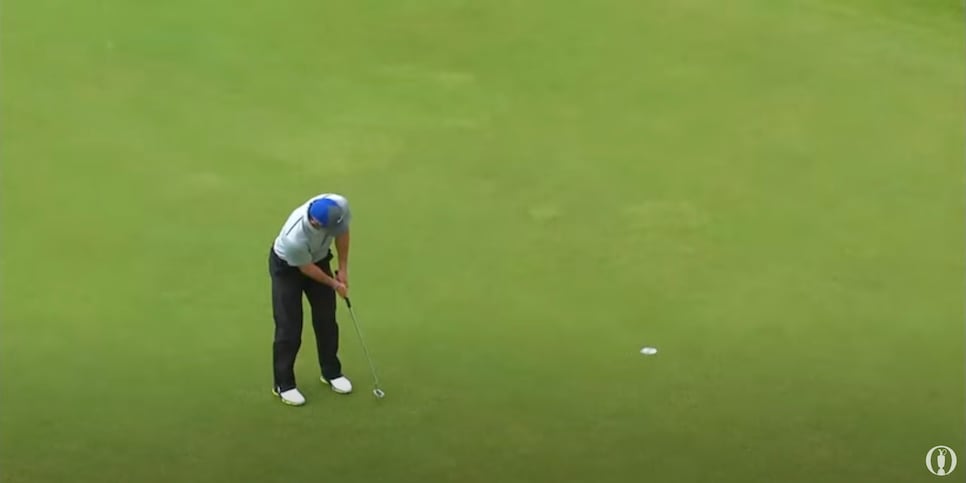 One hole ahead, Fowler stumbled with a bogey. McIlroy's par save on 13 sparked a birdie run of his own. And 24 hours later, he was the Open champion.
All week McIlroy had teased the media by withholding the exact two words he kept repeating to himself throughout the week. Trophy in hand on Sunday, he finally revealed what they were.
The first of those was "process." That was his mantra from tee-to-green. To keep making good decisions, to keep making good swings, to stick to his routine.
But for as important as that was, McIlroy's fate then and now is intertwined with his performance on the greens. And for that he opted for another word: "spot."
"'Spot' was for my putting," he said after his final round. "I was just picking a spot on the green and trying to roll it over my spot, roll it over my spot every time. I wasn't thinking about holing it. I wasn't thinking about what it would mean or how many further clear it would get me. I just wanted to roll that ball over that spot. If that went in, then great. If it didn't, then I'd try it the next hole."
What McIlroy was doing on the greens was something coaches have come to call "spot putting." There are some good reasons, both mental and technical, that explain why it worked for McIlroy at Royal Liverpool in 2014—and may work for you, too.
From a mental perspective, as McIlroy alluded to in his own recounting of the event, picking a spot and trying to roll your ball over it is a pretty radically simple process. It divorces you from what the putt itself means. The stakes—What would it mean to win an Open? What would it mean if you didn't win an Open?—have no space to dance in your mind. McIlroy wasn't trying to make a putt, or with the Open Championship. He was just trying to roll a ball over a spot two inches in front of him. Nerves have a nasty habit of making everything feel more complicated. McIlroy was coping by focusing on the simplest task imaginable.
From a technical perspective, aiming is one of the hardest things to do in golf, and it makes sense why. Your eyes are designed to stare at something directly in front of you. When you're bending into putting posture, your eyes are descended, tilted, and working from the side. For many golfers, when they look up, it can give them the effect of feeling like they're misaligned to the right.
Aiming at a spot just inches in front of the ball is, simply, easier. It places your eyes into a more comfortable position. They're not tilted or turning, but working on a more natural plane. For many golfers, it can simply help them aim where they're intending.
The combination certainly worked for Rory McIlroy in 2014. Spot. A simple word, but one that propelled him to extraordinary things.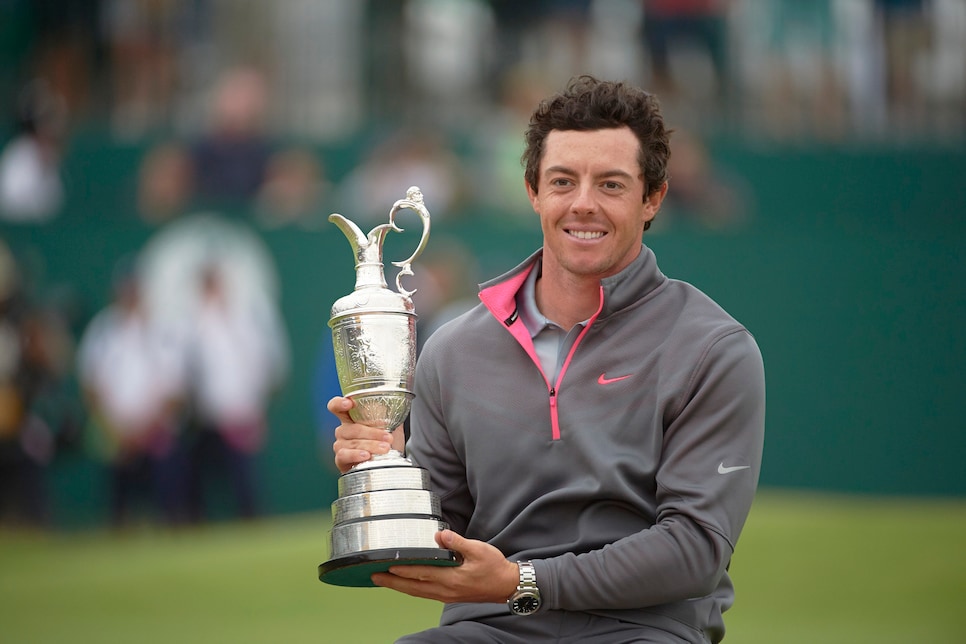 Is it the British Open or the Open Championship? The name of the final men's major of the golf season is a subject of continued discussion. The event's official name, as explained in this op-ed by former R&A chairman Ian Pattinson, is the Open Championship. But since many United States golf fans continue to refer to it as the British Open, and search news around the event accordingly, Golf Digest continues to utilizes both names in its coverage.