History
The British Open's forgotten champ
Scotland's Jack White won in 1904, but his impact was felt off the course as a trailblazing clubmaker and golf's first putting instructor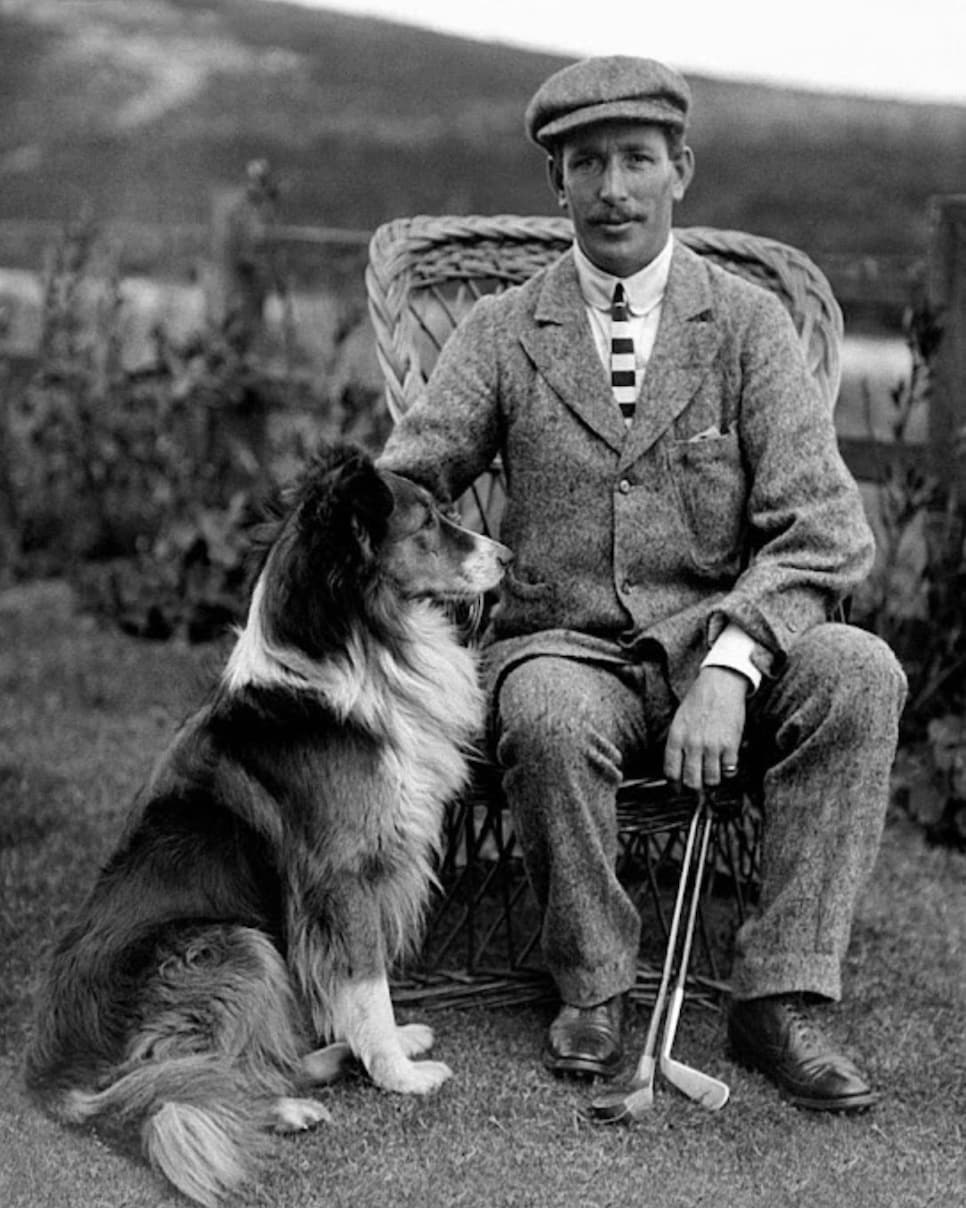 Got a couple of minutes? Try this little test, one just about anyone with even a cursory interest in golf should pass with relative ease: In less than 120 seconds, write down the names of 10 Open champions from the 20th century.
Not too difficult right? OK, let's go to 20, then 30 winners of golf's oldest and most important championship. It's getting trickier, and if 50 becomes the target we have entered a realm reserved only for the true golf geeks. (There are 53 in total).
Even for those experts, though, one name is unlikely to pop up. Ladies and gentlemen, I give you Jack White.
Yes, Jack White. If you are like the vast majority of even avid fans, you've never heard of the "champion golfer" of 1904, who was born 150 years ago next month (Aug. 15 to be exact). Which is odd, given the breadth of White's qualities and achievements. "Unsung" doesn't even begin to describe this apparently near-anonymous hero.
What makes the Scot's near-absence from golf's memory bank so strange is his versatility. The East Lothian native was clearly an accomplished player. No one wins the Open without transcendent on-course abilities. But White was also one of the most talented clubmakers of his generation. Most notably, he put together the hickory-shafted, wooden-headed driver, "Jeanie Deans," that Bobby Jones wielded en route to 10 of his 13 major championship victories. And he doubled (tripled?) as the game's first putting coach, renowned for his touch and technique on the greens. A gifted individual indeed.
Anyway, for those not in the know—of which there are clearly many, so don't feel bad—White beat a then-record field of 144 to win his claret jug at Royal St. Georges in what was the first Open Championship to be played over three days. Not quite so notable but worthy of mention is the fact that White was the first man to have his named etched on the iconic trophy having shot a lower score in each of the four rounds (80-75-72-69). In so doing, he became only the second man to break 70 in an Open, one day after James Braid became the first. And White's aggregate score of 296 was a new Open record and the first winning total lower than 300.
It was, in truth, only a mildly surprising result at the time, one that saw the then-30-year-old see off the Great Triumvirate of Harry Vardon (fifth), Braid and J.H. Taylor (both T-2) down the stretch. For the new champion had arrived on the south coast of Kent not without prospects.
Five years earlier, White's closing 75 equaled Vardon's course record at St. George's. And four times in those intervening years, the man born on the edge of the tiny hamlet of Whitekirk, a few miles south of North Berwick, had recorded top-six finishes. Think then, of White as a regular everyman, the equivalent of Billy Casper, a three-time Grand Slam winner and often-time contender in the era when the "Big Three" of Jack Nicklaus, Gary Player and Arnold Palmer largely dominated major championship golf.
Such a distinguished record makes it clear that, if only because of his undoubted talent as a player, White is deserving of attention. But there is much more to say about the various contributions of a consummate character who was steeped in so many aspects of the game. Almost right from the cradle, White was exposed to golf and golfers at the highest level. His uncles, acclaimed clubmaker Ben Sayers, and Davie Grant, both posted multiple top-10 finishes in the Open. And as a boy White often caddied for four-time Open champion Bob Ferguson. More permanently, he was on the bag when Johnny Laidlay claimed one of his two British Amateur Championship victories (1889 and 1891). It was Laidlay who first employed the overlapping grip later attributed to Vardon.
So it was that White was a golf professional at the tender age of 16. By 18, he was authorized to teach the game over the famous links at North Berwick. More significantly, as things would turn out, the teenager also served for five years as an apprentice with acclaimed clubmaker and course architect Tom Dunn. It wasn't too long, however, before White departed East Lothian and headed south to what turned out to be a host of club jobs in England, starting at York Golf Club in 1892.
"I left North Berwick as a lad of 17 to take up the position of professional and greenskeeper at York, having just won a tournament open to local pros and caddies," he told The Golfing Handbook of 1905. "I finished an easy first, doing 73 in a gale of wind. My duties at York were to keep a nine-hole course in order with no help. But I managed to satisfy the members and they were very good to me after serving for two seasons."
In the almost-decade that followed, a variety of clubs, among them Felixstowe, Chesterford Park, Royal Workington and Newmarket, Seaford, benefited from White's growing expertise in areas beyond his undoubted prowess as a player. By the time he arrived at Sunningdale, where the club secretary was acclaimed course architect Harry Colt, to be the now-world-famous club's first professional in 1901, the then-28-year-old was renowned as one of golf's best putters and clubmakers. Given such a notable CV, the absence of lasting fame from his legacy is even more puzzling.
Before he became golf's first putting coach, White was recognized, at a time when greens were far from the pristine surfaces we see today, as something of a master craftsman with the shortest club in the bag. His technique all his own, a combination of stances—narrow for long putts, wide for short putts—low hands and a hunched posture combined to get him as close to the ball as possible. Using a blade putter, he would "hook" the ball off the toe, a method later employed to great effect by another of golf's greatest putters, four-time Open champion Bobby Locke.
White's expertise on the greens did not go unnoticed. When, in 1921, he published his first instruction book, Putting (Easier Golf would follow three years later), the "preparatory notes" from some of his biggest rivals were fulsome in their praise of his talents.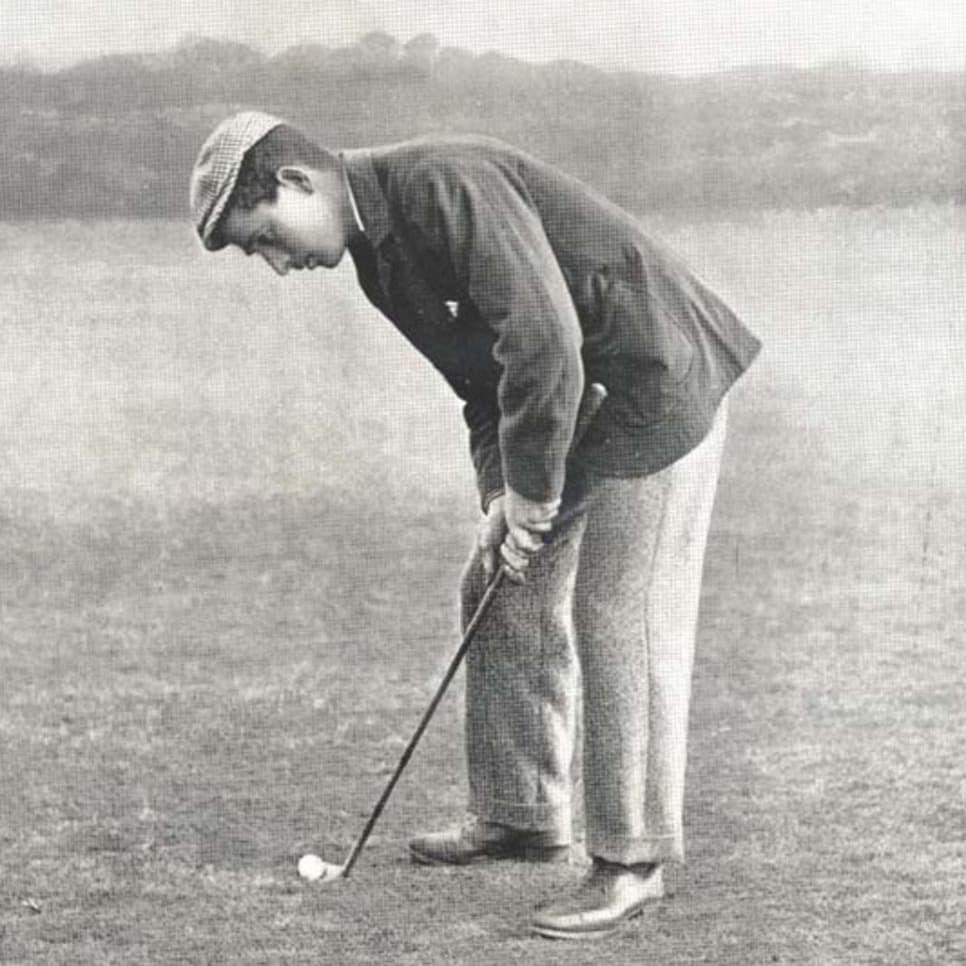 Jack White's putting prowess was legend among his peers.
"I know of no one who is more able to expound the theory and intricacies of the putting game than White," wrote Taylor. "To see Jack settle down to the worrying-out of line to the hole and the exactness to which the ball should be struck, is an education in thoroughness and studied application."
George Duncan, the 1920 Open champion, was perhaps the most complimentary: "What Jack White has to say about the science of putting should be the last word," said the Scot. "He is a specialist in this department of the game and is recognized as the best putter in the professional ranks."
Throughout all of the above, White only sporadically enjoyed good health. For example, a trip to Mexico and the United States early in 1906 was cut short by his incapacitation. Two years on, the Sheffield Evening Telegraph reported that White had "lately been suffering from an affliction of the throat and it has been considered for him to undergo on Monday next an operation. He will spend two months in Fifeshire recuperating his health." And later again, White was hospitalized after being invalided out of army training that would have seen him fight in the First World War.
Some of which can be at least partly be attributed to White's club making craft, exposed as he was to dusty work environments on an almost daily basis. But just as likely there was more to his problems than that. Whisper it, but White was prone to overindulging on the alcohol front. According to long-time Sunningdale member, former Walker Cup player and Sky Sports commentator, Bruce Critchley, the club minutes record two occasions when White was sent away to "dry out."
"Jack was clearly a talented player," says former Sunningdale pro Keith Maxwell, the fifth of so far seven men to hold that post. "And a gifted clubmaker. But also a fragile soul claimed by the demon drink."
Still, for a life that did not always follow an upward curve, White's most iconic contribution to golfing lore surely stemmed from his meeting with Jones just prior to the game's greatest-ever amateur playing one of his most famous rounds.
When Jones arrived in England in 1926, he did so in the wake of a fire that consumed the East Lake clubhouse in Atlanta in November 1925. Lost in the blaze were all of Jones' clubs, apart from his beloved putter, "Calamity Jane," which he kept under his bed. Sometime in the days before the regional qualifying for the Open Championship at Sunningdale, White and Jones–who had been struggling mightily to find a new driver—fell into conversation.
"I think I can help you," White confided to Jones, who at that stage had won only three of his eventual 13 major titles.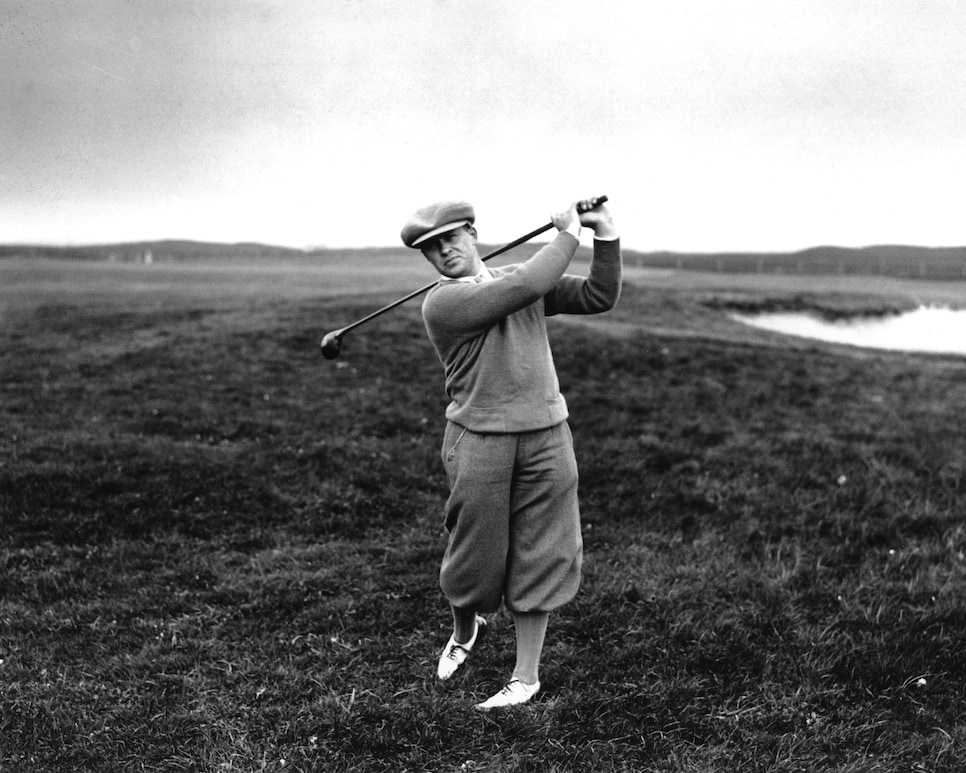 Jack White built the "Jeanie Deans" driver that Bobby Jones used to win 10 of his 13 major championship titles.
Hulton Archive
And so he did. After some experimentation with as many as 16 clubs, Jones left White's workshop clutching the deep-faced hickory-shafted driver with which he would immediately go on to play what was hailed at the time as the "perfect" round of golf. With identical halves of 33—made up of 33 shots and 33 putts—Jones shot 66 en route to comfortably qualifying for the Open at Royal Lytham he would go on to win.
"After a reverential cheer at the final green, the crowd dispersed awestruck, realizing that they had witnessed something they had never seen before and would never see again," wrote Bernard Darwin in The Times. "Rumor says Jones had done 66 in practice but nevertheless he was not quite satisfied with his game and was assiduously practicing with different drivers before the round. Clearly, he had found the secret, for he at once began to play such golf as had never been seen on the course."
Thanks, of course, in large part to Jack White.
The new driver, one that Jones said would "keep the ball rather low in flight without the disposition to climb, which was bothering me, and give it a good run at the finish," was named "Jeanie Deans" after the heroine in Sir Walter Scott's classic novel, The Heart of Midlothian. Today, it is on display in the World Golf Museum that sits behind the Royal & Ancient clubhouse in St. Andrews.
Speaking of which, White hasn't been totally forgotten; you just have to know where to look. Manned by an eccentric, plus-fours wearing German by the name of Boris Lietzow, the "Jack White shop" occupies the high street in Gullane (see photos below). That is appropriate, sitting as it does just a few miles from White's birthplace and directly across the road from the site of White's own shop after his move back to Scotland post-Sunningdale.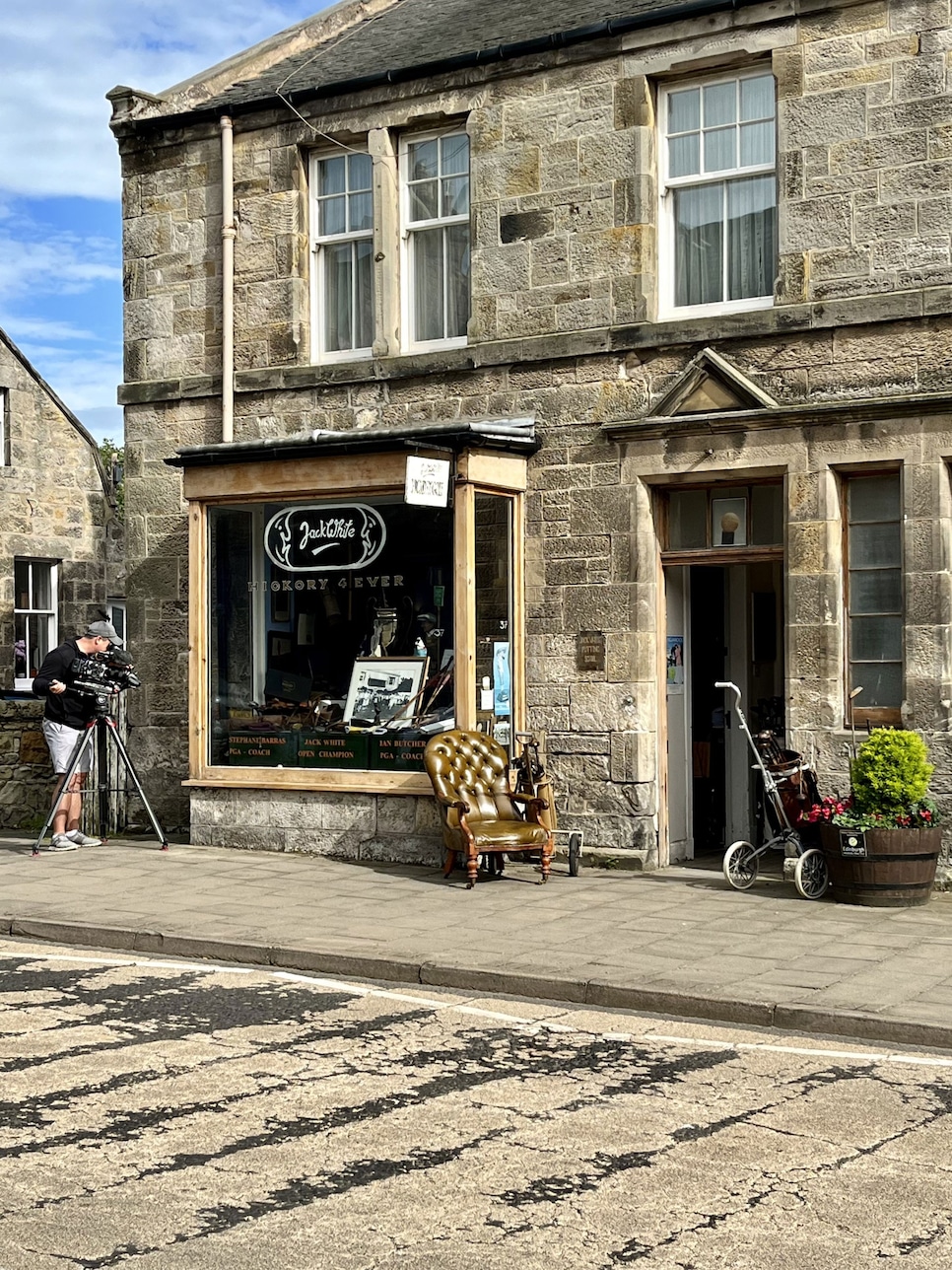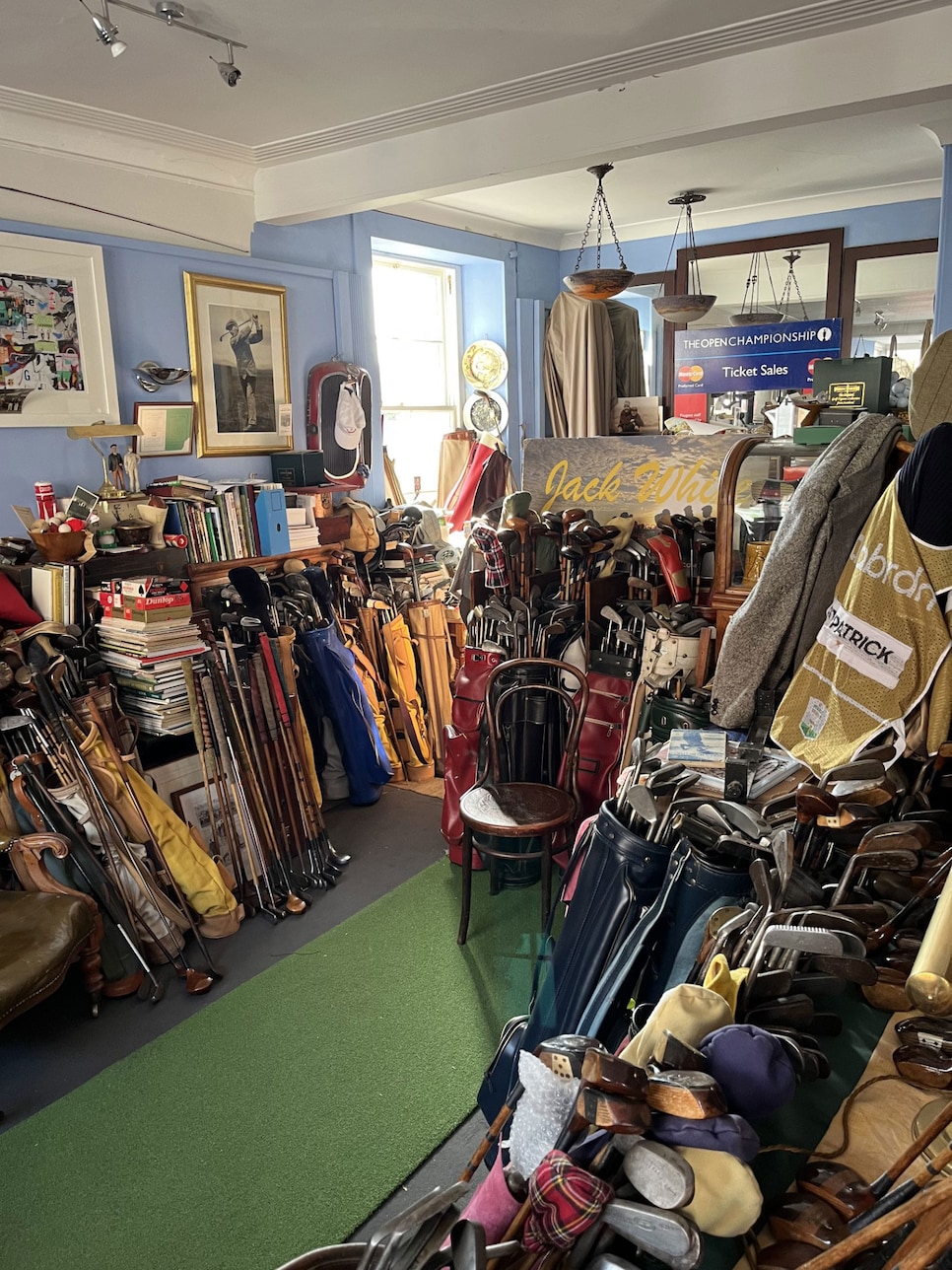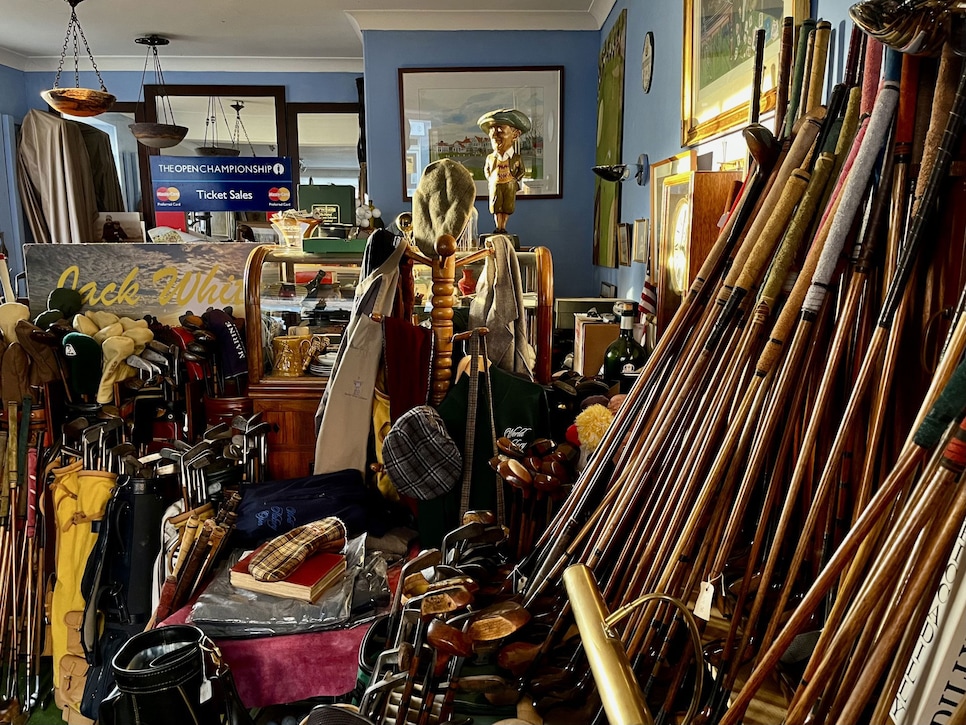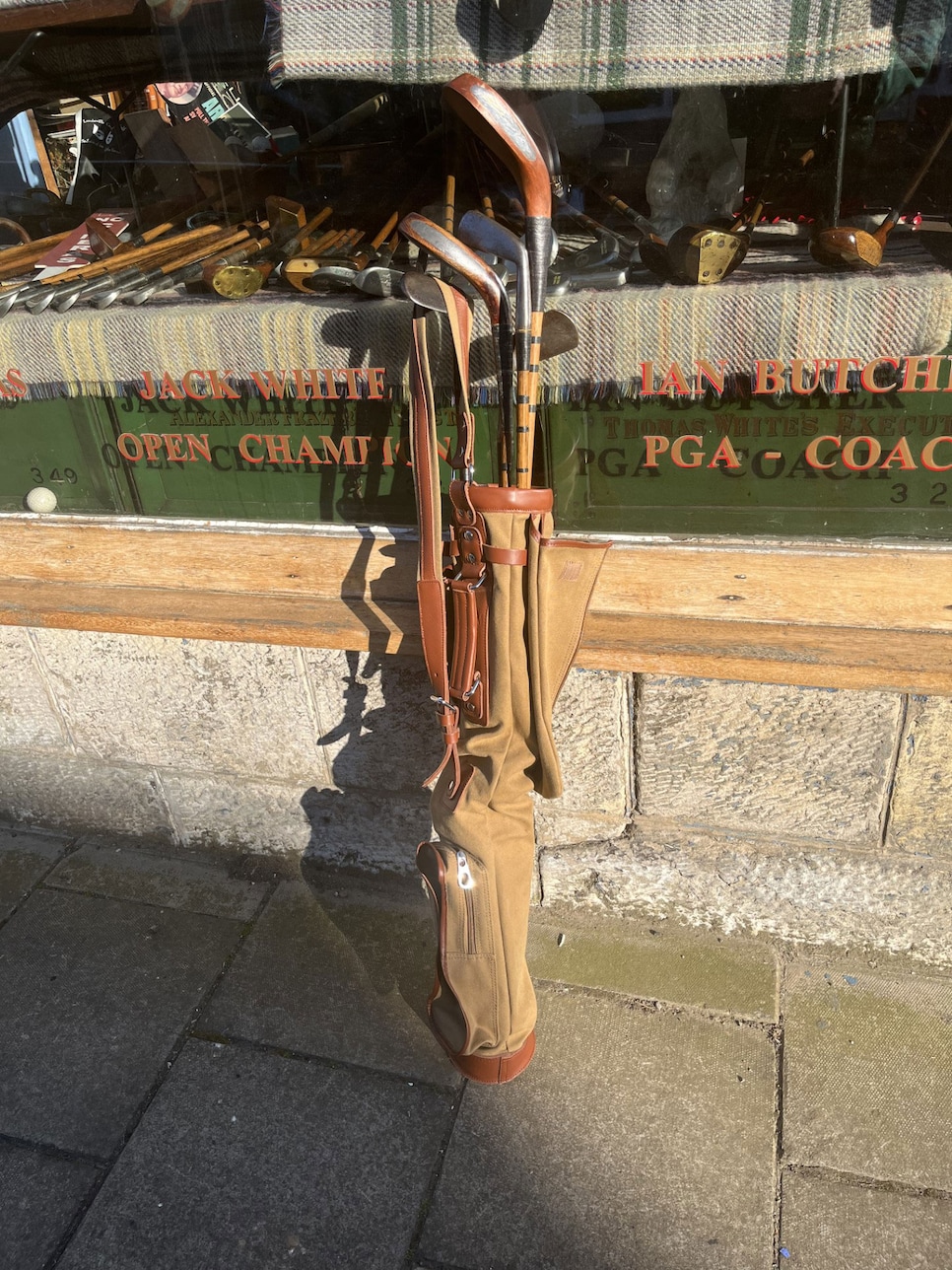 That return to his homeland didn't always go too smoothly for White either. Offers of bases in North Berwick and then Muirfield didn't work out. So he ended up in Gullane, where he employed eight men in what Lietzow calls a "factory" on the village's "Goose Green."
"I was collecting clubs and found a Jack White and I thought this is very special, the way it was made," says Lietzow. "White was clearly a good golfer, but he was more than that— a great clubmaker. He is a forgotten figure, maybe because his clubs didn't have his name on them, only a little smiley face. That meant 'Jack White, Sunningdale.' So he wasn't too good at marketing.
"Anyway, I thought there might be some interest in his work. And if there was, Gullane was the place where I should be. So I rented this shop.
"There are two ways of looking at hickory golf," Lietzow continues. "One buys a set of replicas, which are costly. But the real fun, the good fun, is getting into the history."
Indeed, in that at least, Lietzow is far from alone. His shop is best described as diminutive, but the premises are stuffed with golfing memorabilia. Most importantly, it contains a wide selection of White's hickory-shafted and wooden-headed handiwork. Truly, they are beautiful things that have, over the last few years, attracted visits from high-profile professionals. Patrick Reed, Branden Stone, Robert Rock, Ian Poulter, Matt Kuchar, Joaquin Niemann, Min Woo Lee, Sandy Lyle, Jessica Korda and Moria Jutanugarn have all dropped in to survey Lietzow's stock.
So, word of White is finally spreading, a state of affairs golf's Jack-of-all-trades surely deserves.
Is it the British Open or the Open Championship? The name of the final men's major of the golf season is a subject of continued discussion. The event's official name, as explained in this op-ed by former R&A chairman Ian Pattinson, is the Open Championship. But since many United States golf fans continue to refer to it as the British Open, and search news around the event accordingly, Golf Digest continues to utilize both names in its coverage.