journey of the jug
How Cam Smith spent a year with the claret jug
What didn't the reigning Open champion drink out of the game's oldest trophy?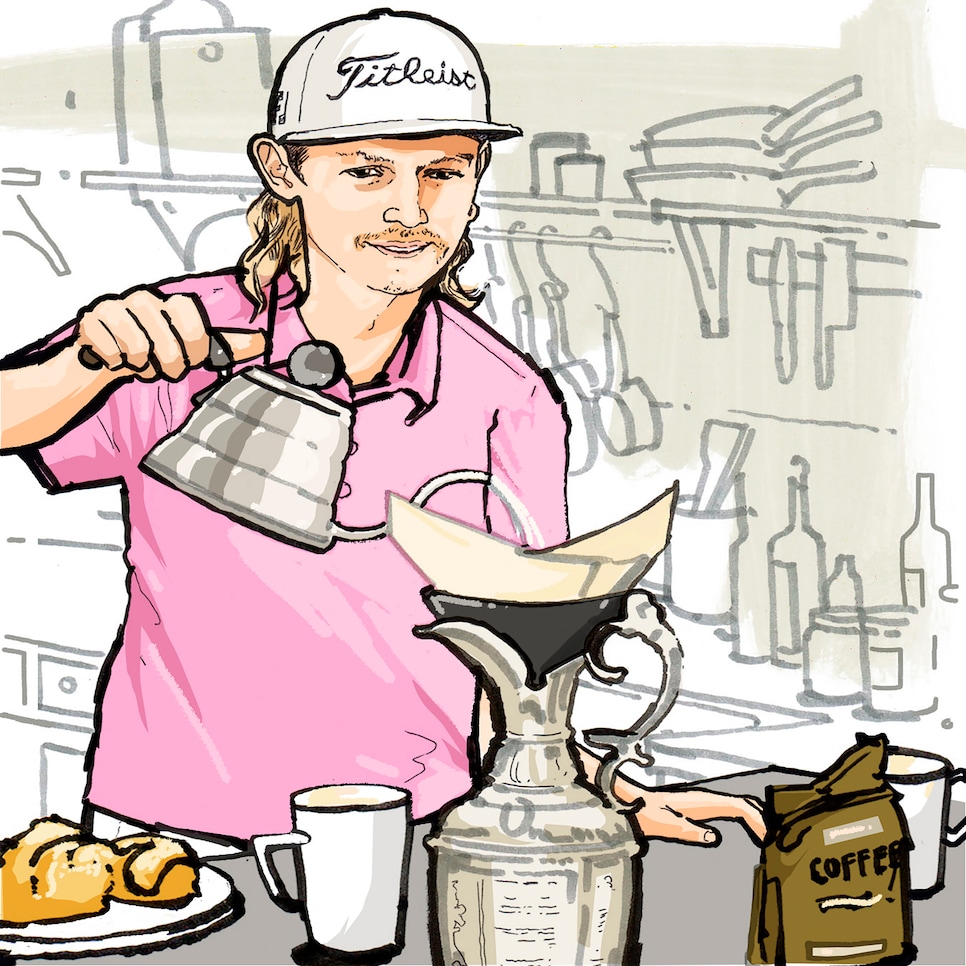 Inside a home office near Ponte Vedra Beach, beyond a concrete wall and an immaculately manicured Bermuda lawn, the claret jug sits atop a heavy oak desk facing Florida's Intracoastal waterway. The sterling-silver trophy's spout is shaped like a swan's beak and its handle like a bass clef. It's the centerpiece of a regal workspace adorned by other tournament trophies, Titleist staff bags filled with clubs, and framed magazine covers. As Cameron Smith, 29, enters the office, he bears little resemblance to a "Champion Golfer of the Year." Sporting a white T-shirt with the logo of his favorite Aussie beer, XXXX Gold, and a hat from his beloved Brisbane Broncos rugby league team, Smith picks up the claret jug, not quite smiling, though his eyes suggest he's beaming inside.
The jug stands 20¾ inches tall, measures 5½ inches in diameter and weighs 5½ pounds. After Young Tom Morris retired "the belt," the first claret jug was awarded to Tom Kidd for winning the 1873 Open. The replica was introduced in 1928, and the original was placed in a museum. Since then, Seve Ballesteros, Jack Nicklaus, Tom Watson, Tiger Woods and others have helped it become one of the most recognizable trophies in sports. Smith is the 59th different winner in the 95 years of the new jug. Like every other Open champion, he took the jug home for a year and will return it to the Royal and Ancient Golf Club, organizer of the Open, at the 151st Open at Royal Liverpool. He will receive a replica and as an Open champion has the option to purchase up to three more.
Smith started the final round at the 150th Open at St. Andrews four shots behind 54-hole leaders Rory McIlroy and Viktor Hovland. McIlroy, whose four major wins include the 2014 Open, was the betting and crowd favorite, but Smith stunned the golf world by snatching the lead from McIlroy with an inward 30, the lowest closing nine ever by an Open winner.
"It's still a blur," Smith says, without looking up.
The man who engraves the jug each year, Garry Harvey, had an inkling he would be etching Smith's name. "I didn't know too much about Cameron Smith, other than he had a funny hairstyle, let's say, for a golfer," says Harvey, a former European Tour player who played the 1979 Open at Royal Lytham. "But I could see Smith was smiling the entire time, having fun. Rory looked a wee bit concerned about how things were going."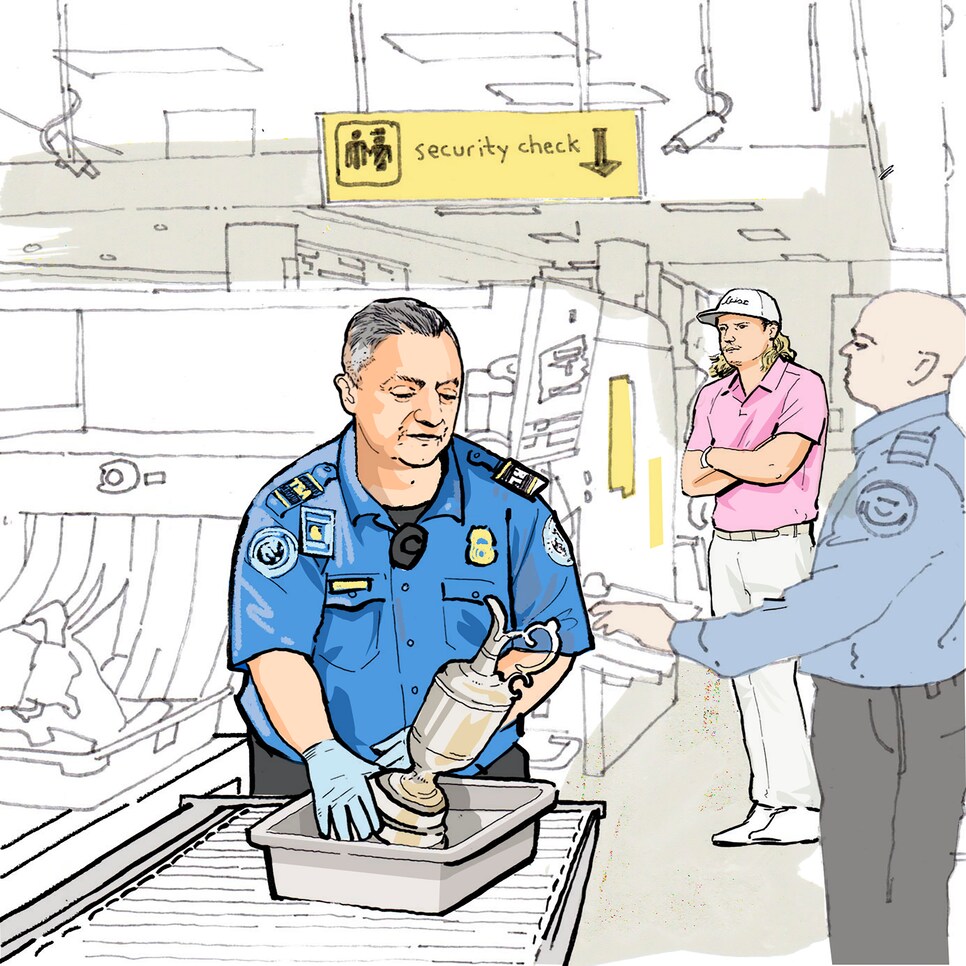 Smith's eight under also equalled the lowest final round by a champion, and his 20-under-par (268) total earned the scoring record for the 30 Opens played at St. Andrews, edging Tiger Woods' 2000 total by one. "I watched the final round on TV recently," Smith says. "The gray skies and the sound of the seagulls give me goose bumps."
The jug began its journey with Smith that Sunday night. A lively after-party inside the Old Course Hotel—just right of the Road Hole where Smith steered a daring putt around its infamous greenside bunker to save par—left plenty of revellers with sore heads the next morning. Australian "pub classic" songs like "Khe Sanh" by Cold Chisel and "New Sensation" by INXS blasted through the speakers. Smith was sporting a backward baseball cap, and the Gold Medal—another trophy given to the Open champion—was pinned to his shirt. He was determined to find out how many beers would fit in the jug. That turned out to be two Birra Morretti, an Italian lager. Tour pros like countryman Adam Scott attended, but caddies outnumbered players. Everyone wanted a photo with Smith and the jug. Smith left the party just after 1 a.m.
"My rental car was still in caddie parking at the Old Course the next morning," Smith's longtime caddie, New Zealand's Sam Pinfold, says. "I walked through the town, right across the 18th fairway, to the parking lot. I saw the giant yellow leader board which still read, 'Congratulations, Cameron Smith!' I was pretty emotional."
At first, Smith couldn't fit the jug's road case in the overhead of a commercial flight from Edinburgh to Chicago until he figured the correct angle. In Chicago, a NetJets private plane was chartered to fly Smith, his agent, Bud Martin, Pinfold, PGA Tour pro Billy Horschel and John Limanti, who caddies for Keith Mitchell, to Jacksonville.
"I was on a plane home with Zach [Johnson] in 2015, and everyone drank from the jug except me. I wanted to wait," Horschel says. But two years ago, he gave in. "I was at the hotel bar in 2021 with Collin Morikawa the night he won, and I thought, F__k it, I may never win one of these, so I took my chances," Horschel says. "A year later, Cam won, so I drank from it again."
Smith's close friend and fellow Australian, six-time PGA Tour winner Marc Leishman, has not caved to the lure of drinking from the jug. Leishman briefly had the lead during the final round at the 2015 Open but eventually lost to Johnson in a playoff at St. Andrews that also included Louis Oosthuizen.
"I was so proud of Cam," Leishman says, "but I couldn't help thinking about 2015 when I was holding it and how close I was to having my own name on it. It brought back a lot of memories, mostly positive, but some disappointment, too. I'm still hoping to have a drink out of it one day as a champion."
Leishman is now Smith's teammate on Ripper GC, the Australian LIV team that counts Matt Jones and Jed Morgan as members. Shortly after the Open Smith called several figures in golf to inform them he was considering LIV. One was Martin Slumbers, chief executive of the R&A. "It was a really good conversation, and I didn't feel bad about my decision when I hung up," Smith says. "Mr. Slumbers is a true gentleman and told me, as a champion, I'd always be welcome at the Open."
Smith also spoke with McIlroy, their showdown at St. Andrews still fresh, about the new $20-million "designated" events designed to assemble the biggest stars. "I just wanted to tell Cam what was in the pipeline for the PGA Tour's schedule," McIlroy said. "I wanted him to have all the information."
As it goes, Smith played his final round as a PGA Tour member with Horschel at East Lake in the FedEx Cup. Says Horschel, "Walking down 18, I put my arm around Cam and said, 'Buddy, I love you. I don't know what you're gonna do, but I will always support you and have your back.' "
Fans, media members and even some former golf greats questioned Smith's departure to LIV Golf with varying degrees of vitriol. "What sort of tour is that?" asked Gary Player about the no-cut events. Even Freddie Couples took a few swipes, the first on Twitter: "To all my friends who I missed birthdays & weddings . . . so sorry, I was busy earning a living on the @pgatour," a clear reference to Smith saying the PGA Tour's wraparound schedule had made it "tough to miss out on family and friends' weddings and birthdays" in Australia. In the lead up to the 2023 Masters, Couples also said at a breakfast before a PGA Tour Champions event, "I find that [reasoning] comical because my favorite to ever play has five kids, 40 grandkids and has never missed anything, and that was Jack Nicklaus."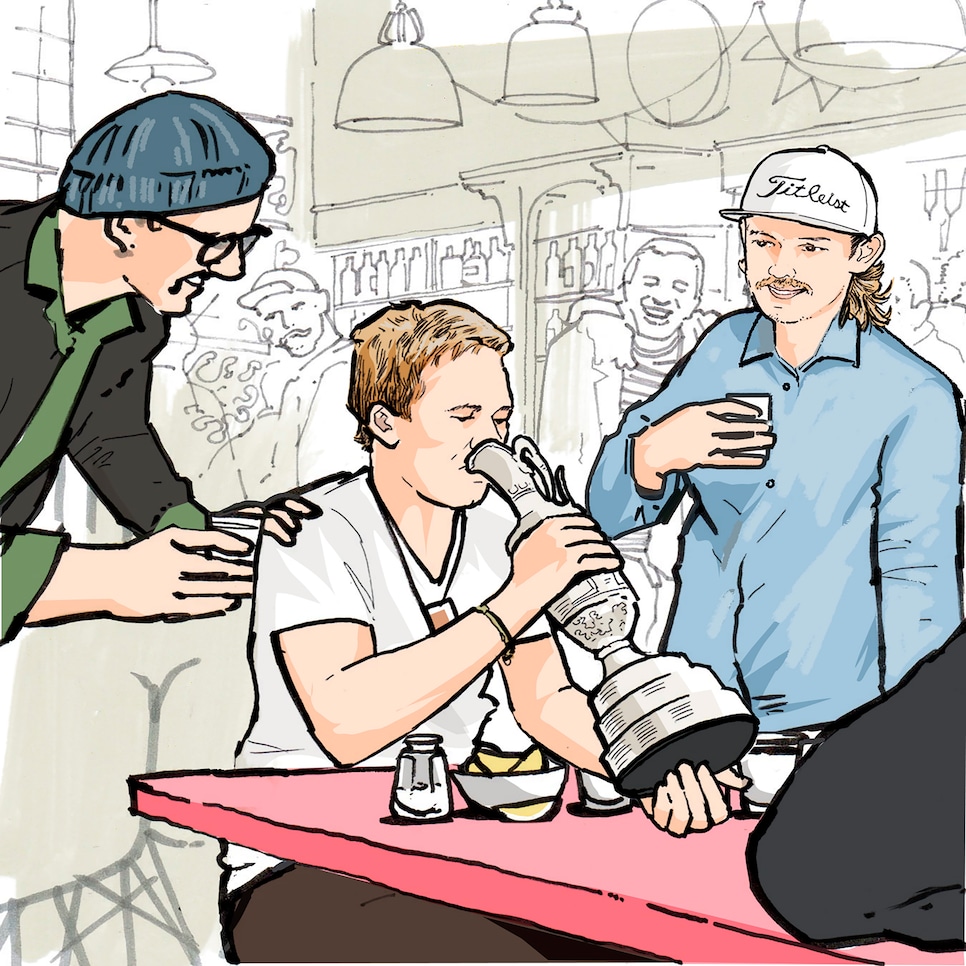 Smith says he resisted the urge to engage. "I got some great advice from my family and team," Smith says. "My agent, Bud, helped me navigate things. He has been around the game for a long time." Smith also felt an obligation to avoid controversy as the Open champion. "I think being an Open champion comes with a responsibility to make the right decision or maybe hold something back you want to say," he says. "It's also the way my parents [Des and Sharon] raised me. I don't know why some people have said the things they have, especially fellow professionals I haven't even met."
Adds Horschel, "My issue was with guys who left the PGA Tour and then threw shit back at it. Cam never did that; he is a classy guy, and he was honest."
Still, Smith admits he felt conflicted. "There was still so much stuff to do, and so much to think about," Smith said last year. "It felt like I didn't sleep for a few months. I was constantly thinking, What will other people think?"
A year with the jug, however, has soothed some of that anxiety. Smith laughs when asked what beverages have been consumed from it. "Everything you can think of," he says. "I've drank espresso from it some mornings and espresso martinis some nights."
Caffeine is in Smith's blood. His uncle Trevor owns a cafe called Pure Shot in the Brisbane suburb of Brendale. Trevor made a flat white (espresso and steamed milk) in the jug, and Smith drank a pour over, running boiling water through espresso grounds in a paper cone filter atop the jug. "I was by myself, drinking a pour over out of the claret jug and looking out over the Intracoastal," Smith says. "I laughed and thought, This is a bit too dorky. I looked over my shoulder because I was worried that Jack [Wilkosz, Smith's childhood friend and now assistant] or Shanel [Naoum, Smith's fiancee] would walk in and ask, 'What the hell are you doing?' "
Many unusual items have been in the jug through the years. In 1995, John Daly ate chocolate ice cream from it. In 2008, two-time Open winner Padraig Harrington's son put ladybugs in the jug. In 2009, Stewart Cink had orange juice and barbecue sauce in it at various times. In 2015, Iowa-raised Johnson ate corn from it.
Premium tequila has also had a regular presence. In mid-August, Smith celebrated his birthday at popular Jacksonville Beach restaurant Taco-Lu, which became one of his favorite hangs when he moved to Florida in 2016. "We put Partida Roble Fino in the jug, some Herradura Double Barrel margaritas and lots of Dos Equis beer," says owner Don Nicol.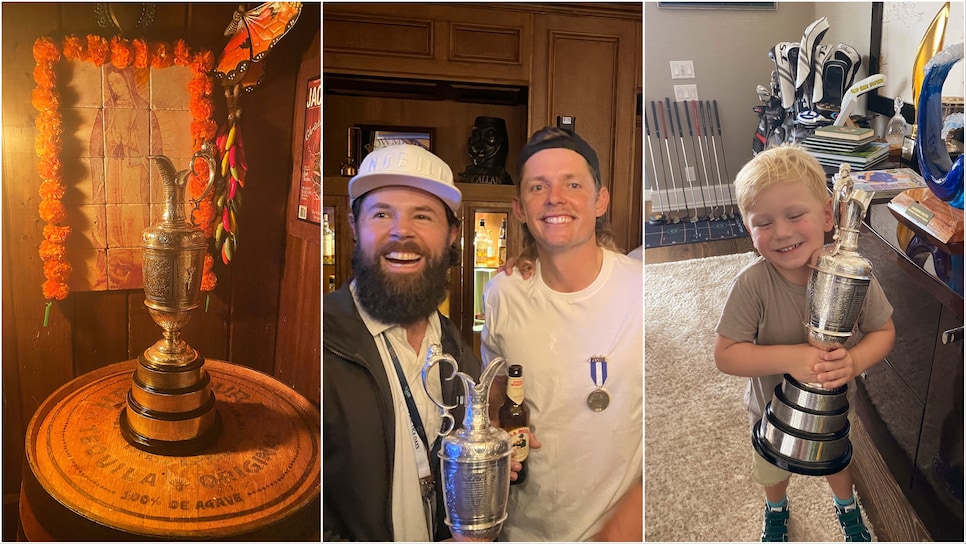 MAKING THE ROUNDS From left: The claret jug at TacoLu in Jacksonville, with Nic Catterall, Smith's strength and conditioning coach, and getting a hug from Beau Kelly, the 4-year-old son of Marc Leishman's caddie, Matt Kelly.
"TacoLu was one of my favorite nights with the jug because I could show the folks there, who love golf, a piece of history," says Smith, who was the first Jacksonville-based champion since David Duval in 2001.
In November, before the 9,000-mile trip from Florida to Australia for the Australian Open and Australian PGA Championship, Smith gave Wilkosz a new job title: "head of jug security." Promptly, he was put into action at Los Angeles International airport when a TSA agent wanted to examine the road case's contents after an X-ray illuminated the outline of the claret jug. What's usually an instantly recognizable image for golf fans was not so for diligent TSA agents viewing a computer screen. Another agent wearing white gloves performed an explosives swab. "The agent got to hold the jug but probably didn't know what it meant," Wilkosz says.
TSA AGENTS EXAMINED THE ROAD CASE AFTER AN X-RAY ILLUMINATED THE OUTLINE OF THE CLARET JUG. ANOTHER SWABBED FOR EXPLOSIVES.
Adds Smith, "A couple of travelers behind us saw the X-ray and said, 'Holy crap, is that the real claret jug?!' That turned into a quick show-and-tell in the security line."
Arriving at Brisbane airport, Smith was swarmed by fans and television crews in the terminal. He had brought the jug Down Under for the first time since 1993 when Greg Norman won his second Open championship.
The jug was soon at Smith's childhood course, Wantima Country Club. Wantima is not a country club per se but rather a working-class, publicly accessible course 30 minutes north of Brisbane. Members affectionately refer to it as "Wan-gusta National." The course sits on a mostly flat piece of land, and firm, fast fairways are lined by Australian gum trees. The greens are small and tricky. Inside the clubhouse near the front entrance, there is a shrine to Smith's career, including a signed shirt Smith wore during his PGA Tour debut at the CIMB Classic in Malaysia in 2014.
Wantima hosted a celebration for Smith and 200 members. Smith sat for a 45-minute Q&A session before passing the jug around to the members to chug XXXX Gold from it. "Some were even holding the jug like a baby," Jason Patterson, Wantima's general manager, recalls.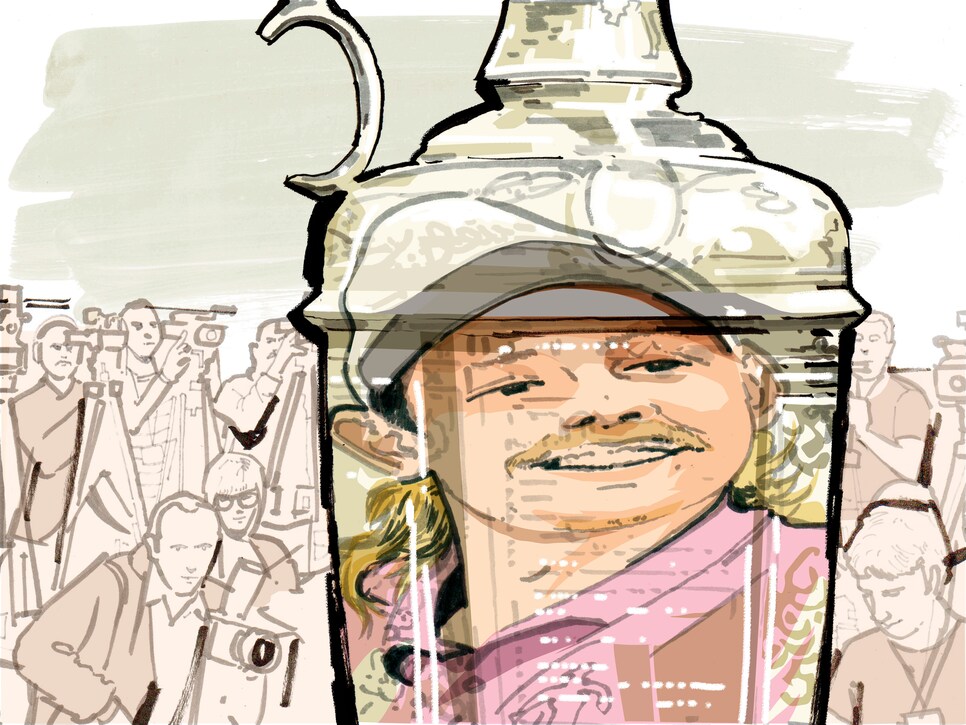 "It was pretty neat for a little club on the north side of Brisbane to have the claret jug in the clubhouse," Smith says. Days later, at the Australian PGA Championship at Royal Queensland, Brisbane's mayor presented Smith with a key to the city.
Smith then won the DP World Tour co-sanctioned Australian PGA Championship by three shots, his fifth victory of 2022. That was the most emotional event, he says. Among the contingent of family and friends in the gallery, who hadn't seen Smith play in person since before the COVID-19 pandemic, was his grandmother, Carol. She had undergone several chemotherapy treatments in the lead-up but walked all 72 holes wearing a custom-made T-shirt emblazoned with the words "Team Smith."
AT BRISBANE AIRPORT, SMITH WAS SWARMED BY FANS AND TV CREWS. HE HAD BROUGHT THE JUG DOWN UNDER FOR THE FIRST TIME SINCE 1993.
"Everyone told her to pace herself, but she was out there every day. It was inspiring," Smith says. For her efforts, Carol got to hold both the claret jug and the Australian PGA's Joe Kirkwood Cup that week. "Out of all the people who have touched the claret jug, my grandparents holding it in my hometown is the most special memory," Smith says.
In his office, Smith runs his fingers over some of the biggest names to have successfully defended an Open: Tom Watson (1982-'83), Peter Thomson (1954-'55-'56), Arnold Palmer (1961-'62) and Lee Trevino (1971-'72). Dreaming of doing the same, Smith's hands arrive at his own name. He pauses, thinking about delivering the jug back to Slumbers in July.
"I might be emotional," Smith says. "It's been so special to have this jug for a year. Having a replica helps, but it's nothing like the real thing. Handing it back will fire me up for the week because I really don't want to give it back."
Is it the British Open or the Open Championship? The name of the final men's major of the golf season is a subject of continued discussion. The event's official name, as explained in this op-ed by former R&A chairman Ian Pattinson, is the Open Championship. But since many United States golf fans continue to refer to it as the British Open, and search news around the event accordingly, Golf Digest continues to utilizes both names in its coverage.