all i do is win
Enjoy golf the DJ Khaled way
"If the weather's beautiful, I jump out on my balcony and scream, 'Let's go golfing!' "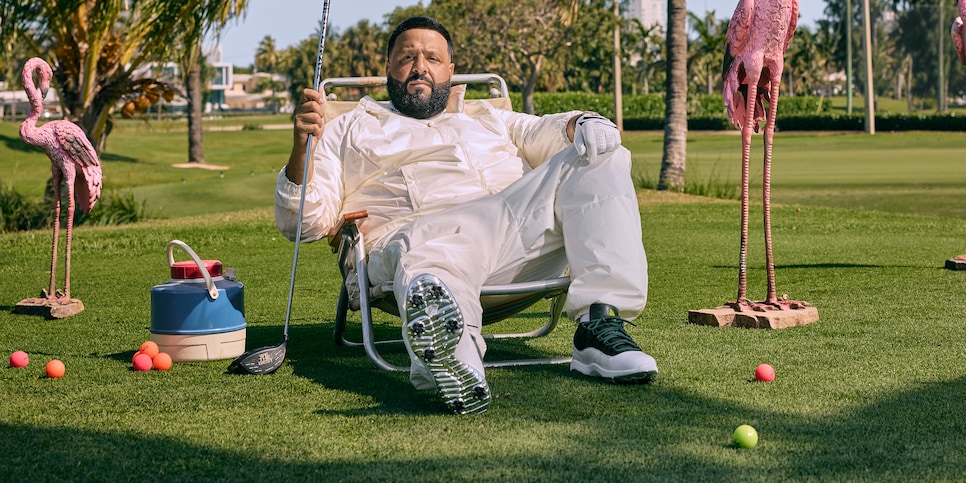 Photo By: Mary Beth Koeth
For 10-time Grammy-nominated producer, modern-day philosopher and unwavering beacon of positivity DJ Khaled, life boils down to four things: family, music, God and golf—not necessarily in that order.
Khaled, who was born in New Orleans and raised in Miami with a stint in Orlando, tried golf in his teens. His best friend lived next to Bay Hill Club. "We was crazy," he says. "We would try to jump golf carts over bunkers." Now 47, Khaled only recently has become captivated by the game. Now the music industry's busiest man is up to his eyeballs in golf and loving every second of it. He just got fitted for a new set of PXGs, each club custom stamped with everything from the title of his 2007 album "We the Best" on the face of his driver to the names of his two sons, Asahd, 6, and Aalam, 3, on his 8-iron. He just got his first official handicap: 14. He's even planning to host a charity golf tournament.
Between those formative days and our interview on a beautiful spring afternoon at Miami Beach Golf Club, a lot has happened for Khaled. Born to first-generation Palestinian-American parents and raised a devout Muslim, Khaled loved R&B and hip-hop from a young age, especially Run DMC's seminal live album "The Apollo '86." "That was one of my favorite records to scratch and cut up," Khaled says. "I was amazed about all the breaks [breakbeats, a type of drum beat commonly "sampled" by DJs] on the record, and that's why DJs loved it so much."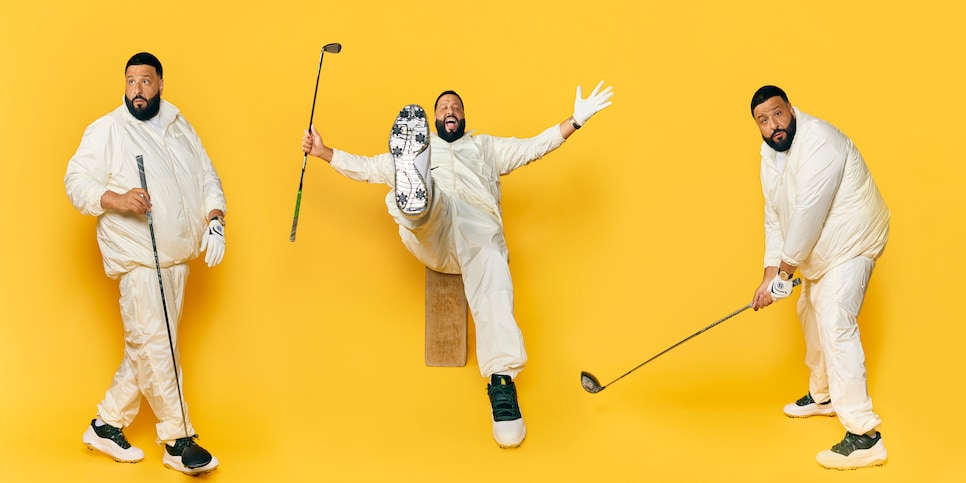 Reconciling his love of hip-hop and rap with his faith, Khaled has forged a clean style, focused on themes of ambition and gratitude. "God gave me life, and he gave me a blessing, and I show my gratitude every single day," Khaled says. "I love golf because it's like my connection with God, too. It's kind of like my one-on-one time with him."
In the early 1990s, Khaled got his break in the music industry as a host for the Miami-area radio station 99 Jamz, right as some of his favorites like Biggie, Tupac, Nas and Jay-Z (who turned in a verse on Khaled's epic 2022 track "God Did," now the name of his putter) began dominating the airwaves. That led him to a DJ gig with the hip-hop group Terror Squad and eventually his debut album in 2006, "Listennn … the Album."
Khaled's follow-up "We the Best" produced a top-20 single in "I'm So Hood," but it was his triple-platinum-certified 2010 hit "All I Do Is Win" that made Khaled really famous. Khaled's 2022 album "God Did" debuted at No. 1 on the Billboard charts and earned five Grammy nominations.
Although music remains the pillar of Khaled's professional empire, golf has become his mute button—a fortress of solitude for the top-40 Superman. As we sit chatting in a golf cart, a warm Atlantic breeze picking up around us, Khaled admits that he has played seven days a week for the past month. His Instagram, followed by nearly 34 million people, is littered with clips of him striping tee shots with his new catchphrase, "Let's go golfing!"
If you're a man whose entire life is based on the rhythm and music of words, why not use the gerund? "Every day after I wake up and pray, I'm screaming it," Khaled says about these four syllables. "If the weather's beautiful, I jump out on my balcony and scream, 'Let's go golfing!' My kids are running around the house, 'Let's go golfing!' I'm screaming it on my Instagram, 'Let's go golfing!' I walk outside. I jump in my car, and if I'm at a traffic light, my fans pull the windows down and start screaming, 'Let's go golfing!' If I'm at a concert, they're screaming, 'Let's go golfing!'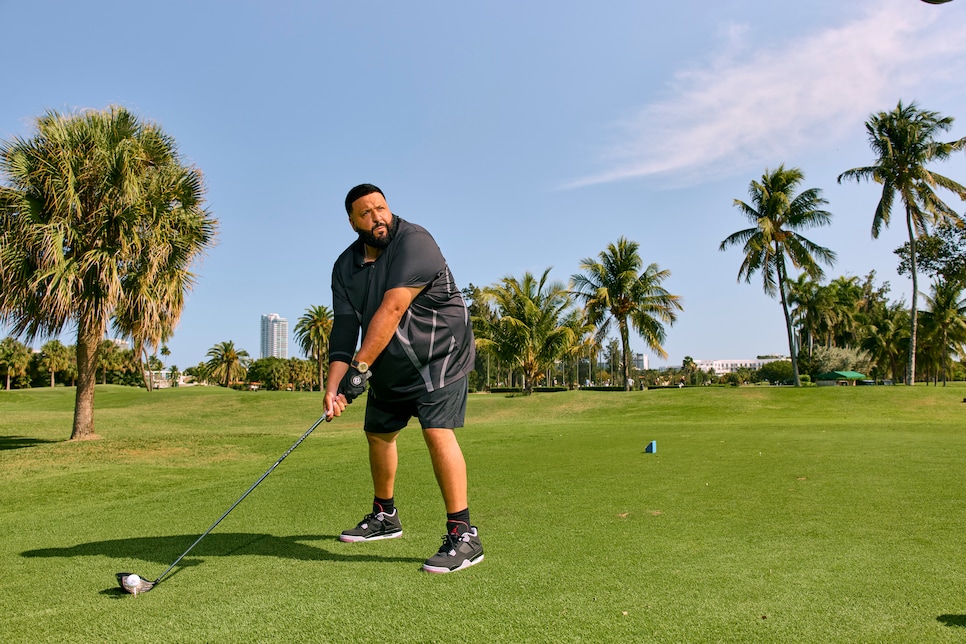 "I want to be clear: This is not a joke. This is something that's part of my life. Everywhere I go they scream 'Let's go golfing!' It's just something that comes out of my soul and my heart. It's a beautiful slogan that came from a true organic space in my life, and you're gonna see a lot of things with 'Let's go golfing!' You're gonna see some beautiful things."
Khaled's golf wisdom, which pours from him like a sermon at every opportunity, suggests a player with many miles on his spikes, but he started playing seriously only about two years ago, when, as the pandemic began to stabilize, he took his neighbors up on a longstanding offer to slap it around.
"They always invited me to play, and I never had time. Well, I realized I had time. I just didn't make time. That's what golf is teaching me. Life is now. We gotta stop saying we don't have time for things. We have to make time.
"God said, I'm gonna stop everything; everybody get focused and recharged." Khaled continues. "God put me on that golf course. I went and played with my neighbors and some friends. It was so beautiful. We had so much fun, and for not playing in such a long time, my swing was there; I was hitting them. God was telling me, 'Yo, Khal, watch what we gonna do now. We're gonna get you more focused.' Golf taught me to be more calm—not changing who I am because I have a lot of energy but the way I deal with things. Take time. Don't trip. Don't work off your emotions. Something that used to irritate you, brush it off, keep it moving. Go hit another nine holes."
How, then, do golf's stuffier elements react to the Tasmanian Devil-like whirlwind that is DJ Khaled, rolling up to the front gate blasting his own music in his Rolls-Royce, hyping up everyone as he rolls through the clubhouse in eye-wateringly rare Masters-themed Jordan XIs? Apparently selling nearly five million records worldwide will earn you a lot of cred, even with golf's parochial power brokers.
'IF THE WEATHER IS BEAUTIFUL, I JUMP OUT ON MY BALCONY AND SCREAM, "LET'S GO GOLFING!" MY KIDS ARE RUNNING AROUND, "LET'S GO GOLFING!" [IT] COMES OUT OF MY SOUL.'
"I have a trillion texts on my phone right now. Everybody wants to play, from Miami to Scotland, England to Barbados, Jamaica to the Bahamas, California to Vegas. Sometimes you have to tone stuff down, but I always gotta be me, and I encourage everybody in the world to be yourself because that's the truth. Every course I go to, the love is amazing. I walk in with love, and I leave with love. That's who I am."
That's the Khaled way, and it flows through all facets of his life. As our cover shoot winds down, he begins launching balls (also emblazoned "We the Best") into the South Beach sky until, much like a take in the studio, he gets one that feels just right.
"When I'm done playing golf, and I walk into the studio, I have a clear mind," he says. "On this new album, a lot of my great ideas came from me sitting on the golf course or me walking the fairway and just thinking. A lot of my great ideas come out when I jump in the car on the way home after a beautiful day of golf, and I'm driving home, and I'm saying 'Man, I got a dope idea. I'm gonna go lay it down in the studio.' "
If all of this seems like a jarringly holistic approach to a game of precise yardages and calculated Indexes, that's because for Khaled golf is a workout of the mind as much as the body, a point he keeps returning to. When it comes to the company he keeps, vibes are everything. Sometimes he plays with his star-studded "PAR BOYZ" crew, including the likes of Mark Wahlberg and former major-league outfielder Reggie Sanders. They'll bump Jay-Z or Khaled's own songs in the cart. "Once in a blue moon" they'll sip on something nice. Other times, though, he will play by himself in silence. Like seemingly all things in Khaled's life, golf comes down to gut feel—a deep knowledge of inner self and the confidence to trust it, a combination that has served him well, whether facing a forced carry or a sold-out arena.
"My happiness is my family and my kids and loving God, but golf makes me happy, too," he elaborates, a wellspring of pithy wisdom and catchy quotes. "I got a mandate that I'm putting in my life: It's OK to be happy. When I come out to the course, I end up being happy. I'm smiling, I'm laughing, I'm talking. We being competitive, but it takes all the distortion away, all the negativity, everything that's going on in the world."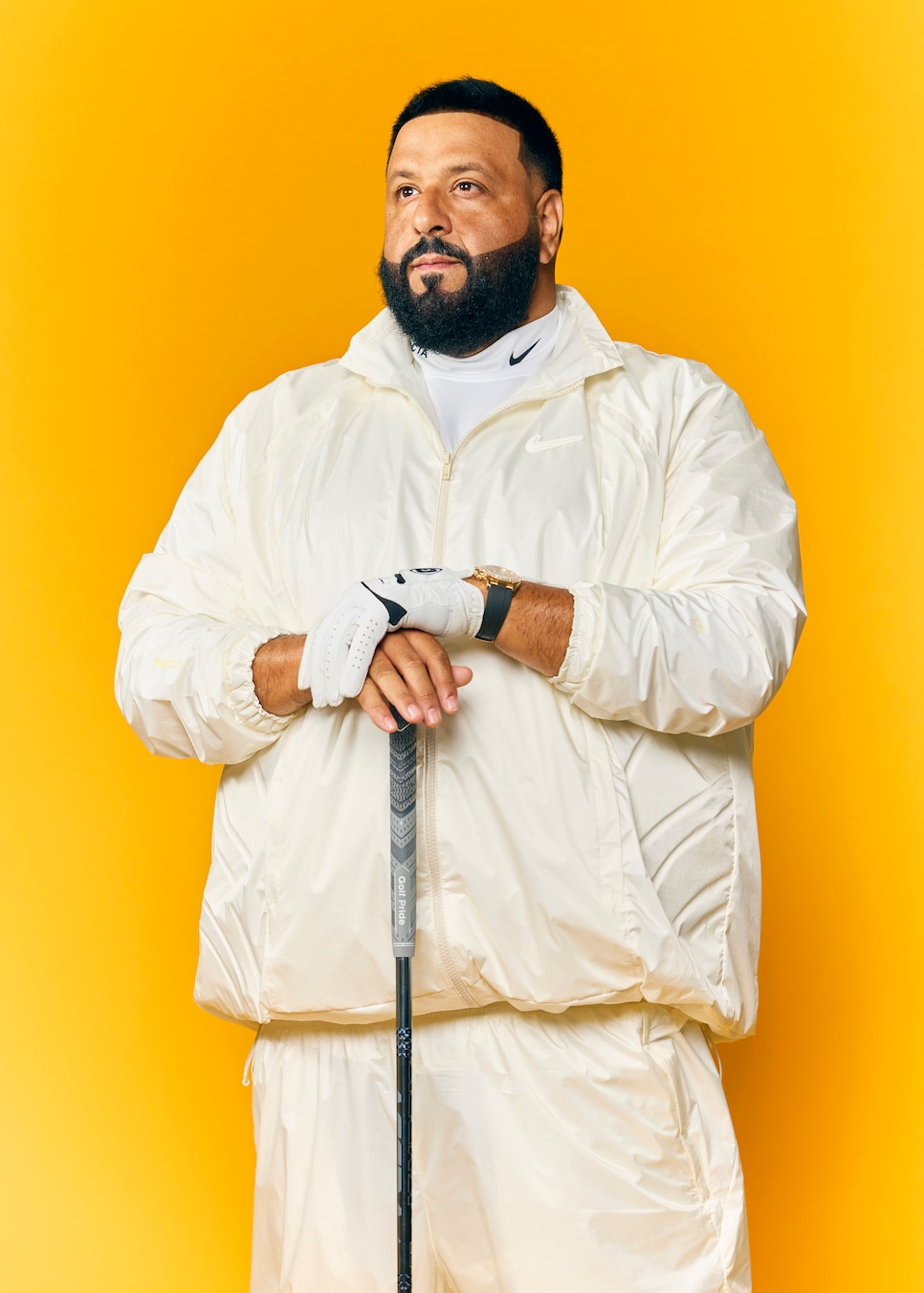 But what happens when golf strikes back, as it sometimes does? How does the world's preeminent optimist deal with a bad day doing a good thing?
"I'm gonna tell you straight up. I was playing with Bob [a man Khaled looks to as his unofficial golf sensei]. It was me and him by ourselves one day. I had some good shots, and then I had some bad shots. But while I was playing, I stopped and I said, 'Golf is like life.' "
Of course, only a few million people have ever drawn that comparison. Somehow it rings differently coming from the self-made mogul. "It's not easy, but it's beautiful. Even when you have a bad shot, that's when you take it all in and look at the scenery. Look at how beautiful Mother Nature is. Look how beautiful these people are that work day and night to keep these golf courses beautiful. That Zen will make you have a good shot. When you have a bad shot, you gotta step out of it and say 'Yo, chill, relax.' The next shot is going to be the savior, right?
"If I'm on the tee box and it goes right into the next fairway, I don't get mad. I'm already thinking about that 8-iron or that 4-iron I'm gonna pull out. I'm gonna hit a stinger that's gonna go right down the middle. If you ain't coming out here with confidence and greatness, stay in the golf cart and be my caddie. Matter of fact, don't even be my caddie. Follow behind me because we only getting busy over here."
So what about Bob? Who is this mysterious figure who plays such a massive role in Khaled's golf life? He appears out of thin air during our interview, beaming and nodding at Khaled's answers from behind a pair of oversize sunglasses. Bob has close-cropped silver hair, is impossibly tan, and has calves that would make Phil Mickelson jealous. He's the guru's guru. While Khaled has taken formal lessons, Bob serves as the primary steward to Khaled's game.
'I ENCOURAGE EVERYONE IN THE WORLD TO BE YOURSELF. … EVERY COURSE I GO TO, THE LOVE IS AMAZING. I WALK IN WITH LOVE, AND I LEAVE WITH LOVE. THAT'S WHO I AM.'
"I met Bob through a great friend of mine named Jamie," Khaled says. "He came over to my house for lunch before we played golf one day so that we could get to know each other because when you set a tee time, you want to know the kind of people you're going to play with.
"Once [Bob] could tell I was serious about it, he gave me a few pointers, and they ended up really shaping my game. He has a style that's really swagged out—a perfect golf swing, not too hard, effortless. It's almost to a point like, come on, this is too beautiful. He made me breathe. He's like 'Yo, slow down. Walk like you're going to play.' I ain't even got a club in my hand yet, and he's talking about how we going to walk. I said, 'Man, I like this guy.' "
Obviously, Bob is down to play 36 at a moment's notice. However, how does Khaled's wife feel about all the time he has been spending at the club working on that walk? After all, he and Nicole Tuck—he lovingly refers to her as "My Queen"—have been together since the early aughts. Something must be working.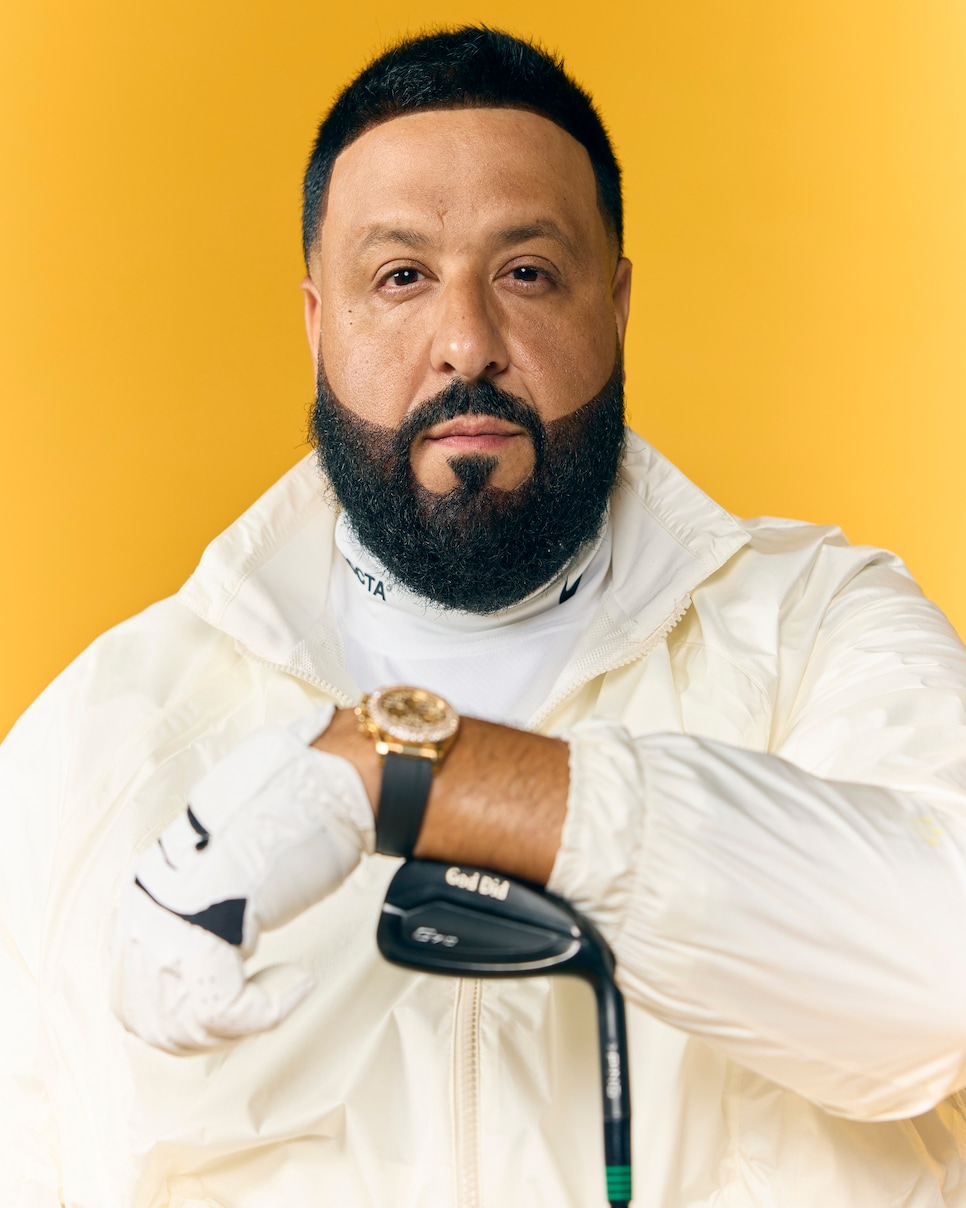 "When I'm playing golf through the weekdays, I still gotta run my business," Khaled says, again choosing the long way around. "If I pick up my phone or check an email while I'm on the golf course, I'm in a better mood to deal with stuff. If you catch me on a golf course, the business deal is gonna be a lot better.
"When My Queen calls me on the golf course, it's the same thing. I'm like 'Baby, whatever you want. Go shopping. Do whatever you want.' She loves it when I golf.
"My kids, they fell in love, too," he says. "We built a golf course in our backyard—just got it done today, actually—so they're both golfing every day. On the weekends they come out and play with me. They also take lessons, but they are natural with it. I'm telling you, some people are just natural with it, but you can't be natural and take it for granted. You gotta perfect it. At a young age, I can already tell they are going to be playing golf for sure. I'm not putting it on them. They naturally want to play golf."
There is one fatherly stipulation, however: Now when the Khaleds go on family vacation, it has to be somewhere with a bucket-list golf course nearby. What dad says goes.
On the whole, Khaled's shaman-like aura is tough to pierce. I expect him to eventually break character, but after a while it becomes clear that he simply is the character. It isn't an act. It's just him. As we wrap up, however, I notice a novelty headcover in his bag that seems at odds with his monastic mojo: a lion's head with Rasta-inspired dreadlocks. He admits John Daly gave it to him, and, of course, there's time for one last story.
"You know John Daly," Khaled begins, as if everyone is mutual friends with the two-time major champ. "We met up at an, um, secret location. He says 'Khal, I got love for you, I'm a fan,' but he ain't never seen me play golf. It's a par 3. He tees up my ball. He's giving me pointers. I embrace it because he's a legend—and he did teach me something that I wasn't doing—but at the same time I was like, 'He has no idea this is about to go on the green.' I took my 8-iron, and when I hit it, it sounded so good, everything looked right, and then it landed right on the green. He looked at me and goes, 'That was motherf—king good!' "
Khaled might opt for slightly softer language himself, but the slogan's sentiment still fits—a double dose of positivity whittled down to its bare essentials.