lucky break
How a popular cocktail on Fishers Island became a canned sensation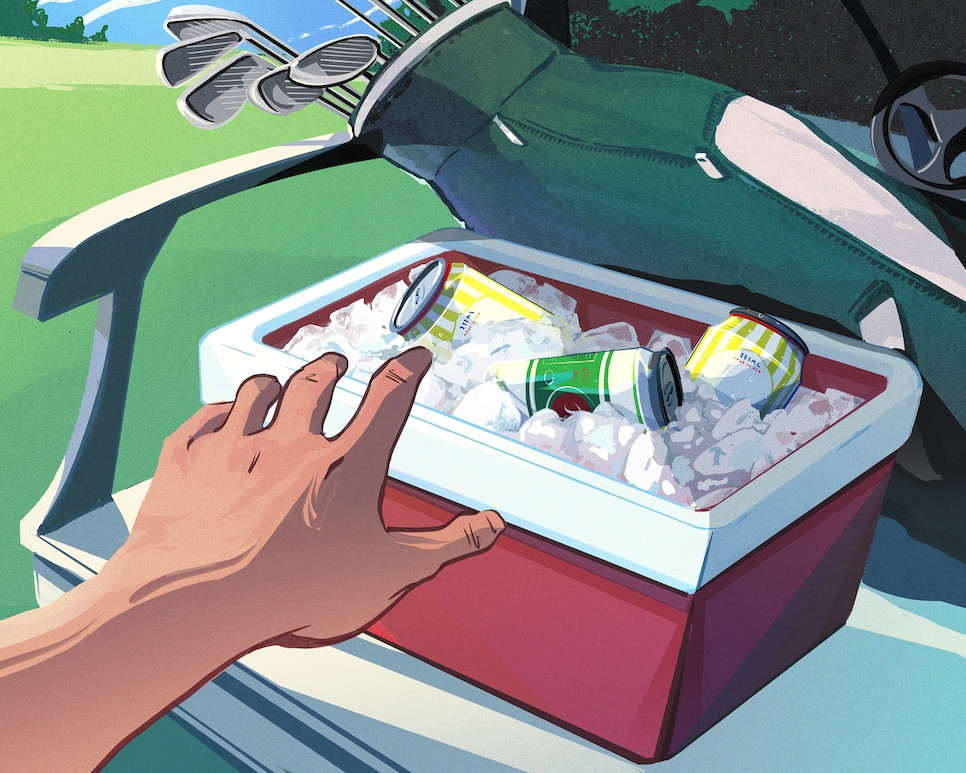 Play the Fishers Island Club and you will wish you could take a bit of the panoramic water views and beachside classic Seth Raynor vibe from this ultra-exclusive island tucked between New York and Connecticut with you when you leave.
You can't, but Bronya Shillo figures she can offer the next best thing. Shillo's family bought the island's only publicly accessible restaurant-bar, The Pequot Inn, back in the 1990s, and Shillo spent her summers off from playing college basketball at nearby Salve Regina University in Newport, R.I., slinging drinks for the 200-some residents who stay on the island full-time and the more than 2,000 who retreat to their "cottages" there in the summer.
The most popular drink on the cocktail menu is the "FIL," a concoction of vodka, whiskey, lemonade and honey that is lighter and easier-drinking than a full-octane mixed drink but with more punch than a beer. Shillo's twist on the longtime menu-staple refreshment proved to be so popular that she was called over to make rounds of it even when she wasn't on a bartending shift. "In New York State, the bars are open until 4, and we were pouring plenty of this liquid," says Shillo, who grew up caddieing at The Big Club, as the locals call it to differentiate the club from the nine-hole Hay Harbor across the island. "I said to myself, I wish we could be a little more efficient with this and make it so people could get it the same way every single time."
Tinkering this mixology into plastic buckets (and, ultimately, into a bubbler behind the bar) led to an experiment canning the cocktail and offering it as a to-go item for islanders headed for golf or back to the mainland. Shillo sold 700 cases of her Fishers Island Lemonade that first summer month in 2014, and she has been building a company around delivering a taste of the island ever since.
"I wanted to put our liquid in a can and bring it to the masses," says Shillo, who also spent two years working for Under Armour's e-commerce division when she got out of school. "Canning a cocktail with spirits like vodka or whiskey in it hadn't really been done before, so we had to get the canning equipment, we had to get the licensing for a liquor facility and work with a distributor that understood how to sell liquor in a can versus beer in a can and work the cold box [refrigerated section] and go through a faster rate of sale at retail than whole-bottle liquor because of the different consumption rate."
Most of the early traction came from clubs looking to get Fishers Island Lemonade into their halfway houses in Connecticut, Rhode Island and Massachusetts. The brand popped in 2019 when a catering company for the PGA Championship at Bethpage on Long Island put the cocktail on the fan hospitality menu, and sports-business influencer Darren Rovell tweeted it out.
"I started getting all these Instagram messages, and then a friend from high school who was at the tournament took a picture of the bar menu and texted it to me," Shillo says. "It was freaking awesome. It meant we hit the big time. Now, every once in a while, when I'm walking around Newport, I'll see an empty can on the side of the road and think, That is so cool when you actually find your own product trash!"
The company has seen double-digit sales growth in each of the past three years and is now filtering into markets beyond the Northeast, where many of the consumers presumably aren't as familiar with the island or the course. "Part of the reason we went with a can in the first place is because there's so much room for you to be able to tell that story about the roots," Shillo says. "You can have some fun with the graphics on the entire can."
The ingredients—most notably distilled spirits vodka and whiskey—are what put Fishers Island Lemonade in a very particular segment of the ready-to-drink category, separate from "brewed" ones like Mike's Hard Lemonade, Truly Hard Seltzer or Smirnoff Ice. Products brewed like beer instead of distilled are treated like beer when it comes to regulations and taxes, which means it's harder (and more expensive) to get Fishers Island Lemonade from Fishers Island to the cooler in your neighborhood. Taxes on spirits can be up to 10 times higher than the ones on beer depending on the state, and many states have much more stringent rules about how spirits are made and where they can be sold. Shillo also sources vodka, barrel-aged whiskey and cane sugar to make FIL, all of which contributes to a $16 price for a four pack—which puts it in the "premium" category. White Claw, which is made with sugar-based alcohol, is about half the alcohol by volume and costs about $18 for a 12 pack.
Shillo's next challenge is to add flavors and expand the company's footprint to the West Coast while competing with Mark Anthony Brands—the umbrella company that owns White Claw and Mike's Hard Lemonade and did more than $4 billion in sales in 2022. The job will be way easier with a new, deep-pocketed corporate parent. In early May, Shillo agreed to be acquired by Spirit of Gallo, a subsidiary of the E. & J. Gallo wine empire that owns High Noon canned cocktails and New Amsterdam vodka. "I'm ecstatic for the opportunity to support and further grow the Fishers Island Lemonade brand," Shillo says. "There's a lot of space left in this category to grow. Eight years ago, when I first started selling into liquor stores with our local sales reps, I was surprised to see it in the cooler door. I couldn't wait until Fishers—and the entire canned cocktail category—had its own cooler door. Today, we're there. We're seeing more cooler space and shelf space and displays at the front of the door."
FIL extended the line to include other flavors like ice tea and a lighter, carbonated fizz version, but if you want to drink it like an OG at The Big Club, combine a half can of the classic with an extra shot of whiskey, warm it in a saucepan and serve with a cinnamon stick, no initiation fee required.