More Than A Mullet
Cameron Smith has earned a spot in pro golf's elite in a way all his own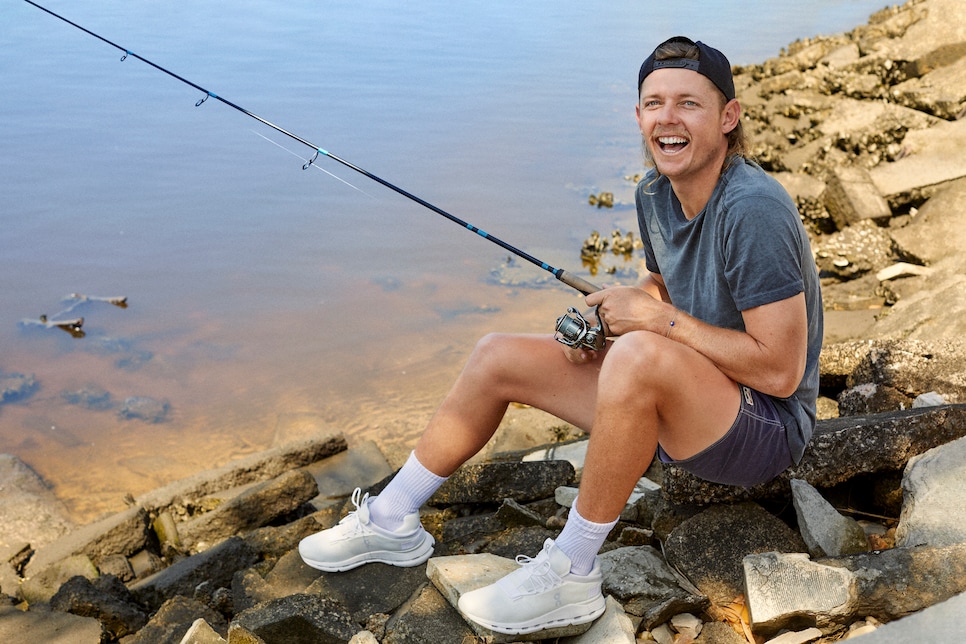 The hours leading up to Sunday afternoon at the Masters can be stressful if you're in the final pairing, but Cameron Smith's only worry was forgetting to take home to Palm Valley, Fla., a six-pack of his favorite Australian beer. It's a lite lager called XXXX Gold, and a friend from Down Under visiting Augusta, Ga., had brought it over. Smith packed the beers inside a cooler of ice and left it at the front door of his rented house, ensuring he couldn't leave without seeing them. It was an unusual way to spend the morning before the biggest round of his life, during which he contended but ultimately finished T-3. (Masters winner Scottie Scheffler confessed he had cried with anxiety before the round.) Smith, 28, has no regrets. The Australian is proud that even on the biggest stage, golf doesn't consume him. "If we'd driven back to Florida and realized, halfway, that we'd forgotten the beers, I wouldn't have forgiven myself," he says with a laugh.
WHEN DES SMITH INTRODUCED HIS son to golf as a toddler at Wantima golf course in the humble northern suburbs of Brisbane, Australia, he couldn't have predicted Cameron would one day win the Players Championship and become a top-five player in the world. Des does remember a moment from Cameron's junior golf days that signaled his boy was different. Brisbane is blessed with more than 280 days a year of sunshine so that golfers don't rush to tee it up in rainy weather.
"I was the junior coordinator at our club, and we started running a nine-hole competition," Des says. "One day I had to call it off because of rain and storms. But Cam begged me to play. He said, 'Dad, you can't call it off. I play better in the rain.' He wasn't even 10 years old, and he saw bad weather as a challenge he could overcome."
Des, a scratch golfer, knew his son could make a career out of golf when Cameron, at 12, broke par and beat his dad for the first time in the same round (69 to his dad's 71). Cameron began working with his coach, Grant Field, around that time and started to soar through the ranks of Australian amateur golf, making the national team at age 16. His teammates were big, strong lads in their 20s, and some were playing college golf in the United States. Smith was small and slim, so he developed cheeky trash talk to disarm older golfers.
Queensland's state coach, Tony Meyer, remembers a funny exchange at the 2011 Asia Pacific Amateur in Singapore involving Matt Smith, a star at Texas Tech. "Matt was struggling with his swing, and I was watching him on the range," Meyer says. "Cam was hitting balls next to us and calls out, 'Hey, Matt! Watch this.' Cam then hit a towering long iron and said, 'See that? Just copy that.' Matt was seven years older than Cam; it was hilarious."
"I've always liked taking the mickey out of people," Smith says. "Among my mates, if you weren't taking the mickey out of someone, they were doing it to you. But it has to be light-hearted."
Smith turned pro in 2013, weighing 160 pounds and averaging 280 yards with the driver. Field urged Smith to start on the Asian Tour, and a hot season was highlighted by a tie for fifth in his PGA Tour debut at the co-sanctioned CIMB Classic in Malaysia.
Smith met his longtime caddie Sam Pinfold at the 2014 New Zealand Open by coincidence. Pinfold, a Kiwi who had previously worked for Ryo Ishikawa, Aron Price and Trevor Immelman, should have been in the United States caddieing for Brendan Steele, but visa problems in 2014 effectively ended that partnership.
MY FIRST FEW YEARS ON TOUR, THE THOUGHT OF BEING NO. 1 SEEMED FAR-FETCHED. I ALMOST DIDN'T WANT IT BECAUSE IT SEEMED TOO HARD. BUT NOW MY MENTALITY HAS CHANGED.
"My first round with Cam at the New Zealand Open," Pinfold says, " he hit all 18 greens and shot 66." Pinfold stayed in touch while Smith tried to secure his PGA Tour card, and Smith pulled it off in 2015 in a dramatic way. He birdied four of his last six holes at U.S. Open qualifying in Columbus, Ohio, to book his place at Chambers Bay. There Smith needed a top-five result to secure Special Temporary Membership on the PGA Tour. On the par-5 72nd hole, Smith hit a 3-wood to tap-in range for eagle and a T-4 finish. "At the time it was the coolest moment I've had in golf, and it didn't sink in until I sat in the hotel room that night," says Smith, who won $407,000 and went back to Australia for a month to celebrate. He also hired Pinfold full-time.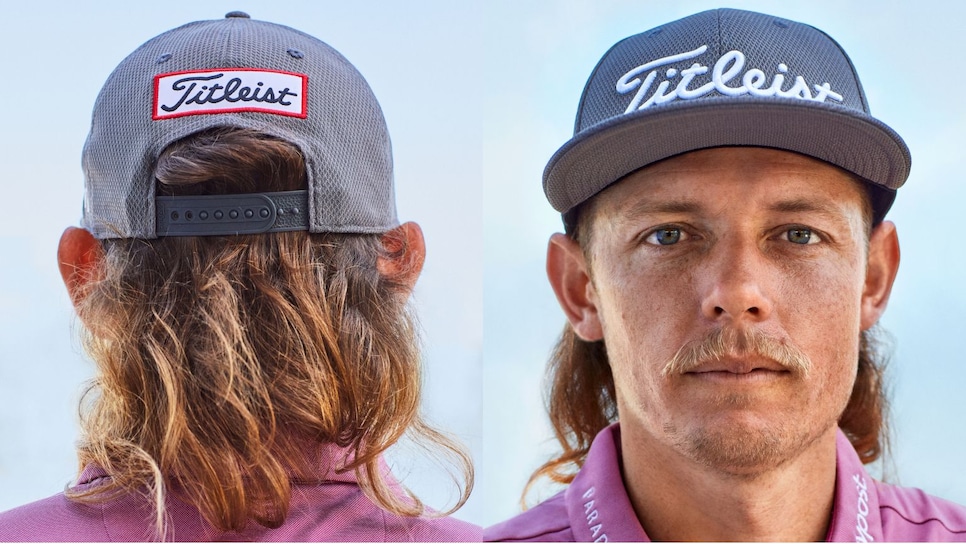 Photographs by Michael Schwartz
Smith was homesick during his first two years on the PGA Tour. After Chambers Bay, he didn't register a top 10 the next season and had to win his card back through the Korn Ferry finals. "For the first couple of months on the PGA Tour, we didn't really go inside the locker room," Pinfold says. "Cam was quite shy to use those facilities. We'd often just keep balls and gloves in the car and go straight to the range."
Two years later, Pinfold suggested Smith partner with Pinfold's Jacksonville housemate, Sweden's Jonas Blixt, for the Zurich Classic of New Orleans. It was a caddie masterstroke as Smith won his first PGA Tour event. He teamed with fellow Australian Marc Leishman and won the event again in 2021.
Pinfold has been on the bag for all five of Smith's PGA Tour wins and his two Australian PGA Championship victories. The pair hang out regularly in Jacksonville Beach. "To watch him grow as a person, as a human, as a golfer, I feel privileged to be a part of that," Pinfold says. Smith, who calls his bagman "Pinna," relishes his attitude. "Pinna is as positive on the first tee shot on Thursday as he is grinding to make the cut on Friday," Smith says.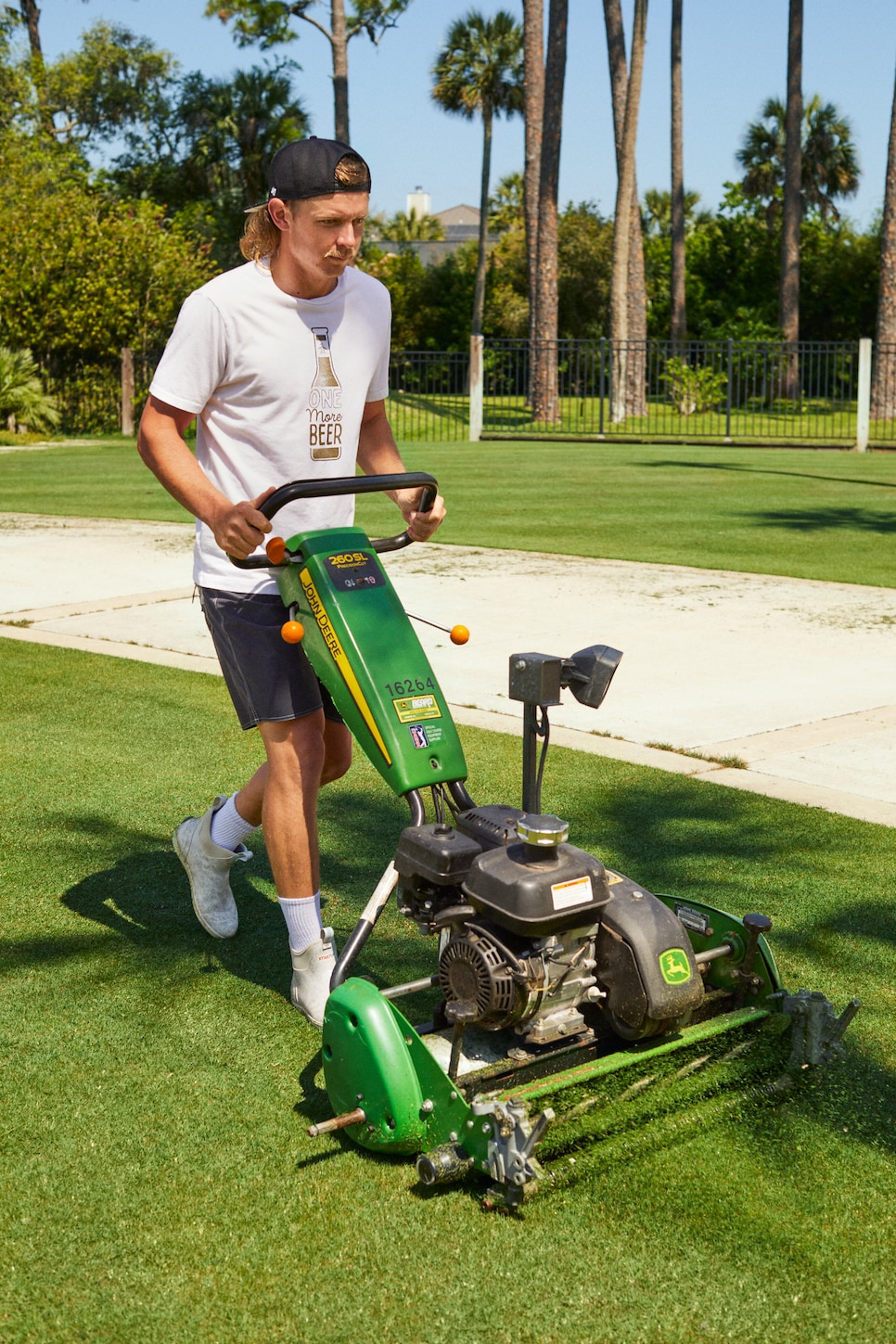 FIRST CUT Smith's love of lawn work led him to befriend the superintendent's staff at TPC Sawgrass.
MOWING THE LAWN GETS ME AWAY FROM THE WORLD. I DON'T EVEN LISTEN TO MUSIC, JUST THE SOUND OF THE MOTOR AND GRASS GETTING CUT.
AFTER HIS FIRST PGA TOUR WIN IN 2017, Smith wanted to give back to the golf body in Queensland. He didn't want to have just another charity golf day, so in 2018 he created a junior scholarship for elite amateurs. The prize for the two winners each year is an all-expenses-paid trip to Smith's Florida house for a week of golf and mentoring.
The inaugural recipients were teenagers Louis Dobbelaar and Jed Morgan. Smith suggested a 72-hole wager to the boys and offered them 10 shots. The rounds were at Pablo Creek, Atlantic Beach and two at TPC Sawgrass. Dobbelaar opened with 72 and Morgan 73, and Smith cruised to a 63. The boys used almost all their strokes on Day 1.
"We were nervous to justify our scholarships, and after the round, Cam looked us in the face and said, 'I didn't realize they'd sent over the Queensland practice squad,' " Dobbelaar recalls.
Says Smith: "We've turned into great friends, but on that first day I thought it'd be funny to give two of the best juniors in Australia a hard time."
The week turned into a light-hearted boot camp of sorts. Dinners and activities were luxurious, but Smith tested them on the course and in the gym. "We didn't go a day without sledging; it was awesome," says Morgan, using an Aussie cricket term for trash talk. For the final round at Sawgrass, Smith, miles ahead in the bet, offered a consolation prize: Shoot under par from the back tees and the boys could have anything in the golf shop. Dobbelaar shot 71 but avoided an expensive prize, opting for a modest Players Championship-logoed shag bag. "I still use it every day on the range as motivation to get to the PGA Tour," Dobbelaar says.
Dobbelaar and Morgan are now touring pros. Dobbelaar is on the PGA Tour Latinoamerica, and Morgan won the Australian PGA Championship by 11 shots last year to secure DP World Tour status. The scholarship is in its fourth year and remains close to Smith's heart. "When I first came to the U.S., I really had no one else around the same age as me who I could relate to and have a beer with," Smith says. "I wanted to be someone Aussie juniors could talk to. I love watching the juniors play golf because they play with such freedom. As PGA Tour players, sometimes you're so worried about the outcome of shots, you forget to be a kid. But it's just golf, not the end of the world."
Now in his eighth season, Smith has developed a network of friendships on tour, but who they are might surprise you; a lot of his closest buddies are caddies, including Matt Kelly, who works for Leishman, and Rickie Fowler's caddie, Joe Skovron. During the week of the Players Championship that Smith won, he hosted an "appreciation party" at his house for more than 25 PGA Tour caddies. "I just wanted to buy them some beers and pizzas to say thanks for being there throughout the year," Smith says. "Caddies are so down to earth, and they're genuine people who want to see you do well. I can relate to them a bit more than maybe some of the players."
One of Smith's strongest player friendships is Leishman, a six-time PGA Tour winner. He remembers Smith's shyness as a rookie but says Smith had grown confident by the time they were selected for team Australia at the 2018 World Cup of Golf in Melbourne. "It was the first day of best ball," Leishman recalls. "I wasn't contributing much, but Cam made an eagle and a birdie in his first few holes. He turned to me and said, 'Leish, you're welcome to turn up at any time.' It was very funny and very Cam Smith."
AS PGA TOUR PLAYERS, SOMETIMES YOU'RE SO WORRIED ABOUT THE OUTCOME OF SHOTS, YOU FORGET TO BE A KID. BUT IT'S JUST GOLF, NOT THE END OF THE WORLD.
Leishman believes Smith could win multiple majors, a feat no Australian male golfer has achieved since Greg Norman in the 1990s. "He loves the fight, and that's necessary to win majors and get to world No. 1," Leishman says. "What I also like is Cam rewards himself and parties after a win. With the amount of work we put in, we still don't win golf tournaments very often, and it's crucial to treat yourself."
Smith is known within his circle for switching off from golf when at home in Palm Valley. He indulges in a love of fishing and fast cars. He has the "everyday car," an Audi RS 6 sports wagon, and an orange Nissan GT-R, which has 1,300 horsepower and is modified to look like it's from the "The Fast and the Furious."
He also has an obsession with lawn work that has seen him befriend the greens staff at TPC Sawgrass. "Mowing the lawn gets me away from the world," Smith says. "I don't even listen to music, just the sound of the motor and grass getting cut."
Smith's stunning house backs onto Florida's Intracoastal Waterway, with a private dock. He walks out the back and onto his Front Runner 40-foot boat for fishing trips with childhood best friend Jack Wilkosz. The biggest fish the pair have caught is a 170-pound Atlantic tarpon. "We get a little tarpon run for a few months in Jacksonville, and they're the most insane fish I've ever seen," Smith says. "Tarpon are massive, aggressive, and they jump out the water. You grab them by the mouth to lift them up out of the water, and I could have fit my head in its mouth."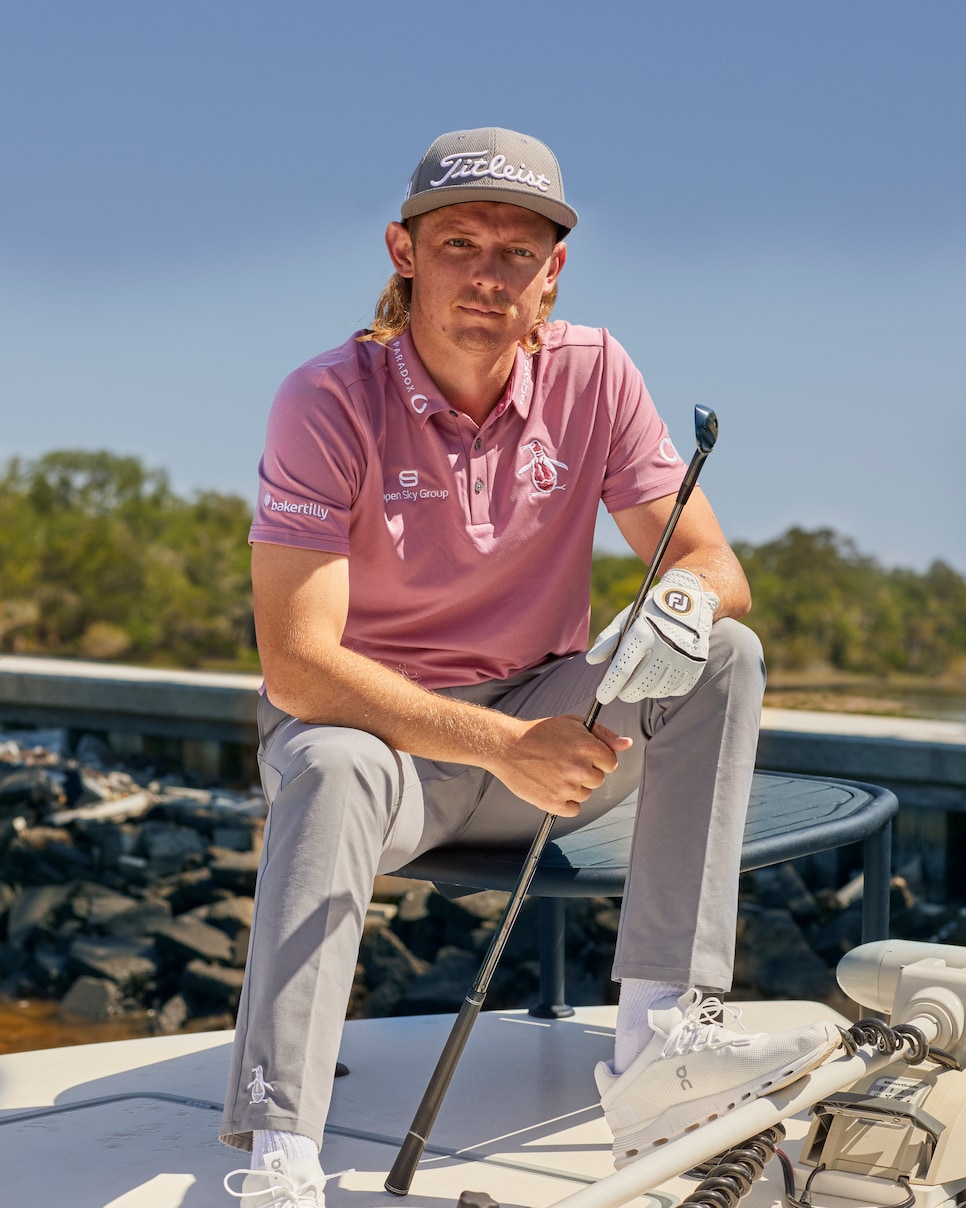 LOW PROFILE So far, Smith ranks first in birdie average (5.38) and scoring average (69.33) this season.
Smith and Wilkosz—a colorful character who also sports a mullet—have been friends since their early teens in Brisbane. Smith asked Wilkosz to move to the United States several years ago to quell his homesickness and to help out on tour. Wilkosz will do things like take swing videos of Smith for Field, who is mainly based in Australia, or transport the TrackMan and other gear at tournaments. "Jack is a great addition to the team, and he makes life a little easier, but it's nice having a really good friend traveling with me," Smith says.
Smith won the Sony Open in Hawaii in 2020 for his second PGA Tour title and then finished T-2 behind Dustin Johnson at the November Masters. Smith became the only player in Masters history to shoot four rounds in the 60s. His profile was also boosted by growing a mullet, which was inspired by rugby-league players in Australia who were donning the haircut. When it drew laughs from PGA Tour players and caddies, Smith committed to it.
At the Sentry Tournament of Champions on Maui in January, Smith beat then-world No. 1 Jon Rahm by one shot and set a PGA Tour record of 34 under par. Smith credits his girlfriend, Shanel Naoum, for inspiring him to another level. Naoum is a Jacksonville-area chiropractor, and the pair met through mutual friends. "Shanel makes me really happy," Smith says. "She's a hard worker. She just graduated from chiropractic school, so she spent eight years in university. Having someone next to you who means so much and is working hard is motivating. I want to go to the course and practice that little bit harder to almost try and outdo her."
The work is paying off. His clubhead speed is up to 115 miles per hour, which has boosted his average driving distance to 298 yards, up from 283.6 yards in his rookie PGA Tour season. Smith ranks among the top 10 for approach play and putting. "Cam's short game is incredible, but his mentality probably is his real strength," says 2013 Masters winner Adam Scott.
CADDIES ARE SO DOWN TO EARTH, AND THEY'RE GENUINE PEOPLE WHO WANT TO SEE YOU DO WELL. I CAN RELATE TO THEM A BIT MORE THAN MAYBE SOME OF THE PLAYERS.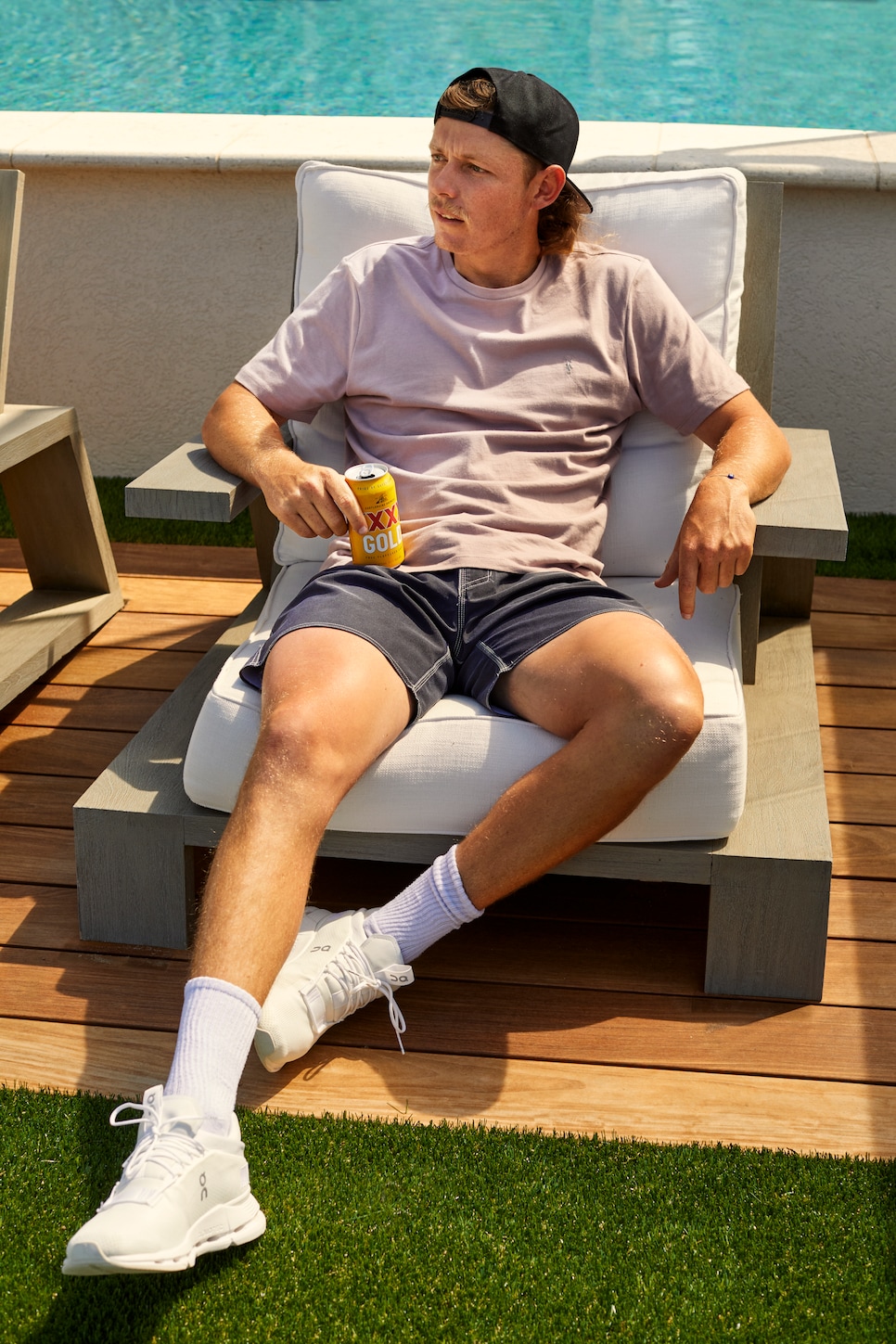 CALL IT A DAY Smith is the type of player who puts in the hard work and then loves treating himself afterward.
In March, Smith made 10 birdies in the final round at the Players Championship and one-putted eight of his last nine holes to win by one. It was impressive even without considering a record $3.6-million winner's prize was on the line. Celebrations that night were trademark Smith, not fancy but meaningful. Smith already had his mother, Sharon, and sister, Mel, over from Australia that week; he had not seen them in more than two years because of Australia's strict COVID-19 border restrictions. He invited another 30 people over for a party. Smith's first move was to ask Wilkosz to light the backyard fire pit. Wilkosz was using a blowtorch with little success—but lots of smoke—before Smith disappeared and returned with a leaf blower to fan the flames and ignite it. Family, friends and tour players such as Scott drank beers and told stories into the wee hours.
Naturally, Smith entered the Masters as one of the favorites. On Sunday, Smith birdied the first two holes to come within one of Scheffler, but a series of errors—including a triple bogey at Augusta National's par-3 12th—dashed his hopes, and he tied for third. Smith owns four top 10s from six starts at Augusta National but believes his green jacket will come. "I reflected a little, but I didn't read into anything about the Masters afterward," Smith says. "It's easy to get sucked into the spotlight or dwell on things, but I don't.
"I've always been a process type of person," he adds. "I'll go to the course and tick all the boxes of what I need to work on. I'll get in the gym and tick all those boxes, too. I'm not trying to impress or disappoint anyone because the anxiety of professional sports can be overwhelming. My goal waking up every day is to be a better golfer."
Smith will have more chances to reach No. 1 if he can maintain his current level of play. "That's crazy to think about," Smith says. "My first few years on tour, the thought of being No. 1 seemed far-fetched, and I almost didn't want it because it seemed too hard. But now my mentality has changed. I'm going to try my best, and even if I don't make it, at least I'll know I had a good crack at it."