Do you remember that old Tiger Woods Nike poster with the caption "The eyes have it"? Actually, the more appropriate question to golf fans of a certain age is if they remember where they put theirs. The photo showed a crouching Tiger lining up a putt with that unmistakable steely look that helped make him one of the greatest competitors of all time. It also had to be one of the best-selling posters of all time. (And for the record, mine is in the basement.)
It made sense for Tiger to have that unwavering aura. After all, he was trained to be tough by a military father since he was in diapers. Earl Woods, who served two tours in Vietnam, wanted his son to be just as prepared for pressure and opponents as he was for any golf shot. And Tiger has said that Earl's psychological tests would take him "Right up to the breaking point." You can argue with those methods, but you can't argue with Woods' on-course success as he won a record-tying 82 PGA Tour titles (and counting), including 15 majors.
We've seen a kinder, gentler Tiger in recent years. Having kids, being humbled by scandals and being broken down by injuries will do that to you. But you can still count on one hand how many times Tiger has cried on a golf course. And you can still need only your index finger to point to the one time the tears flowed like no other.
On May 3, 2006, Earl Woods died at age 74, and Tiger Woods lost his father, mentor and best friend. Six weeks later, Tiger teed it up in his first tournament since his dad's death, the 2006 U.S. Open, and shot a pair of 76s at Winged Foot to miss the cut at a major for the first time(!) in his professional career.
But in his next start the following month at the Western Open, Woods showed some of that trademark resiliency he had been taught by Earl, finishing T-2. And two weeks later, starting with the 2006 Open Championship at Royal Liverpool—the site of next week's championship—Woods would embark on arguably the greatest stretch of his career.
The performance at Hoylake turned out to be particularly notable, though, for a couple reasons. For one, Tiger used his driver only one time over four rounds. For another, his reaction to winning his 11th major was much different than any other. After tapping in on the 72nd hole for a two-shot victory over Chris DiMarco, Woods triumphantly raised his arms like we've seen countless times, but then—clearly, with Earl on his mind—he gave caddie Steve Williams a 15-second bear hug and started sobbing.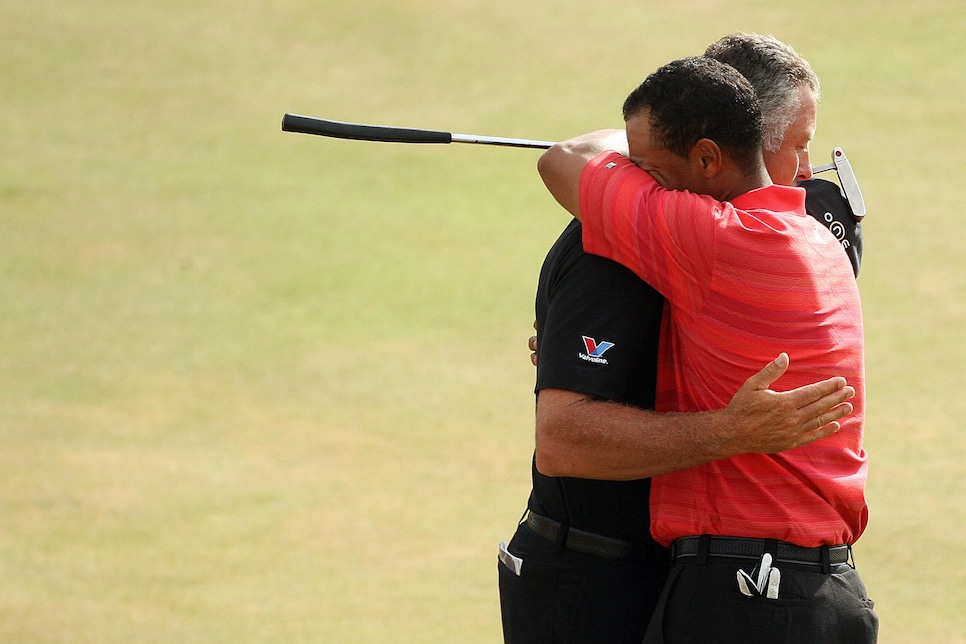 Williams, who would be fired by Woods five years later, pointed to the heavens and did his best to console his boss. But Tiger continued to cry as the two made their way off the green: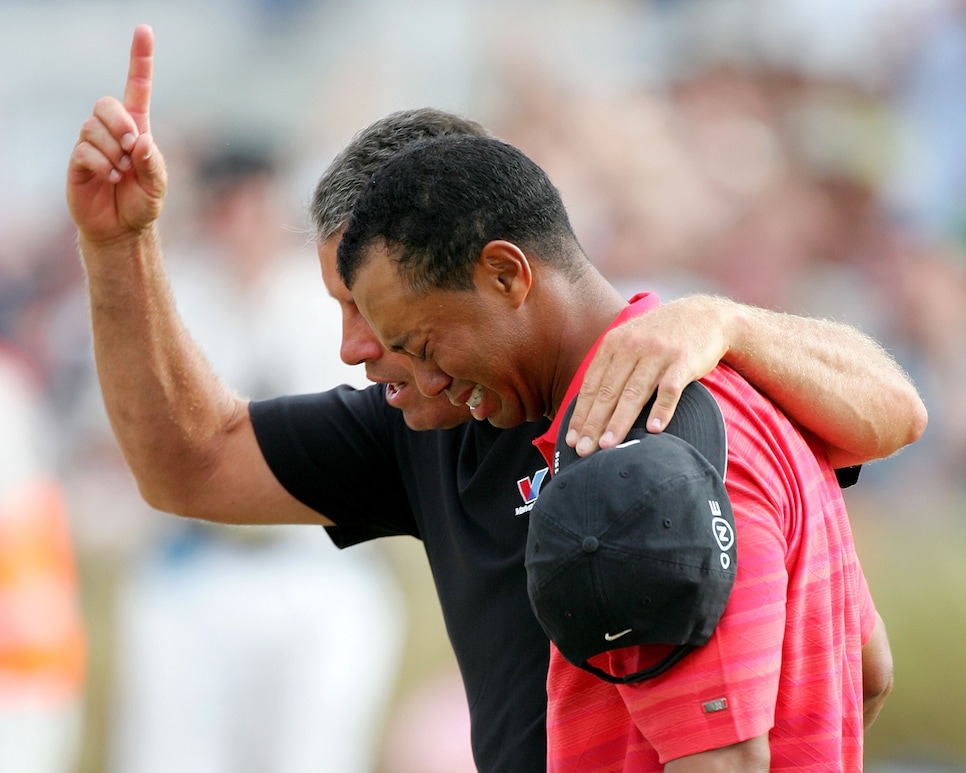 "Stevie said to me as we were coming up the last, 'this one is for dad'," a then 30-year-old Woods said that day. "And then, after the putt, all these emotions just poured out of me. They have been locked in there.
"I just miss my dad so much. I wish he could have been here to witness this," Woods added. "He enjoyed watching me grind out major wins, and this would have brought a smile to his face."
Winning golfers cry all the time, but not this winning golfer. At least, not until he won major No. 1 without his dad.
That being said, we've seen more emotion from an elder Woods. Tiger said he held back tears when he ended his long winless drought at the 2018 Tour Championship, but he cried a bit after embracing his kids at the 2019 Masters (Who wasn't crying at that point?). He also shed some tears as he missed the cut at last year's Open Championship, which could be his final appearance at St. Andrews.
But again, nothing like the outburst we saw from Tiger following his victory at the 2006 Open Championship, which kicked off a historic seven-tournament winning streak on the PGA Tour, only trailing Byron Nelson's 11 consecutive wins in 1945. Tiger let those emotions pour out on that 72nd hole and then immediately went back to beating the pants off everyone with the drier, intimidating eyes we're more used to seeing. That would have brought a smile to Earl's face as well.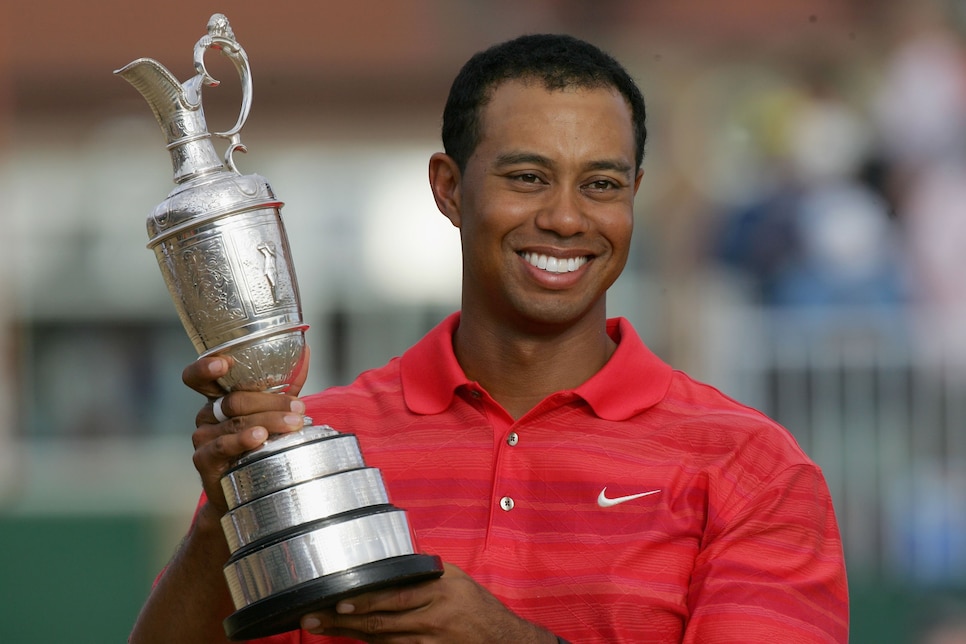 Is it the British Open or the Open Championship? The name of the final men's major of the golf season is a subject of continued discussion. The event's official name, as explained in this op-ed by former R&A chairman Ian Pattinson, is the Open Championship. But since many United States golf fans continue to refer to it as the British Open, and search news around the event accordingly, Golf Digest continues to utilizes both names in its coverage.