Open Championship
British Open 2022: It's no surprise the Aussie leading the Open after 36 holes feels at home in Scotland. Here's why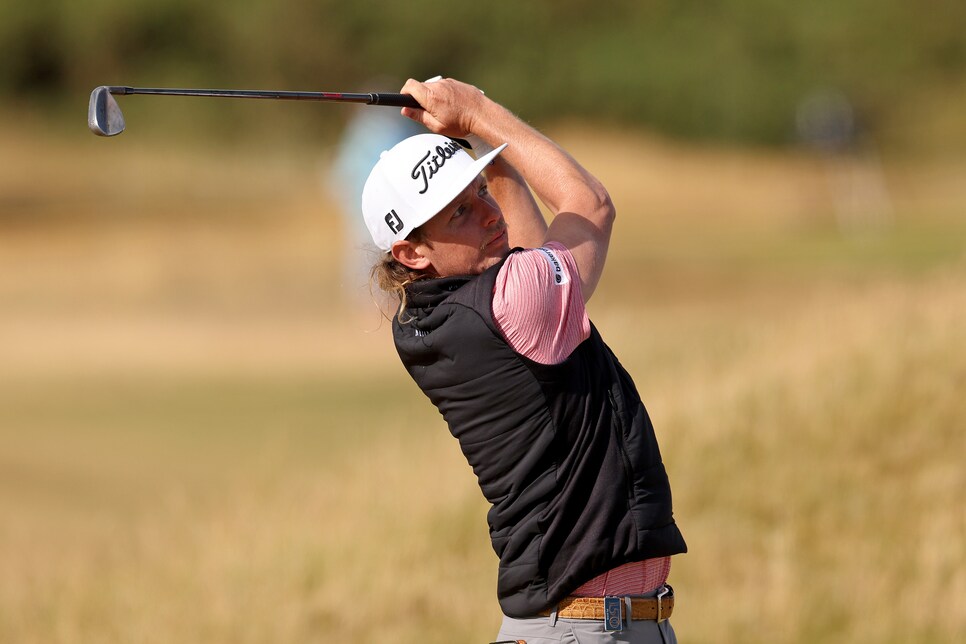 ST. ANDREWS, Scotland — Through 16 holes at the Old Course Friday, Cameron Smith looked good. Real good. Threatening 62 good. Until he reached the Road Hole, which has a reputation of breaking psyches and scorecards. Smith's drive needed to bend right only it decided to go left, settling into the heather. His approach from the trouble was short by 25 yards, leaving a mean up-and-down to save par that would test his touch as much as it would test his nerve.
Now, professional golfers all look good when they are doing well. It's hard not to when posing on follow-throughs of flawless swings and dressed head-to-toe in tailored ensembles. The true mark of a player—at least a championship player—is how they look when things look like they can go bad. In the face of such a threat on the hardest hole in golf, Smith pulled his putter from 75 feet, rolled his ball across brownish ground that supposedly has grass atop of it, watching it finish eight feet from the cup. He cleaned up what remained with an ease that you're not supposed to have over such a length at such a moment, seemed downright disrespectful. Let the record show that when things could have gone bad, Smith looked damn good.
The 28-year-old Aussie followed an opening-round 67 with an eight-under 64, his 13-under total a tournament record and good enough for a two-shot lead at the halfway mark of this 150th Open Championship.
"Obviously got off to a really hot start. And it's very easy to just keep going, getting on the front foot and maybe trying to hit some shots that are a little bit too aggressive," Smith said of his round. "But just stayed patient and holed some really nice putts."
Smith did come out hot, birdieing his first three holes, and added two more at the seventh and eighth to go out in 31. He put up another red figure at the 10th before dropping a 64-foot eagle at the par-5 14th, putting the major championship record in play. He fell just short of this ridiculous benchmark with pars on the final four, although criticizing anything about Smith's day borders on the absurd. Especially given he played most of his round with a fan blowing in his face.
"We actually probably played maybe 16 holes into the wind today. We got out to the back and the wind switched around," Smith said. "And, yeah, we were able to kind of land those shots into the green maybe a little bit softer than the guys this morning. But the tee shots were a little bit harder."
To see Smith's name atop the yellow boards at this baked-out course is not surprising. For one, Smith is enjoying a career season. He won the Sentry Tournament of Champions and the Players Championship, and found himself in the final pairing at the Masters. He has reached as high as No. 3 in the World Ranking. The game is deep with talent, yet Smith is at the top of its pyramid.
Yet the second and perhaps more relevant explanation for where Smith sits is where he's from. The firm-and-fast grounds that have been kissed by incessant winds are reminiscent of the conditions often found in the Sandbelt. He may be far from home but Smith feels like he's playing in his backyard.
"I think I've always been a pretty good player in tough conditions. I think most Aussies are, for some reason," Smith said. "I think we're all brought up to be smart golfers, hit away from the pin sometimes. And that really serves us well, I think, in big tournaments and when the conditions get tough." When asked why the Aussies are playing so well this week—four of the top 12 hail from Down Under—Smith added: "I think you have to play smart golf. You have to play away from the pin around here. I think a lot of sandbelt golfers like that, using slopes to your advantage, sometimes having a big curling putt is your best option."
It sounds like a winning formula, owning the precision (fifth on tour in SG/approach) and short game (16th in SG/putting) and experience to tackle this beast. A demeanor which is forever running on cool and indifferent to the noise doesn't hurt, particularly against the snail's pace seen here the past two days.
"I don't get too excited nor too angry. I like to stay in the middle there sometimes—all the time," Smith said. "A lot of people say that it's boring to watch, but that's just how I go about my golf."
With the firm turf expected to get firmer and a loaded leaderboard in pursuit it's unlikely the next two days will be boring. It will be a challenge, and in challenges there's always the threat of things going bad. Camerson Smith will get the chance to show the world just how good he can be.
MORE OPEN CHAMPIONSHIP 2022 STORIES FROM GOLF DIGEST