Random Daggers
Tiger Woods probably has these Colin Montgomerie retirement comments pinned to his bulletin board already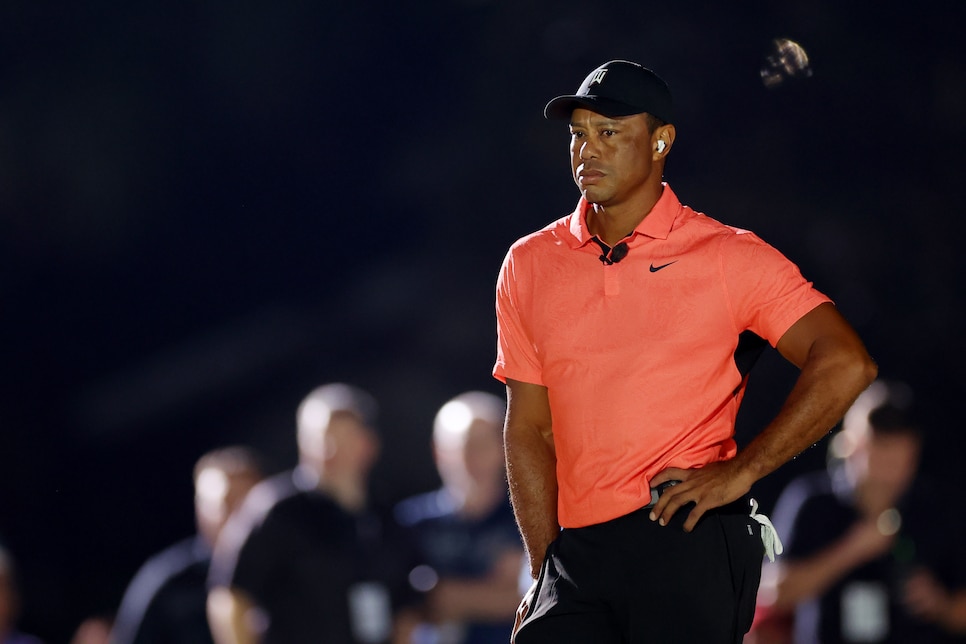 Tiger Woods' fun, but at times, seemingly painful appearance in "The Match" on Saturday had even some of his biggest fans wondering if it's time for the 15-time major champ to retire. And at least one of his best contemporaries believes Woods already missed the perfect opportunity to walk away from competitive golf.
"That was the time," Montgomerie told Bunkered. "Stand on that bridge, start waving, and everyone goes, 'So, is that it?' Yeah, it is. It would have been a glorious way to go. The stands were full, the world's TV cameras—from all continents—were on him, he's walking up there on his own, tears were in his eyes obviously . . . you can't beat that walk. I've done it myself. When the stands are full, you cannot beat that walk."
Maybe so, Monty, but Tiger clearly disagrees. Despite all the knee and back surgeries and now a bout with plantar fasciitis, Tiger recently said he plans to keep playing a limited schedule, and that he still hopes, "To get not only just one, but I would like to get a big one too." And by a "big one," we're pretty sure he means a major and not this week's PNC Father/Son event.
Monty, who finished runner-up to Woods at St. Andrews at the 2005 Open, was then asked if he thought the soon-to-be 47-year-old Tiger could win again on the PGA Tour.
"I don't see him doing that," Montgomerie said. "People will say, 'Oh come on, Monty.' Listen, yes, he's great. But Tiger doesn't have to now just get back to the standard he was performing at then. He has to improve it. . . . "I can't see that happening. I'd love it to happen because it's great for the game. I would love him to win. But I just can't see it happening."
Whether Monty turns out to be right remains to be seen, but we can definitely see Tiger using these comments as motivation. And if Woods actually has a bulletin board at home (How awesome would that be?), it's pretty filled up right now.