Looking ahead
U.S. Open 2023: A tougher test awaits and 4 more things to watch for during Friday's second round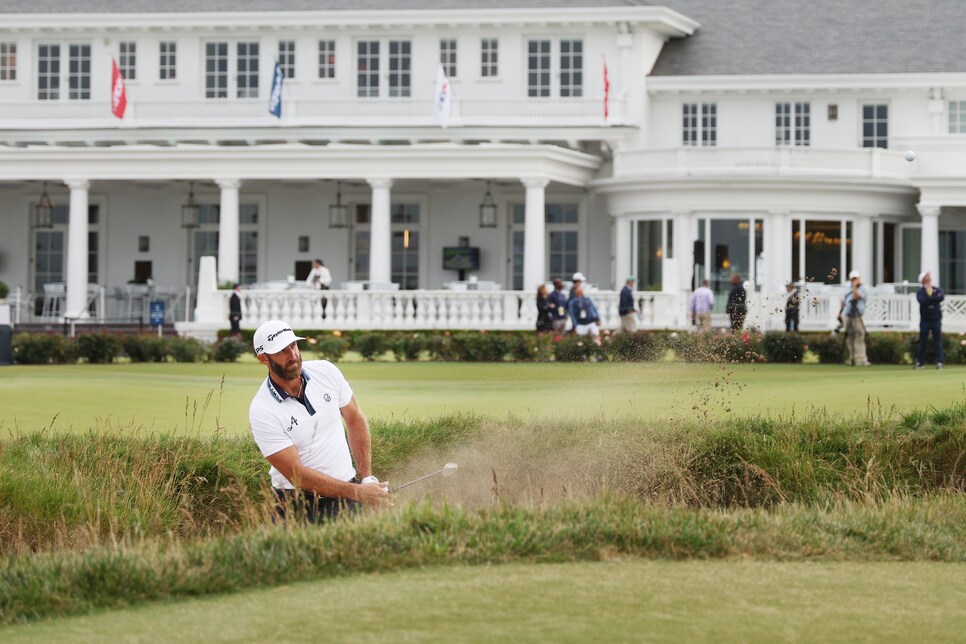 Dustin Johnson plays a shot from a bunker on the 18th hole during the first round of the 123rd U.S. Open.
Harry How
LOS ANGELES — It was the rarest of circumstances for the USGA. On Thursday evening, after the scoring onslaught that occurred in the first round of the U.S. Open at Los Angeles Country Club—the average score of 71.328 was the lowest for Day 1 in history—USGA course setup man John Bodenhamer was interviewed on the Golf Channel and all but apologized for the bloodbath of red numbers.
It was a twist no one saw coming, especially considering that over the last couple of decades the USGA has sometimes had to offer mea culpas for letting conditions get ridiculously hard.
"We couldn't have predicted what happened today," Bodenhamer said. "We felt good about our plan. We thought the sun would break through today, but it didn't. Maybe, in hindsight, we could we have done a few things different, sure. But I think we're going to stick with what we are going to do [on Friday]."
Let's be clear. This is not life or death. It's a golf tournament, though obviously a big one. And in this outdoor sport, there are plenty of variables: temperature, humidity, wind, rain, clouds and sun. The USGA already dealt with cold spring temperatures in L.A. that weren't the best for growing the Bermuda rough. Now a stubborn marine layer is still around, and it simply hasn't allowed USGA officials to firm up the fairways and greens the way they would have liked. Hence, the Open-record 62s delivered by Xander Schauffele and Rickie Fowler on Thursday, while 37 players shot under the par of 70.
"The USGA must be sweating," said Austin Kaiser, Schauffele's caddie.
Yes and no. Bodenhamer has contended with earnest sincerity that there is not a target winning score for the U.S. Open. But proud golf clubs—and LACC is no exception—don't want to see their course torched in front of the world either.
So, predictably, Bodenhamer said there will be changes for Friday's Round 2, though he contends that most of the setup alterations were already planned. We can expect to see some tees placed farther back. Neither of the longest par 3s played at their full length in Round 1, and it figures one (or both?) of them will be lengthened.
With abnormally wide fairways at LACC in sticking with the George C. Thomas design, the defense comes mostly on the greens, where pin placements can be made more challenging and the grass dried out to make it slicker. That's dicey, however, if you do it too early and create unfair conditions on the weekend. With the sun not making an appearance, maybe that isn't as concerning as it could be.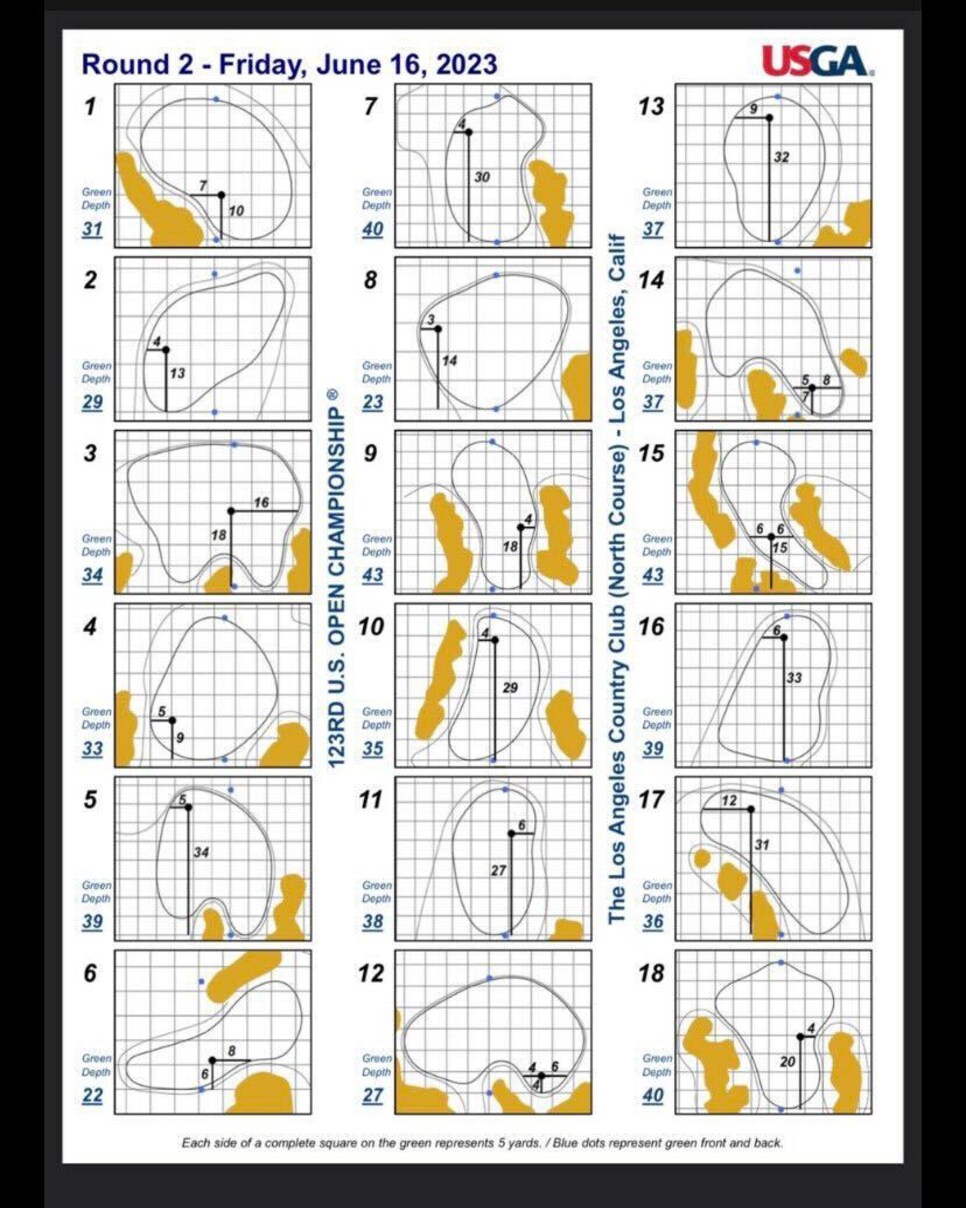 "We need some help from Mother Nature [on Friday]," Bodenhamer said. "The weather forecast [high of 70 degrees and potential sun in the afternoon] is kind of like it was the other night. We don't know. We can show up in the morning and we don't get that misty condition and hopefully it will burn off sooner than it did, that's what we're hoping for.
"I'll tell you what we won't do," he added. "We aren't going to force anything. We could do things that could make it stupid hard. We're not going to do that."
Maybe there are more red numbers than expected, but the USGA and fans have to be pleased with what they're seeing in regard to the names on the leaderboard. There are plenty of the game's top players in contention, with Fowler, Schauffele, Dustin Johnson, Rory McIlroy, Bryson DeChambeau and Scottie Scheffler all situated in the top 13.
Since the course played easier, it truly gave those with a go-low mentality the advantage. And the wide fairways only seem to be playing into the hands of the bombers: Johnson was 13-for-13 in fairways hit, and McIlroy and DeChambeau each found 10. It's hard to stop them when they have so many looks from perfect lies.
The beauty is that slightly built lefty Brian Harman shot 65, despite being 111th in the field in driving distance—because he hit 15 greens in regulation while being sixth in strokes gained/approach. But can a guy like Harman hang on what figures to be a much longer test on Friday?
Bennett's pro major bow a strong one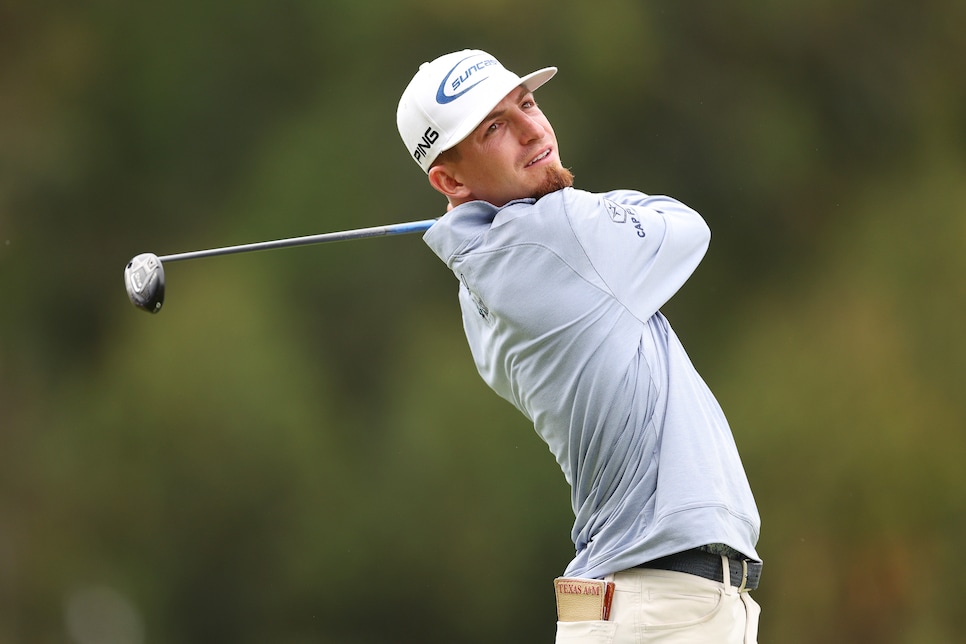 Sam Bennett plays his shot from the seventh tee during the first round of the 123rd U.S. Open Championship.
Andrew Redington
Sam Bennett, the reigning U.S. Amateur champion who made a splash at this year's Masters by contending into the weekend and ultimately tying for 16th, is making his pro majors debut this week, and he's showing no signs of a letdown.
The popular 23-year-old out of Texas A&M is again in the early mix after opening with a three-under 67 that had him tied for seventh. "I'm just comfortable," Bennett said. "The hole is still the same size even though there's people out there."
Bennett made his pro debut at the Memorial, tying for 63rd, and last week in the RBC Canadian Open he posted a T-20.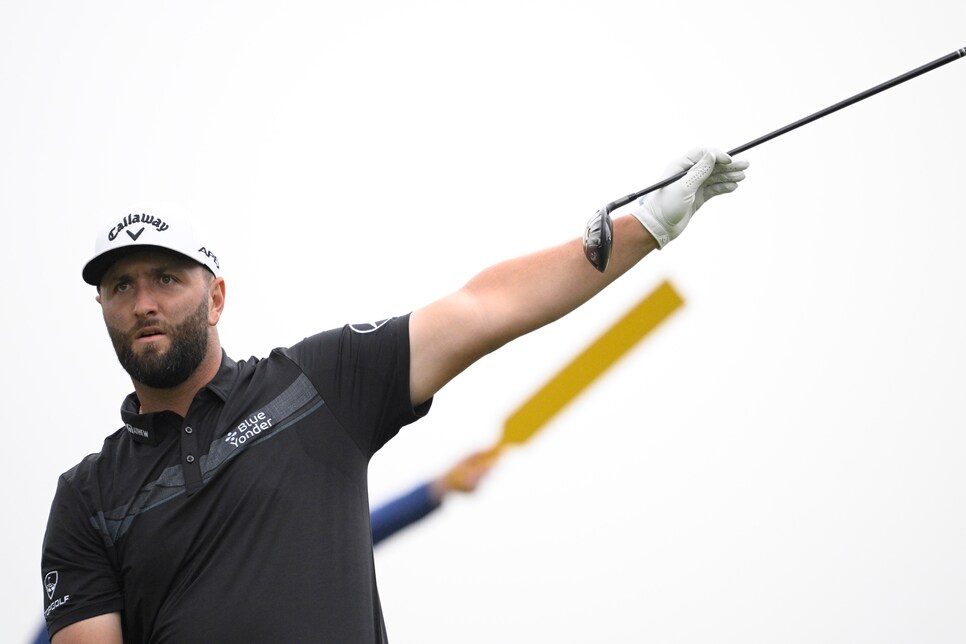 Jon Rahm watches his drive from the 10th tee during Round 1 of the 123rd U.S. Open Championship.
MediaNews Group/Pasadena Star-News via Getty Images
Schauffele is grouped with World No. 1 Jon Rahm and No. 5 Viktor Hovland, and he smoked them each by a whopping seven shots.
Rahm, whose overall skills would seem perfect for LACC, was frequently out of position by missing eight fairways and five greens in scoring 69.
It was not a good day for Euros overall. Beyond McIlroy at T-5, there isn't another European player to be found until Spain's Alejandro Del Rey and Sweden's Alex Noren at T-14.
The worst scores turned in by players who have been in form as of late were from Englishmen Justin Rose (77) and Tyrrell Hatton (74).
Max Homa, who carried high expectations into the tournament after winning the 2013 Pac-12 Championship at LACC, played solidly by shooting 68. Two Californians with surprisingly mediocre 71s were Patrick Cantlay and Collin Morikawa.
The five par 3s at LACC, along with the drivable par-4 sixth, garnered the most pre-tournament talk, and they lived up to the billing.
The little 15th, playing Thursday at 124 yards, was the second-easiest hole on the course, behind the par-5 eighth, and it also yielded two holes-in-one. Conversely, the long 11th, playing at 254 yards, surrendered only four birdies to be the fifth hardest. And it still can be stretched to more than 290 yards.
The third-easiest hole was No. 6, which played at 315 yards. It's the sharp dogleg right that forces players to make a decision between laying up to the left or going for it with a blind shot over the trees.
Our favorite line about No. 6 came from Harman, who was asked if the hole favored left- or right-handed hitters. "I wouldn't know," he responded. "I only played it left-handed today."
MORE FROM GOLF DIGEST @ THE U.S. OPEN