Editor's Note: This article originally appeared as a newsletter to Golf Digest+ subscribers. To subscribe to Golf Digest+ for exclusive content and more, click here.​​
What began as a bold idea about reviewing equipment has steadily evolved into a year-round, multi-layered process that, to us Digesters not involved with it, seems to constantly hum in the background. There's an academic panel featuring Ph.D.s, a retailer panel comprising the most plugged-in folks in the industry and a 16-person player panel that carries out the actual club testing over a four-day session in Mesquite, Nev. But the Hot List very much remains the baby of equipment oracles Mike Stachura and E. Michael Johnson, who have quarterbacked it since its inception.
I spoke with Stachura—our staff philosophy major, as you'll soon discover—to get the lowdown on this year's Hot List … and, in a nod to my journalism professors, ask the tough questions.
Mike Stachura: The Hot List is the resource for educating an overwhelmed consumer about what clubs matter and why they elevate the bar when it comes to technology and performance. Our goal with our process of advisory panels made up of retailers, scientists and, most importantly, everyday players is to find the clubs that consistently resonate. At the end of the day, the perplexed consumer has a starting point, and yes, ideally it's a starting point for a conversation with a clubfitter.
DR: Critics have accused the Hot List of being "bought and paid for" since the same companies seem to do well over and over. Your response?
MS: Technically, the Hot List has generated a lot of lost advertising revenue, I'd guess upwards of $15 million from less-than-enthused equipment manufacturers over the years. Two things: One, if the Hot List were bought and paid for, which manufacturers (all of whom advertise) would we reward and which ones wouldn't we? Trust me, every manufacturer counts every half-star in the Hot List and each is disappointed in one category or another. Large companies do well because they spend a lot of time and money R&D-ing the hell out of every aspect of their products. They don't just get the big things right; they engineer every groove and hosel and layer of carbon composite. Just intuitively, they should do very well. But that doesn't mean they always do, and it also doesn't mean small companies don't make the list. Small companies with cool ideas and strong execution have plenty of opportunity to make up that difference and do (see Proto-Concept, SeeMore, Edel, Evnroll, Flanigan Bilt, L.A.B. Golf, Henry-Griffitts).
DR: How long does this process take? Which part makes you want to claw your eyes out most?
MS: Well, I guess it depends on what you mean by take. We're already having meetings about the 2023 Hot List. We start getting serious in May, start visiting with R&D people from all the manufacturers in June, and then, of course, the Hot List Summit process intensifies everything to DefCon 1 for about two full weeks in late October and early November. From there, we go straight into deliberations for three weeks, then massive amounts of writing and rewriting and editing to get, first, the Hot List print issue done, and then the digital versions. I would say the claw-the-eyes-out period comes when I'm re-reading or rewriting the Odyssey White Hot OG blade putter writeup for the fifth time. This year that came about 6:30 on Christmas night.
From Oct. 1 to today, Mike Johnson and I have worked every day, seven days a week. OK, Johnson's actually a human being and he took Dec. 24 and 25 off.
DR: Give us some equipment stuff to be excited about this year. Clubs, trends, anything. This is your license to geek out.
MS: Obviously, forgetting for a moment where you stand on traditional aesthetics, it's interesting to see if carbon composite is a better face material than titanium, as TaylorMade is proposing with its Stealth drivers. It opens up possibilities, yes, but that's been the case for 30 years. Still, we're in a different innovation space now than we were with the Yonex ADX 200. It will be fun to see where that takes us.
The era of mass customization is truly here, and it goes beyond adjustability. Heads (and faces) are being designed with distinct player types in mind. Example: With four models and a 16-way adjustable hosel, there are 480 possible Titleist drivers across a 50-gram range of total weights on the Hot List. And that customizable individuality is happening in fairway woods and hybrids, too.
And, finally, stop getting caught up in whether you should play a mallet putter for dorky but reliable forgiveness or a blade putter for cool control. There are a lot of putters taking the best from both Column A and Column B so you can have your cake and eat it, too. Still, seven of the top 10 players in the world use a mallet. Stick with dorky but reliable has always been my rule. Explains my prom date, or rather, hers.
DR: Why use human testers instead of robots? Isn't there an element of human variability that's hard to account for when comparing clubs?
MS: Robots are interesting but what launch conditions do you use and how many different sets of launch conditions do you use? You have to realize that a robot swing is not a human swing. We've believed in that idea from the beginning because we're eager to see how a club performs across a broad group of player types. When we see a club drawing consistent assessments, that's information we feel confident about. The differences with a robot—and we've done plenty of robot testing, including last year—are usually more confusing than helpful.
As for human variability, every club in a category is hit in a different order by each player, and yet the clubs that do well in the Hot List are the ones that consistently get the most enthusiastic assessments from our players. We think that's meaningful. Further, robots don't buy golf clubs, humans do. When we ask players at the end of a category, which clubs they'd put in their top five, we're essentially asking them which clubs they would buy. That is way more powerful to me than whether a toe hit goes 1.2 yards farther when hit by a mechanical device at 112 miles per hour one morning when said device might or might not have been precisely calibrated with a control club multiple times during a three-hour test session. I like robots. I think they're a great tool. I trust humans.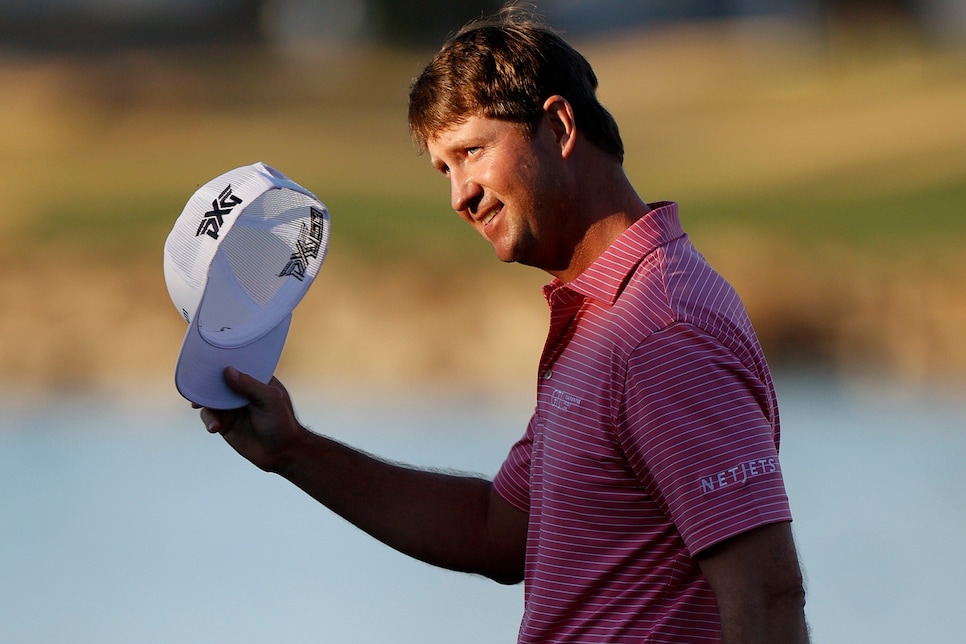 —You're forgiven if you missed it this weekend—we heard the football games were decent—but Hudson Swafford closed with an eight-under 64 at PGA West's Stadium Course to win The American Express. The victory, as my colleague Tod Leonard detailed, came a month after the passing of his father, who taught him to play the game.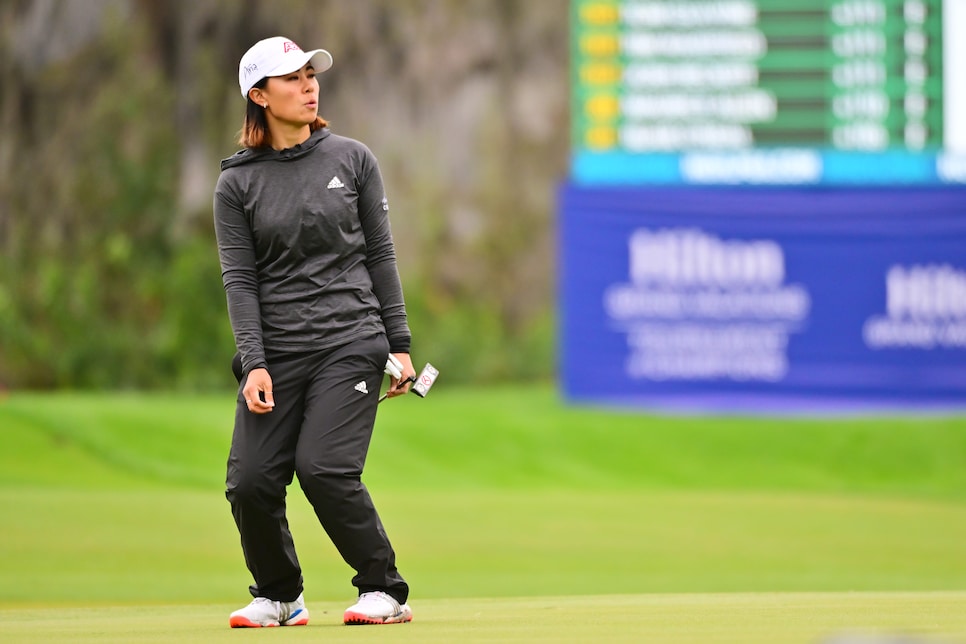 —Danielle Kang did not win a tournament in 2021. So, of course, she won the very first one of 2022. The 29-year-old picked up her sixth career LPGA Tour win with a commanding performance at the Hilton Grand Vacations Tournament of Champions at Lake Nona. In related news, she was Golf Digest's cover star in November 2021 and gave a great interview to Keely Levins. The Digest Bump is a very real thing, folks.
—You can make a case for about five different weeks being the "start of the year." This is one of them. Maybe it's because it's one of the first events back on the mainland. Maybe it's because Tiger used to start his year here. Maybe it's because football's starting to wind down. Whatever the reason, the Farmers Insurance Open at Torrey Pines absolutely has some first-day-of-school vibes. And it's a pretty stacked field: Jon Rahm, Dustin Johnson, Justin Thomas, Xander Schauffele, Bryson DeChambeau, Jordan Spieth, Tony Finau, Brooks Koepka, Phil Mickelson … we could go on. A quick note: The tournament has switched to a Wednesday-Saturday schedule to avoid competing with the NFL for eyeballs on Sunday. Smart move. That wouldn't be much of a competition.
—Thomas Pieters won the Abu Dhabi HSBC Champions, a Rolex Series event on the DP World Tour. It's the biggest win of the 29-year-old Belgian's career—a career that, at the risk of sounding harsh, has failed to deliver on its promise. At least so far. Back in 2016, playing as a captain's pick in his first (and only) Ryder Cup, Pieters went 4-1 on a team that lost 17-11. It hasn't been a total disaster from there, as he's now won three times in Europe since, but Monday marked his return to the top 50 in the world for the first time since April 2018. The guy might have top-10 potential. Let's see if this W gives his career the boost it needs.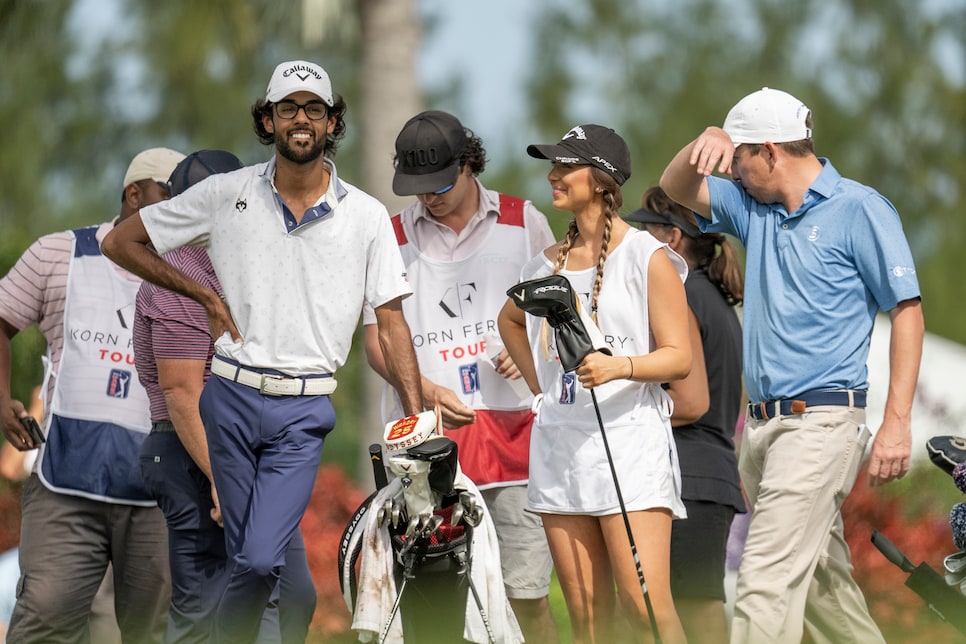 —We can't not shout-out Akshay Bhatia, the 19-year-old who won on the Korn Ferry Tour last Wednesday. Bhatia took a ton of heat after he turned pro as a 17-year-old, but he's now essentially locked up a PGA Tour card for 2022-23 as a teenager. And he did so with his girlfriend on the bag, who knew nothing about golf when they met on Instagram last summer.
—If you enjoyed hearing from Stachura, may we interest you in a docuseries? Camera crews documented the Hot List Summit to capture, as my colleague Sam Weinman put it, "the blistered hands, sore backs and inevitable squabbles that arise as Golf Digest editors and a team of volunteer testers try to delineate between the great and the very good in golf equipment."
Surviving the Hot List
The Hot List testing kicks off for the 19th year in a row in Mesquite, Nev., and testers new an old brace themselves for four grueling days of hitting 500 balls a day. They do their jobs under the watchful eyes of chief Hot List judges Mike Stachura and Mike Johnson, the brains behind the franchise and the top equipment editors in golf. To fully understand the Hot List, you have to know the Mikes. "It's like being around an old bickering couple sometimes," says one of their coworkers.