From The Magazine
Danielle Kang shares her struggles back to the top of women's golf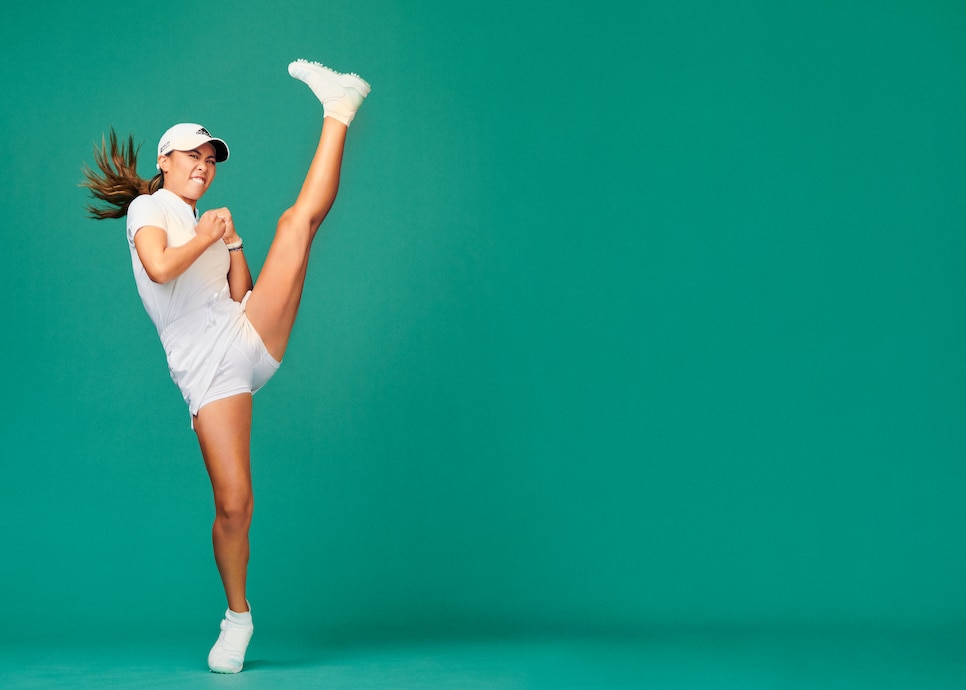 Photo By: Mackenzie Stroh
Danielle Kang is a contradiction. She hates range finders and green-reading books but plays tour events in a hoodie and joggers. She's fiercely competitive but believes losing the Solheim Cup wasn't all bad. She plays an individual sport but surrounds herself with a professional team and a group of close friends. She was a black belt in taekwondo but doesn't let herself practice anymore. And she quickly became proficient at a game that's notoriously difficult. Kang started playing golf at 12 and qualified for the U.S. Women's Open a year and a half later. She won the U.S. Women's Amateur in 2010 and 2011 and turned pro. Since then she has gone from not really loving the game and wondering when her first victory would come, to winning a major, to struggling with the driver yips, to joining forces with Butch Harmon and reaching No. 2 in the world. Now 29, Kang knows who she is, what she wants and who she can rely on to help get her there. This was our conversation with Danielle, edited for clarity. —Interview by Keely Levins
Do you love golf the same way you did when you were younger? I didn't love golf; I was just really good at it. My older brother, Alex, played, and I wanted to hang out with him, and the easiest way to do that was by practicing with him. What I liked was winning. That's what made it hard to like golf because you almost never win. I liked going to the 2007 U.S. Open [at 14], but I liked the attention more than the game. Doing something I hadn't done before is what used to keep me going. I should've won on tour early, but it took me five years. My relationship with golf changed three or four years ago. I love the game now. I love the process. I love getting better. I love working on shots and pulling them off during a tournament. I love making putts when I have to. I love everything about it. I even love that if you do everything right, you can still get screwed, and you have to be OK with it.
You didn't want to be a pro golfer growing up? No. I thought I was going to be in entertainment. I love film and cinematography, drawing and animation. Working for Pixar would've been cool.
Tell me about your tattoos. I have a bunch. A lot of them are matching—I get them with my friends. But the most important one is on the palm of my right hand: abba. It's Korean; it means dad. I used my dad's handwriting from a letter he wrote before he passed away [in 2013, from cancer]. Now everyone who shakes my hand meets him.
Can you play for fun? Not really. I'm not a fun recreational golfer. My friends know I don't like it. It can be fun if it's not regular golf. Like playing night golf or mini golf. On a standard golf course, it's a competition every time. We've got bets going, which means I'm playing.
Who do you have bets going with? My brother, Alex [who plays on the Korn Ferry Tour]. I play with him all the time. We play team games against other people in Vegas where we live. We also play one-on-one. We play for money or dinner. I always ask for shots, and if he gives them to me, I take them. If I win, we usually go out to the Strip. We go to Carbone or Yellowtail. I love sushi, and the chef at Yellowtail is a good friend of ours.
Alex has caddied for you before. I asked for a read once, and he said, "Are you kidding? It's a six-footer. You don't need a read." He's right; I should know how to read a six-footer. Blunt honesty is how my family operates. I trust him with everything in my game. He'll tell me what I'm doing well, and he'll tell me if I haven't practiced enough.
Watch our Off-Course video with Danielle Kang:
Does your mom live in Vegas, too? She lives three minutes from me, so I usually go there and eat breakfast. I'm living a spoiled life. I love Mom's cooking. We talk every day, but she doesn't travel with me. I've always traveled by myself. My dad used to come to the majors. Mom comes to what she calls the "important" tournaments: Hawaii, Bahamas, France and the West Coast events.
You usually have some other supporters at the West Coast events—the Gretzkys. What's the connection? Wayne's been to ANA and the L.A. event. He has played in that pro-am with me. I grew up with the Gretzkys; we lived nearby [in Thousand Oaks, Calif.]. I played golf with Wayne and his wife, Janet, and their son, Ty, a lot growing up, playing under Wayne's membership at Sherwood Country Club. They're like my second family. Any time I need a pep talk, a little motivation, I call Janet. Janet's got that fire. When Janet tells you to do something, you want to go do it. People think I see Dustin [Johnson] a lot, but I don't. But he did introduce me to Butch.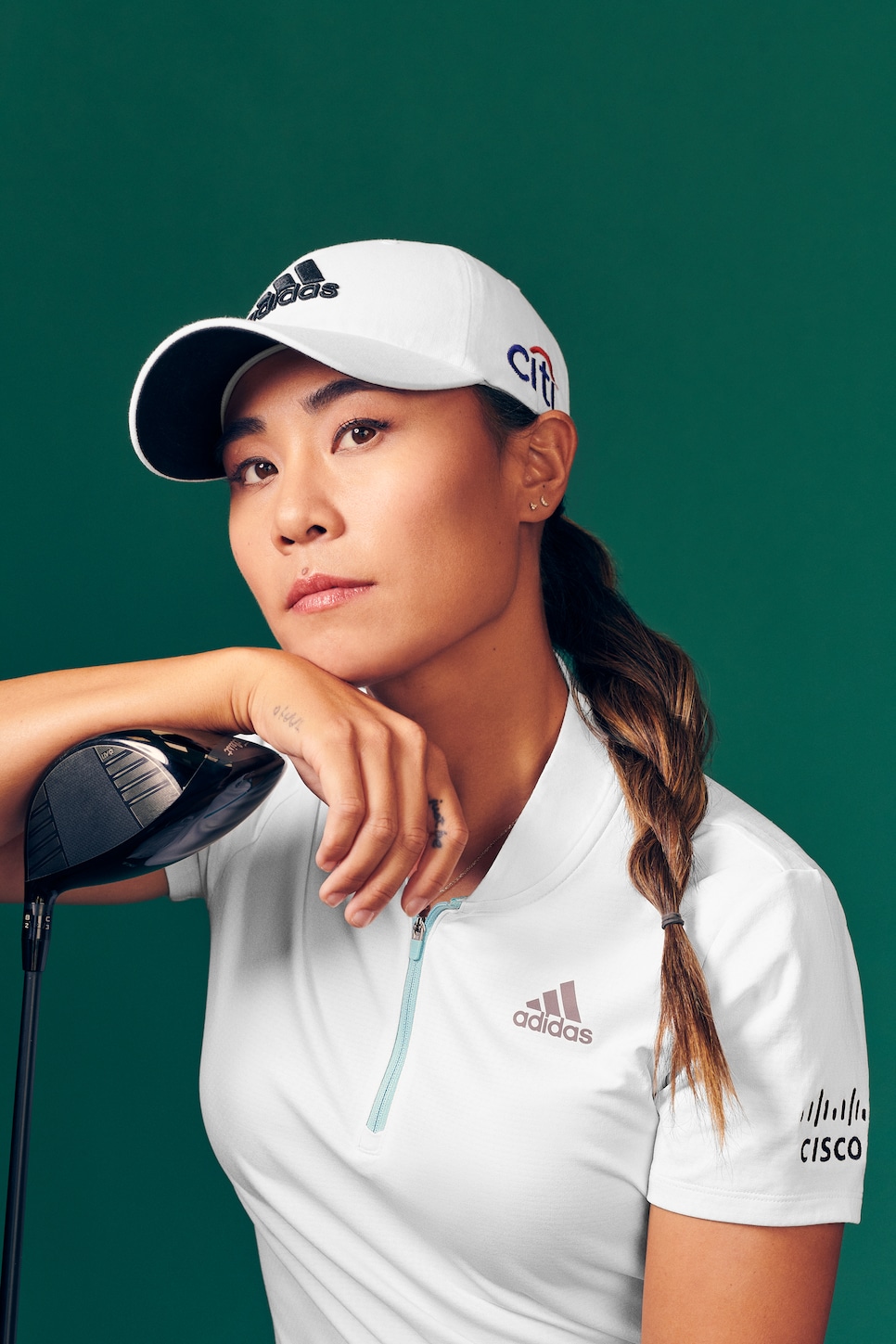 Photographs by Mackenzie Stroh
Mackenzie Stroh
You started working with Butch as he was slowing down his work with PGA Tour players. Dustin had been telling me to go see him for four years. I finally did, and I won the second tournament after we started working together. Butch still gives me crap about how long it took to come see him. It's not that I didn't want to. I was with a different coach, and I thought I was doing fine—until I hit a low point. I had the driver yips, and I didn't know what else to do. I kept missing cuts. I tried everything. Dustin was like, "You want to see Butch?" I said, OK.
You had the yips? I didn't talk about it, but yeah, I had the yips in 2017 and 2018. It was bad. I can see how it can ruin a career. I was starting to mentally check out. At the Hana Bank, I remember crying on the 15th tee. There was a hazard on the right, and I couldn't pull the trigger. It could take a few minutes for me to be able to hit it. Olly [Brett], my caddie, kept encouraging me to take as long as I needed. I somehow managed to finish third in that event. Sometimes I'd just get up and hit it out-of-bounds because I was tired of making people wait. Olly stuck with me. I think we missed eight of nine cuts. I was hitting it O.B. left and right. I didn't know what to do. I was desperate. It came down to understanding there was a mechanical issue. Butch helped me mentally check back in and helped me mechanically.
After that, I can see why you'd stick with Butch. I don't think of it that way. He's just a part of my life and somebody everyone should meet. He's a special human. With golf, he can't help himself. He can see seven swings at once. We'll be on the putting green, and he'll see people on the range, and without really paying attention, he'll be like, "That guy could fix it with this." He hasn't met the guy, but he has already fixed him in his head.
You've had five wins on tour, starting with the 2017 KPMG. How do they compare? It was a huge relief to get my first win. It was something I had been chasing for years. Then people were like, "You have to win another to solidify you're really a winner." I became obsessive about it. When I won again the next year, it didn't feel great. I was angry that I'd let people get into my head. The third one in 2019, I wanted to prove to myself that I could defend, and I did. I didn't care what people said or thought about it. I did it just for me.
You won back to back after the pandemic restart, which elevated you to your highest world ranking ever. I became No. 2. I was so obsessed with becoming No. 1. All of a sudden, it was right there. I lost focus on what I needed to do and played worse because I wanted it so bad. Negative thoughts come into your head. I was battling myself, and I lost. The way I see things sometimes, it's like live or die. [Fellow LPGA pro] Inbee Park helped me realize it's not the end of the world. There will be a next time, and it will be easier. That gave me peace.
What is the best advice Inbee has given you? She gave me a putting lesson, and in the next six months, my stats were unreal. I'm sorry. I can't tell you what it was. It's a secret, and it's not my secret to share. Other players have asked Inbee for it, and she hasn't told them. She must really love me. [Laughs.]
You've also sought out Annika Sorenstam for advice. To me, she is the greatest of all time. She was so dominant. The determination in her voice is motivating. During the pandemic, she called me, and we talked about three-day events. I used to hate them. I felt like I was running out of holes, like I was chasing. She said, "In those events, you can be more yourself than anywhere: You can be as aggressive as you want from the first hole." I hadn't thought of it that way. The first event back after the pandemic, I won. It was a three-day tournament. I gave her a signed flag, which was weird— she's Annika Sorenstam; she has plenty of flags. But I wanted to let her know I couldn't have done it without her.
How does Butch help you? Butch is a reality check. He'll never BS me—ever. He thinks he's kind of a hard ass, but he's not with me. He never sugarcoats anything, but he always tells me it's OK. No matter what, he'll tell me, "We'll fix it, we'll figure it out, it's just a bad week." If I lose a tournament, he'll say, "D, that was a tough loss, not gonna lie. But we're good. We'll get the next one." It's always something positive. He doesn't want me to dwell.
Are LPGA Tour players as concerned with distance as PGA Tour players? Oh, I got obsessed for a while. I got a longer shaft for my driver. I gave up on it though. I hit it far for my size. I also hit it really straight, so I got over it. I decided to make more putts. I'm not that tall [5-foot-6]. I don't weigh that much. I could try to pull a Bryson and gain a bunch of weight and muscle and all that. But I don't think I can gain 40 yards. I don't think 15 yards will make me No. 1 in the world. But you can't help but want to hit it far. When you go to the range, you want to hit the back of the net.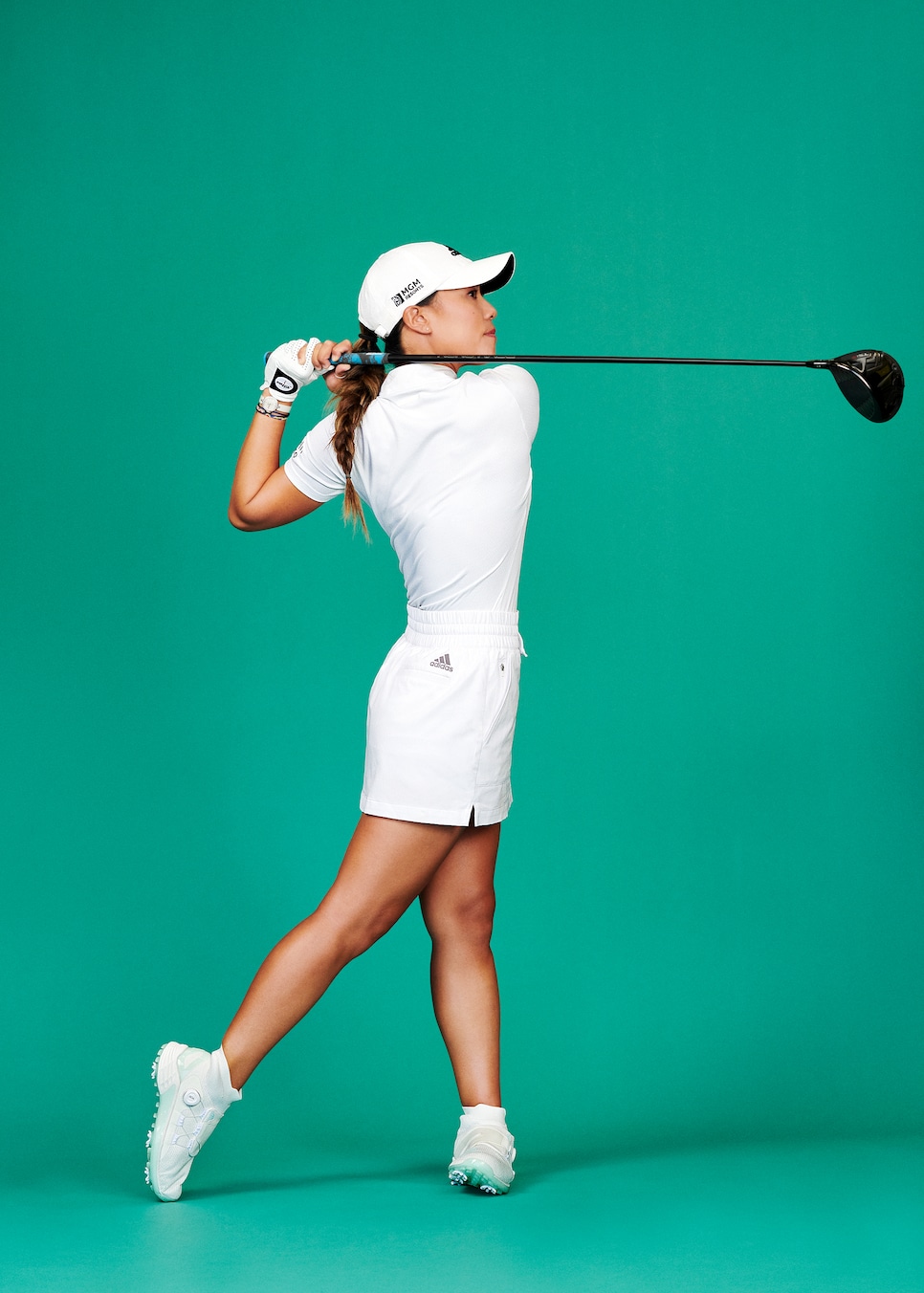 Do you think people understand how far women hit it on tour? They think we hit it farther. There are women on tour who hit it unbelievably far, but our average carry is probably 225. If you've gotta cover 230, we're going left or right of it, and 245, 250 is a huge carry. No, I don't hit it 280. No, I don't cover 250. But our long-game control is unbelievable. Have you seen these women hit 3-woods or 4-irons? It's like a chalk line. I've never seen anybody control hybrids and woods like the women do. The ball is floating to the hole from 190 yards. Guys would be hitting, what, 7-iron? But I'm hitting 5-wood. That misconception goes for recreational golfers, too. Like, you don't hit it 280, sir. My rule is, if you can't outdrive me, you're playing in front of me; you're moving up a tee.
Did Butch support you chasing distance? Not really. He said, "D, you weigh a buck 20. Just relax." I said, "Butch, I could hit it farther." I think I gained like eight yards, and it was so much effort. For me, at my size, to gain 2 or 3 miles-per-hour swing speed is a big deal.
Do you think slow play is an issue on tour? It's an issue if everyone is standing around waiting. Ready golf should be a part of the game. Some shots take longer than a minute. If someone needs more time, just go chill, go meditate, whatever, don't stress about it. I carry a book, usually Mitch Albom books. They're lightweight, so Olly doesn't really mind. We don't have that luxury where you can miss a cut. A shot matters.
What do you think about the slow-play solutions the tour is trying? I'm against lasers. Recreational golfers should use them, but stepping off yardages and knowing the numbers are part of the pro game. It separates good caddies from not-good caddies. Lasers aren't doing anything for slow play. Everyone's still stepping off yardages. It's like leaving the pin in. Some leave it in; some leave it out. Caddies have to bring it back and forth—it's more chaotic than anything. Changes like these aren't making a big enough difference in playing time. Golf is still going to take four and a half to five hours.
It's important for women to make the cut to make a living, but on the PGA Tour, the men can miss some cuts and still make good money. Do you think about the financial differences? I do. But I'm mindful of how blessed we are to have the opportunity to make six figures every week. Not a lot of people do. That being said, the money difference is huge. You have to look at the facts of TV ratings. We need to find ways to better engage the fans and increase viewership so that we can close the gap. Everyone who puts money into the PGA Tour sees a return. We have to make it so that the return on investment in our tour is equivalent. Also, I want our tournaments to have a vibe where younger crowds can get brunch, some mimosas and hang out all day.
What was it like to compete in the Olympics in Tokyo? I looked around the village and realized all these people worked so hard to get to this point from all over the world, experiencing different things, living in different places, struggling in their own ways; it was eye-opening. Being around them, I felt part of something bigger.
Did you meet other athletes? My roommates were the beach volleyball players [April Ross and Alix Klineman] who won gold. I got to chat with them before my tournament started. At a sponsor event, Léa [Sprunger, Swiss track athlete] taught me how to jump off the track blocks. I didn't know it was that difficult. I kept diving into the ground. I didn't realize your feet aren't on the ground.
Mental health has been a big topic for athletes. How do you prioritize your mental health? Seeking help for mental health needs to be normalized. I've had help. I see a sport psychologist and a therapist so that I can talk about what I need to talk about. I lean on my friends a lot, too. However big or small the issue, I know I have to get my mind clear, so I can play. I also know it's not always going to be clear. I've been learning to perform even when things are going on. I use box breathing [inhaling for four counts, holding your breath for four counts, exhaling for four counts and repeat] a lot on the course.
Why is charity work so important to you? I've been involved in charities for a long time. I guess I talk about it more now. I donate food and volunteer. It's therapeutic. My dad always took me with him when he donated food. That stuck with me. My parents told me, "You're a person before you're a golfer, so be a good person." Golf has opened doors for me to help people. To deliver a food donation and see people so excited to get a meal, it's a different perspective. I see those things and think, How can I make it better? How can I make myself better? I love playing golf. I want to give my all without losing myself in it. It's a difficult balance. Charity work helps.
When you go out in public, do you get recognized? It depends where. When I go to Korea, they're such big golf fans there, I get recognized. Once, a woman came up to me and said she was so excited to meet me. She started to cry, and she said she had cancer, and the fire and feistiness I have on the golf course inspired her to fight through cancer. That hit me in my heart.
For the second time in a row, Europe edged Team USA in the Solheim Cup. How hard was that? It's never fun to lose, but I had so much fun at Inverness. The fans were out there at five in the morning. I'd walk off the bus, and people were screaming. I saw a big leap for women's golf. I really appreciated Bubba Watson coming out and seeing all the support on Twitter from PGA Tour players. I viewed the week as a win for women's golf.
How important is taekwondo to your success as a golfer? It built a foundation in my life. I trained for more than 10 years. You learn discipline, respect, self defense, and hard work. The explosiveness of taekwondo is similar to the explosiveness in the golf swing. But I don't do martial-arts workout classes anymore because I'm scared that I'll get hooked. It happened with kickboxing. I had to stop cold turkey.
When you're not playing golf, what do you do? I like art. I paint when I'm home. I like doing random things. Whether it's hiking in Zion National Park or going to see a friend who lives far away, I'll just get on a plane and do it. I eat good food. I read books; my favorite is The Five People You Meet in Heaven. I love movie nights; "Remember the Titans" is my favorite.
Mollie Marcoux Samaan has replaced Mike Whan as LPGA Commissioner after his 11 years on the job. What's your advice for her? Keep the lines of communication open. What Mike did for the tour was incredible. He took a personal interest in every player, and made each one feel heard. That's good advice for anyone.