LA QUINTA, Calif. — The layers of Hudson Swafford's life meshing together were hard to ignore. On Sunday afternoon as he walked between interviews after winning The American Express, he had to dodge his "little linebacker," 3-year-old son James, who kept charging and trying to take him out at the knees. Just like the kid of a Dawg should.
This was the second time Swafford had won since James was born, but the first in which he was on-site; James was only a toddler watching on TV when Dad captured the Corales Puntacana Resort & Club Championship in September 2020.
Coincidentally, perhaps, it was here in the Coachella Valley five years ago that Swafford achieved his first PGA Tour victory. The Georgia alum called to FaceTime his family after that trophy ceremony, and he was happiest to celebrate with his dad, David, who'd given him his first plastic golf clubs when Hudson was about 2. The kid wore them out in one day.
That desert win earned Swafford his first trip to the Masters, and the son rewarded his father with a round at Augusta National in the buildup to the tournament. The 2017 Masters would be the last his dad saw Hudson play in person.
On Sunday, an emotional Swafford revealed his dad died a month ago.
"He taught me everything I know—how to be a dad, how to be a friend, how to be a champion, and how to play golf," Swafford said.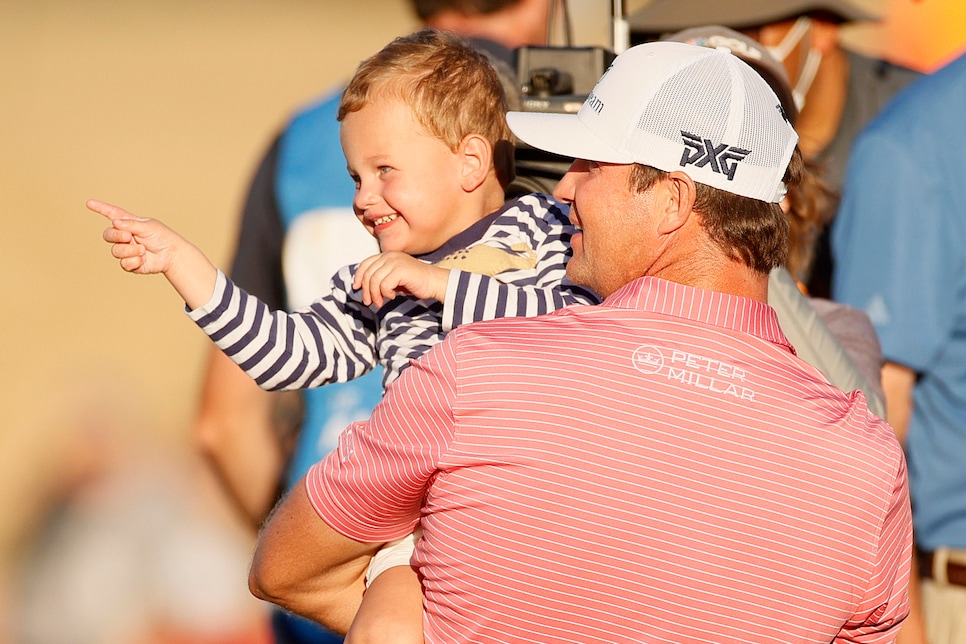 Hudson Swafford holds his son James after finishing the final round of the The American Express.
Steph Chambers
Those memories and many more came back to Swafford during a wild back-nine charge in which he made just one par—along with four birdies, an eagle and two bogeys—en route to a eight-under-par 64 on the Pete Dye Stadium Course at PGA west. Swafford eagled the par-5 16th by ripping his 7-iron approach from 200 yards to eight feet, and he birdied Alcatraz, the island par-3 17th, from 17 feet to fully seize the win at 23 under.
A playoff seemed inevitable, so it was an impressive sprint away by Swafford from a pack of eight players who were in the full thick of the hunt on the closing stretch. Tom Hoge finished solo second, two back, by shooting 68, while Brian Harman matched Swafford's 64 to tie for third at 20 under with Lanto Griffin (67) and third-round co-leader Lee Hodges (70).
"I had all the confidence in the world and there was just something about bogeying the first hole here for me on Sunday that gets me in my comfort zone," said Swafford, who also bogeyed No. 1 in the fourth round in his '17 win. "But I just felt like I was going to win today. I didn't know how, I didn't know what I was going to do or how it was going to happen, but I just had a crazy good feeling."
Swafford, 34, appeared for his post-win press conference composed and smiling, but then surprised the room when his voice began to crack. He said his father had died a month ago, at age 83, after battling Parkinson's for several years.
"I definitely thought about him [during the round], but in a good way, because he was getting to see me hit good shots in person and it's been a long time," Swafford said. "So I had a couple moments where I looked up and knew that he was following and knew that he was there and I could just hear his voice saying, 'Just be confident in what you're doing, you're playing great.' And he goes, 'Just play to win.' "
In Swafford's last win at Puntacana, he had a four-shot lead with six holes to play, but nearly lost it all before making a birdie on the 17th hole to secure the victory. That title seemed to buoy his confidence, but while trying to make some minor swing changes, he said he lost the feel of his reliable fade swing. At one point in 2021, Swafford missed 10 of 11 cuts.
"I didn't know where the ball was going to go. It was wearing on me," Swafford admitted.
After last April's Masters, he said he made the very difficult decision to part ways with his coach of eight years and close friend from Sea Island, Ga., Todd Hamilton. "Killed me," Swafford said. He began working with another coach he'd known for a long time, John Tillery. "Starting Congaree [in June], about a month later when I finished second, and then through the playoffs I really played great golf," Swafford said. "I hit it unbelievably well, even in the fall."
Swafford didn't have better than 30-something-place finishes in the fall, but everything felt like it was coming together. He has made it a practice for years to come to the desert and work on his game at The Hideaway, which is about five minutes from PGA West. It's become a comfortable second home to him.
The vibe was obviously good. Though he shot only 70 at La Quinta on the first day, Swafford followed with a 65 on the Nicklaus Tournament Course on Friday and a 66 on the Stadium in the third round.
Both his irons and putter served him beautifully for the week. Swafford was fourth in the field in strokes gained/approach and second in putting after switching to a different Scotty Cameron putter at the start of the tournament. He was 144th in putting this season over his eight previous starts.
"Rolled it incredibly well," Swafford said.
It was a well-earned, fully satisfying win, and it gave Swafford pause to reflect on his good fortune. "I know he's proud," he said, speaking of his dad, though he could have been talking about his little boy, too.