U.S. Open
U.S. Open 2023: The simple and ugly truth of why this U.S. Open is so damn quiet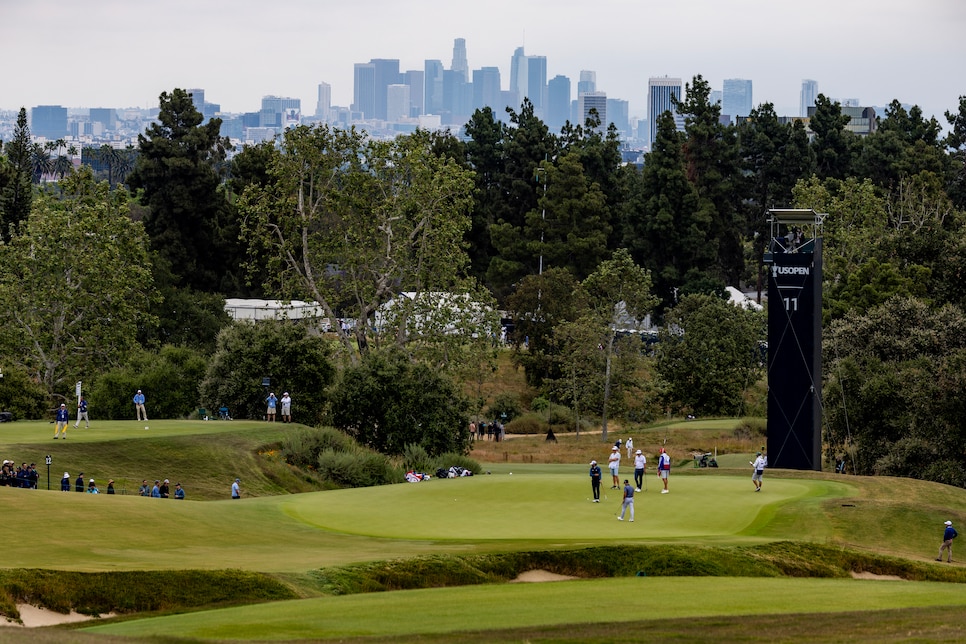 LOS ANGELES — This is not a town that traffics in modesty. Everything is large and loud and runs on an undercurrent of swagger. So it's fair to wonder why the same doesn't apply to this U.S. Open.
It's been quiet, perhaps too quiet, at Los Angeles Country Club, considering there is a national championship taking place. TV viewers have noted the silence that's permeated the broadcast, and those watching on site can confirm their ears do not deceive them. The players have provided the drama, but the beauty of big-time sporting events is a crowd inserting energy and angst and soundtrack to the proceedings, the fusion of which produces something that gives meaning and spectacle to what we're seeing. Through three days at LACC, the second half of that equation is falling short.
"I wish it would have been louder," Matt Fitzpatrick noted on Friday after making a hole-in-one. "I wish it was a few more people. But, yeah, I'm surprised there's not been as many people out as I thought this week."
There are a number of factors to why this U.S. Open is more subdued, perhaps the biggest being the actual number of people here. Compared to most U.S. Open venues, LACC's physical footprint is small, and the terrain itself—with hills and canyons and barranca—is not conducive to large gatherings. As a result the daily attendance figure at LACC is roughly 23,000. For context, last year's U.S. Open at The Country Club in Brookline hovered around 30,000 on the weekend, with a more spacious site—think Oakmont, which last hosted in 2016—having the ability to host up to 50,000 fans per day.
Moreover, out of the 23,000, close to 14,000 are allotted for suites and hospitality tents, meaning just 9,000 tickets classify as general admission. Out of the 9,000, it's believed just half were allotted to the general public, as LACC gobbled up somewhere in the range of 4,000 to 4,500 of those tickets. (A persistent claim leading up to the championship was that LACC attempted to buy all of the tickets. A USGA official would not comment on the matter.)
There's also the logistical reality of getting to LACC … or anywhere, for that matter in Los Angeles. Sports fans know that Dodger or Laker games are noted for their late-arriving crowds. Rivals think this is an indictment on the L.A. sports scene, that the fans lack the zeal of other markets and the crowds aren't there to watch a ballgame but there to simply be seen. In truth, the traffic out here is so horrendous that no matter where you go or what time you leave, you're not getting there anytime soon.
The logistical nightmares do not end once fans arrive on property. Mentioned above, the course is a respite from the concrete jungle that engulfs it. It is nature incarnate, and the unadulterated landscape gives this course its bite and charm while also providing a beautiful aesthetic. But it is not an easy walk, going up and down canyons and navigating the barranca. For safety reasons there are only so many areas fans are allowed, and many of those areas are a good distance from the action. Additionally, because of the small footprint, there simply isn't room for a lot of fans on many of the holes, especially near the greens, which explains why sometimes the nearest viewing point is 150 yards away from the action. The first hole doesn't have grandstands by the tee due to the clubhouse's location to the box, and the ninth and 18th greens have just one relatively small grandstand each with little to no room for fans to walk up close to the green. (One USGA official did tell Golf Digest on Saturday evening they are contemplating allowing fans to go up one side of the 18th fairway with the final group, although only if a playoff was not in the scenario.)
Meanwhile, the holes you can see aren't always in full view. Take the delightful short par-3 15th. Those standing to the left of the hole can see the tee shot, but not necessarily where it finishes on the green. Those to the right of the green by the 10th hole can see where tee shots land at the 15th but not necessarily who struck them. Confused? So are the fans.
"The crowds are great or hefty in certain areas, but we're also coming last year from Boston where they're just louder there," Max Homa said on Thursday. "Their decibel is just higher than ours is out here."
Yes, that has been a common complaint on social media, that the West Coast fans aren't as good as those in other parts of the country. But don't fall into provincial battles. The fans that are here are smart and strong in voice. The galleries around Saturday's final groups, especially for Rickie Fowler and Rory McIlroy, did not lack juice. They know and appreciate what they are seeing. They just need a chance to see more of it, ideally with more of them in tow.
MORE FROM GOLF DIGEST @ THE U.S. OPEN