U.S. Open
U.S. Open 2023: Jon Rahm is done thinking about golf's future (at least for this week)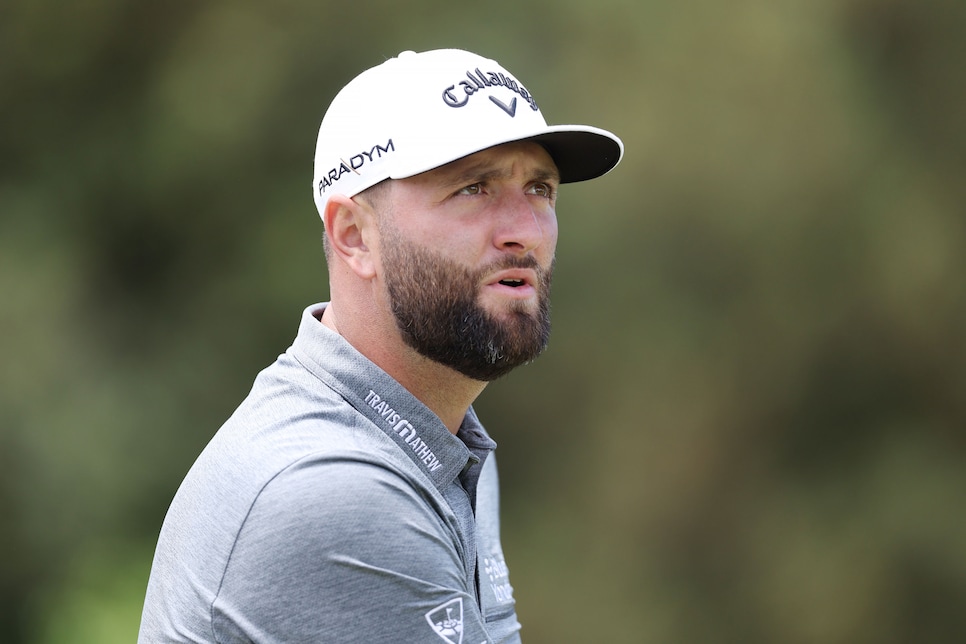 LOS ANGELES — There are a few things Jon Rahm shares with Rory McIlroy. European Ryder Cup stalwarts. Multiple major champions. Two-thirds of the world's top-three golfers. But perhaps the most endearing—certainly to journalists—is that both men are at or near the top of the list of interviews in the game. Amidst what is so often a sea of blandness, the Spaniard and the Northern Irishman are two of a few who actually try to answer questions.
In that regard, Rahm was in fine form two days before he begins his bid to become only the second of his countryman, after Seve Ballesteros, to win more than two Grand Slam titles. One of the few to have played the Los Angeles Country Club previously in competition (albeit 10 years ago in college event), the Masters champion was quick to underline how much he enjoys many aspects of the George Thomas design.
"Those fairways look bigger than they play," said the World No. 2. "You still need to strike it really well tee-to-green to be able to give yourself some looks at birdie. It's a design that I like. It makes you think. There are very intricate green complexes. You've got to play the angles a little bit. And, especially if you miss the greens, you're going to find yourself in some interesting spots to get up-and-down. It's got all the ingredients to be a great week."
Give such a strong endorsement, it will come as no surprise to hear Rahm was just as enthusiastic when you got down to some specific shots and holes. Almost inevitably, that included the über-short par-3 15th. Listed at 124 yards on the official scorecard, this tiny little monster could play as short as 80-yards at least once this week.
"I remember playing that hole 10 years ago and hitting a great shot," he said with a smile. "Landed a foot from the hole and went long into the rough. Very rarely are you going to have a hole that short where the best players in the world are going to be thinking about going 20-feet long-left to use that slope to at least hit the green. That's something beautiful. It's a hole that gives you a lot to think about. I wish we saw more like that.
"The great thing is it gives you options," Rahm continued, warming to his theme. "You can try to be brave and hit the shot, or you can use that front side, the mound on the green, to give yourself a birdie look. It wouldn't be the easiest birdie look, but it's fun. The wind will dictate quite a bit. If it's windy as it was yesterday it will be a really tough hole. If you're playing earlier in the day you can probably get some height and spin to be aggressive with it. But if you don't pull it off, you're going to find yourself in a difficult spot."
The short par-4 sixth was another to catch Rahm's educated eye. This time though, he was less sure of what strategy might be best to employ on the 330-yarder. All of which only added to his obvious sense of anticipation.
"I'm not going to sit here and tell you what I'm going to do, because I've said before I'm not going to hit 3-wood or driver and then, if I'm feeling really confident in my swing, I absolutely will hit driver or 3-wood into that green," he said. "It all depends. It can be circumstantial. It's depending on the wind and pin location, as well. That front wedge shot if you just put in on the fairway, it's about as easy of a wedge as you can find. Just throw it behind the pin and it comes right back to it.
"So there will be people that go for it and make eagles, hit great shots, give themselves a lot of good looks at birdie. But I think it's also the way you're going to see the highest numbers. If you hit the lay-up to the spot you want to every day—which isn't the hardest lay-up—I think your scoring average will be lower than going for it every day."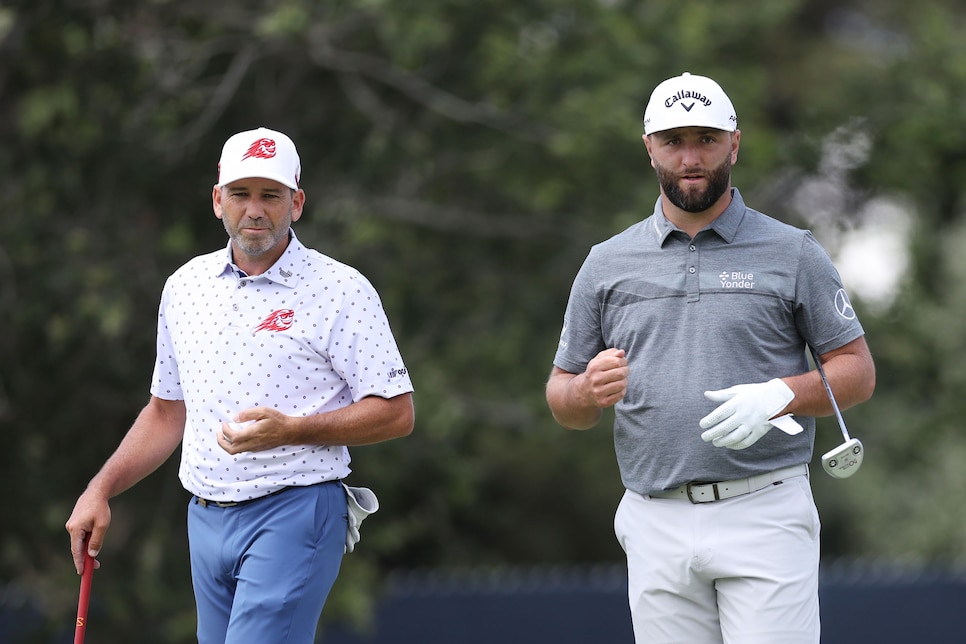 Rahm played a practice round with fellow Spaniard (and LIV Golf rival) Sergio Garcia on Tuesday.
Richard Heathcote
As for his chances this week, Rahm was bullish, citing his consistent if incomplete performances in his last couple of starts. But whatever happens between Thursday and Sunday, and whatever becomes of the bemused and befuddled world of golf over the coming years and months, the father-of-two claimed to have bigger priorities in what he called a "privileged" life. Which is not to say he doesn't have a view on the surely tumultuous months and years that lie ahead.
"It gets to a point where you want to have faith in management," he said of the deal between the PGA Tour, the DP World Tour and the LIV Golf League. "I want to have faith that this is the best thing for all of us, but it's clear that that's not the consensus. The general feeling is that a lot of people feel a bit of betrayal from management. I understand why they had to keep it so secret. It's just not easy as a player that's been involved to wake up one day and see this bombshell. That's why we're all in a bit of a state of limbo. We don't know what's going on and how much is finalized and how much they can talk about, either."
Still, all of that is small beer in Rahm's clearly idyllic world. Hence his admission that he deposited his "red-hot" cell phone in a drawer for a few hours in the immediate aftermath of last week's announcement. "No matter what happens, whether I agree with it or not, thanks to the PGA Tour, I have a platform to play golf at the highest level," he said. "After taking advantage of that possibility, I'm in a situation where my family and my kids don't have to struggle financially ever. I don't know how many generations I can help if I do it properly. I'm in a very high state of privilege in this world. I can do what I want. I can do what I love for a living. I have a blast every single day even though I get mad on the golf course every once in a while.
"I can only be thankful to what's going on," he concluded. "If things change, things change. I'll just have to adapt to the situation and make some decisions on what's going on. At the end of the day, I'm still very privileged, whether the PGA Tour/LIV Golf align or not, or who plays and who likes who. It doesn't really matter. I'm happy where I am in my life, and every day in the morning when I look at my kids, I'm even more blessed in that sense. All those possible issues [in the game] seem like a very, very small issue compared to other things in the world."
There was also time for a little levity amidst the generally serious proceedings. A question from online asked if Rahm was excited by the prospect of becoming the first Spaniard to win the U.S. Open twice.
"Given I'm the only Spaniard to win this tournament, I am also the only one who can do it twice," was the amused response.
MORE FROM GOLF DIGEST @ THE U.S. OPEN