Back from the DL
U.S. Open 2022: This PGA Tour rookie is a surprise contender at Brookline, and he has a timely injury to thank for it
BROOKLINE, Mass. — The diagnosis was a mouthful. After Nick Hardy heard a pop in his left wrist while playing the fourth hole in the final round of the Zurich Classic in April, doctors told him he had subluxated the ECU tendon in his left wrist. It's an injury not uncommon to golfers, fellow PGA Tour rookie Sahith Theegala having suffered a similar fate when he was in college at Pepperdine.
The remedy, however, was something the 26-year-old Hardy, who found himself in a share of the lead on Friday afternoon at the U.S. Open, hadn't done much of since taking up the game as a youngest in Northbrook, Ill.
For 30 days Hardy sat at home and didn't touch his clubs. It was a challenge for someone who Mike Small, his college coach at the University of Illinois, called the one of the most competitive players he'd ever had come through his program. But it was also cathartic.
"I actually learned a few lessons from that injury. I really did," Hardy said on Friday after shooting a two-under 68, his second straight sub-70 round at The Country Club. "I learned I don't need to be out there six, seven, eight hours a day grinding. Sometimes taking a step back and just looking at it from a different perspective, I think it totally changed my perspective on things."
Beyond simply resting, Hardy says he also adjusted a few other parts of his routine. He started to work with a breathing device to help him focus on that aspect of his health. And his fiancée, Liz, made sure he wasn't sitting around eating junk.
"She got me eating a lot more green stuff," he said.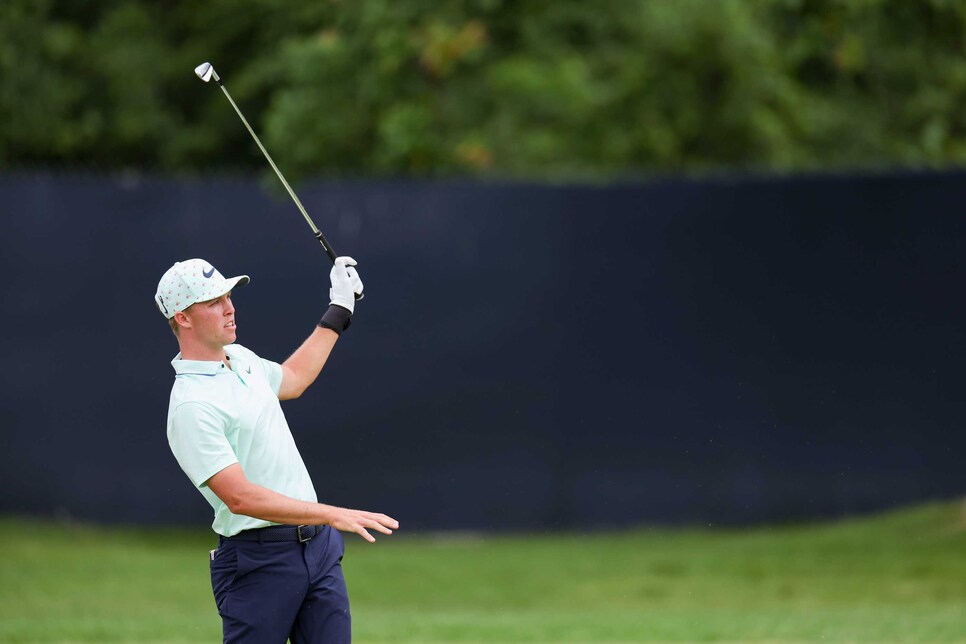 Hardy is wearing a brace on his wrist, but says he's nearly at 100 percent after sitting out a month with a tendon issue.
Kathryn Riley
Thankfully Hardy was able to return to play at last week's RBC Canadian Open, doctors happy with his progress ("I'm at nearly 100 percent") but asking him to wear a brace as a precaution. (Theegala needed eight months to recover from his injury.)
On Friday night, Hardy learned he had earned the last spot into the field at The Country Club after originally being an alternate from the Springfield, Ohio, final qualifier. This is Hardy's 27th PGA Tour start, but his fourth U.S. Open, the first coming as a 19-year-old at Chambers Bay in 2015 (when he finished T-52). The news inspired him, as he posted a Saturday 65 and finished T-35 in Canada.
Whereas in past U.S. Opens, Hardy would log 36, 45 and sometimes 54 holes in the practice rounds, this year he took Monday off, then played 18 holes on Tuesday and a handful on Wednesday to make sure to keep his wrist in prime shape for the championship proper.
"It's a long week," Hardy said. "I've kind of learned myself more and I've learned that you need to keep your energy and can't spend it all on Monday, Tuesday, Wednesday having fun in practice rounds and stuff, and it's more about rest and maintaining that.
In his first full year on the PGA Tour after earning his card during the Korn Ferry Tour Finals in 2021, Hardy's results have been mixed. He's played 14 times but had just one top-25 finish (T-21 at Zurich). He's 182nd on the FedEx Cup points list, so there's plenty to play for this week as he looks to try to keep his card for the 2022-23 season.
Hardy's Friday 68 came with three birdies and a bogey, a solid effort given the gusty winds that started to dry out the course. His driving has been a highlight—he's ranked top 10 in strokes gained/off the tee and in distance (321.7 yard average compared with 305.16 yards for the entire field).
But can he keep it up? While his best career finish in an individual event was T-26 at the Sanderson Farms last fall, Hardy thinks so.
"I feel like I have gotten better and better year after year since I was a really young kid," he said. "Maybe not as fast as I would like, but I kind of progress at my own pace, and I feel like I have understood that for a while now."