News
U.S. Open 2020: Bryson DeChambeau silences the haters and three other Sunday takeaways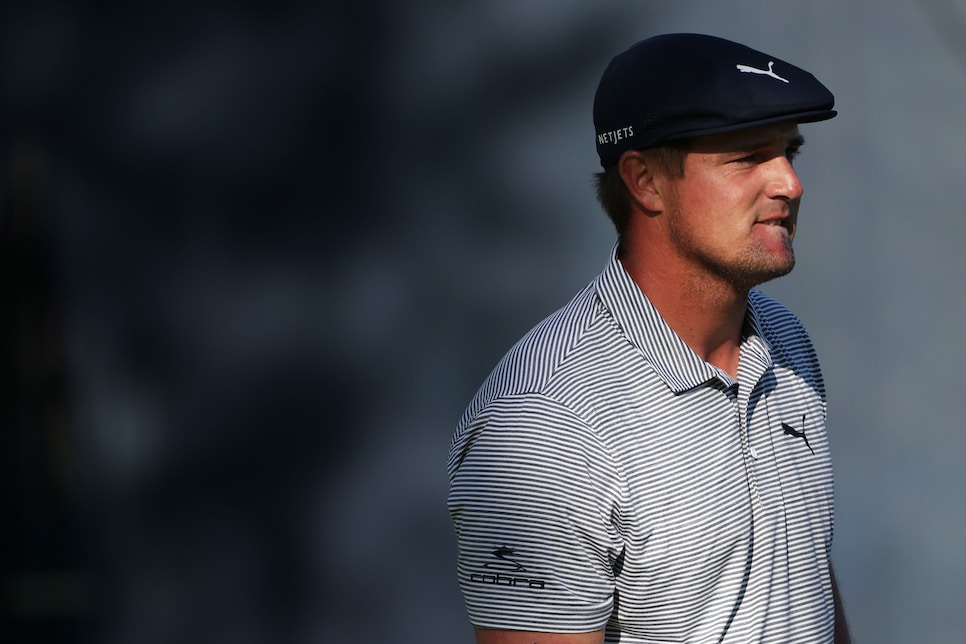 Bryson DeChambeau watches his tee ball on the 13th hole during the final round of the 120th U.S. Open.
Jamie Squire
Whatever ones lingered about whether Bryson DeChambeau's plan to bulk up and hit the ball as far as possible would hold up in the cauldron and nuance of major championship golf have been answered. This week at Winged Foot, he killed nuance.
A month after a tie for fourth in the PGA Championship—a career-best finish in a major up to that point—DeChambeau is a U.S. Open champion, running away with the title on Sunday after a final-round 67 to end the week as the only player in red figures at six-under 274 for his first of what figure to be at least a few major championships.
Here are our four observations from the final round at Winged Foot.
Bryson DeChambeau's aggressive approach off the tee was a prevailing theme all week and has been for the last 12 months. It sure wasn't going to change on Sunday.
It also didn't matter this week that he hit just 23 of 56 fairways at what has become a little less vaunted Winged Foot (off the tee, at least). Not when the majority of the field was missing them, too, and with DeChambeau bombing his ball into the record book. His 325-yard average is the longest of any winner in the event's history.
And here's why that mattered: His approach distances were so short that, for the most part, it didn't matter if he was in the short grass.
Case in point: On the fourth hole, DeChambeau uncorked a 332-yard drive into the left rough but had just 132 yards in and made birdie. And at the par-5 ninth, he (and Matthew Wolff) had driver-wedge into the green and both made eagle. The 365-yard 11th? Another driver that left just 40 yards in from the first cut and consequently another birdie.
And it wasn't just DeChambeau. Wolff had nine approaches on the day that were inside 170 yards.
Now just wait until DeChambeau gets a hold of Augusta National in November …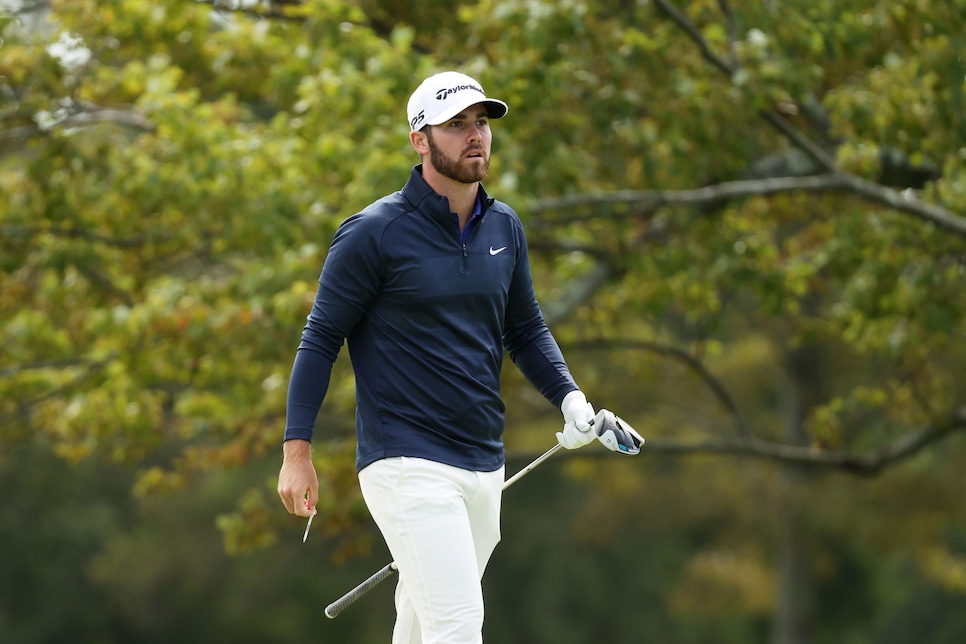 Matthew Wolff couldn't hold on to his 54-hole lead at the U.S. Open, shooting a Sunday 75 to fall six back of Bryson DeChambeau in solo second.
Gregory Shamus
On Saturday, Matthew Wolff matched the lowest score of the week and the lowest in U.S. Open history at Winged Foot with a 65. A day later, the 21-year-old was 10 strokes worse.
The fine line of major championship golf, and the putter he rode a day earlier abandoned him.
On the fourth, a long birdie putt from above the hole nicked the edge but didn't fall. One hole later, again from above the hole, his 10-footer for par slid by, never touching the cup. On the eighth, after lagging to eight feet from about 100 feet away he missed another par save. Ditto on Nos. 10 and 14, where par putts from inside 10 feet on each failed to drop.
And then there were holes like the par-5 12th, where both Wolff and DeChambeau hit nearly identical drives, only Wolff's kicked into the thick rough, from where he could manage just a par.
"I played really tough all week," Wolff said. "Things just didn't go my way. But first U.S. Open, second place is something to be proud of and hold your head up high for."
Indeed. Two majors with a T-4 and a runner-up is a hell of a start to a career.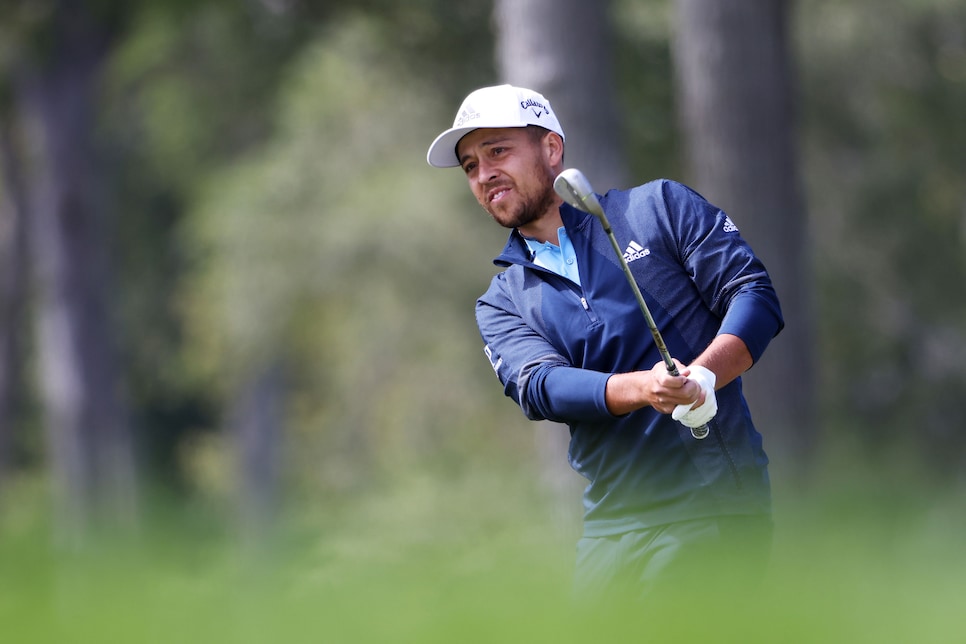 Xander Schauffele once again posted an impressive U.S. Open finish (T-6) even if Sunday was a struggle.
Jamie Squire
Xander's back nine struggles
Xander Schauffele is now five-for-five in finishing sixth or better in his career at the U.S. Open after a solo fifth on Sunday. That's the glass-half-full outlook and with top 10s in half the majors he's played in his career probably the one best served.
But while DeChambeau left the field in his vapor in the final round, Schauffele wasn't without his chances. In the end, his play off the tee did him in.
A few examples: A horrific tee shot on the fourth hole led to having to take an unplayable lie. He followed with a sloppy bogey on the fifth. On the back nine, more wild drives were largely responsible for a run of five straight bogeys and, ultimately, a closing 74 that left him 10 strokes back of DeChambeau.
"Hitting it far helps," Schauffle said. "Yeah, I got a bit exposed there on the back nine."
He struggled with that side of the course all week, playing the back nine at Winged Foot in a combined seven over, compared to three under on the front.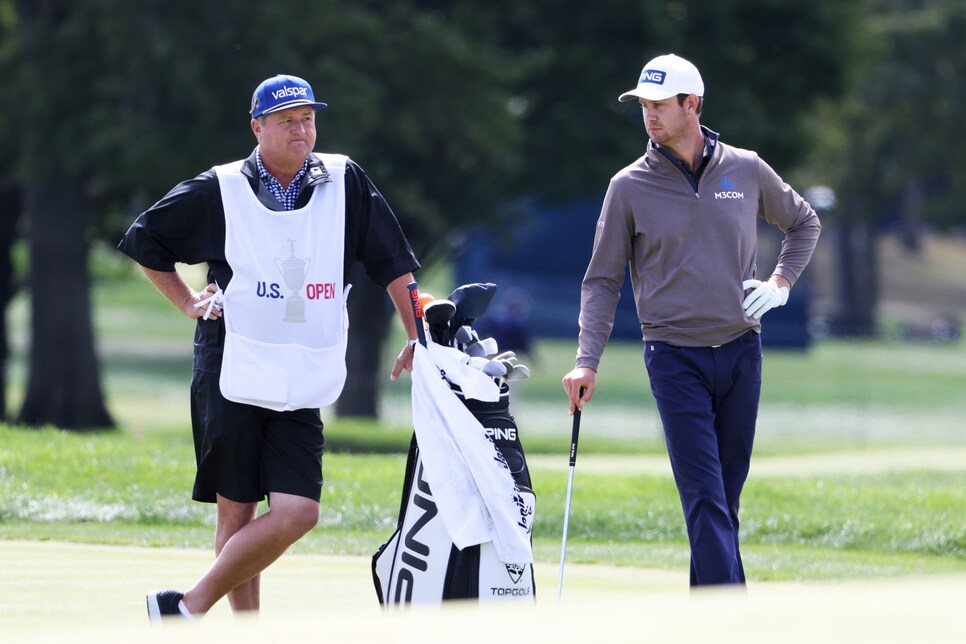 Harris English waits with caddie Eric Larson on the first hole during the final round of the 120th U.S. Open.
Jamie Squire
Just when you thought there wouldn't be any controversy…
Or at least some rules snafus, anyway.
Tied for fourth when he teed off, English pulled his drive left and into the thick stuff on the difficult par-4 first. Still, the shot wasn't that far off line and with several marshals on each hole one would think the ball would be relatively easy to find.
Three minutes later time was up and English was on his way back to the tee. Despite an exhaustive search—which included at one point Bubba Watson, who was playing an adjacent hole—no one ever found it.
"I saw it hit off the tree," English said after a 73 that included what ended up being a double bogey on No. 1. "I really thought it was in the walkway. There's 8-10 volunteers standing right by the tree. I didn't think anything of it, of they're not going to find it. Then we get up there, and everybody's looking around and have no idea where it is.
"I've never had that happen before."
To his credit, English handled the situation better than a lot of players would have. He jarred a bunker shot for birdie on the next hole and got on with his round. In the end, he finished solo fourth, closing with a Sunday 73. We hate to say the USGA marshals had one job here, but really they had one job. Thankfully it didn't cost English the championship.