News
U.S. Open 2020: Matthew Wolff smiles through the pain of a blowout loss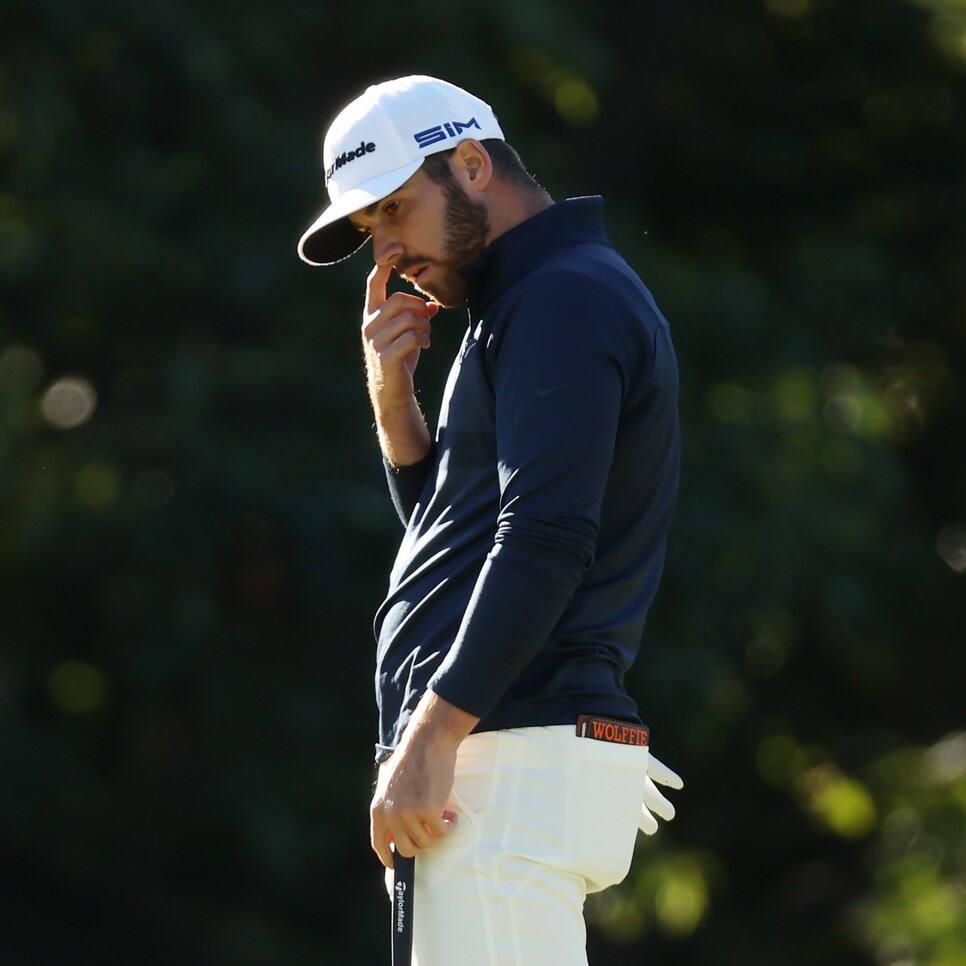 Matthew Wolff started the final round of the U.S. Open with a two-shot lead and lost by six to Bryson DeChambeau.
Gregory Shamus
MAMARONECK, N.Y. — It was a two-horse race. A two-animal race, really. One man built like a bison, the other named Wolff.
Bryson DeChambeau and Matthew Wolff played together in the final group of the U.S. Open at Winged Foot on Sunday. A fascinating pairing. Two young men—their combined age, 48, still not PGA Tour Champions eligible—who are similar in some ways and polar opposites in others.
The similarities: both absolutely demolish the golf ball. Proof: both hit pitching wedge on their second shot into the 556-yard par-5 ninth, and both made eagle. Both are young, both are from California, and both were amateur phenoms. Wolff won the NCAA individual championship in 2019 (last year!), DeChambeau in 2015.
The differences: DeChambeau works out religiously, Wolff when he's motivated enough to. DeChambeau spends his nights playing Fortnite, Wolff watching the NBA. DeChambeau analyzes every single aspect of every single golf shot. Wolff summarized his strategy as: "rip dog and see how it goes from there."
The most salient difference: DeChambeau is now a major champion. Wolff is not. At least not yet.
For the second time in three months, DeChambeau chased Wolff down and leapfrogged him. In Detroit, in July, he turned a three-shot deficit into a three-shot victory with a 65. Beat him by six. On Sunday, in the biggest round of both their lives, DeChambeau turned a two-shot deficit into a six-shot victory. DeChambeau shot 67, the only guy in the field to break par. Wolff took a bit of a beating and posted 75, a full 10 shots worse than he shot on Saturday. DeChambeau beat him by eight.
"A bunch of positives," Wolff said of the week. "Shooting even par for four rounds at Winged Foot is pretty exceptional. I think the last couple U.S. Opens that they've had here, I think five or so over has won.
"I played really tough all week. I battled hard. Things just didn't go my way. But first U.S. Open, second place is something to be proud of and hold your head up high for."
When something like this happens—a young player, playing with the lead in a major for the first time, shoots a big number—the first instinct is to ascribe it to nerves. If Wolff felt the heat of major Sunday, he's a fantastic actor. Six minutes before his tee time, he was traipsing around the first-tee area chatting away on the phone. (He loves to chat, by the way. If you watched the TaylorMade match at Seminole, you'll understand why he's known in some circles as Chatty Matty.) On the other end of the call was his buddy, Zach. Wolff had to go the bathroom, and he wanted some entertainment as he did his business. Relatable.
When he emerged, he noticed a few volunteers and media types staring at him, so he cut the tension with a knife, flashed a cheeky smile, and said, "Hey guys! Hey everyone!"
Six minutes later, he did that awesome trigger with his lower body, picked the club straight up in the air, dropped it in the slot, used the ground, fired his hips and ripped a tight draw down the center of the first fairway. Two stress-free pars on the first two holes were just what the doctor ordered.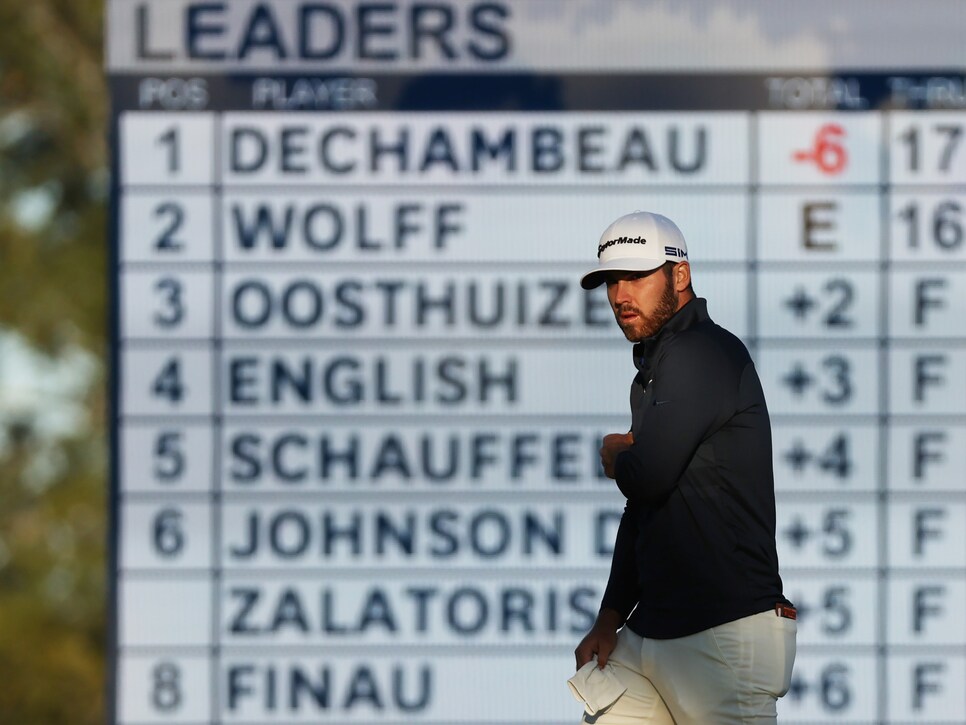 Matthew Wolff made only one score better than par on Sunday—an eagle at the par-5 ninth.
Gregory Shamus
There were no signs of distress until the par-3 third tee, where he fatted a hybrid. It soared in the air, spinning way more than a hybrid should, hooking toward the fourth tee. In hindsight, he knew he was standing a bit too far from the ball. He made bogey to Dechambeau's par. On four, his birdie effort from 35 feet caught the lip but wouldn't fall. DeChambeau's birdie did. Tie ballgame. At five, he pulled his tee shot left and missed a 10-footer for par. DeChambeau ahead by one. On the driveable par-4 sixth, he stood too far away from it again and hit a weak 3-wood. A disappointing par. At eight, an eight-footer for par went begging. The type of putt you gotta make to win a major.
The lone highlight of the day came on nine, where he answered DeChambeau's 35-footer for eagle with an eagle of his own. DeChambeau at five under, Wolff at four under. They were four clear of third, and the battle was on.
The battle didn't last long. Wolff's tee shot on the par-3 10th hung up in the cabbage that borders so many Winged Foot bunkers, and he couldn't build a normal stance, so he stood in the bunker and gripped the club 60 percent down the shaft and did the best he could. Bogey. After he chunked a wedge on 11 and DeChambeau made birdie, the outcome was all but decided.
But Winged Foot took no mercy on a man already beaten. The bad bounces kept coming. On the par-5 12th, DeChambeau's drive kicked off a ridge in the rough and back into the fairway. Wolff's ball then hit the same area and stayed in the thick stuff. His third hopped up to pin high, then spun down the hill. At 14, he asked his approach to SIT! And then hit landed short, and he wanted it to GO! Bogey. One last terrible break at 17, when his drive found a divot in the middle of the fairway.
"I mean, I'm not looking to have a consensus that I got bad breaks out there," Wolff said, "but I definitely can say that it just wasn't meant to be. There was a lot of times out there … Bryson's ball kicked straight left on 12, and I landed in literally the exact same spot, and it stayed in the rough. Little things like that … you know, it's the U.S. Open. As much as I want to say it's the U.S. Open, I feel like some breaks should have went my way. They didn't, and it is what it is."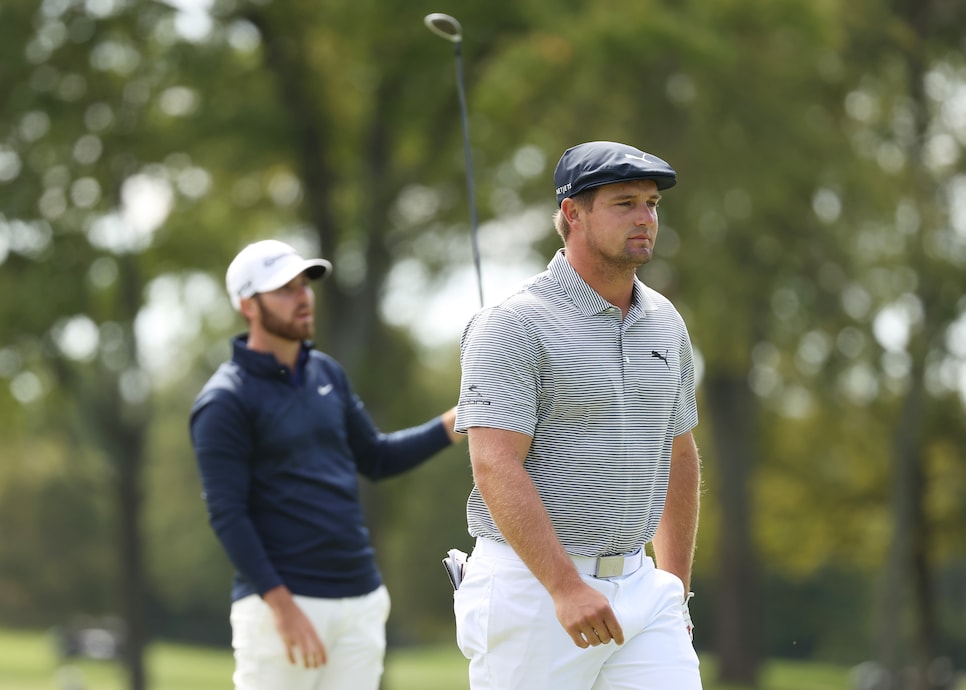 Matthew Wolff lamented that he didn't get the breaks that Bryson DeChambeau did.
Gregory Shamus
And if some of those had gone his way, maybe DeChambeau's march to glory wouldn't have been so straightforward.
"If I'm two, three shots closer to Bryson down the stretch, it's just a different story," Wolff said.
Wolff walked off the course a defeated man on the scoreboard only; he was all smiles. Remarkably upbeat for a guy who just shot five over with a chance to win a U.S. Open. He wanted to know the NFL scores. Couldn't believe Saquon Barkley and Christian McCaffrey and Drew Lock got hurt. Recounted the hilarious conversation he had with his swing coach, George Gankas, that morning.
Simply put, he didn't seem the least bit distressed. Why would he be? If he wasn't so damn good at golf, he'd still be a senior in college. Instead, at 21, he's a multimillionaire, one of the brightest stars on the PGA Tour and now has top-four finishes in each of his first two major starts. He knows he'll have, conservatively, 15 more cracks at a U.S. Open, 60 more cracks at a major.
What's there to be upset about?