News
Masters 2020: Abraham Ancer continues to prove that he's a big-time player, he's just missing one thing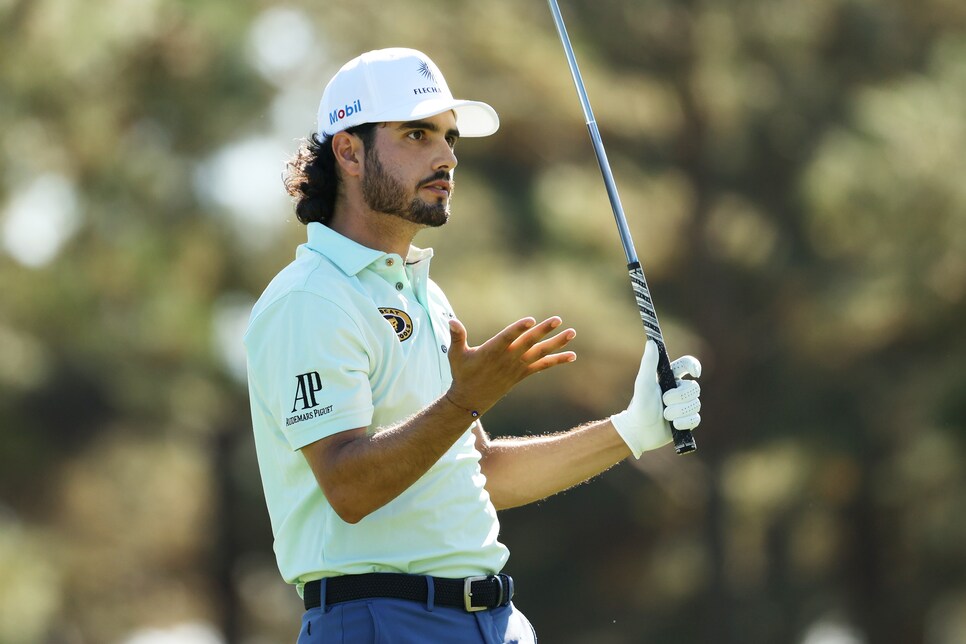 In the hot-takes-above-all age, you aren't truly elite in pro sports until you win a ring. Golf's equivalent to rings are the majors, the WGCs and a handful of other big-time events. Abraham Ancer has yet to win any of those, nor has he even won a low-level PGA Tour event. This would explain why, despite being ranked 21st in the world, he's a complete unknown to the casual golf fan.
But make no mistake, Ancer is a big-time player who steps up in big games (shoutout Santana Moss). You don't go from 98th to 21st in the Official World Golf Ranking in a span of two years by not playing your best golf on the biggest stages. There is no bigger stage than the Masters.
That's why it shouldn't be all that surprising to see Ancer's name atop the 2020 Masters leader board at nine under, alongside Dustin Johnson, Justin Thomas and Cameron Smith. While he's not officially one of the 36-hole leaders yet, as the second round must still be completed on Saturday morning, he'll likely be in one of the final groups to begin his third round. Wildly impressive for a Masters debutant, but again, not all that crazy given his resume.
Ancer, who hails from Mexico, first flashed on the scene by getting into the final pairing at the 2018 Dell Technologies Championship, the second leg of the FedEx Cup Playoffs that season. His partner? Bryson DeChambeau, who he currently leads by 10 shots.
DeChambeau did clip him that week, but that hasn't slowed Ancer down since. Among his highlights after that T-7 in Boston: T-5 at the 2018 CIMB Classic; T-12 at the 2019 Players Championship; T-16 at the 2019 PGA Championship; runner-up at the 2019 Northern Trust (another playoff event); T-4 at the WGC-HSBC Champions. He also has a pair of runners-up in 2020, including one at the RBC Heritage at Harbour Town, which had its strongest field in recent memory during the tour's restart. We should also point out that in his Presidents Cup debut last December in Australia, Ancer posted a record of 3-1-1 for the International team, his only loss coming in singles against Tiger Woods.
"I've always said that experience in Melbourne definitely prepared me," Ancer said following his second round. "It helped me feel a lot more comfortable, really, in any scenario I get put on or whoever I'm playing with or whatever tournament it is. I mean, the amount of pressure that you feel there, the excitement, every putt counts so much.
"That whole week was big for me and my career. I felt like it's helped me tremendously."
Ancer hopes to lean on that experience again this weekend, when all eyes of the golf world will be on him. It will be an immense amount of pressure on the 29-year-old, but his resume suggests he'll be ready for it.
Here are four other takeaways from Friday at the Masters.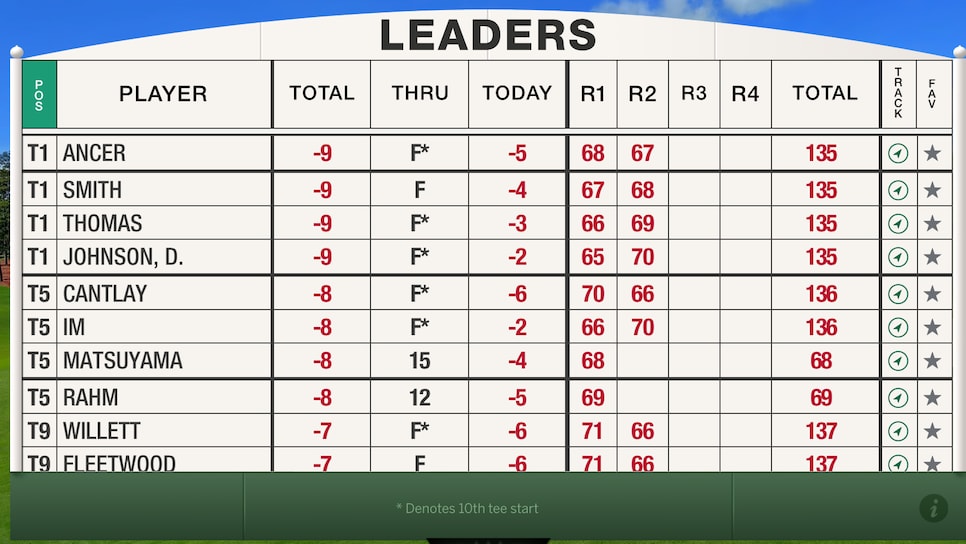 C'mon, is that thing beautiful or is that thing beautiful? DJ, JT, Rahm, Matsuyama. It's a cornucopia of the world's best. Sprinkle in some Danny Willett, who cracked his driver and still shot 66 with his 3-wood on Friday. A dash of Tommy Fleetwood at the bottom. And if you head over to Masters.com and scroll down further, you'll find Justin Rose and Louis Oosthuzien at seven under, Patrick Reed and Xander Schauffele at six under, Phil Mickelson and Brooks at five under and Tiger Woods at four under. Need we say more? It's going to be a very special weekend at Augusta National.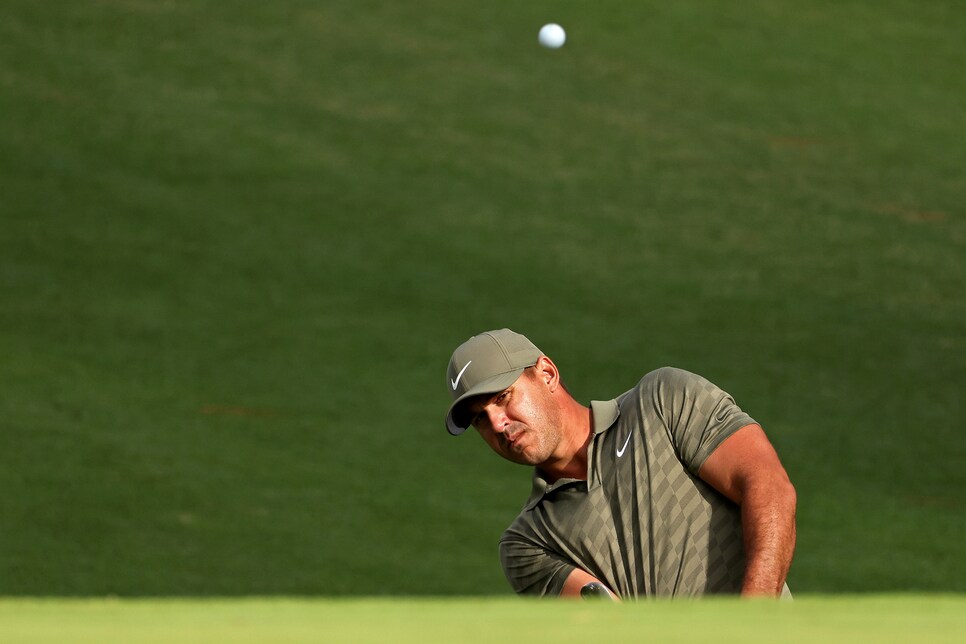 Brooks Koepka is seriously lurking
We mentioned Koepka above, but it's worth repeating that he's just a few back, and that's despite, according to him, some "sloppy play." All these guys say that, but it's actually true for Koepka this week. Early in his first round it appeared he was destined to miss the cut, which would have fueled the social-media haters in a big way. When he marked his ball Thursday night, he was two over par and hadn't made a birdie through 10 holes. Not ideal, some would say.
But Brooksy came out firing on Friday morning. After four straight pars, he went eagle-birdie-par-birdie to shoot a two-under 70, then backed it up with a three-under 69 in his second round that featured three bogeys. He's not playing anywhere close to his top level, which, as we know, is another level entirely in the majors. If he shows any signs of the Koepka that won at Erin Hills, Shinnecock, Bellerive and Bethpage this weekend, pray for everyone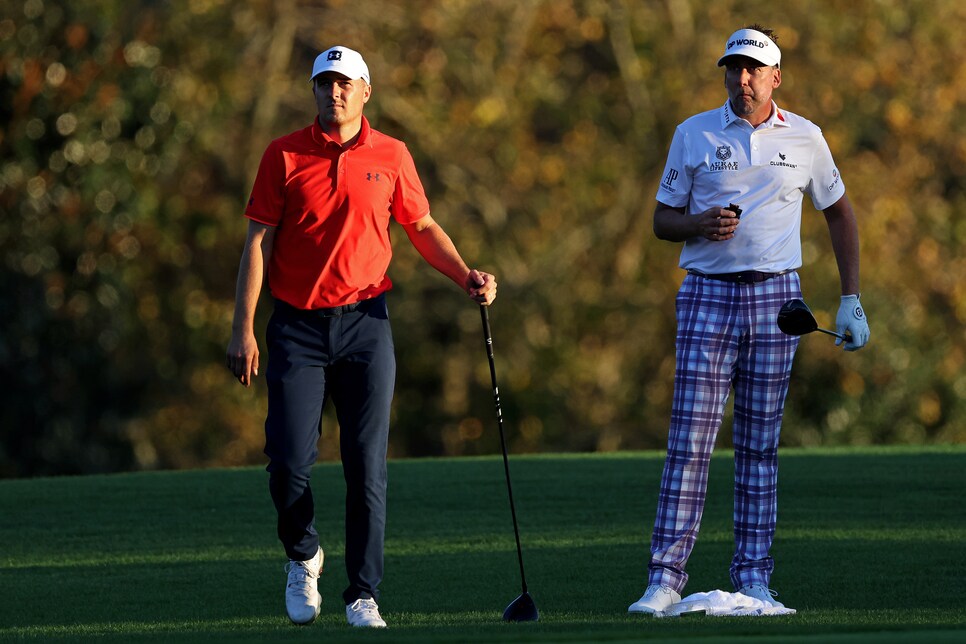 The cut-line drama on Friday will be worth the price of admission
As of the latest horn sound, 49 players are at one under or better. With the cut now only 50 players and ties, Jordan Spieth is very much in danger of missing the weekend. He's at even par, and he still has eight holes remaining in his round, so it's far from over. But he'll begin his Saturday morning at the 11th tee. You guys happen to know which hole comes after 11? Yeah, let's not go there.
If he can manage Amen Corner, he'll have chances to get into red figures coming down the stretch. He's not alone either. Bryson DeChambeau, who suffered that brutal break at the third hole, is at one over with just six holes to play. He should get back to even (or better) immediately on Saturday morning, as he'll start his day with a 17-footer for eagle at the 13th. Others to watch: Collin Morikawa (even par through 36 holes), Matt Fitzpatrick (even par through 36 holes), Zach Johnson (even par through 36 holes), Jason Day (even through 10), Shane Lowry (even through 10), Andy Ogletree (a) (even through 10), Henrik Stenson (one over through 12) and Kevin Kisner (two over through 13). Something to note with the even par through 36 holes guys— they have to stay the night just to find out if they can still play tomorrow, and their chances don't look good right now. Brutal.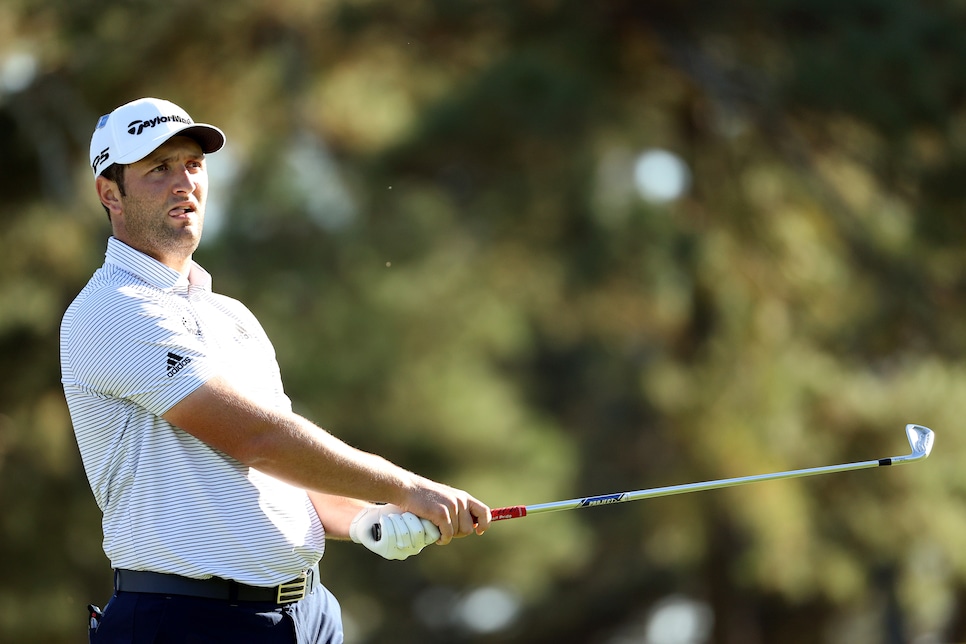 Jon Rahm will be your 36-hole leader
If this sounds bold, it should not. When Rahm returns tomorrow, he will tap-in his birdie putt at the 13th to tie for the lead at nine under. Unless he has a horrific night of sleep or somehow injures himself between now and the morning, he will proceed to make at least two more birdies and will own sole share of the 36-hole lead at 11 under. You heard it here first.