News
Masters 2020: What you think about Dustin Johnson says more about you than him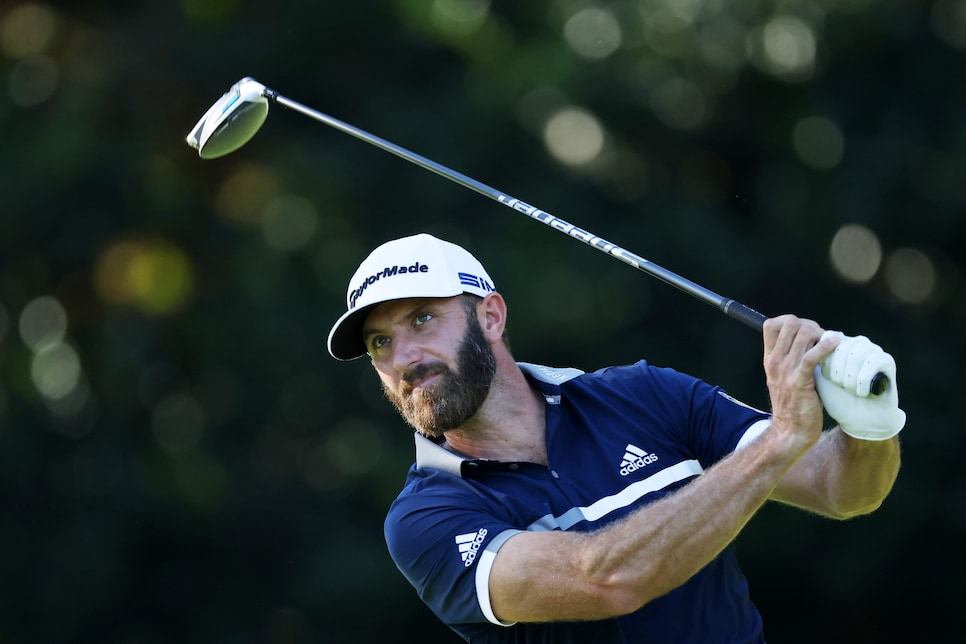 AUGUSTA, Ga.—His right leg was perched on a mound, his hands fastened to his hips and his head turned away from the hole. Dustin Johnson's 15-footer for birdie had missed by inches at Augusta National's first hole and the World No. 1 appeared livid. Wait, check that, he may have been studying the eighth green, which sits nearby. Aw hell, who are we kidding: He was likely contemplating dinner options.
That's the thing about golf's Rorschach test: What you think about Johnson says more about you than him.
So how do you view Johnson's performance through 36 holes at Augusta National, a performance good enough for a share of the Masters lead as shadows overtook the property Friday afternoon?
Do you see a man of immense talents at the height of his powers? He is the reigning FedEx Cup champ and PGA Tour player of the year, finishing first or second in five of his last six appearances. A 65-70 start, highlighted by hitting 16 of 18 greens in Round 2, through two days is merely an extension of his heater.
Do you see his nine-under score and wonder what could have been? Starting his second round on the second nine, Johnson parred the 10th and rattled off three straight birdies to reach 10 under. But he played the final 14 in one over in conditions that made Augusta National as gettable as it's going to get, evidenced by the rest of the field posting their share of red on the scoreboard.
Do you see him leading the tournament and shrug, believing this is a song-and-dance you know all too well? He's finished T-6 or better in five of the last nine majors but no wins in those starts, and though he has 19 career top 10s at majors he owns that lone 2016 U.S. Open title.
"I mean, I'm pretty pleased the way I played today," Johnson said Friday afternoon. "Hit a lot of really good shots. Gave myself a lot of good looks. Just can't really roll any putts in."
Johnson is not one for revisionist history. There was the miss on the first. A pair of 15-footer birdies at the 16th and 17th that wouldn't listen to Johnson's pleas. A birdie attempt at the second that was good all the way until it wasn't. A birdie at the third that traveled 360 degrees around the cup before deciding to stay out. "I thought so," Johnson offered when asked if he thought he made it. Finally the greens abided at the ninth, Johnson converting six feet for a two-under 70.
Not to say it was all burned edges and lip-outs. His round was not without mistakes. Johnson three-jacked the 14th. His second at the 15th found the pond, leading to a bogey. "I hit a good shot, 3‑iron. Just wind picked up a little bit and floated on me a hair and came up a couple yards short," Johnson said. "Hit a nice little pitch in there. Had a good look at par. Just hit a good putt there, too."
He was even par on the par 5s in Round 2, surrendering two shots to the field. And because of the hot start, Johnson's day felt like a bit of a letdown, something even he acknowledged. "Obviously I feel like I played a little bit better than my position right now," Johnson said.
Yet that position is atop the leader board. The perspectives above, the different prisms in which we view Johnson … there are shades of truth in each, but none as true as this: Johnson is blessed with a curse. He can make this impossible game look impossibly easy. When things are going right, as they did Friday morning when he made seven birdies in an 11-hole stretch, he looks unbeatable. When they aren't, we wonder what's wrong.
Through 36 holes, it's hard to find much wrong with Johnson. How he's played, where he's at, where he thinks he's going. And while the ways we view and judge and discuss Johnson vary, at this juncture at this tournament, all that matters is his opinion of himself. "I'm still happy with the way I'm swinging it, how I'm controlling the golf ball and everything I'm doing," Johnson said.
MORE MASTERS 2020 PREVIEW CONTENT FROM GOLF DIGEST: