U.S. Open
How Saturday turned this U.S. Open into a real U.S. Open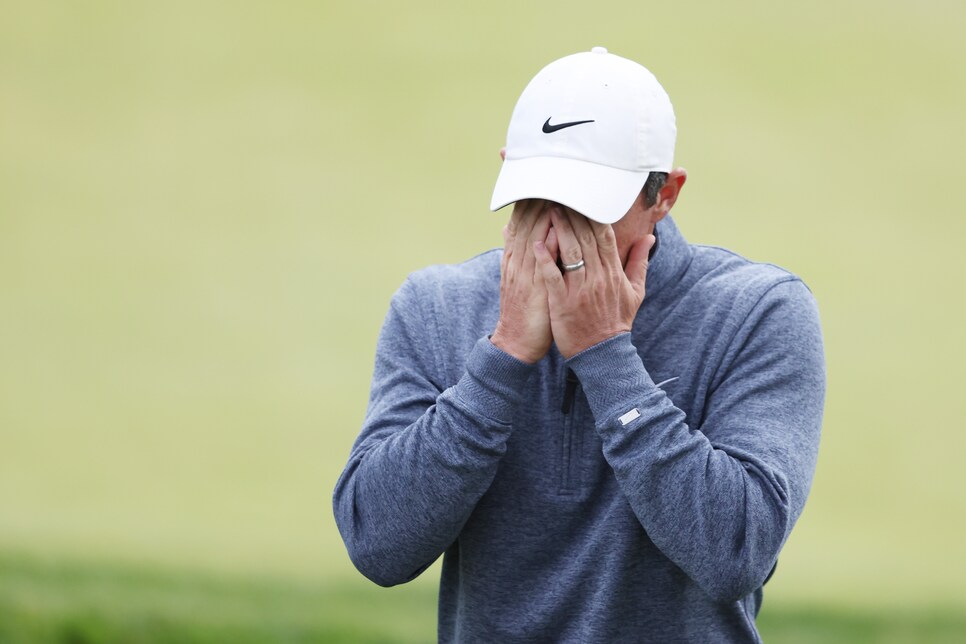 BROOKLINE, Mass. — Jon Rahm turned to the heavens and cussed, wanting to know what he did to deserve this wrong. His putt at the par-5 fourth should have broke right, had to break right with the wind blowing full and fierce from his left. The ball had other ideas, and after staring at his ball then his putter and then the sky he was left with no recourse but to shout. Granted, Rahm has a penchant for profanity, as most of us do. This was different. This was visceral. From deep, deep down. It was not frustration manifesting in a four-letter word. It was a personal affront, hand-delivered by the course, made worse by knowing the butt-whoopin' was just beginning and there was nothing he could do about it.
"For crying out loud," Rahm exclaimed later in the afternoon at the 12th after his approach that he thought would spin did not. "What a freaking day." This before he ended his round with a skulled approach and three shots from the sand that lead to a double.
And this is one of the chosen few that survived.
After two days of earning love as an old-school, tough-but-charming setup, The Country Club woke up and chose chaos, doing away with pleasantries and leaning into the mean that lied within that left the field looking on in dazed resignation.
"Yeah, it was one of the toughest days on a golf course I've had in a long time," Rory McIlroy testified after a three-over 73. Echoed Joel Dahmen: "I knew it was going to be hard. I didn't know it was going to be that hard."
How did it get that hard? The USGA didn't water the course Friday night, making the greens and fairways roll firm and fast. Oh, and the wind, which had occasionally passed through the past two days, decided to put the flags in a perpetual yoga pose. Sometimes it's that simple. The result: Anything less than good was sent packing. The hardening greens turned rough from minor inconvenience into questions without answers. There were few if any tap-in pitches; if you wanted to save par, you needed to convert a 20-footer. Those who tried to bomb-and-gouge discovered there not all layouts all vulnerable to modern technology and strategy.
And yet good approach shots held, balls were not oscillating, putts did not roll endlessly off greens. It was unrelenting and diabolical, but it was fair. The day threaded that sought-after but rarely-attentioned ideal this championship strives to be. Where the best of the best are made to look like us, where there's not so much red and much more black, where "good bogey" is said in seriousness. More importantly was how it arrived at this destination.
For years the USGA has battled controversy that other majors did not, its integrity of par coming at the cost of the integrity of its set-ups. There is no controversy here. To a man, player after player asserted that yes, The Country Club was as brutal as she looked but there was nothing superficial or nefarious in its punishment.
"It's great. I said to Bones walking up 18, this is how a U.S. Open should be," Justin Thomas said after a two-over 72. "It's very difficult. Par is great score on a lot of holes. Bogeys aren't going to kill you. We don't do this very often, and I think it's very, very fitting and totally acceptable to have this kind of test and this difficult setup for a U.S. Open, and it's strictly because of conditions."
"Literally when people ask me what's the toughest golf course you've ever played, I've said The Country Club," Will Zalatoris said. "I think it's got a good mixed bag of short holes and longer holes, but the shorter holes you just make one mistake at all, and you're scrambling for par."
On the surface the numbers don't seem obscene, a 73.53 scoring average almost a stroke-and-a-half higer than Friday's mark but nothing out of the realm expected for the national championship. Same goes for the fact that just seven of the 64 players broke par and that more than 40 percent of the field failed to break 75. The nastiness lies in the specificity.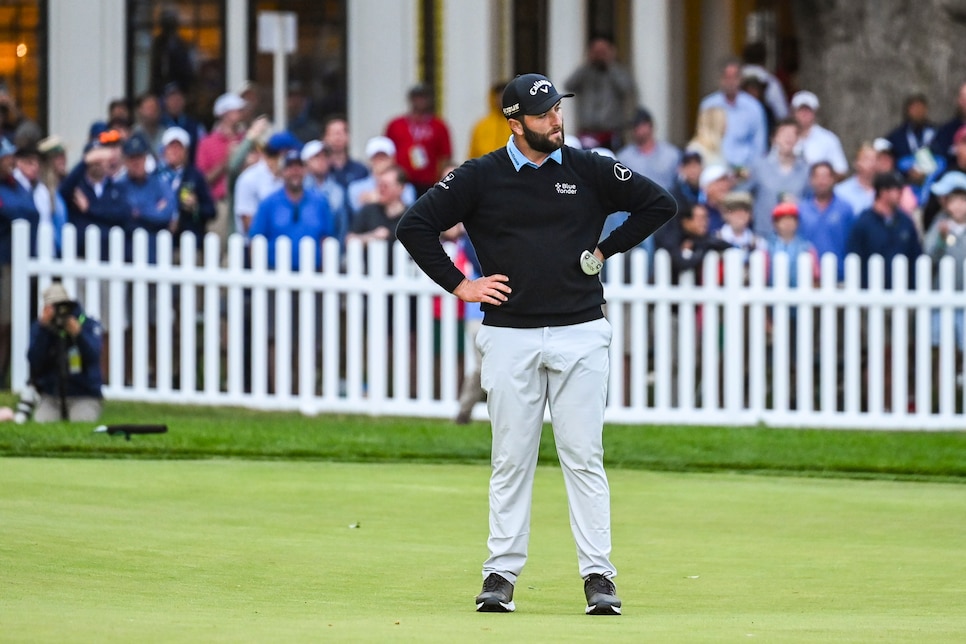 Brooks Koepka, the man who once called majors easy to win and has the record to back it up, ejected with six bogeys in his first nine holes. Collin Morikawa opened and closed with three consecutive bogeys but was seven-over on the 12 holes in between. On the par-3 sixth, which was listed at 197 yards but seemed like it was playing 297, Morikawa—arguably the best iron player the game has seen since Tiger—saw a well-hit ball look OK until it started looking bad, gobbled up by a gust and sent soaring far left of the green. He staggered back to his bag and looked off to the right, and you couldn't help but wonder if Morikawa caught a gaze of the clubhouse and wished he was inside it nursing a much-needed adult beverage.
There was Scottie Scheffler, the Masters champ who has been more machine than man this year, taking the lead off a fairway hole-out eagle at the eighth, and in that moment it felt like the World No. 1 had major No. 2 in the bag. He then proceeded to flub a chip for double at the 11th, chunked an approach and pitch at the 12th, added another bogey at the 13th and hit a shot so poor at the 14th that calling it a shank would be generous. He finished that four-hole stretch in five over, and as he walked off the 14th he looked like he needed a warm blanket, hot chocolate and a hug.
"I didn't really play that bad," Scheffler said after a one-over 71. "I guess I hit a bad shot. I think the second one on 14 was bad. Other than that, I didn't do anything that bad. It's just U.S. Open. Things happen like that, and they happen quickly."
Patrick Rodgers was tied for the lead at four under at the turn only to shoot 41 on the inward nine. Dahmen began the day with a one-shot lead, bogeyed four of his first eight holes and didn't have a single birdie yet remains just three shots back. McIlroy went south early then battled like hell to give himself a fighting chance on Sun … alright, that is every major but you get the gist. It was carnage, and it was a delight.
There were bright spots. Denny McCarthy made the cut on the number and thanks to a two-under day jumped 44 spots. New England's own Keegan Bradley shot a 69 that earned a welcome up the 18th that only could have been louder had Bradley lit a Yankees jersey aflame. Rahm looked like he was going to self-combust, righted the ship, and shook off a bad break at the final hole to keep his title defense alive.
"It was obviously extremely difficult conditions, the wind being a little bit higher and stronger than the last few days, a different direction," Rahm said. "Then the course being a little bit firmer, right, that's just a recipe for difficulty."
Will Zalatoris, who shot a 67, said it felt like a 61, and Matt Fitzpatrick followed with a 68, earning both a spot in Sunday's final pairing. However Zalatoris and Fitzpatrick may be disqualified by night's end, as there are rumors that they may have been playing a different course.
As for Sunday, the damage shouldn't be as severe for the final round. Overnight storms should soften the course every so slightly, and a little rain goes a long way for players of this stature. No matter; Saturday set the stage for a wonderful finale. Zalatoris and Fitzpatrick will gun for their first majors while Rahm tries to defend his. Scheffler could turn a great season into an all-time great, Bradley can make the locals proud and Rory will try to do what he's tried so hard to do since 2014.
Whatever transpires, after years of existential angst of what this tournament is supposed to be and how it's supposed to achieve an increasingly-challenging aspiration, the U.S. Open—at least for one day—returned to being the U.S. Open.
MORE U.S. OPEN COVERAGE FROM GOLF DIGEST