BROOKLINE, Mass. — Golf needed this week. After a fortnight dominated by fractures, conjecture and speculation, we are being treated to a gripping golf tournament. At least thus far. This U.S. Open is overflowing with intrigue, its leaderboard occupied by superstars and underdogs, a New England hero and an adopted son of sorts. The Country Club is growing crankier by the hour, and Sunday is set to be even chillier and just as windy as Saturday was. If the USGA and NBC asked for this pre-tournament, you'd have called them greedy. Boston is buzzing. So are we. Here are seven legitimately great storylines to keep an eye on over the last 18 holes.
Matt Fitzpatrick, back where it all started
If you've watched any coverage this week, you know Matt Fitzpatrick won the last time The Country Club held a tournament of import. This was back in August 2013, when he was a rail-thin teenager from Sheffield, England who did not fully grasp the magnitude of his accomplishment. With his brother Alex on the bag, Fitzpatrick plotted his way to a U.S. Amateur title that jump-started his golf life. Boston has held a special place in his heart ever since, and he and his family have stayed in close contact with his host family from that week, the Fultons, even staying with them again this week. And he is feeling the love.
"Obviously winning the U.S. Am here helps, but it just feels a bit more like a home game this week, and that's why it feels different and for the better," Fitzpatrick said after a third-round 68 that earned him a share of the 54-hole lead with Will Zalatoris. "It's been great to have the support this week. Any moments I've had of success around here during this week, it's been celebrated pretty loud."
Fitzpatrick might be staying in the same room he did nine years ago, but he's an entirely different person. Eight years of professional golf will do that to you. He's added 30 pounds and 30-plus yards of distance, and he's won seven times around the world. (Ironically, he didn't have braces then but does now). But he has not won a PGA Tour event, nor has he won a major championship. That could well change on Sunday, for Fitzpatrick earned himself a spot in the final group on a final-round Sunday for a second consecutive major. He didn't have his A-game and finished T-5 in the PGA Championship at Southern Hills; less than a month later, he gets another crack at glory as well as the chance to join Jack Nicklaus as the only male golfer to win a U.S. Amateur and U.S. Open at the same course (Nicklaus did it in 1961 and 1972 at Pebble Beach). And his caddie, Billy Foster, gets another chance to win his first major championship. He's been at it for 30-plus years and has looped for Seve Ballesteros, Lee Westwood, Darren Clarke and Thomas Bjorn, but has never been on the bag for a major win.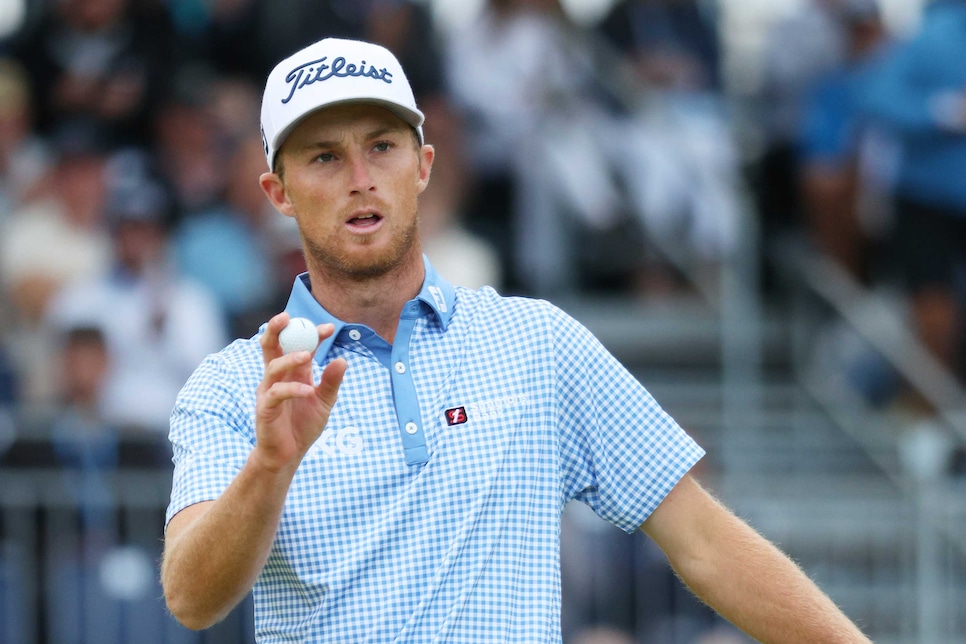 Zalatoris is a top-five ball-striker, which is why he seems magnetized to the top of leaderboards in major championships. Demanding tests weed out the guys "faking" their way around a golf course, and this Texan does no such thing. His playoff loss at the PGA Championship was his fifth top-eight finish in seven career major starts as a professional. His game is made for these moments—and yet he, too, does not have a PGA Tour victory to his name. That both he and Fitzpatrick have gone this long without a W, and that they're both back in this position at a major, helps illustrate the significant difference between non-major golf and major golf.
"There's a difference in thinking it and then actually being in the situation and believing it," said the 25-year-old co-leader on Saturday. "So I think that's probably the biggest change. I've put myself in this situation a few times in my career, and obviously have to go out and get it tomorrow."
Jon Rahm, going for back-to-back
Rahm appeared destined for the solo 54-hole lead until he stumbled to a very U.S. Open-style double bogey at the last hole Saturday. A pulled drive found a bunker down the left side, and his first attempt caught the lip and came right back to his feet. From there, his third shot spun into the wind and ran out of gas quickly, ultimately burying in the front part of another bunker guarding the green. A double-bogey 6 took him out of the final group and will see him enter Sunday one shot behind in his quest to win back-to-back U.S. Opens, which does not happen very often. Brooks Koepka did it in 2017 and 2018, but the last guy before that was Curtis Strange in 1988, at The Country Club, and 1989.
"I'm very content," Rahm said despite the double. "I'm not going to lie. It's infuriating in a sense to finish that way with how good I played those holes, but like I kept telling myself, if on the 14th [hole] you tell me you can post one over par and not play the last five holes, I would have ran to the clubhouse because of how difficult it was playing. I would have taken it, no questions asked. I think I have to consider that. I have 18 holes, and I'm only one shot back. That's the important thing."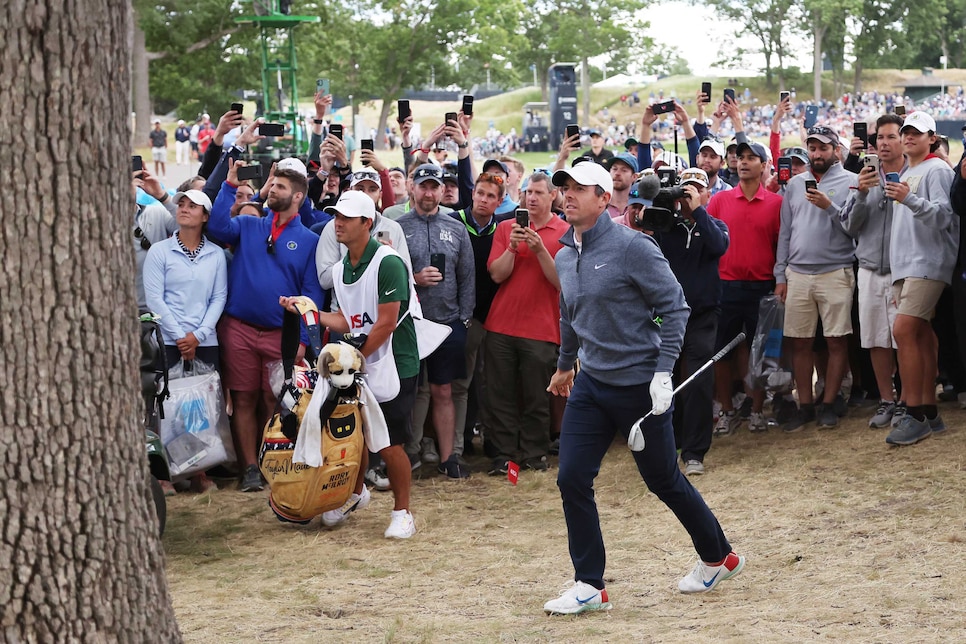 It's among the more puzzling dynamics in modern golf: How does Rory McIlroy, who burst onto the scene a conquering hero in the early 2010s, winning four majors in quick succession and emerging as the heir apparent to Tiger Woods, go eight years without winning another one? McIlroy has been tantalizingly close since, and despite a spotty 73 on Saturday, he's still just three behind with 18 holes to play. McIlroy has played fantastic golf this year despite having to shoulder the burden of being the de facto spokesman for the PGA Tour, and a victory on Sunday would bring with it a karmic warmth.
"I certainly thought I was going to be a few shots further back than I was at the end of the day, but Jon struggled there coming in," McIlroy said. "Even though it was such a tough day and feel like I battled well and whatever, to still only be three back going into tomorrow I feel is a good thing for me."
Keegan Bradley, New England hero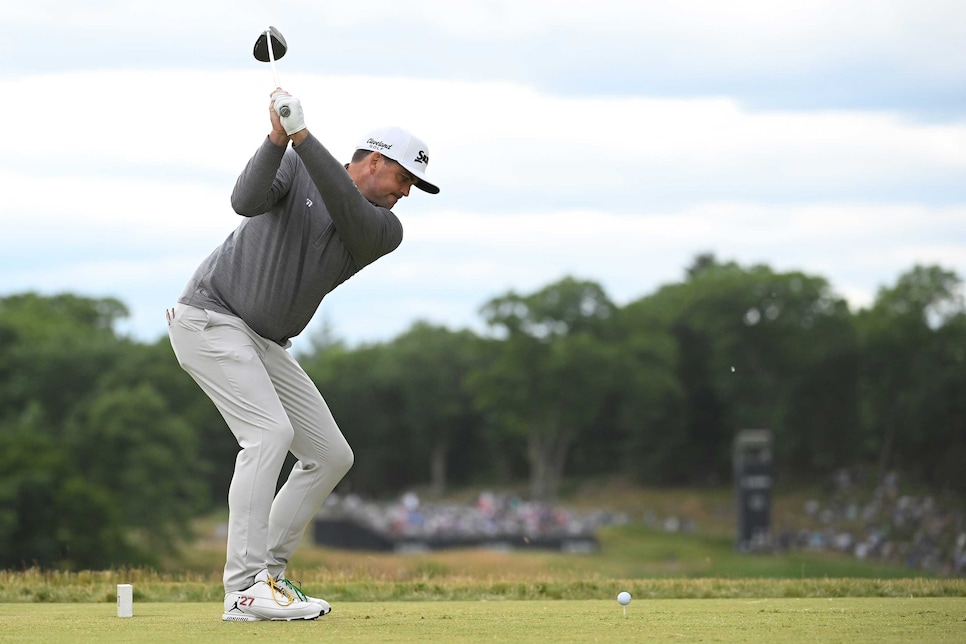 The Boston fans need something to cheer about after the Golden State Warriors ripped their hearts out on Thursday evening by beating the Celtics at home to clinch the NBA title, and Bradley's doing his best to help out. He grew up in Vermont but reps Boston sports with all his "haaaht," and because Vermont isn't getting a major anytime soon, this New England U.S. Open absolutely counts as a home game.
"For a person growing up in New England, this is sort of our crown jewel," Bradley said early in the week. "The Country Club is New England's best track."
Now he has a chance to win his second major championship on it. It wasn't too long ago that Bradley wasn't exempt for the U.S. Open; a second-place finish at the Wells Fargo pushed his World Ranking high enough just at the right time.
"As a kid, I dreamed of playing in front of Boston fans and being a Patriot or being in the Garden," he said. "Most of the time I'm playing across the world or the country, and I'm by myself, and every now and then I'm in Hartford and I get to feel that, or in a Ryder Cup. Out here today felt like I was in a home game, which is something that as a kid, it's a dream."
Scottie Scheffler, chasing history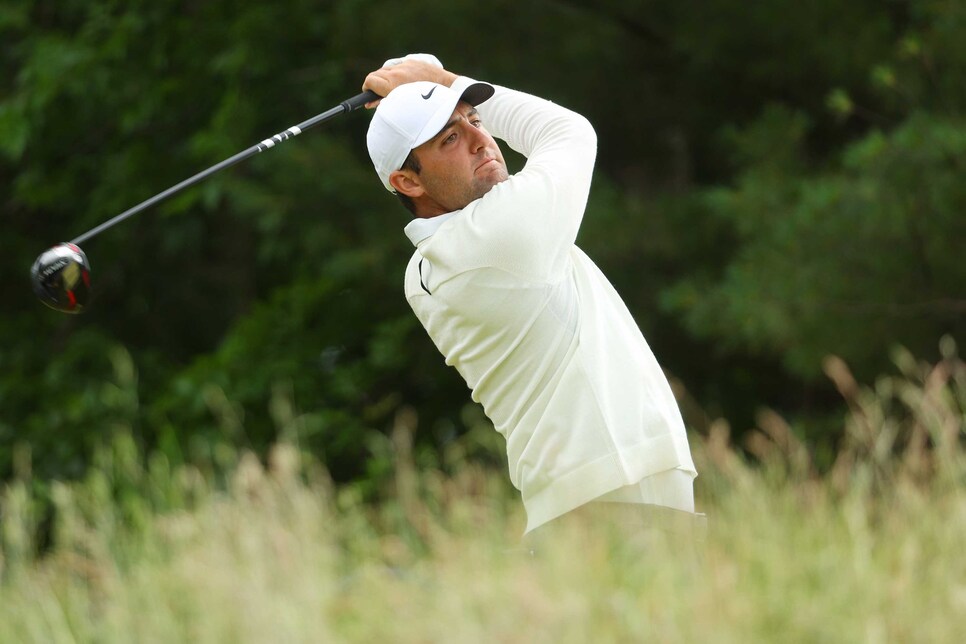 It's already been a fantastic year for the 25-year-old, who has four victories including the Masters. A fifth, and a second major, would immediately elevate his 2022 into all-time status. The only other players to win six times, including two majors, in one year: Jordan Spieth, Tiger Woods, Nick Price, Tom Watson, Jack Nicklaus, Lee Trevino, Arnold Palmer, Ben Hogan, Sam Snead and Walter Hagen. The list speaks for itself.
Scheffler briefly held a two-shot lead after he holed his third for an eagle at the par-5 eighth, but he played the Nos. 11-15 in five over par to fall back into the back. A birdie at 17 and a clutch par save at 18 ensured he'd be just two back, well within striking distance.
"Anytime you can win a golf tournament, especially a major, is really special," Scheffler said. "For me, I'm not thinking about what I did a month ago. I'm not thinking about what I did two months ago. Right now I'm here at the U.S. Open, and I'm going to try to win the golf tournament tomorrow. If I do, it's going to be really fun. If I don't, life will go on."
Joel Dahmen, the ultimate underdog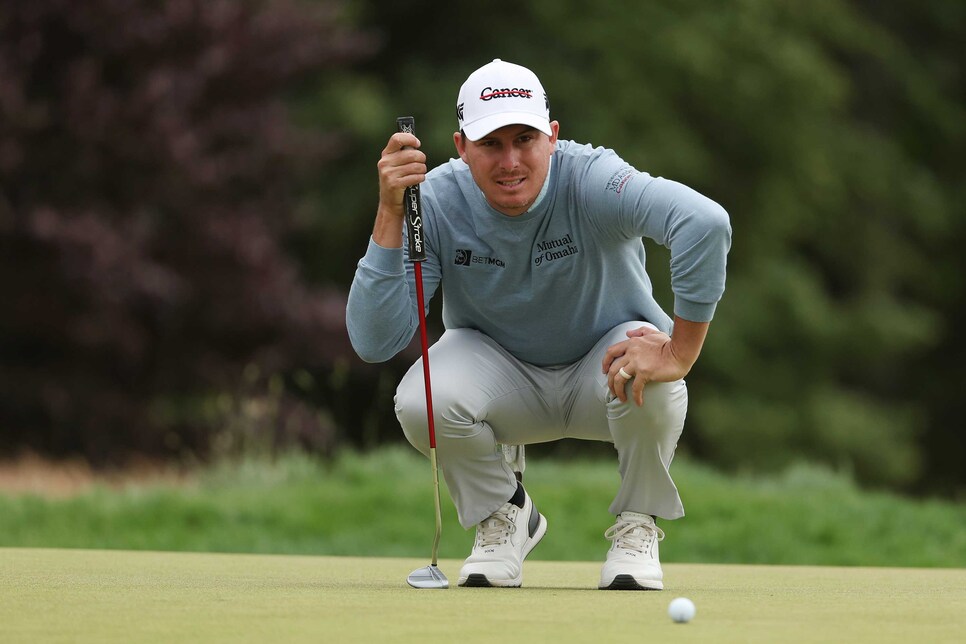 Dahmen would be a most unlikely winner. He grew up in eastern Washington, hardly a hotbed for producing PGA Tour players. He played one year at the University of Washington before he flunked out. He wouldn't have been able to afford professional golf if it weren't for a chance encounter with a wealthy businessman during the 2007 Washington State Amateur. He overcame testicular cancer early in his career. He played four years on the Canadian Tour before a breakthrough. And just a few weeks ago, he was pondering not even trying to qualify for the U.S. Open: "If I qualify," he told The Athletic, "I'm just signing up to get my ass kicked."
He qualified, but he's not getting his ass kicked. He didn't have his best stuff on Saturday but grinded out a 74 that kept him in the mix. He's three back, not in ideal position but not totally out of it.
"If you'd told me on Thursday morning I'd only be three back coming into Sunday of a U.S. Open—you don't have to do a whole lot," he said. "You shoot a couple under—it's easier said than done, but I mean, I'm right there."
He's made a career of overcoming the odds. Why not one more time?