U.S. Open
U.S. Open 2022: Will Zalatoris has exactly the right attitude going into battle on another major Sunday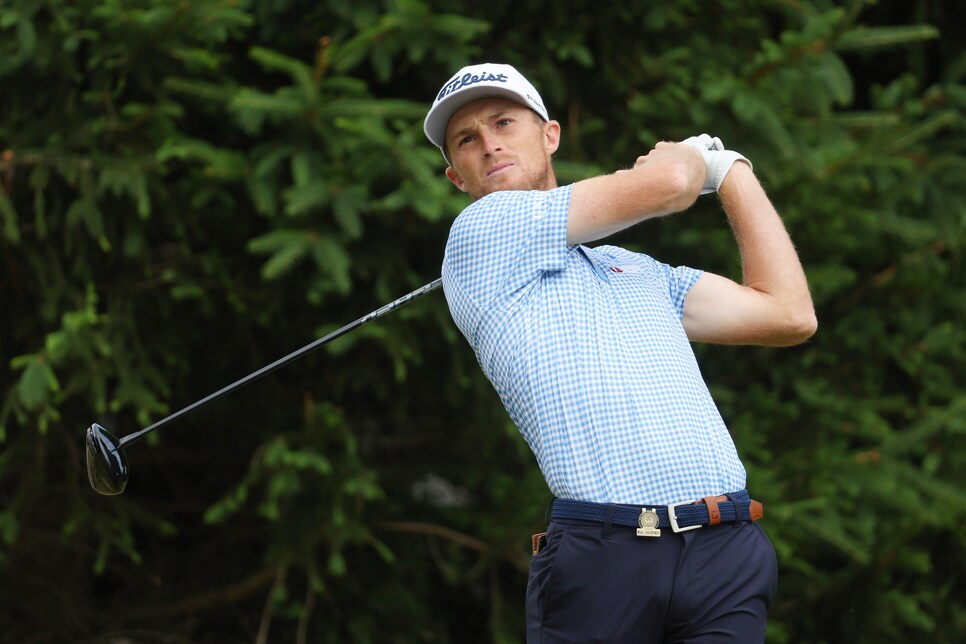 Will Zalatoris plays his shot from the 18th tee during the third round of the U.S. Open.
Andrew Redington
BROOKLINE, Mass. — He was never in any doubt. Three days before he would shoot 67 to reach the four-under-par aggregate that has him tied for the 54-hole lead alongside Englishman Matt Fitzpatrick in the 122nd U.S. Open, Will Zalatoris was already making his intentions clear. Exuding the sort of confidence that can only come from previous success at the highest level of the game, the 25-year-old was more than looking forward to his ninth major championship appearance.
"My game is in a great spot," was his initial pre-championship verdict. "I'm in a great headspace. I love playing hard courses. Coming off the Korn Ferry Tour—where you have to shoot 25 under every week—I like that par is a good score. You can say this about every U.S. Open venue, but it is especially true this week. You just have to hit as many greens as you can."
Which plays to one Zalatoris' biggest strengths—finding putting surfaces in the correct number of shots. "I'm one of the top guys on tour tee-to-green," he says with some justification.
Another strength—major championships. In only eight previous starts, Zalatoris already has amassed a record to be proud of. Runner-up in the 2020 Masters and, just last month, at the PGA Championship in a playoff loss to Justin Thomas, he also has three other top-eight finishes.
Perhaps most impressively, Zalatoris has pulled up inside the top six at three of the four majors. Only the Open Championship remains to be conquered. But there are mitigating circumstances. In his Open debut last year at Royal St. George's, the San Francisco native was forced to withdraw through injury.
Indeed, growing up in the Bay Area before moving to Dallas at age 9 has clearly done Zalatoris no harm, especially when the sun doesn't shine and the temperature struggles into the low 60s. So it was that, on a cold, blustery afternoon at The Country Club that sent the vast majority of the 64-strong field into retreat, he was one of only a few to progress. Playing "aggressively defensively," Zalatoris' four birdies easily outnumbered the lone bogey he made at the 364-yard seventh.
Again, that consistency was the result of a pre-planned policy. Not once did he aim directly at a flag, preferring instead to find the middle of the small greens and putt to the perimeters.
"Speed has always been the best part of my putting," he said. "I keep giving myself as many 25- to 35-footers that I can. That makes the round a little less stressful."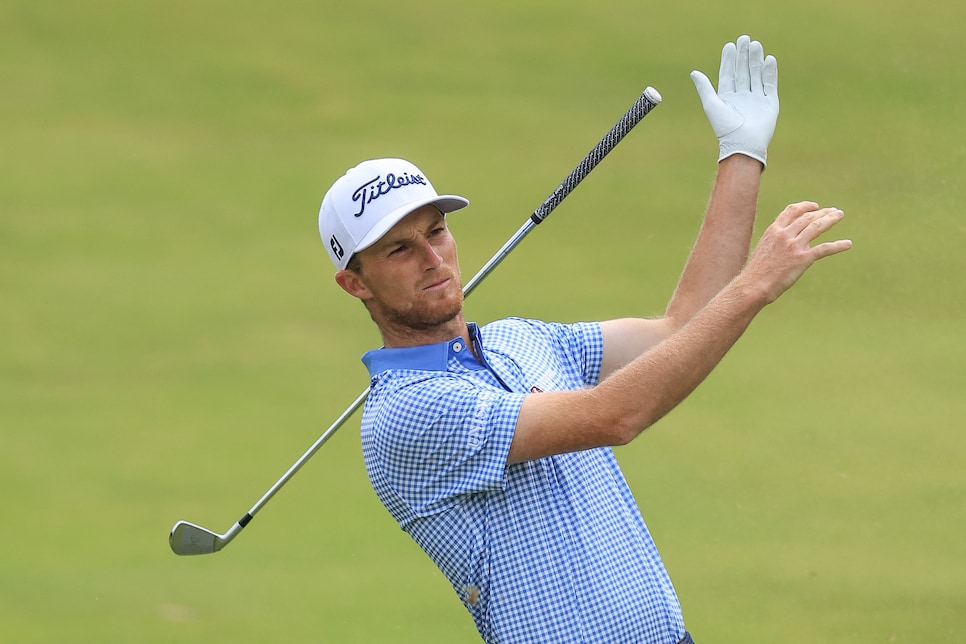 Will Zalatoris lets go of his club as he plays his second shot on the eighth hole during the third round of the 2022 U.S.Open.
David Cannon
All of which is part of a decade-long respect for a course Zalatoris played in the 2013 U.S. Amateur and called "the most difficult I've ever played."
"Today was brutal, a pretty South San Francisco day, for sure," he continued. "But when I made a mistake, I made sure I was on the fat side of the green or having room where I could at least chip one up there to eight, 10 feet. I didn't have a plan of firing at pins."
Comfort amidst growing pressure is another benefit Zalatoris has gleaned from his previous forays into major contention. Nor has the disappointment of coming close but not actually winning done his psyche any lasting damage.
"Losing the playoff at Southern Hills hurt," admits Zalatoris. "By no means was I happy about that. The great thing is JT [Justin Thomas] played the playoff holes almost perfectly. He birdied the two holes you are supposed to birdie. And he made par on the toughest hole on the course. You have to tip your cap to him. I don't have any regrets about any of the decisions I made. I played 65 really good holes and seven mediocre to bad ones on Saturday."
That percentage will have to rise again if Zalatoris is to emerge from a packed leaderboard to lift the USGA's nameless trophy Sunday evening. But he knows what he is doing, or at least what he wants to do during a final round that is likely to be marked by even lower temperatures.
"If I make an early bogey or two, I won't change the game plan," he explained. "I don't try to get extra aggressive because that's how you make a mess of it. The PGA gave me a lot of belief and confidence that I belong in this situation. There's a difference in thinking it and then actually being in the situation and believing it. I've put myself in this situation a few times in my career, and obviously have to go out and get it tomorrow."
Another plus: He will do so on a course he clearly enjoys. The Country Club is, according to Zalatoris, more than your typical one-dimensional test of execution. It is not just about the endless kicking of "field goals" off the tee.
"This is one of the most fun U.S. Open venues because there are so many ways to play maybe six holes out here," he said on Wednesday. "There is so much strategy here. Take 17. You can lay up with a 5-iron off the tee and have wedge in. You can hit 3-iron and challenge the fairway bunkers. Or you can rip a driver. There might even be options between driver and 3-iron.
"At Southern Hills you basically had to hit it as far as you could and hopefully straight. Out here, even though it is about 7,300 yards, we are hitting a lot of irons off tees. So it is not a true 7,300; it is probably playing around 7,500. Which is fine. The longer and tougher it is, the better it is for me."
Of that there is again no doubt. Now he just has to get it done. Ninth time lucky?
MORE U.S. OPEN COVERAGE FROM GOLF DIGEST