U.S. Open
U.S. Open 2022: A tough rules break leaves Justin Thomas fuming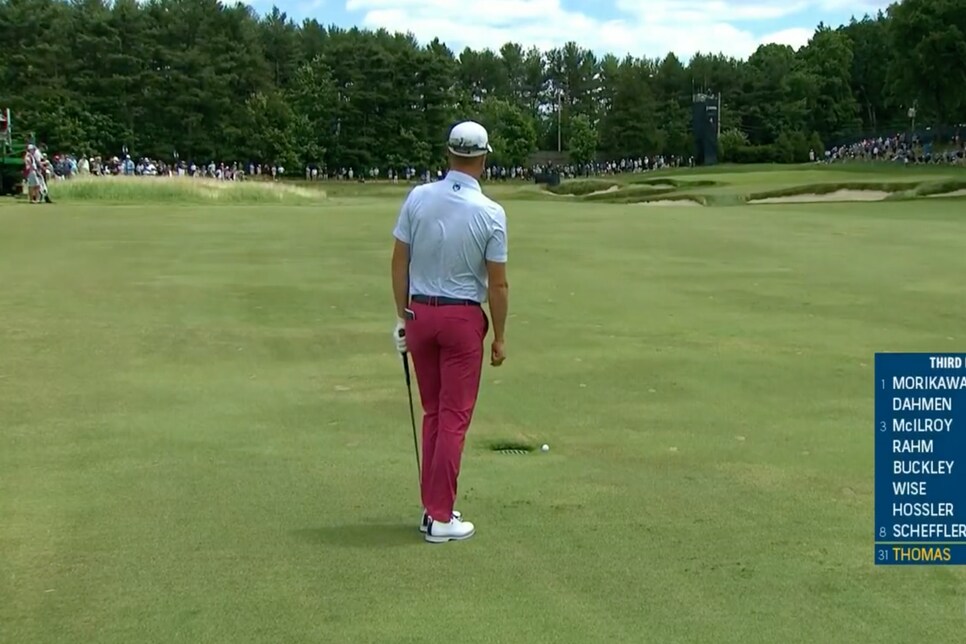 BROOKLINE, Mass. — The U.S. Open has never been synonymous with kindness, at least when it goes to the competition. Bad breaks and worse bounces are expected; it's part of the tournament's DNA. Even against that backdrop, Justin Thomas came out on the business end of some tough love Saturday afternoon.
Thomas found the fairway off the tee at The Country Club's fourth hole during the third round. Unfortunately for Thomas, finding the short stuff turned out to be just as penal as the rough.
Thomas' ball came to rest close to a drainage opening. If a player's ball lands on the drainage or the stance or swing is impacted by said opening, the player is entitled to free relief under the Rules of Golf. But while the ball was close to the opening, it was not on it, and Thomas' stance was not impacted. Though the ball's proximity to the drainage opening made for a precarious swipe, Thomas did not sense he would hit it as he talked to a rules official about the situation.
Unfortunately that honesty backfired, as he was not given relief and had to play the ball as it lied. Thomas proceeded to chunk his approach, a 156-yard shot going just 110 yards. With the cameras rolling Thomas let the world know how he felt about it.
"That's what pisses me off, because so many other people would lie about being able to hit that, " Thomas could be heard saying, "but it's just like, I'm not going to hit it. That's bull****, man."
A few other choice words could be heard in his march to the green, but we think you get the gist. You have to feel for Thomas, as that shot seemingly did risk injury.
USGA rules official Craig Winter commented later during the telecast. "And ultimately if you don't have physical interference from the physical part of that drain, you're not entitled to relief. May have been in his head a little bit, but mental interference doesn't grant one relief."
Thomas was unable to get up and down to save par, leading to a bogey. He eventually shot a two-over 72 and sits seven off the lead at three over after 54 holes. (If that sounds familiar, remember Thomas was seven back to start the final round of the PGA Championship and went on to win.)
Asked about the situation after the round, here's what Thomas had to say: "It just was … to me it was around a drain, and very clearly in my stance and my ball was sitting differently than it would be if that drain was not there. I called an official to get a ruling on it, and in the spirit of the game I didn't … I wasn't going to hit the drain. I felt like I very easily could have told her that I was going to and gotten a free drop, but I wasn't.
"Yeah, it's unfortunate because it was a great drive, and I had a pitching wedge in my hands, and I could only hit the ball … I only hit it 100 yards. I mean, yeah, it's very clear that my stance and where my ball was was altered and sitting bad because of that drain, but didn't get a drop from it. That's just how it is. You have to be able to hit the drain to get a drop."
MORE U.S. OPEN COVERAGE FROM GOLF DIGEST