Butterfly Effect
U.S. Open 2022: Joel Dahmen, 36-hole co-leader, wouldn't be a pro golfer without this chance encounter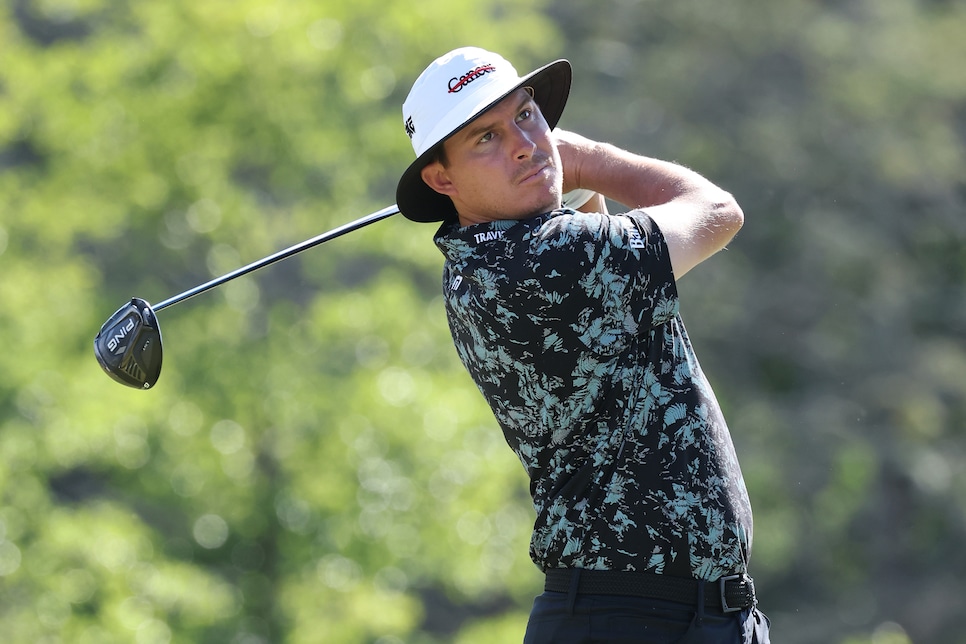 BROOKLINE, Mass. — For at least 16 hours—the time between his last putt on Friday evening and his first tee shot on Saturday afternoon—Joel Dahmen sat on top of the professional golf universe. A kid from Clarkston, Wash., a small town near the Idaho border, shared the lead halfway through the United States Open after shooting 67-68. He's a truly unlikely contender considering he almost didn't even try to qualify. Dahmen, among the most self-deprecating guys on the PGA Tour, told the Athletic on Sunday of the Memorial that "if I qualify, I'm just signing up to get my ass kicked." He has said numerous times that he does not believe he can win a major. That alone paints him as the classic underdog. But there's so much more to this tale.
Dahmen flunked out of the University of Washington in 2006 after one year and began working at a local golf course. These were what the 34-year-old calls his "young and dumb" days. Any money he'd earn at the golf course would be funneled directly toward beer. His future was a giant unknown—but man, could he play. A year after he left UW, Dahmen was playing a practice round for the Washington State Amateur when he and fellow Washington Husky-turned-PGA Tour player Nick Taylor were paired in a practice round with Brad Yosaitis, whose father, Bob, was caddieing for his son that week. (Dahmen went on to win the tournament by six shots). Joel and Bob Yosaitis became fast friends, seeing each other at the hotel that week and keeping in touch as their paths diverged. Two years later, when Dahmen decided to turn pro with no money and no clue where to start, Yosaitis agreed to sponsor him.
"There's probably a big word that's perfect to describe it," he says of the chance encounter that changed his life, "but all I got is lucky. Super, super lucky. Changed my life."
For Yosaitis, it was about helping someone he cared about. A former jet-fuel trader based out of Hawaii, he sold his business to Ross Aviation for a lucrative sum in 2008. "I've been fortunate in life, and I have a fair amount of money," Yosaitis says. "I never looked at [the deal with Dahmen] as making money. The agreement was, I'll give you the money you need, and hopefully you can do well enough to repay me. And if you don't do well enough to repay me, I'll have helped you out."
That was it. No documents. No strings attached. Yosaitis wired Dahmen $15,000 to kick-start his career. "A pipe dream at the time," Dahmen says.
The relationship blossomed into something quasi-familial. Dahmen played 10 PGA Tour Canada events in 2010 and made $11,742. But then he noticed a lump on his scrotum. Scans showed testicular cancer, and Dahmen, at 23, found himself facing the fight of his life with no health insurance. So he called Uncle Bob.
When Uncle Bob picked up, Joel was in tears. "I was in shock," Yosaitis says. "I told the doctor, I want you to operate on Joel right away. The doctor said there was no insurance to cover it. So I said, 'Here's my credit-card number. Operate on him.'"
Dahmen got healthy and returned to his circuitous journey to the PGA Tour. In six Canadian Tour events in 2011, he made $11,225. He failed to break the $12,000 barrier again in 2012. Then something clicked in 2013 ($22,528), and the real breakthrough came the next year when he won the tour's Order of Merit to get his Web.com Tour card.
During those lean years, between golf expenses and chemotherapy treatment, Yosaitis estimates he spent more than $250,000 supporting Dahmen. "Eventually," Yosaitis says with a laugh, "I just said, 'Look, Joel, just take my credit card.' I'm too busy to be worrying about every time you call me up asking me to write a check. I said charge whatever you want."
Dahmen got his PGA Tour card for the 2016-'17 season by the slimmest of margins, finishing 25th on the Web.com Tour money list and beating unlucky No. 26, Xander Schauffele, by $975. Five years later, Dahmen is a PGA Tour winner and has made more than $8.6 million. And Uncle Bob watches happily from afar without having made a single penny in profit.
"A lot of people say, 'Oh, if you're good enough, you'll always make it,' " Dahmen says. "I don't know if, without Bob, I would have even tried."