Live blog
U.S. Open 2022 live updates: Jon Rahm doubles the last hole, hands overnight lead to Will Zalatoris, Matt Fitzpatrick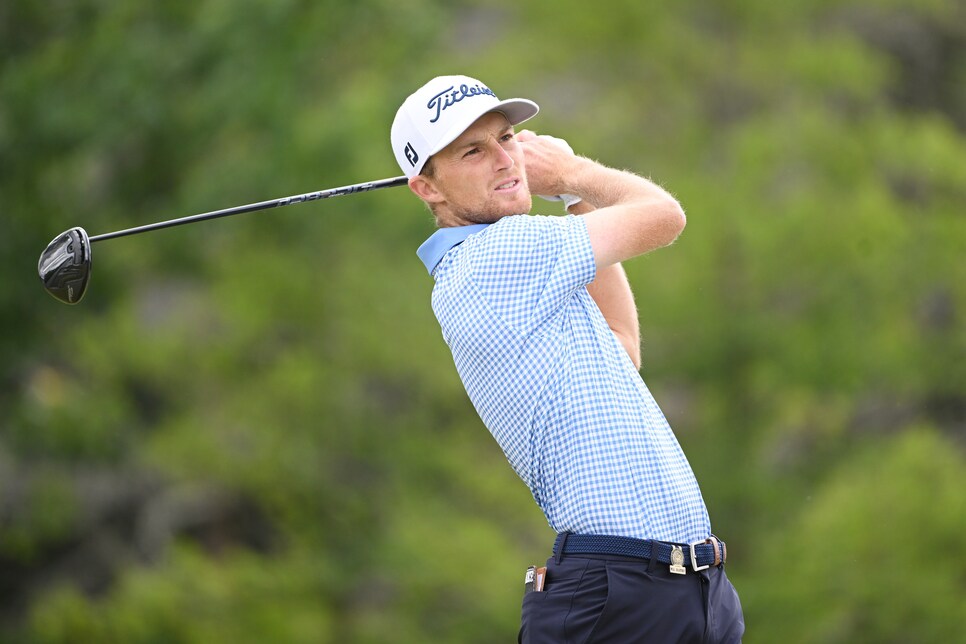 BROOKLINE, MASSACHUSETTS - JUNE 18: Will Zalatoris of the United States plays his shot from the eighth tee during the third round of the 122nd U.S. Open Championship at The Country Club on June 18, 2022 in Brookline, Massachusetts. (Photo by Ross Kinnaird/Getty Images)
Ross Kinnaird
To be sure, there are no Francis Ouimet-level upsets looming Sunday in the U.S. Open at The Country Club.
At the end of Saturday's third round we saw many of the top players in the game rise to the top of the leaderboard with Will Zalatoris, Matt Fitzpatrick, Jon Rahm, Scottie Scheffler, Sam Burns and Rory McIlroy all in contention after 54 holes. Zalatoris and Fitzpatrick lead Rahm by one shot. There was also Collin Morikawa, who played in the last group Saturday and shot seven-over 77 to fell down into a tie for 17th place.
(Scroll down for the latest updates)
8:02 p.m.: Well, that was quite the day. There was so much movement on the leaderboard that it's difficult to adequately describe what happened at The Country Club. Bottom line, Will Zalatoris and Matt Fitzpatrick are tied for the lead at four under and Jon Rahm, who was in the lead by a shot but made double bogey on the last hole, is in third place at three under. Keegan Brady, Adam Hadwin and World No. 1 Scottie Scheffler are tied for fourth place at two under. Rory McIlroy is in a group at one under. Rest well tonight boys and girls. We'll be back at it all over again tomorrow when we'll crown our 122nd U.S. Open champion.
7:59 p.m.: Collin Morikawa just shot 77. SEVENTY SEVEN. Ouch. While playing in the last group in the third round. He made one birdie, four bogeys and two double bogeys. The 77 matches his highest round ever shot on the PGA Tour.
7:53 p.m.: Jon Rahm made double bogey on the final hole to shoot 71 and fall out of the lead and one shot behind Will Zalatoris and Matt Fitzpatrick. It was his first double bogey of the week, after making three birdies in the previous four holes to vault into the lead.
7:47 p.m.: We have a developing situation. Jon Rahm is making a mess of the 18th hole. The defending U.S. Open champion, and leader by one shot hit his drive into a fairway bunker, left it in the bunker on his second shot and now has a fried-egg lie from where his third shot now sits in a greenside bunker. An up and down from there is a tough ask. Late drama here at Brookline.
7:46 p.m.: Rory McIlroy didn't have his best stuff on Saturday but he still will have a chance to win the U.S. Open on Sunday. He made four bogeys and one lone birdie during the third round to record a three-over 73. He sits tied for seventh place at one-under total, four behind Jon Rahm.
7:33 p.m.: Jon Rahm, solo leader. The defending U.S. Open champion is on a tear right now and has birdied three of the last four holes. He just made a birdie from six feet on the par-4 17th hole and is one in front of Matt Fitzpatrick and Will Zalatoris.
7:28 p.m.: Scottie Scheffler remains good at golf. He was two shots in the lead midway through his third round then went totally cold playing a four-hole stretch in five over par. But he made birdie on the 17th hole, then made a par save from 15 feet on the last hole and he shoots 71 to sit only two shots behind the leaders.
7:14 p.m.: And Jon Rahm has joined the group at the top of the leaderboard. He's now birdied 14 and 15 and is even par on the day and four under overall. The defensing U.S. Open champion is tied with Will Zalatoris and Matt Fitzpatrick.
7:05 p.m.: Matt Fitzpatrick bogeyes the 18th hole, shoots 68 and loses the lead outright but is now tied with Will Zalatoris, who shot 67.
6:53 p.m.: Collin Morikawa has left the building. Or, at the least, he's left the leaderboard. He just made his second double bogey of the day, this one on the 13th hole and is tied for 13th place, six shots behind leader Matt Fitzpatrick. He still has five holes remaining, so anything is possible, but it feels like that last double bogey has presented him with a hill to steep to climb.
6:51 p.m.: Matt Fitzpatrick, your new outright leader late on Saturday at the U.S. Open. He's now made three birdies in the last four holes and only has the par-4 18th hole remaining. He's at five-under total and is one ahead of Will Zalatoris.
6:45 p.m.: This Scottie Scheffler rollercoaster is wild. He was leading by two shots an hour ago and has since gone double bogey, bogey, bogey, bogey, par and is three off the lead with three holes remaining. He's two over on the day, one under on the championship and three behind Will Zalatoris and Matt Fitzpatrick.
6:39 p.m.: A quick update on some of the scores here among the top 20: Scottie Scheffler (+2), Rory McIlroy (+3), Joel Dahmen (+4), Collin Morikawa (+4), Aaron Wise (+4), Gary Woodland (-1).
6:35 p.m.: Jon Rahm just hit a shot he didn't like and said, "for crying out loud" twice in a row. Came across as funny. Suppose it could've been much worse. TV friendly version there for Rahmbo.
6:27 p.m.: Matt Fitzpatrick, you may remember, was in the hunt late on Sunday at the PGA Championship. Well, he's back and tied for the lead late Saturday at the U.S. Open. He's now made consecutive birdies on Nos. 14 and 15 and is two under on the day and four under for the championship. He's tied with Will Zalatoris at the top.
6:09 p.m.: Keegan Bradley, the hometown favorite, is receiving a rousing applause while walking up the 18th green at The Country Club. He's one under on the day and two under on the championship, only two shots behind leader Will Zalatoris.
6:01 p.m.: And suddenly Rory McIlroy resurfaces. After a sluggish start that included three bogeys in his first six holes, McIlroy sinks his first birdie putt of the day on No. 11 to move to two under, a mere two shots behind Zalatoris. Speaking of the leader, Zalatoris pushed his tee shot way right on 18, but found a gap between the bleachers for his second shot. His approach lands in the bunker, but Zalatoris is able to save par from there to shoot 67 and most likely secure a spot in the final pairing on Sunday.
5:46 p.m.: With each passing moment, Zalatoris' positiion is looking better and better. After parring 16 and 17 with relative ease, Zalatoris just needs to surive No. 18 and he can get to the clubhouse while the players all around him continue to flail away on a merciless back nine. That includes Scheffler, who follows up his double bogey on No. 11 with another on No. 12.
5:32 p.m.: Not even Scheffler is immune, apparently. Playing the tiny par-3 11th, Scheffler, makes a mess, missing the green, leaving his next chip in the rough, and then two-putting for double. At four under, Scheffler is now tied with his friend Will Zalatoris, who birdies the 15th and has the luxury of getting to the clubhouse early on this brutal day.
5:18 p.m.: A recurring theme on this Open Saturday for many players is as soon as a player experiences some sort of positive development, something goes awry. To wit: Rahm's drive on No. 8 rests up against a tree, forcing him to chip out backwards, and Morikawa doubles No. 7 to move four shots behind Scheffler, who converts a deft up-and-down on No. 10 to remain at six under.
5:06 p.m.: Jon Rahm makes his first birdie of the day on No. 7. Should for some reason you question The Country Club's worthiness as a U.S. Open venue, allow the current leaderboard to convince you. The top three players on the leaderboard—Scottie Scheffler (-6), and Collin Morikawa and Rahm (both -4) have each won a major in the past 12 months, and a fourth contender, Will Zalatoris, has been a mainstay on major weekends.
4:52 p.m.: Moments after surrendering the lead, Morikawa takes advantage of the short par-4 fifth to convert his first birdie of the day and get to within one of Scheffler. Meanwhile, Rory McIlroy is still looking to gather some momentum after a frustrating start, but his short birdie attempt slides by and he sits five shots behind the lead.
4:43 p.m.: The "scariest shot" on the front nine, at least according to NBC, didn't appear too daunting to the reigning Masters champion. Facing a delicate approach into the par-5 8th, Scottie Scheffler, spun his wedge to the uphill green into the hole for eagle, take a two-shot lead.
4:33 p.m.: The proverbial "good bogey" in the U.S. Open is inevitable en route to a title, and Morikawa just made his after making a mess of the par-4 fourth, chipping to 25 feet, then somehow making the putt. It allows Morikawa to hold onto a share of the lead, but he's got company. Scottie Scheffler, Aaron Wise, and now Patrick Rodgers, who just eagled the 8th, are all tied at four under.
4:25 p.m.: Don't let anyone tell you that leading a major doesn't mess with your head. Minutes after pulling even with Morikawa, Wise chunks his approach on No. 5 into the bunker. He fails to get up-and-down for a disappointing bogey on the short par 4.
4:14 p.m.: We've got a new co-leader, with Aaron Wise's birdie on No. 4 pulling him even with Collin Morikawa. After two early bogeys, Rory McIlroy had a chance to get one back with his own modest birdie putt, but his attempt slid by, and he now sits three shots off the lead.
4:06 p.m.: As Dahmen navigates his first few holes, it's worth pointing to this story from Dan Rapaport about the fortuitious encounter that enabled Dahmen to continue his pursuit of a pro career, even in the face of a cancer diagnosis. With that as a backdrop, U.S. Open pressure doesn't seem so daunting.
3:59 p.m.: A bit of a rocky start for those on the top of the leaderboard. Rahm bogeys the second as Dahmen three putts for bogey on the first. Rory makes consecutive bogeys on four and five. This, folks, is the U.S. Open.
3:54 p.m.: Here comes Zalatoris in a major again. He bogeyed the seventh some time ago, but gains more than a full stroke on the field with a birdie at the difficult par-4 ninth. He's out in 33, two behind Morikawa and Dahmen, who both find the first green.
3:46 p.m.: At long last, it has happened! The leaders have teed off! Both Collin Morikawa and Joel Dahmen are in good position at the first. Completely unrelated, sunset is at 8:24 p.m. in Brookline.
3:43 p.m.: Jon Rahm means business. After a lengthy discussion with his caddie, the defending champion hits a beauty of a nine iron into the first leaving a makeable birdie putt to tie the lead right out of the gate. Up at the third, Scottie Scheffler makes his second birdie in his first three holes to get back to one behind the leaders, who still have not yet started their rounds.
It's a par at the first for Rahm, who leaves his birdie putt short. That's disappointing, but not as disappointing as Hayden Buckley's opening bogey after leaving his first chip in the thick stuff. Ahead at two, Aaron Wise saves par from the juicy rough to stay one back.
3:18 p.m.: And here comes Sam Burns! The man who stole a sixth win of the season from Scottie Scheffler at Colonial makes a birdie at the par-4 third to pull within two of the lead.
3:13 p.m.: The first four holes are playing harder than the final 14, but Scottie Doesn't Know. Scheffler pours in a birdie from about 24 feet to immediately pull within one of the lead. He's cooled off as of late, but nobody has been hotter in 2022 than the Masters champion.
Alright, well, he bogeyed the second hole, so ... back to three under and two back of the leaders. It's not going to get much easier from here, So Don't Tell Scottie.
3:05 p.m.: Hello, Joohyung Kim. The South Korean follows an eagle at the fifth (the first of the week) with a par on six and a smoothly-walked-in birdie att the seventh. He's two under for his round, one under for the tournament, now just four behind the leaders, who still don't tee off for 40 minutes.
3:01 p.m.: Will Zalatoris is holing putts. Nobody else in the field wants to read those words. Like it or not, that's what's happening. After a horrid tee shot in the par-3 sixth, Zalatoris curls in a 10 footer to save his par. He's the only player to get through the first four holes under par today, and now he'll look to put a couple more circles on the card on seven and eight, two of the easier holes this week.
2:55 p.m.: There's a circle on the card for Justin Thomas, finally. Maybe it just took him a little while to get over the whole Justin Thompson thing. In any case, an up and down from a greenside bunker on the par-5 8th brings him back to two over for the tournament. With the course playing as hard as it is, he has to feel like getting back into red figures is the goal to have a chance at a second straight major win tomorrow.
2:45 p.m.: Something, something The Country Club and amateurs in U.S. Opens. Texas's Travis Vick is the low amateur this week by a comfortable margin and he's proving that it's no fluke. With the face of his wedge pointed to the sky, Vick cuts the legs off a dainty little flop shot that cozies right up to the edge of the hole. He'll stay at one under, four behind the lead and very much in the mix.
2:40 p.m.: Not the best of starts from Brooks Koepka, with three consecutive bogeys from two through four, but he bounces back with a birdie at the short par-4 fifth. He'll get a bit of a breather from some of the hardest holes on the course for now until he heads to the back nine. He was awfully confident following his 67 on Friday, now it's time to see if he can pull himself back in the mix.
2:34 p.m.: Willy Z with the putter! That thing can be tough to watch from close range, but he's got it working from deep so far today. Two birdies in his first four holes (which are playing about a zillion over par for the week, by the way) vault the PGA Championship runner up to a tie for 8th, two shots behind the leaders, who still do not tee off for more than an hour.
2:20 p.m.: The round of the day so far is being put together by ... Denny McCarthy! He was in the third group off this morning, but is two under on the day and just hit the last green, leaving what should be an easy two-putt for his par and 68. That, at the moment, would jump him from T-50-something to a tie for 24th.
OK, fine, it wasn't an "easy" two-putt, but McCarthy is one of the best on tour with the flat stick, so his eight-foot comebacker for par hits the dead center of the cup. With the wind picking up and the course drying out as the day goes, McCarthy will likely continue to make up ground on the field long after he's signed his card.
2:07 p.m.: The struggle continues for Justin Thomas. After his issues at the fourth, he's in position to erase that bogey with a short birdie at the fifth, but it snaps across the hole, hits the low side lip and stays out. It's a tap-in par, normally good in a U.S. Open, but not what JT was looking for there.
1:51 p.m.: Jordan Spieth rolls in a lengthy birdie putt on the short par-3 11th to get to two over. The pin today is just six steps from the back edge, and the back of the green drops off sharply into thick rough and tall native grass.
1:47 p.m.: Yikes. Thomas' tee shot on the fourth nestles next to a drainage cap, but since it didn't impede his stance or swing, he did not get relief. Thomas chunked his approach from the tricky lie into a cross bunker and will face a lengthy par attempt. After the chunked approach, Thomas lamented to his caddie, Bones, about how his honesty (in admitting to the rules official that the drain wouldn't affect his swing) cost him.
1:42 p.m.: We're a couple of hours from the final pairing of Morikawa and Dahmen starting their third round and so far today, no one has made a significant move up the board. The best round on the course right now is just one under.
1:26 p.m: Nestled against the collar of the rough off the tee at the par-4 third, Justin Thomas shapes only nicely into the left pin, about 25 feet away for birdie. In typical Thomas-in-the-wind fashion, it was flighted, shaped and perfectly pin high. While the putt comes about a foot short, it seems like we may be in for another clinical display of ball striking in the wind from Thomas.
1:12 p.m.: The par-5 eighth hole played as the easiest hole through two rounds, playing to a 4.625 average (11 eagles and 144 birdies). Playing downwind on Thursday and Friday, it's playing more back into the breeze today and has yielded just two birdies so far. (Spieth just burned the edge in trying to make the third.) So far today, it's playing over par.
12:57 p.m.: As Justin Thomas tees off sitting at one over, six shots back, we remind you that he leads the PGA Tour this season in third round scoring average (68.23). Remember that Saturday 63 at Erin Hills in 2017? Granted, The Country Club doesn't seem eager to give up a 63 today, but look out for Thomas to get it going early nonetheless. Just last week in Canada, Thomas vaulted into contention on Saturday with, yes, a seven-under 63. The starter just announced Thomas as "Justin Thompson." Wonder if that guy is good in third rounds too?
12:43 p.m.: Just as we say it'll be a "full driver for most" on No. 5, DeChambeau takes out less than driver on the driveable par 4. Most, not all! Nonetheless, with a strong breeze in and off the left, he sends his fairway wood well right into the tall greenside fescue. Surely won't be easy on the recovering wrist from there.
12:34 p.m.: With a stronger wind coming out of a different direction than in the first two rounds, the driveable par-4 fifth is playing much longer today. On Thursday and Friday with a helping breeze, guys were knocking it on with 3-woods, but today it'll be a full driver for most with the wind coming in and off the left. As the wind picks up this afternoon, we may see more players opt to lay up. Still though, it's playing well under par so far today.
12:10 p.m.: For all you channel-switching complainers, complain no more as third-round coverage moves to NBC for the rest of the day. For those who weren't watching early coverage on Peacock, NBC's Arron Oberholser gave keen inside-the-ropes analysis on the key holes. Long story short? With an increasingly firm course, tricky pins and a stronger, gustier wind (some gusts over 20 mph) out of the northwest, low scores will be hard to come by this afternoon. Currently, the best score of the day is one under.
11:56 a.m.: Bryson DeChambeau just teed off, and though he's no doubt happy to be playing on the weekend, the fact he's going out this early, seven strokes off the lead, says a lot about where his game is. He's coming off surgery, of course, and the expectations for the week were tempered, but it's striking how different things are since he won the COVID-delayed U.S. Open at Winged Foot. He hit only 11 of 28 fairways in the first two rounds and missed the first one today. And was we write this, Bryson just chipped in from the deep rough behind the green at 1!
11:35 a.m.: On the U.S. Open website, there's the nifty tool where you can compare the statistics of two players. So we plugged in the co-leaders, Morikawa and Dahmen. In strokes gained, Dahmen has been stronger off the tee (2.22 to 1.46) and approach (an impressive 4.81 to 2.46). Morikawa has been stronger in the short game. In around the green, he's gained 2.48 strokes on the field, while Dahmen is at 0.87. In putting: It's Morikawa at 3.35 and Dahmen at 1.86. The stats would suggest that Dahmen has to continue to keep the ball in play off the tee, and Morikawa needs to stay hot with the putter.
10:47 a.m: We just posted the official prize money for the tournament. The total purse is up 40 percent from just last year at Torrey Pines and the winner will get $3.15 million. Hey, it ain't $4 million for beating 47 other guys like on LIV, but we're guessing there will be a tad more pride attached.
10:20 a.m.: Here are the hole locations for the day.
10:22 a.m.: There's been some whining this week about having to switch around to various outlets to follow the touranment. The reponse from this corner: Would you rather only have only four hours to watch on one channel? Probably not. Anyway, it's a bit simpler on the weekend, with the very early coverage on Peacock, followed by NBC.
10:10 a.m.: The third round is underway with the early groups, and amateur Stewart Hagestad has birdied the first hole and has a nice birdie try at the par-3 second. The sun is out, but it's expected to be an unseasonably cool day, with a forecast high of 67. There's a decent wind that figures to dry out the greens and make them pretty crispy by the time the final group of Collin Morikawa and Joel Dahmen goes off at 3:45 p.m.