The Grind
Sam Burns' surprising snack, Holly Sonders' new sports venture and Mike Trout teams up with … Tiger Woods?
Welcome to another edition of The Grind, where we are happy to report that we have a new favorite athlete to replace our aging ones. Long gone are the guys from the modern Yankees dynasty, as is Eli Manning (although I love Daniel Jones). But I was really worrying about my love of sports waning with my guys Tiger Woods, Chris Paul, LeBron James and, suddenly, Russell Wilson, seeming close to being finished. And then Caitlin Clark walked into my life:
The Iowa standout is one of the most electric sports stars I've ever seen, a female version of Stephen Curry with her brilliant passing and insane shooting range. And after watching her epic Elite Eight performance on Sunday night, I literally can't wait for Friday night when she and her Hawkeyes try to take down undefeated defending champion South Carolina in the Final Four. Whether she stays for her senior year or declares for the WNBA draft, I'll be following her progress. In the meantime, though, let's talk some golf, because it's been a fun week in our favorite sport as well.
Sam Burns: So much for that slump, huh? After piling up four wins in short time, Burns was struggling toward the end of 2022 and the beginning of 2023, but after a sixth-place showing at the Valspar (Granted, he had WON there the previous two years) and an impressive victory at the WGC-Dell Technologies Match Play, the 26-year-old looks back in top form.
Match Play can be flukey, and Burns did dodge quite a bullet when Scottie Scheffler missed a five-footer for birdie on the second extra hole of the semifinal. Still, he still took down the World No. 1 and then absolutely dismantled Cameron Young in the final by birdieing eight of his final 10 holes. (By the way, we're also buying that Young-Paul Tesori tandem even though the 25-year-old wound up in a familiar position of runner-up despite having a new face on his bag.) But with big wins—Burns is up to five PGA Tour titles now following his biggest to date—comes bigger responsibilities. And like with Max Homa, golf fans are now going to start wondering how this dude doesn't have a single top-10 at a major yet. Burns won't be as bothered by those questions, though, after earning $3.5 million and possibly locking up a spot on the U.S. Ryder Cup team.
Rory's new putter: Changing flatsticks a couple weeks ahead of the Masters reeked of desperation, but so far, so good. McIlroy putted great on his way to a third-place finish in the Match Play, including a confidence-building win over the World No. 1 in the consolation match. And, yes, even a guy with four majors needs a confidence injection every once in a while, especially after hearing how he has been passed by Scheffler and Jon Rahm in recent months. In any event, I'm still not betting on Rory to win at Augusta National, but if you already did, I'd feel much better about it after watching him this week.
Matt Wallace: Chalk up another victory for a golfer brave enough to do a mid-tournament walk-and-talk interview! OK, so it happened the following week, but still, the golf gods are sending good vibes to those who play ball (Although, Rory hit arguably his worst shot of the week during his in Austin). And not only did Wallace win his first PGA Tour title, but his looper, Samuel Bernard, became the first French caddie to win on tour. History!
Looks like they made up after cameras caught Matt berating Samuel at the Valspar the week before. Hey, winning makes everything better!
GOATs collaborating: Last week it was Jim Nantz and Grant Hill teaming up for a Masters in-game promo unlike any other, and now, you've got Tiger Woods and … Mike Trout teaming up on a golf course?! Check out this announcement that completely caught the golf world by surprise:
Who knew the Anaheim Angel would wind up being an angel to golfers in his home state of New Jersey? Trout National—The Reserve (great name, although we would have preferred The PRESERVE) will be designed by the 15-time major champ near the three-time MVP's hometown of Vineland and is expected to open for play in 2025. Golf! So hot right now!
Saying goodbye to match play: Look, I'm not the biggest match-play guy. I think there's too much luck involved and, at the highest level, you may as well have golfers flip a coin on the first tee to see who wins. That being said, for one week a year (Well, two if you count the Ryder Cup and Presidents Cup), it's a nice change of pace. Forrest Gump should have said "Life is like the WGC-Match Play," because you truly never know what you're going to get next. For the past quarter century, this event has certainly been one of the most fun to watch.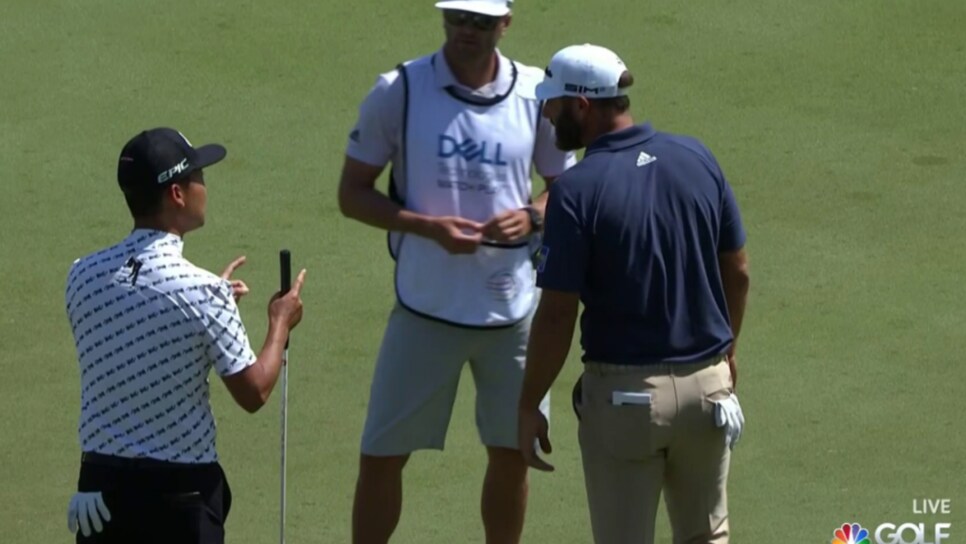 Well, at least throughout the week. Many of the Sunday championship matches—like this last one—have been snooze fests. Anyway, goodbye, match play. We'll miss you.
Saying goodbye to Austin CC: Just like we'll miss this course, which was a perfect spot to host this quirky event. What an electric back nine from that downhill par 5 where everyone hits it 400 yards across a cart path to the drivable par 4 over water to the 18th hole, which apparently is drivable as well. There are so many fun holes that helped bring out the VAGARIES of match play through the years. And, of course, we can't forget the boat parties: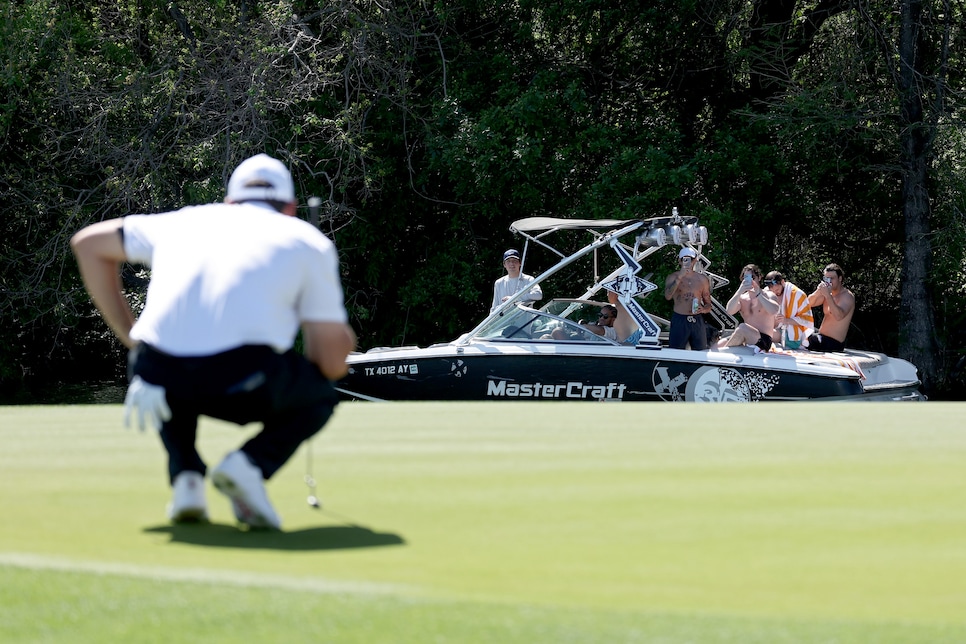 Including the one that interrupted Rory McIlroy on what turned out to be his final hole of the semifinal. What a cool place. If the rumors that LIV is trying to swoop in are true, that might be Greg Norman's smartest move yet.
Uncrustables: First off, I'm a picky eater. So picky, in fact, that I don't like PB&J sandwiches. Heck, I don't like peanut butter. OR jelly. So I'm probably not the best person to comment on Sam Burns' go-to golf course snack, but these seem disgusting:
That being said, you gotta go with whatever works on the golf course. For me, it's a hot dog with mustard and an ice-cold Milky Way. Anyway, good for Sam, because that is one cheap secret weapon to help win a $3.5 million check.
The PGA Tour finishes a little Texas two-step at the Valero Texas Open, AKA that one where Kevin Na once made a 16. But the LIV connections don't end there with TPC San Antonio's Oaks Course being a Greg Norman-Sergio Garcia design. And speaking of LIV, Norman's tour will be in Orlando for its third event of its season.
Random tournament fact: Rickie Fowler is one of the biggest by far the biggest name playing in San Antonio (smart scheduling by LIV again). The five-time PGA Tour winner will need to win to earn an invite to the Masters next week. And win is something he hasn't done anywhere in more than four years. Good luck, Rickie.
RANDOM PROP BETS OF THE WEEK
—The PGA Tour is done with match play forever: 1 MILLION-to-1 odds
—Rickie Fowler will win the Valero to get into the Masters: 20-to-1 odds (Actual odds)
—Even if he doesn't, most patrons will still think he's at Augusta: LOCK
It's a shame that young kids will never know just how great Tiger was. Then again, that's how everyone feels about the guys of their era.
CLUB PRO GUY TWEET OF THE WEEK
I don't even fully get this one, but CPG had me at Chili's.
CLUB PRO SHOT OF THE WEEK
How about PGA of America pro and Mesa Country Club GM Roy Smith making an albatross during the LPGA's pro-am—while the cameras were being tested!
Talk about being in the right place at the right time. Well, and hitting the exact right shot at the right time.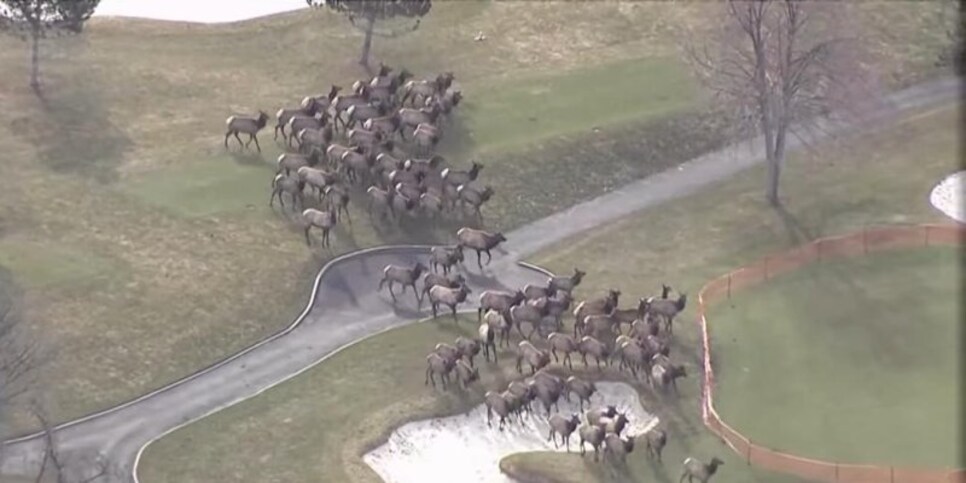 Brooks Koepka may not be a big-time golfer these days, but he's a big-time hockey heckler. Ear muffs, kids!
Did he come with his own traffic cone? Gotta respect the effort, if so.
VIRAL VIDEO OF THE WEEK (G-RATED DIVISION)
Joel Dahmen has found a fantastic way to avoid PGA Tour swearing fines:
"Oh, donkey poo!" … I gotta start using that out on the course this year.
VIRAL VIDEO OF THE WEEK (G-RATED NATURE DIVISION)
Check out this beetle pushing a golf ball onto the green:
Turns out that's a dung (yes, dung) beetle, and it's the strongest animal in the world. The more you know.
THIS WEEK IN CELEBRITY GOLFERS (NON-MIKE TROUT DIVISION)
A big celeb week for golf continues with the Kardashians doing, well, whatever the Kardashians do, but this time holding golf clubs in a simulator:
OK then. And how about Brian Cox telling an incredible story to Jimmy Fallon about taking a photo with Ben Hogan at the 1953 Open Championship at Carnoustie:
Logan Roy and Ben Hogan. Talk about a couple of wee ice men.
THIS WEEK IN PUBLIC DISPLAYS OF AFFECTION
Max Homa keeping it all business last week at the Match Play:
Talk about being locked in. However, after Hideki Matsuyama conceded Friday's match, Max said he was going to take advantage of the unexpected off day by "actually taking my wife out on a date." Good for you, Max. But … considering he lost his next match to get bounced from the tournament, that might be the last date night until after the season is over. Sorry, Lacey.
THIS WEEK IN PUBLIC DISPLAYS
OF AFFECTION
Remember Holly Sonders? Of course you do. Well, the former Golf Channel host is getting back into sports. Well, sort of.
If Mario Lopez's "Skins vs. Skins!" reply is any indication, then Holly is going to make bank on this new venture.
"But, never mind the Masters, the Open is by far the greatest tournament on the planet. … I rate the Open at one, the U.S. Open two, PGA three and Augusta four; Four marvelous tournaments." —Gary Player's surprise ranking of the four majors as told to the Daily Mail. We just wonder if this has anything to do with his son's #Golfballgate a couple years back. Either way, quite a take from GP!
Congrats to Celine Boutier for claiming her third career LPGA title, making her the winningest French player in the tour's history. Combine that with Matt Wallace's French caddie's win and it was quite a week for France! … Congrats to Steven Martiny for being the only person to correctly predict the Match Play's Final Four out of 40,432 brackets. That's almost as impressive as correctly predicting the actual Final Four. … With Sam Burns vaulting into the top 10 of the Official World Golf Ranking, Justin Thomas has been bumped out for the first time in six years. Friend and mentor Tiger Woods is probably needling him about that at this very moment. … Speaking of Tiger, noted gambler Steve Fezzik plans to make a sizable wager against Woods winning the Masters next week. That's not a good sign for Tiger fans, although Fezzik just lost a ton on my FDU Knights upsetting Purdue in the NCAA tournament so maybe it's a good sign. … And, finally, I got out to the range to hit my first small bucket of the year, and it was glorious:
I doubt I'll go the 40-plus times I went last year when I was involved in that fun improvement project, but I'll still be there a bunch.
RANDOM QUESTIONS TO PONDER
How many times will I actually play golf this year?
Does Caitlin Clark play golf?
Does Augusta National have Uncrustables?