Not Sponsored Content
Sam Burns' secret weapon at the WGC-Dell Match Play was … Uncrustables?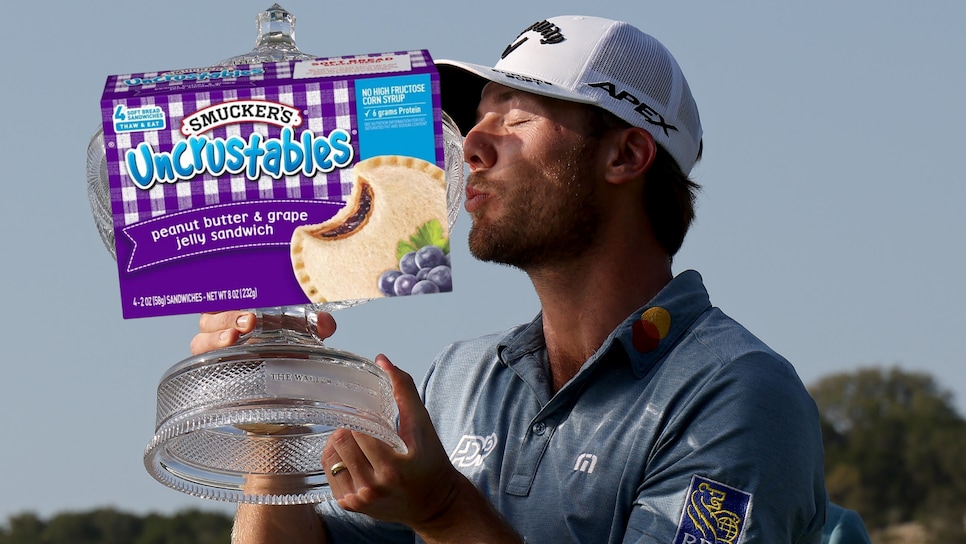 Image from Getty, Mediocre Photoshop from Greg
The eventual—potentially last-ever—winner of the WGC-Dell Match Play started sluggishly but routed opponent Cam Young, primarily due to the help of a snack that we all know and love. You can look at various stats and data points, but sometimes it's all right in front of you. Sam Burns was 1-up, ate an Uncrustable and then moments later was 5-up. That's what we in the business call good golf.
The 26-year-old is undoubtedly in the Uncrustables demographic, and why shouldn't he be? That peanut butter and grape jelly sandwich isn't made with cocaine (trust me, I checked), but you could've fooled us.
Take your hot dogs and various at-the-turn wraps and throw them directly in the bin if an Uncrustables is available. There's just something about that congealed PB&J that always hits when you need it, and Twitter agrees.
It's been a big month for Uncrustables. Not only did Burns use the magic elixir to win his fifth PGA Tour event, but Charles Barkley has been spreading the good word to his March Madness cohort (and millions of viewers).
Clark Kellog doesn't just like them; he keeps them stacked in the freezer at home. It doesn't get bigger than that, especially since it's coming from a cereal magnate like Kellogg.
Sometimes good things happen to good people/brands, and it's looking like Augusta National might need to start making some Uncrustables orders to satiate its patrons … and golfers.