Corales Puntacana Championship
Englishman with a rep for running hot keeps his cool and now is a PGA Tour winner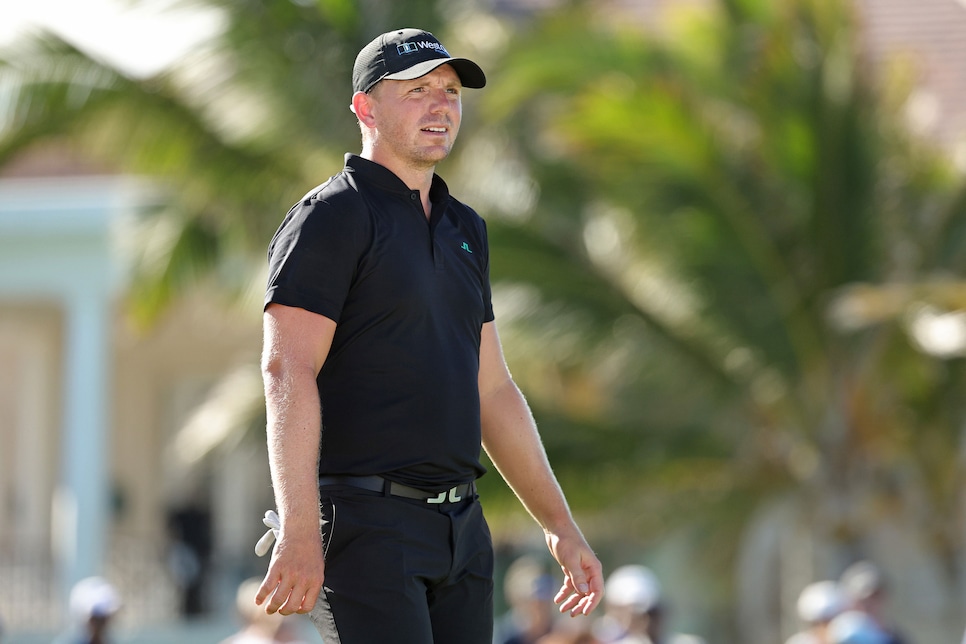 Famously combustible, which he showed when he got into a heated conversation with his French caddie Sam Bernard on the 18th hole at Innisbrook Resort's Copperhead Course, Wallace went off at just the right time with a run of four straight birdies at Puntacana Resort & Club in the Dominican Republic. That let him break from a tight pack of contenders and win for the first time on the PGA Tour. The 32-year-old Englishman closed with a six-under 66 on the Corales Course to finish at 19-under 269.
"It's cool. It's very cool," said Wallace, who again was seen hugging his caddie, this time after the win was secured with a nervy three-footer for par at the last. "Didn't get off to the start I kind of wanted today, but Sam was brilliant, and we just were so positive. Then the way I finished was exactly how I feel like I can play golf. That was awesome, down those final few holes was brilliant and I'm really proud of myself to get through that.
"It's crazy, it hasn't even sunk in yet," Wallace added before expressing gratitude to Bernard. "I'm out here all alone. I've got Sam here with me, my French caddie, the only Frenchman to win on the PGA Tour, so I'm so happy for him and I thank him a lot. Hopefully, we can go take a lot from this and go to bigger and better things.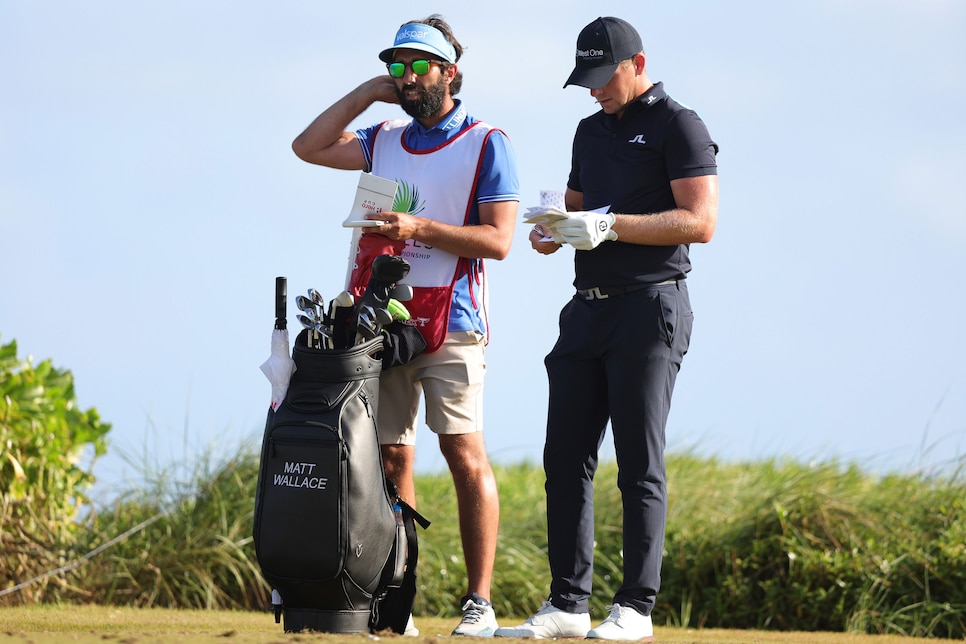 A week after Wallace and his caddie, Sam Bernard, had a heated on-course exchange, the duo was locking up a PGA Tour title.
Stacy Revere
Denmark's Nicolai Hojgaard, competing on a sponsor's exemption, finished runner-up after beginning the day tied atop a crowded leaderboard with rookie Sam Stevens. Hojgaard, 22, needed to birdie the difficult 18th hole to forge a tie with Wallace, but he missed a 25-footer and shot 68. Stevens and Tyler Duncan, who each had at least a share of the lead at one point, tied for third at 271 after 69 and 68, respectively.
"Very disappointing. I had a lot of chances on the back nine today to put some pressure on him, so I've got a feeling I'm really disappointed right now," said Hojgaard, who was making just his eighth PGA Tour start. "Obviously in a short period of time I'll be happy with where I'm at, but you play to win and it's tough coming up one short."
Amid winds gusting to more than 20 miles per hour in Punta Cana, Wallace caught a heater at the most opportune time, going from two strokes behind to two ahead with his birdie run starting at the par-4 13th hole. He capped the run with a five-footer at the difficult 16th, just one of three birdies on the day at the 461-yard par-4 hole.
A four-time winner on the DP World Tour, including three victories in 2018, Wallace triumphed in his 80th PGA Tour start and collected $684,000, his biggest payday on tour. He came into the week ranked 175th in the world and was making his debut in the event. He also held the 36-hole lead before falling one behind after three rounds.
Wallace's last victory was the Made in Denmark in September 2018. Since then, he has overhauled his game with the help of former European Tour winner Robert Rock, among others.
"Everyone knows I'm a feisty character," Wallace said, "but that got me through that today. I was calm, felt I was determined, I kind of felt like I had it in me all week. I really felt like I was playing some really good stuff and I felt like I was going to be up there at the end of the week no matter what."