Payday at Puntacana
Here's the prize money payout for each golfer at the 2023 Corales Puntacana Championship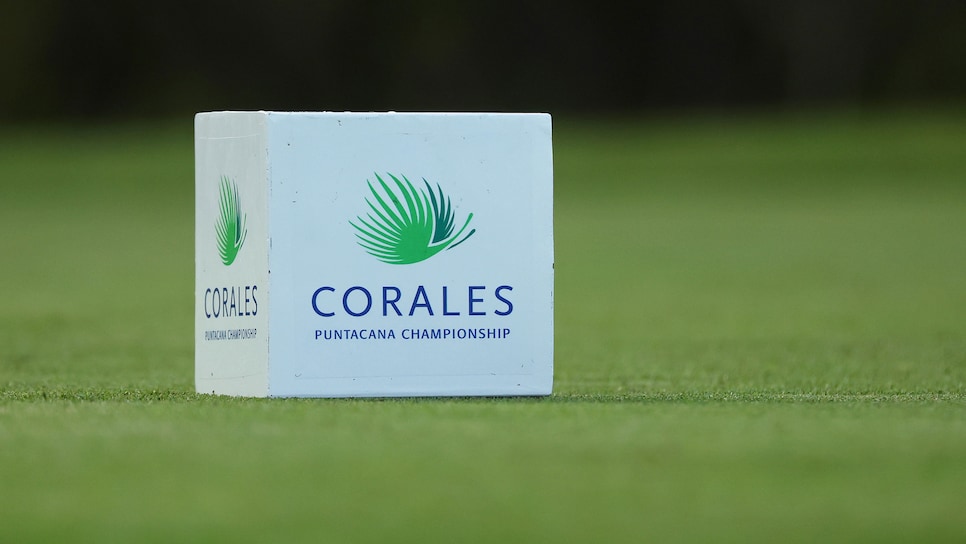 The payday is modest when you compare it to the amounts on the line at the WGC-Dell Match Play Championship. But winning the PGA Tour's Corales Puntacana Championship on Sunday in the Dominican Republic comes with some handsome rewards—as Matt Wallace is about to learn.
The 32-year-old Englishman, No. 172 in the World Ranking entering the week, rallied on Sunday with a six-under 66 at Puntacana Resort & Club in the Dominican Republic to claim his first PGA Tour win in his 80th career start. A 19-under 269 total gave Wallace, playing his third full year on tour, a one-shot victory over Nicolai Hojgaard.
With the victory, Wallace, a four-time winner on the DP World Tour, locks up a PGA Tour card through the 2025 season. Additionally, he is now guaranteed a spot in the upcoming RBC Heritage and the Memorial, both designated events this season, and the PGA Championship at Oak Hill. It also ensures that he is in the field for the Sentry Tournament of Champions and the Players Championship in 2024, both designated events in the new PGA Tour system.
And there's also the first-place prize money payout of $684,000 from an overall purse of $3.8 million. That's no small thing considering Wallace's biggest prior payday on the PGA Tour was the $575,000 he won for a third-place showing at the 2019 PGA Championship.
Here's the prize money payout for each golfer who made the cut in the Dominican.
Win: Matt Wallace, 269/-19, $684,000
2: Nicolai Hojgaard, 270/-18, $414,200
T-3: Tyler Duncan, 271/-17, $224,200
T-3: Sam Stevens, 271/-17, $224,200
5: Austin Eckroat, 272/-16, $155,800
6: Wyndham Clark, 273/-15, $137,750
7: Ricky Barnes, 274/-14, $128,250
T-8: Thomas Detry, 275/-13, $103,550
T-8: Brice Garnett, 275/-13, $103,550
T-8: Brent Grant, 275/-13, $103,550
T-8: Ben Martin, 275/-13, $103,550
T-8: Matthias Schwab, 275/-13, $103,550
T-13: Austin Cook, 276/-12, $74,416.67
T-13: Nick Hardy, 276/-12, $74,416.67
T-13: Harry Hall, 276/-12, $74,416.66
T-16: Jonathan Byrd, 277/-11, $56,050
T-16: Kevin Chappell, 277/-11, $56,050
T-16: Doug Ghim, 277/-11, $56,050
T-16: Kelly Kraft, 277/-11, $56,050
T-16: Vincent Norrman, 277/-11, $56,050
T-16: Dylan Wu, 277/-11, $56,050
T-22: Henrik Norlander, 278/-10, $41,230
T-22: Martin Trainer, 278/-10, $41,230
T-24: Akshay Bhatia, 279/-9, $35,150
T-24: Bill Haas, 279/-9, $35,150
T-26: Tyson Alexander, 280/-8, $29,450
T-26: Michael Kim, 280/-8, $29,450
T-26: Augusto Núñez, 280/-8, $29,450
T-29: Erik Compton, 281/-7, $24,351.67
T-29: MJ Daffue, 281/-7, $24,351.67
T-29: Mark Hubbard, 281/-7, $24,351.67
T-29: Fabrizio Zanotti, 281/-7, $24,351.67
T-29: Sean O'Hair, 281/-7, $24,351.66
T-29: Scott Piercy, 281/-7, $24,351.66
T-35: Tano Goya, 282/-6, $19,760
T-35: Paul Haley II, 282/-6, $19,760
T-35: Brandon Matthews, 282/-6, $19,760
T-38: Rafael Campos, 283/-5, $15,390
T-38: Harry Higgs, 283/-5, $15,390
T-38: Sung Kang, 283/-5, $15,390
T-38: S.Y. Noh, 283/-5, $15,390
T-38: D.A. Points, 283/-5, $15,390
T-38: Chris Stroud, 283/-5, $15,390
T-38: Kevin Tway, 283/-5, $15,390
T-38: Carson Young, 283/-5, $15,390
T-46: Aaron Baddeley, 284/-4, $10,963
T-46: Scott Harrington, 284/-4, $10,963
T-46: Kramer Hickok, 284/-4, $10,963
T-46: Andrew Novak, 284/-4, $10,963
T-50: Cody Gribble, 285/-3, $9,284.67
T-50: Max McGreevy, 285/-3, $9,284.67
T-50: Chris Nido, 285/-3, $9,284.67
T-50: Kyle Westmoreland, 285/-3, $9,284.67
T-50: Joel Dahmen, 285/-3, $9,284.66
T-50: Kevin Roy, 285/-3, $9,284.66
T-56: Greg Chalmers, 286/-2, $8,816
T-56: Erik van Rooyen, 286/-2, $8,816
T-58: Ben Crane, 287/-1, $8,588
T-58: Jason Dufner, 287/-1, $8,588
T-58: Harrison Endycott, 287/-1, $8,588
T-58: Russell Knox, 287/-1, $8,588
T-62: George McNeill, 288/E, $8,360
T-62: Stephen Stallings Jr., 288/E, $8,360
T-64: Scott Brown, 289/+1, $8,132
T-64: Hank Lebioda, 289/+1, $8,132
T-64: Camilo Villegas, 289/+1, $8,132
T-64: Trevor Werbylo, 289/+1, $8,132
T-68: Michael Gligic, 290/+2, $7,904
T-68: Cameron Percy, 290/+2, $7,904
T-70: Emiliano Grillo, 291/+3, $7,752
T-70: Taylor Pendrith, 291/+3, $7,752
72: Sangmoon Bae, 293/+5, $7,638