The Grind
John Daly's March Madness-influencing texts, Rob Gronkowski's electric golf takes, and Taylor Swift helps grow the game
Welcome to another edition of the Grind, where we are still basking in the glow of Fairleigh Dickinson's historic upset in the NCAA men's basketball tournament. Am I an alma mater of the school? No. Could I name one player on the team before last week? No. But did my wife get her doctorate (NBD) at the school? Yes. And I even drove her to the campus once for her dissertation presentation so I'm basically a Knight. I even know the school fight song is called (*Googles FDU fight song*) . . . "FDU Fight Song." That's easy to remember. Hey, we don't need any fancy titles. Well, other than being called Knights. Just let me have this, OK? It's been a lean time for Wake Forest basketball since my graduation. But hey, at least I'm not a Purdue fan. In any event, there's plenty of March Madness happening on golf courses as well. Let's get to it.
Taylor Moore: Speaking of upsets, how about Taylor Moore seemingly coming out of nowhere to win his maiden PGA Tour title at the Valspar Championship. Moore did have five top 10s as a rookie last season—which is a lot more impressive than the four wins FDU had before my man Tobin Anderson arrived as new coach this season—but it was still a surprise to see a relatively untested golfer play so well down the stretch.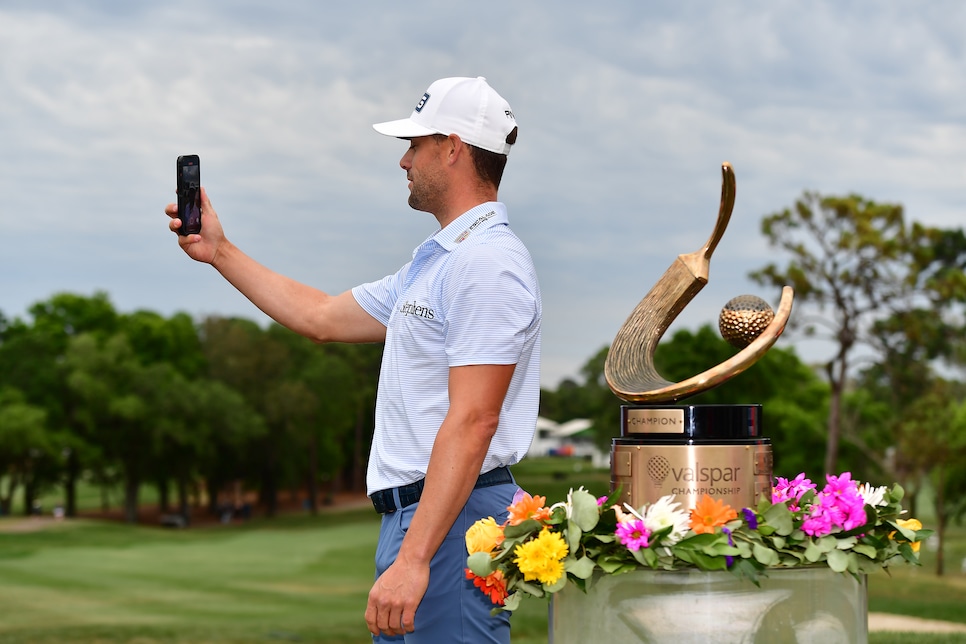 Yep, that really happened, Taylor. Take a picture. And yep, you really did go 64 out of 64 on putts of seven feet or less. Amazing. Although maybe not quite as amazing as FDU having to win a play-in-game just to get into the field of 64 (and only being in that play-in game because of a technicality). But Moore did have to battle back from a collapsed lung a few years ago so bonus points for that. Now 29 and healthy, he's vaulted into the all-important top 50 of the Official World Golf Ranking so we should expect to see him in even more big dances in the future. (And in the time I wrote this, I found out that Tobin Anderson is leaving for another job. Sigh. Just when my FDU Knights were starting to cook.)
Matthew Baldwin: Like Moore, Baldwin is another golfer whose career was interrupted for health reasons when illness caused him to stop playing in 2015. He lost his European Tour card the following year and it's been a grind to get back, but at 37, he won his first DP World Tour title at the SDC Championship. And he did it by seven(!) shots.
"I'm not 100 percent sure what's just happened," Baldwin said. "It's been a tough few years so obviously to get the win means absolutely everything." Good for you, Matthew. That's exactly how I felt after WE upset Purdue.
The Schenks: What a storybook ending this would have made. Adam Schenk, the man with an all-time golf name, nearly capped off an all-time grindfest by winning in what was his 10th consecutive PGA Tour start. And no, he's not just trying to get away from his wife, but rather get as much work in before Kourtney gives birth to the couple's first child next month.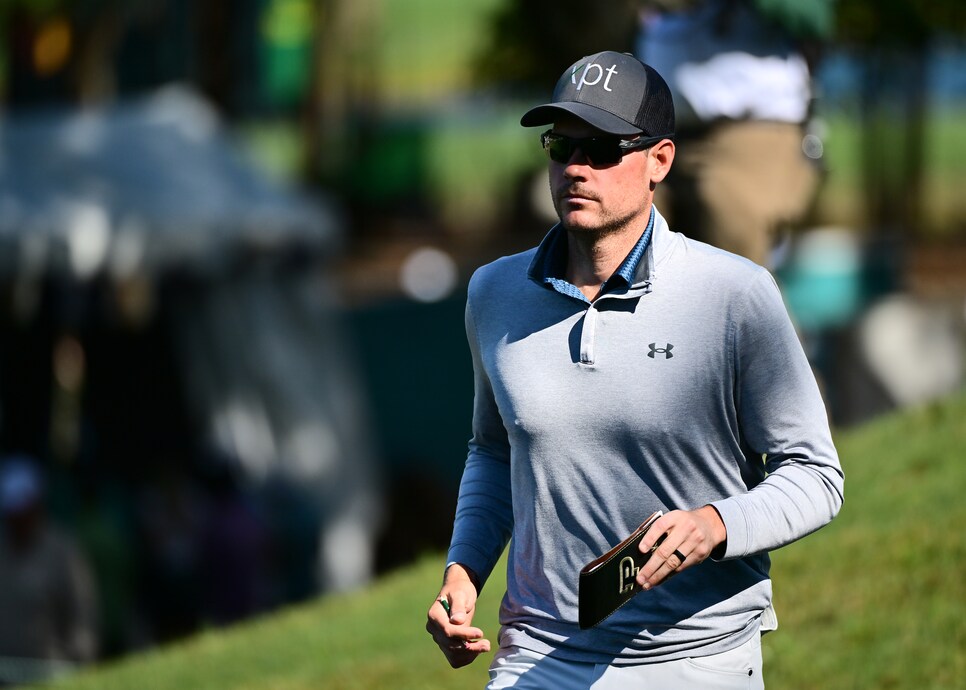 Kudos to Adam, AKA The Gray Man, for playing so well down the stretch (until that tee shot on 18) and to Kourtney, a Twitter star for those who don't already know, for being there every step of the way on Sunday despite being eight months pregnant.
Oh, and sorry about my Knights knocking off your Boilermakers, Adam.
John Daly's love of Arkansas: We know how much the two-time major champ loves his Razorbacks, and we've even seen him show off his hooping skills. But apparently, Daly does a lot more than that to help his alma mater's basketball team. Here's head coach Eric Musselman on the constant texts—and even tips—Daly sends him:
Hey, it's working after Arkansas upset No. 1 Kansas in the second round. Not as big of an upset as my FDU Knights pulled off, of course, but a nice win. We also wonder how putting tips would help a basketball team, but you gotta give JD credit for thinking outside the box.
Jordan Spieth down the stretch: Jordan Spieth is probably the most exciting golfer to watch on the planet these days (excluding Tiger, of course). Unfortunately, he's arguably one of the worst players under pressure as well. Like we saw at Bay Hill a couple weeks ago, Spieth had the tournament in his hands in Tampa. And then he hit a tee shot into the middle of a pond:
I mean, that's not even close. It would be shocking to see this from a three-time major champ except we've seen a lot of it since he found Rae's Creek on Sunday at the 2016 Masters. Spieth recovered to win a third major the following year at the British Open, but not without nearly giving it away to Matt Kuchar with that wild trip to the Royal Birkdale driving range. Spieth has only won twice anywhere since then, racking up a lot more scar tissue instead of trophies. That being said, I'll still probably bet on him to win the Masters because overall he's playing well—and there's not as much water off the tee at Augusta National.
Longtime player-caddie breakups: We're always sad to learn of these, but Webb Simpson and Paul Tesori parting ways was particularly surprising because of how close they've always been—and the fact they were in the penultimate pairing on Sunday at the Valspar. Put it this way, there's never been a Matt Wallace situation with the tandem. What's not surprising, however, is the class that Webb, my fellow Wake Forest alum, showed with this announcement–which also revealed Tesori's next bag will be another Demon Deacon in Cameron Young:
Go Deacs! On the flip side, as much as I downplay a caddie's importance from time to time, this is a great pickup for the reigning PGA Tour Rookie of the Year, who is still in search of that first victory. And, if we're being honest (Sorry, Webb), a great career move for Tesori.
LIV's big guns: First off, congrats to Danny Lee on earning $4 million for winning in his second LIV start after winning one time in 303 career PGA Tour starts. And in doing so by draining this playoff putt from off the green:
"I haven't won since 2015," Lee said after. "I just felt like winning wasn't my thing, but today that just changed." What's also changed is Lee is now playing on a tour where the big names don't seem to show up anymore. I'll let our old GD pal Dan Rapaport break it down:
It's only two events so far, but that's not great. And if Dustin Johnson, who had a T-35 (again, out of 48) in the season-opener, keeps this up, then everybody won't know the Aces anymore.
The PGA Tour heads to Austin Country Club one final time for one final World Match Play Championship. It's a sad, and somewhat shocking end of an era. Look, I'm not the biggest match-play guy in the world (It's almost like flipping a coin at this level), but we can't have ONE event that's different than 72-holes of stroke play over four days? C'mon, PGA Tour. Figure something out. Also, for those who didn't qualify for this event like serial caddie-berater Matt Wallace, there's the Corales Puntacana Championship in the Dominican Republic.
Random tournament fact: The Corales Puntacana Championship is 72 holes of stroke play over four days. Shocking, I know.
RANDOM PROP BETS OF THE WEEK
—Adam Schenk will play 10 weeks in a row as a dad: 1 MILLION-to-1 odds
—Matt Wallace will win in the Dominican Republic: 35-to-1 odds (Actual odds)
—Matt Wallace will curse out his caddie again: LOCK
It was a poor tee shot on the 72nd hole, but Adam Schenk's golf ball winding up here was just cruel:
Props to him for pulling off the left-handed shot that followed, but that stinks.
CLUB PRO GUY TWEET OF THE WEEK
OK, so this didn't really go "viral," but I enjoyed seeing this in-game Masters promo from Jim Nantz and Grant Hill:
Only two more weeks, FRIENDS!
VIRAL VIDEO OF THE WEEK (FAIL DIVISION)
I'm sure I'll be accused of "piling on LIV," but this video was pure unintentional comedy:
Those empty corridors/rooms? The blank looks on some of the players' faces? The closeup of a Jim Beam bottle? This party sizzle reel is missing the sizzle.
THIS WEEK IN CELEBRITY GOLFERS
Rob Gronkowski showed up at the Valspar Championship and gave one of the most electric interviews in history:
There are so many gems in there that it's hard to pick our favorite, from meeting Tiger to claiming he'll be "a par guy one day" to saying "Shooter McGavin is the No. 1 most professional golf guy ever." What an absolute legend. Let's hope he hits the celebrity golf circuit hard in the coming years.
And check out Taylor Swift swinging this glowing golf club during a recent concert:
Talk about growing the game! You love to see it. Although, we're guessing that club isn't on the USGA conforming list. Anyway, what a big week for golfers named Taylor.
THIS WEEK IN PUBLIC DISPLAYS OF AFFECTION
Absolutely love this video of a guy getting his golf trip outfits ready—with the help of his wife:
Although he's so in the zone he wasn't going to listen to anyone. Been there, done that, and can't wait to do it again.
"I've just been riding Peloton. That's it. I'm not doing any more weights. I've tried everything. I've tried weights. I've tried all this other stuff. I just like kind of riding the bike because I get to watch TV and I've got someone yelling at me on the screen here, and it's right at home. I don't have to go to anywhere. I don't have to go to the gym, I don't have to see anybody and I don't have to listen to anything. It's actually just perfect." —Pat Perez perfectly describing my entire workout routine as well. I'm late to the Peloton party, but I'm glad I got here, and I've used it every day so far in 2023. And, yet, I've managed to lose no weight because I eat like a total pig, so don't be too impressed.
Rory McIlroy is testing out new putters and driver shafts ahead of the Masters. In related news, I will not be betting on Rory to win that elusive green jacket this year. . . . Speaking of the Masters, Fireball is offering this snazzy red jacket and $1,000 to 10 lucky fans going to this year's tournament: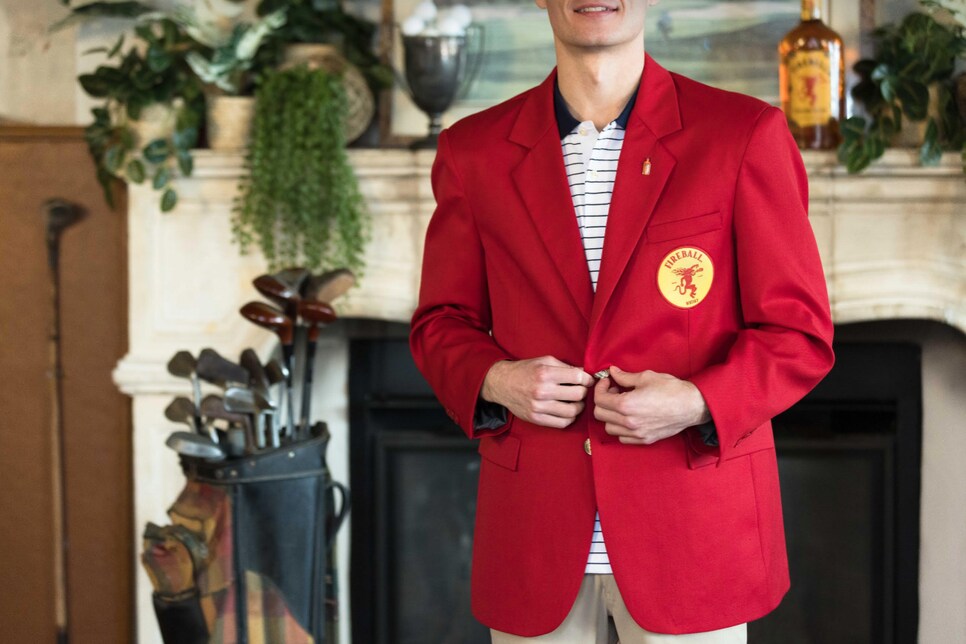 Of course, if you wear that there's a chance the green jackets will make sure you never get back into Augusta National. . . . That being said, Augusta National will host a livestream video game (yes, video game) tournament on the eve of this year's Masters. This ain't your dad's Masters. . . . And, finally, Julia turned five(!) and had her first real birthday party at one of those jumping places: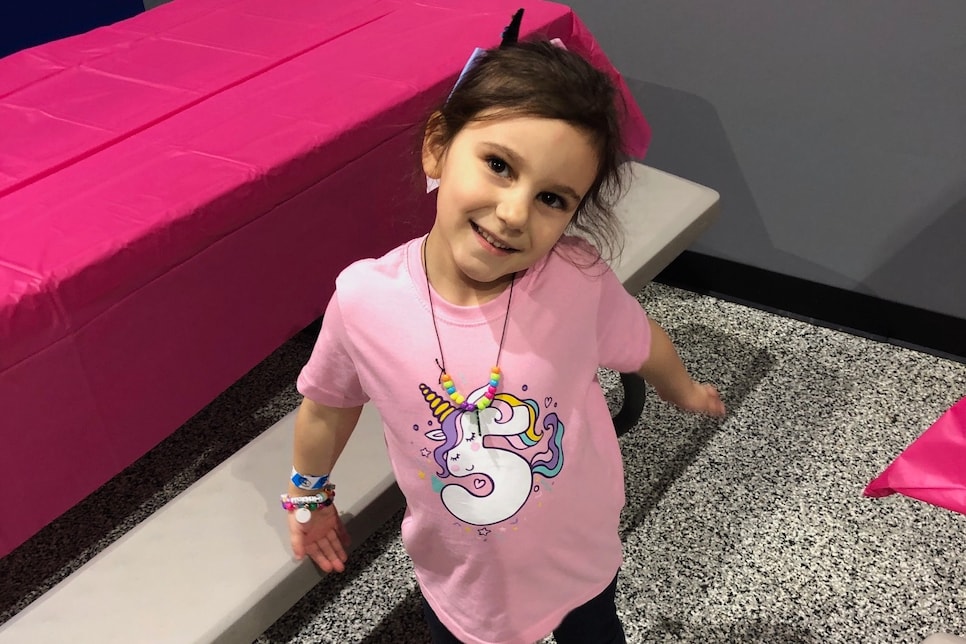 She had a great time and none of the kids got (seriously) hurt! Success!
RANDOM QUESTIONS TO PONDER
Could I keep up with Pat Perez in a Peloton class?
Who will be FDU's next men's basketball coach?
Do WE have any famous alums who can pull some strings?