Valspar Championship
Taylor Moore writes his own fairytale with surprise victory at Innisbrook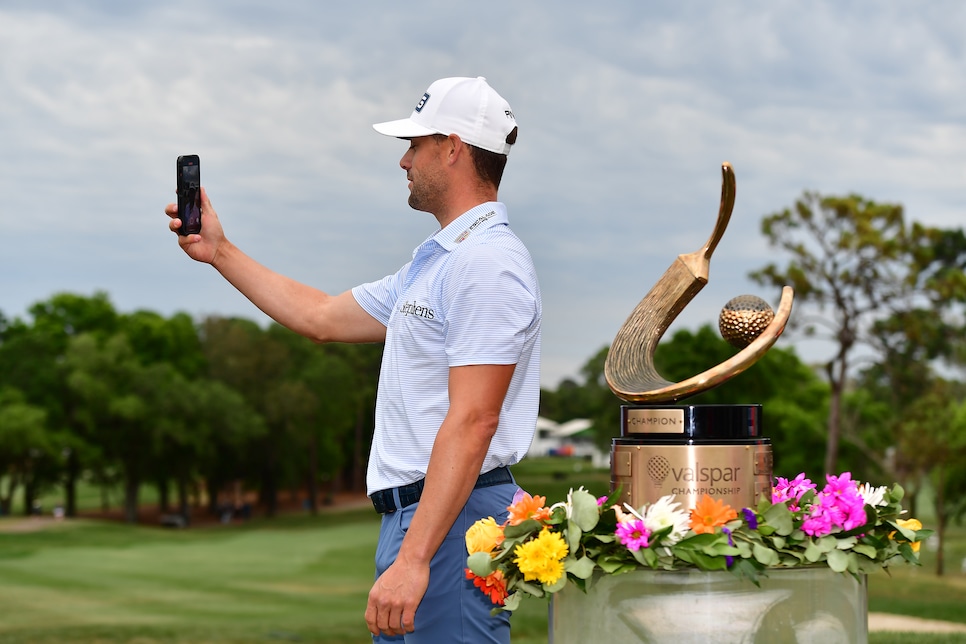 There are times when the narrative of a golf tournament is too enchanting to not end with the fundamental storybook finish, one that is satisfying to both the man who achieved it and those who watched it happen.
The Valspar Championship was just that kind of tournament. Until it wasn't.
Anyone who followed Sunday's final round at Innisbrook Resort undoubtedly felt some kind of emotional investment in the fate of Adam Schenk. A soon-to-be first-time father, the sixth-year PGA Tour pro was seeking his first victory and making all manner of clutch putts that suggested a destined outcome. Meanwhile, his expectant wife Courtney followed along in the gallery for all 18 holes while being eight months pregnant.
Playing in his 10th straight event before the child arrives, Schenk was out-clutching his playing partner on the greens, quite a feat when that player is Jordan Spieth, who tends to squeeze the most out of his rounds. The popular Texan, who won this event in 2015, dogged Schenk the entire day. It was largely a two-man battle, though England's Tommy Fleetwood for a time put himself in position to play a spoiler role.
The winner, however, was a man invisible much of the day, a 29-year-old Texan named Taylor Moore who used a pair of late birdies to steal away with his first PGA Tour title in his sophomore season. Thanks to a four-under-par 67 on an unseasonably cool day in Palm Harbor, Fla., the lowest score in the final 11 pairings, Moore snuck past the leaders, posted 10-under 274 on the Copperhead Course and watched it hold up to prevent Schenk's fairytale from coming to fruition.
"I might have been under the radar to some people watching, but I felt like I was in the golf tournament from the time I teed off today and was just excited to control what I could control and get it done," said Moore, who began the day two behind Schenk and never led outright until Schenk bogeyed the 72nd hole. "I have done a lot of good things this year, excited about where my game's at, for sure, and, yeah, just so happy to get it done today. I mean, that was insane."
Schenk, 31, had at least a share of the lead after each of the first three rounds, and led for all but a brief spell, when Spieth nosed ahead with an eight-foot birdie at the eighth while Schenk three-putted. But Schenk answered from 23 feet for birdie at the ninth, one of several remarkable putts he converted in a closing 70. None was more spectacular, however, than his 71-foot dime he dropped at the par-4 12th that restored his lead to 10 under par.
No one would pass Schenk until the end, though Spieth caught him with a 10-footer at the par-5 14th. And then Moore stealthily made it a three-way tie with a five-foot birdie at 15 and a 27-foot dagger at 16. Playing his final 11 holes in four under, Moore then saved par on the final two holes, including a five-footer at the last. He finished the week converting all 64 of his putts inside seven feet.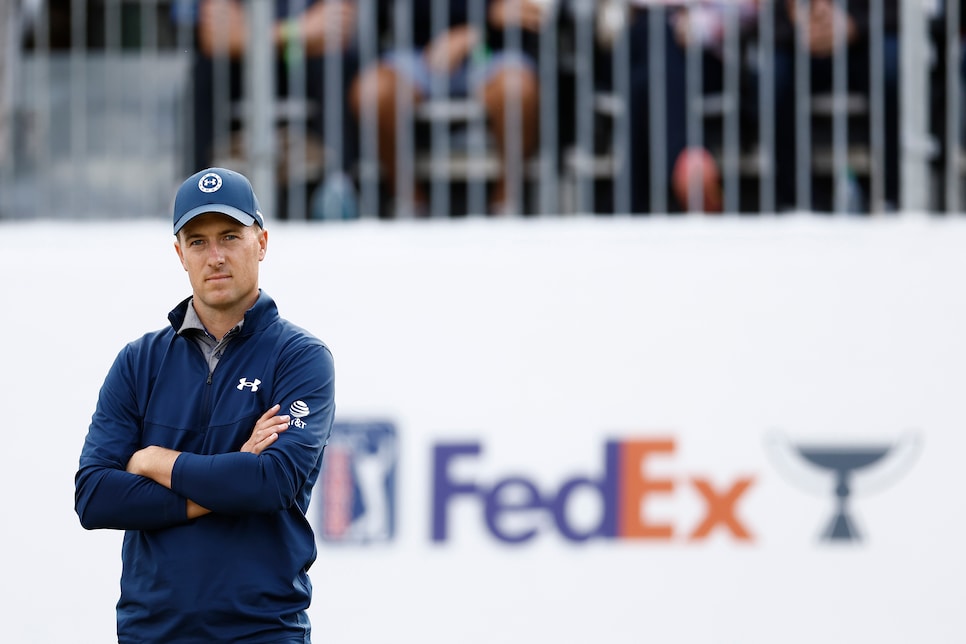 Jordan Spieth made a bogey at the 16th and missed a birdie at the 17th to fall out of contention.
Douglas P. DeFelice
"I thought the winner would be around 10 under. Obviously, I got to that today, which was cool," said Moore, who had himself in position for his first top-10 finish of the year after a third-round 65 at last week's Players Championship, only to shoot 74 on Sunday and end up T-35. "I was just trying to shoot the best round I could. I think I got a little bit ahead of myself at Players, looking back, trying to have a nice high finish in that field, and went with the mindset this week that Thursday's the same as Sunday and every golf shot has the same value."
Spieth, who over the final two days added a few more "yos" to the yo-yo rounds that have become his trademark, somehow cobbled together a remarkable bogey at the par-4 16th to only lose one stroke after he flared his drive into the water. But his miss from six feet for birdie on the par-3 17th to regain a share of the lead stung him, and he three-putted 18 to fall into a tie for third with Fleetwood (70) at 276.
He admitted he was surprised as anybody to see Moore, a Dallas neighbor, in the mix.
"I thought it was me and Adam," said the three-time major winner, who closed with a 70. "I thought it was down to us two, and I thought I was maybe going to sneak a tie on 16, and Tommy … I don't know what he did on the end. But I guess he [Moore] made a bunch of putts, got up-and-down from everywhere to finish."
That was Schenk's modus operandi until the fateful 72nd hole, when he hooked his tee shot up against a large tree left of the fairway. Instead of taking an unplayable lie and one-stroke penalty, he opted to turn a club over and play his second shot left-handed. His execution was too good, and his ball darted across the fairway into the right rough. His third came up just short of staying on the top shelf near the pin and drifted 41 feet below the hole. After Spieth missed his tying birdie try on the same line from 44 feet, Schenk drilled his putt straight at the cup. His ball hit the pin but didn't fall. He settled for a career-best solo second and earned $882,900.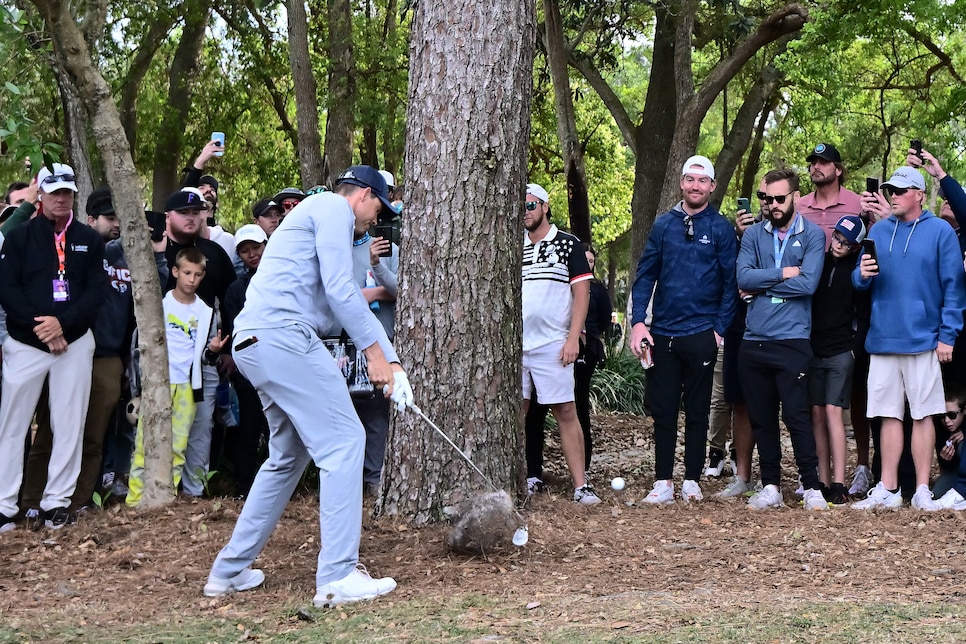 Adam Schenk hits his left-handed shot from up against a tree on the 18th hole.
Julio Aguilar
Naturally, he wasn't thinking about the nice start to his first child's trust fund.
"It stinks," Schenk said. "I hit a really bad drive on the last hole. I toed it. Wish I could have lightly hit somebody and stayed where I had a chance to get to the green, but it did not, and I didn't deserve it. I had a chance with the wedge shot that came up short, and then I had a chance with the putt, which surprisingly actually hit the pin and came close.
"It stinks to get so close, but a great week all in all."
Ranked 103rd in the world, Moore pocketed $1.458 million, nearly half of his career earnings to date. He might have been the surprise guest of honor at the end of the week, but the University of Arkansas product, who needed a few years before reaching the PGA Tour, didn't surprise himself. His self-belief, he said, was the difference.
"I've won at the college level, I won on Korn Ferry Tour, and I think when I get myself comfortable and handle my emotions and get into my space where I'm really calm, I can play at the highest level and compete," Moore said. "And I thought I did a really good job of that today."
Better than anyone else. Which is a pretty good story, too.