LIV Golf
Danny Lee thought he'd never win again, but was last man standing in LIV Golf Tucson playoff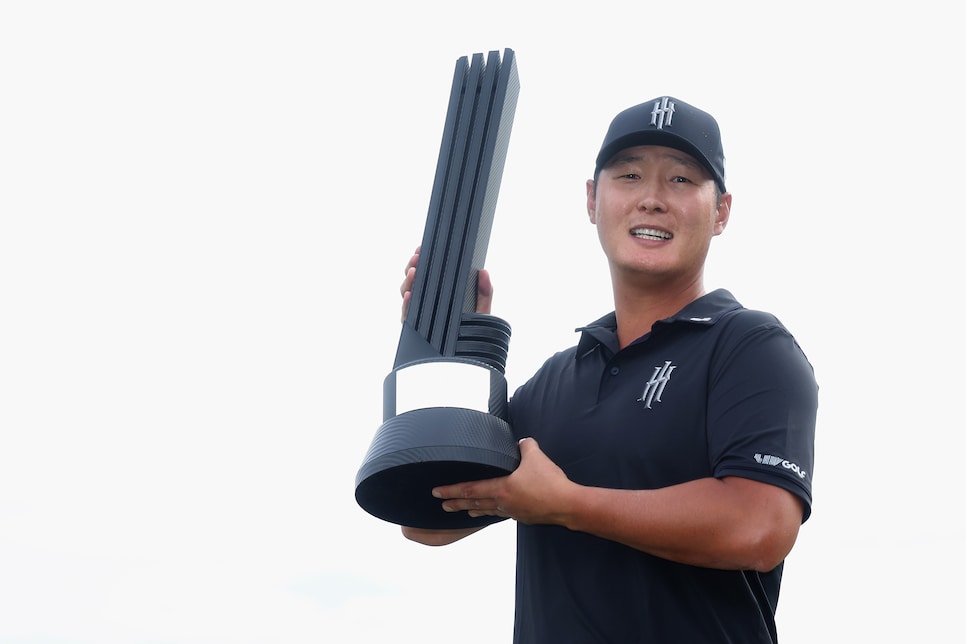 Danny Lee poses with the trophy for winning the LIV Golf League event in Tuscon. He won a four-man playoff to earn $4 million.
Christian Petersen
Danny Lee thought he was done with winning. The New Zealander had played 11 seasons on the PGA Tour, keeping his card in nine while battling injuries. He never fulfilled the potential he promised when, in a 12-month span, he overcame Tiger Woods' record as the youngest winner of the U.S. Amateur (in 2008) and won a DP World Tour event before turning pro.
It's why the 32-year-old let out shrieks of emotion when he rammed a birdie putt through the fringe and into the hole on the third sudden-death playoff hole at LIV Golf's Tucson event Sunday, the second stop in the league's sophomore season.
Lee, who shot a final-round 69, got himself into a four-man playoff at The Gallery at nine under par with Louis Oosthuizen (70), Brendan Steele (70) and Carlos Ortiz (65). Ortiz was eliminated after the first extra hole. And Lee missed a six-foot birdie putt to win everything on the second hole.
But on the third trip down No. 18, Lee took the playoff by the scruff of the neck from 2010 Open champion Oosthuzien and Steele, who couldn't get anything going.
Using a broomstick putter, Lee sank what turned out to be a $4.125 million putt—$4 million for the individual victory, in his second start as a LIV player, and $125,000 for Lee's share of the $500,000 the Iron Heads pocketed for coming third in the team event.
"I'm speechless right now," an emotional Lee said in his greenside interview. "Honestly, I wasn't even looking at the individual score all day. I was only asking how is our team doing? That's the reason why Kevin called. That's why I wanted to come over here to win as a team, we're a little bit shorter on the teams [leaderboard]."
Lee's only PGA Tour win came at the Greenbrier Classic in 2015. In 303 total starts on tour, he racked up five runner-up finishes, three third-places and 28 total top-10s. With chronic back and wrist injuries, he also compiled 18 WDs.
"This individual victory, it means a lot," Lee said. "I haven't won since 2015. I just felt like winning wasn't my thing, but today that just changed. It just good to see I'm capable of playing some good golf."
While Lee and his Irons Heads were third at 19 under par, Sergio Garcia's Fireballs GC ran away with the title at 25 under to win by four shots over Dustin Johnson's 4Aces GC. The Fireballs earned $3 million, while the Aces will take home $1.5 million.
Lee told Golf Digest last month at Mayakoba that the team aspect was what got him over the line when Na called and asked Lee, who earned more than $15 million on the PGA Tour, to join the Iron Heads team which also includes Sihwan Kim and Scott Vincent. Lee, who like Na has Korean heritage, had reservations about LIV Golf, which is funded by Saudi Arabia's Public Investment.
On Sunday, Lee called going to LIV a "life-changing" decision, even if he didn't sign up for LIV with a big-money contract like some other players got.
"I wasn't in that situation," Lee said. "Kevin just called me, 'hey, do you want to come over and play for my team?' I thought about it, and I looked at the schedule. There's three events I really like. Tucson wasn't in my head, but Mayakoba, I always played well there, Greenbrier, I won there, and then Singapore, Sentosa, which we're going to come back to, I have played well there before.
"Then Kevin just told me that I know you're working hard. He could see that my game is so close to being great, but he told me that this environment of LIV Golf is probably better for me than staying out on the PGA Tour. The reason he told me that was probably I tend to play too many weeks in a row."
Now, more than $4 million richer and a winner again, the Texas-based Lee no longer has reservations.
"I just love [the team aspect] for me," Lee said. "I think it's even better mentally because I can never give up one shot out here. The team is watching. You don't know what's going to happen out here. So I just love it."