Payday in Austin
Here's the prize money payout for each golfers at the 2023 WGC-Dell Technologies Match Play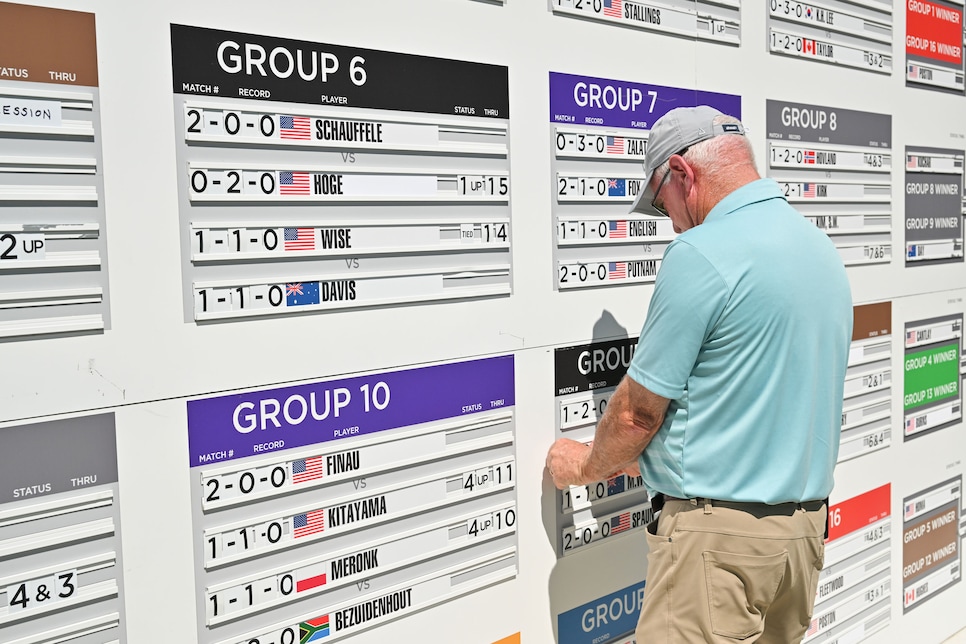 A volunteer updates the bracket group board during Friday's play at the WGC-Dell Technologies Match Play.
Ben Jared
Five days, seven matches, one satisfying victory. Sam Burns proved to be the last man standing on Sunday at the final edition of the WGC-Dell Match Play Championship, finishing off a long but rewarding week at Austin Country Club with a convincing 6-and-5 triumph over Cameron Young in Sunday's championship match.
"It was very exhausting," said the 26-year-old Louisiana native after grabbing his fifth career PGA Tour title, making an impressive 48 birdies over 119 total holes in Texas.
For that effort, however, Burns gets to enjoy a substantial reward. The last edition of this event at Austin C.C. is also one of the PGA Tour's designated events for 2023, which means the overall prize money payout jumped from its previously impressive $12 million to $20 million. Burns grabbed a first-place prize money payout of $3.5 million, up from the $2.1 million Scottie Scheffler earned for his win a year ago. Young claimed $2.2 million for his runner-up effort. Indeed, if you made it to Sunday, you guaranteed yourself a seven-figure payday.
Below is the prize money payout for each golfer at this week's Match Play.
2: Cameron Young, $2,200,000
3: Rory McIlroy, $1,420,000
4: Scottie Scheffler, $1,145,000
Quarterfinalists: $645,000
T-17: 2 points (2-1), $219,909
T-28: 1.5 points (1-1-1), $166,000
T-31: 1 point (1-2-0), $113,761
T-52: .5 points (0-2-1), $74,857
T-59: 0 points (0-3-0), $67,500