WGC-Match Play
In Austin, players reflect on the last WGC-Match Play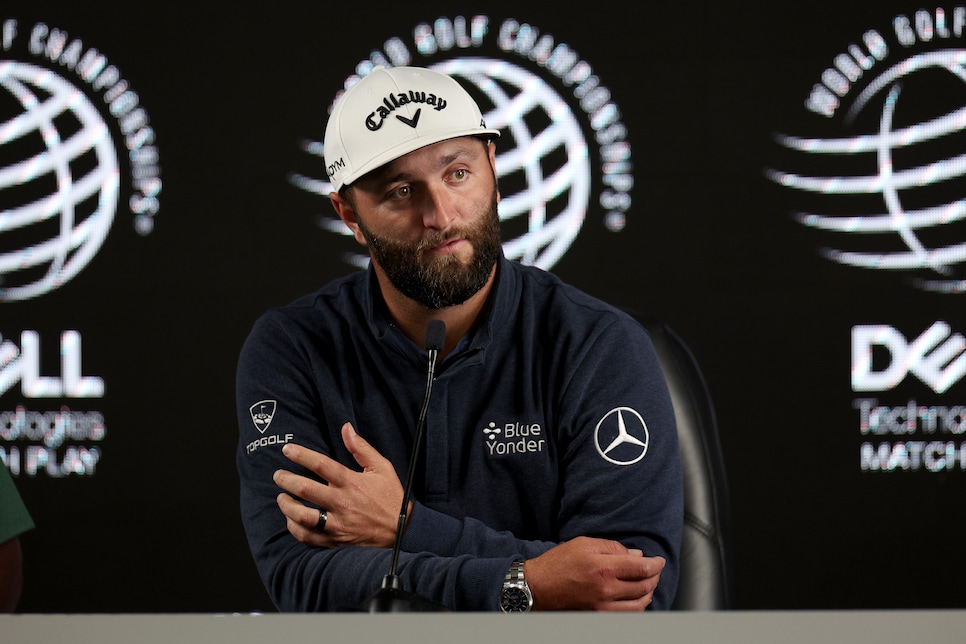 Jon Rahm says he hopes there will be a revival of match play on tour at some point.
Tom Pennington
AUSTIN — It can be difficult to ask a golfer if he's "sad" about something, which is why it was so nice that Jon Rahm said it first.
"It's too bad that this is the last edition of this tournament," the World No. 2 said on Tuesday. "I obviously love match play, so I'm hoping maybe it's just a one-year deal and we get a match play event back on the schedule."
Rahm has made it out of his group in three of his five Match Play attempts, and went as far as the final in 2017, when he lost 1 up to Dustin Johnson. He also holds a 4-3-1 Ryder Cup record that includes an iconic singles win against Tiger Woods in 2018, so it's no surprise that he loves match play and looks forward to coming to Austin every year.
"As a player it's just an opportunity to play kind of a different golf," he said. "It's really the only time throughout the year besides maybe the Ryder Cup where you're playing truly against the person in front of you, which is much more relatable to every sport we play in the world ... it's a lot more aggressive. You see more birdies. You see a lot of things happen."
Rahm is not alone. World No. 1 Scottie Scheffler, who made his first WGC-Match Play final in 2021 before winning last year, called Austin one of his favorite places to come each year, and the Texas alum took a predictably plainspoken approach to the appeal of the format.
"I like the simplicity of it," he said. "All you have to do is just go out there and try and beat the guy that's in front of you and if you don't, you lose, and if you beat him, you win."
This is the final year of the WGC-Match Play at Austin Country Club, and almost certainly the last event of the WGC era. Austin Country Club apparently asked the tour for more money, which was met with resistance at headquarters, and it wasn't long before the situation deteriorated beyond repair. There is no match-play event on the schedule for the 2024 season, and despite signs that the tour is looking to bring it back at a later date, there are currently no firm plans.
The Match Play started in 1999 at La Costa in Carlsbad, Calif., moved to Dove Mountain in Tucson in 2009, was played one year at Harding Park in San Francisco, and has been in Austin the last six years. It was a single-elimination event until going to a round-robin format in 2015.
"I would love to see there still be a match-play event at some point," Rickie Fowler said, explaining that he liked single elimination better than the current setup. "Match play, other than what we see in team events, it's fun. We obviously wouldn't want it every week, just because of how volatile it is, and it's not always the guy that's playing the best that week .. but yeah, I love match play."
Fowler points to his 6-and-5 victory against Phil Mickelson in the second round in 2011 as his fondest memory of the Match Play.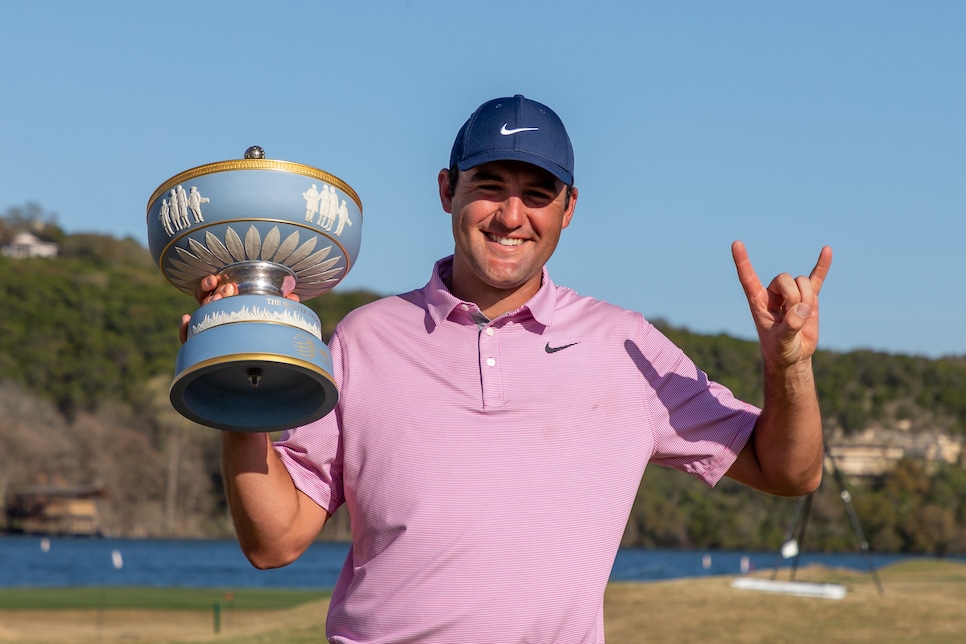 Scottie Scheffler holds the Walter Hagen Cup after winning the 2022 Match Play.
Icon Sportswire
"Phil and I were a lot closer then because we spent a lot of time both playing practice rounds and games together, and it was fun to get the better of him that day," he said, with a sly smile.
As to the why of match play's appeal, for most of the players it came down to variety and for the chance to square off against a single opponent; which, in turn, allowed them to play in a slightly different way.
"When I play good, I make a lot of birdies, which is good for match play," Min-Woo Lee said. "Sometimes if your playing partner doesn't hit a great shot, you had an advantage, but it is also nice stepping up on a tee and smoking a drive and putting the pressure on ... I feel like it suits my game because it's a pretty aggressive type of play."
Victor Perez pointed out the way in which the format actually takes some of the conservative strategy out of play.
"I think match play sometimes pushes you to the edge because it's very black or white, to where the equation is made up for you," he said. "It's either like, well, you hit it to six feet so I don't need to play any kind of percentage or try to be smart or anything ... I try to play more the shot and like man to man."
The players who spoke on Tuesday were universal in their enjoyment of match play, but understood its drawbacks, both for the competitors and from a corporate angle. On the playing side, luck plays an enormous role in determining the winner—you can play great and lose, or play poorly and win—and a more consistent style of player won't find it as easy to register a high finish. (The current format, as Rahm pointed out, can lead to some confusion, as when a player might have to face someone he already defeated in a playoff in order to advance.) On the corporate side, any format dictates a dwindling field over the weekend, which can lead to dead time on television and lower appeal for sponsors who count on big weekend fields for clients.
For these players, though, the good outweighed the bad, and there was a certain regret, with maybe even a tinge of melancholy, at the prospect of this tournament coming to an end. Rahm, remembering years when he played well but didn't advance, and other years when he didn't feel in top form but managed to beat those in front of him, summed up the strangeness and appeal of the format best.
"That's the beauty of match play," he said.
These golfers, and many others, hope to see it again.