Off and running
Presidents Cup 2022: Breaking down Thursday's foursomes pairings at Quail Hollow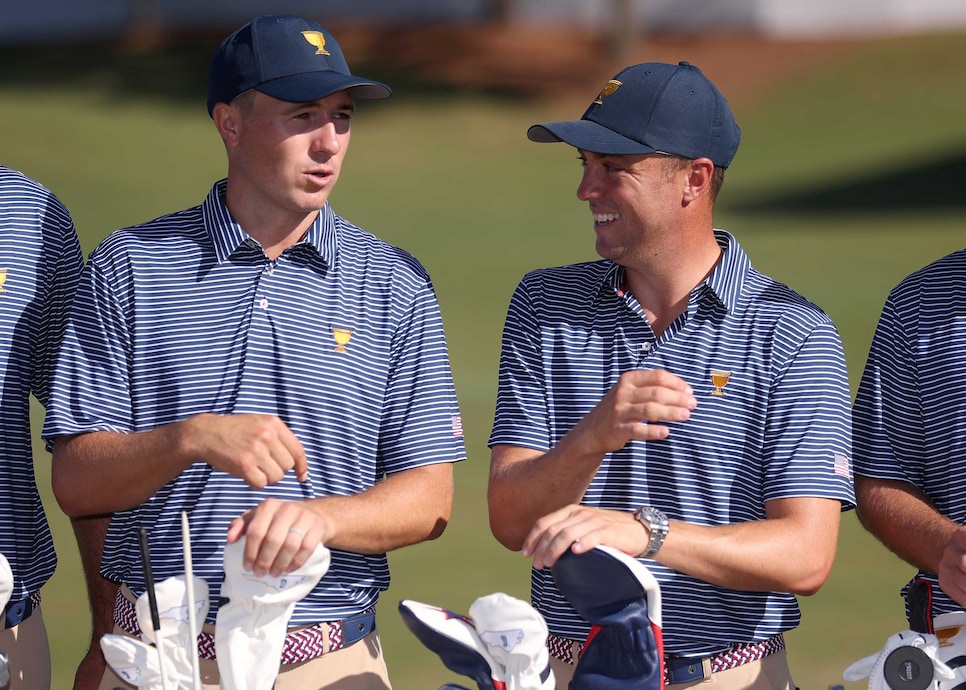 Jordan Spieth and Justin Thomas are 4-2 when paired together in previous team match-play competitions.
Warren Little
CHARLOTTE — If this year's Presidents Cup follows the script that the oddsmakers have laid out—an American whitewash—the most dramatic moment of the whole event may have just come on Wednesday afternoon, when the captains for both teams met to decide the first five pairings for Thursday's foursomes session. Wearing bright yellow shirts and black hats, Trevor Immelman and his International assistants were solemn and serious, while the Americans to their left formed a small circle and laughed with each other, with Fred Couples seeming to be the focal point of the group, though the ultimate decision came down to Davis Love III.
Since the Americans are defending cup-holders, Love had the option to set out the first group or defer, and as most captains have chosen through the years, he deferred. Immelman started the fireworks, and over the next five minutes, they went back and forth in the snake draft style and set the first pairings.
Here's what we'll see on Thursday at Quail Hollow:
1:05 p.m.—Adam Scott/Hideki Matsuyama (INT) vs. Patrick Cantlay/Xander Schauffele (USA)
Based on practice-round pairings, it had seemed evident that Scott and Matsuyama likely would form the "super team" for the International side. And considering the importance of the first session for Immelman and his underdogs, it was no surprise he came out with what he saw as one of his strongest teams to lead things off.
The bad news for Immelman—and this is a theme that we'll repeat through this article and the Presidents Cup itself—is that the U.S. has multiple "super teams." After a short discussion, Love opted to meet Scott and Matsuyama with Patrick Cantlay and Xander Schauffele. Along with being good friends, the two Americans have already paired together in six matches between the 2019 Presidents Cup and 2021 Ryder Cup, and they've won four of them. Additionally, they combined to win the Zurich Classic of New Orleans in April.
If Immelman was hoping to hold the advantage in his first match and put a black and yellow flag on the board, he instead got a juggernaut in return. When asked whether Immelman could have come out with any pair that would lead Love to pick anyone else for the top spot, he smiled and said "yes," perhaps indicating that he liked his two young charges specifically in this match-up.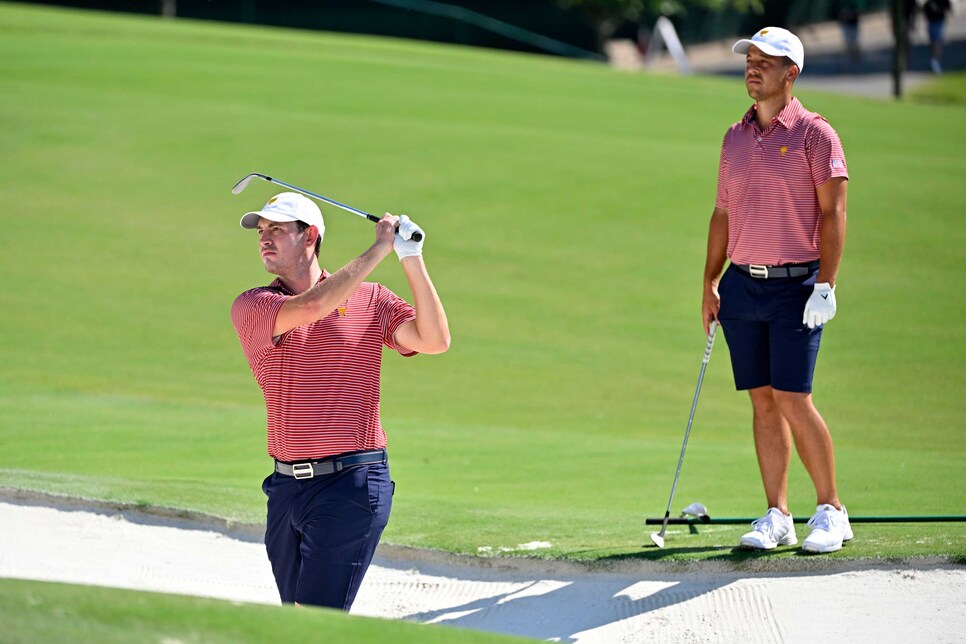 Patrick Cantlay and Xander Schauffele have proven a successful combo when playing for the Americans at the Presidents Cup and Ryder Cup.
Ben Jared
1:17 p.m.—Corey Conners/Sungjae Im (INT) vs. Jordan Spieth/Justin Thomas (USA)
Despite the fact that Conners is 30 years old, this is his first Presidents Cup, and he'll take some comfort from playing with Im, just 24 but already with a 3-1-1 in his only other Presidents Cup appearance. This pairing is also an indication that Immelman, like Ernie Els before him, is relying heavily on analytics to form his teams, and not on "geographical pods" (otherwise, Conners and fellow Canadian Pendrith and Im with any other Korean would have been the expectation).
Yet again, Love was able to roll out a proven pair with Spieth and Thomas, who went 3-1 together in an otherwise disastrous 2018 Ryder Cup and paired twice in foursomes at Whistling Straits, finishing 1-1. Thomas is the new Captain America, for all intents and purposes, and he and Spieth continue to make a fearsome combo that, on paper, seems to be a lot for the Internationals to handle.
1:29 p.m.—Tom Kim and K.H. Lee, INT, vs. Collin Morikawa and Cameron Young, USA
With Dustin Johnson gone to LIV Golf, one of the most intriguing questions for the Americans was who to pair with Morikawa after he went 4-0 with DJ at the 2021 Ryder Cup. Young seemed like a really good answer, and so it went.
"They were lining up to play with Cam Young," Love joked for his American squad. "Obviously, Collin had the experience. A very similar type pairing. You get a guy that drives it really long and really straight and a guy that's really steady, great ball striker."
Immelman countered with two Korean rookies (a situation he could not have avoided). The charismatic 20-year-old Tom Kim earned his first PGA Tour win at the Wyndham Championship in August, and Immelman has designated Kim the "point guard" of his team. The chatty Kim has been a positive force in the locker room, and along with his countryman Lee, he'll need to deliver on the course as well against two more brilliant Americans.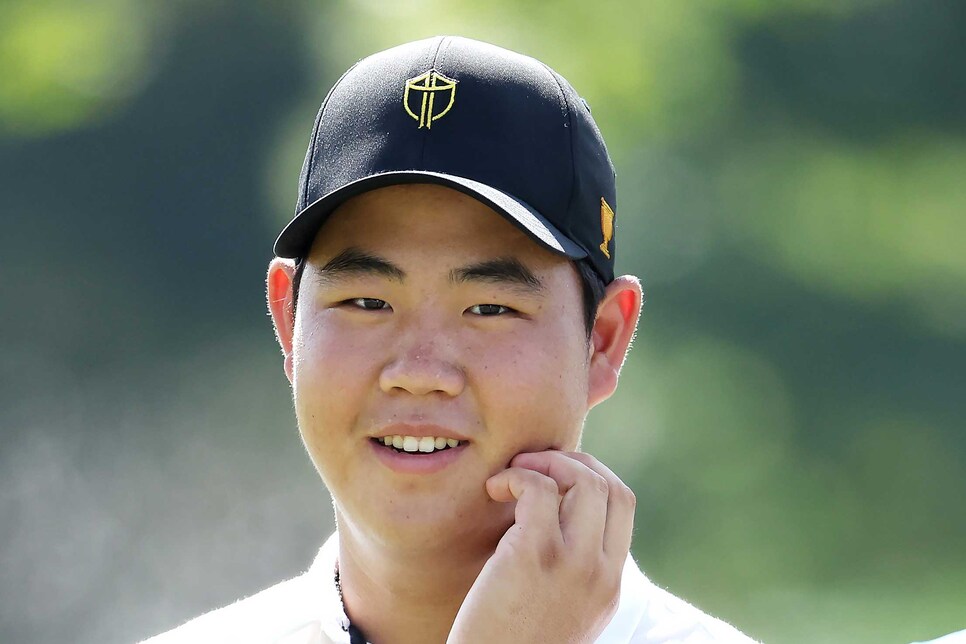 Trevor Immelman is already referring to 20-year-old rookie Tom Kim as the International team's point guard.
Warren Little
1:41 p.m.—Cam Davis and Si Woo Kim, INT, vs. Sam Burns and Scottie Scheffler, USA
At this point in the proceedings, it was clear Love would deploy the last of his four super teams, and again he had at his disposal two good friends who have been lighting up the golf world. Scheffler is the reigning PGA Tour player of the year, Masters champ and World No. 1. By itself, that makes it almost unfair that he gets to partner with the World No. 12 who has won two times on tour in 2022. Burns was a hair's breadth from making the Ryder Cup team at Whistling Straits last September, where Scheffler won 2½ points in three matches, defeated Jon Rahm in singles and launched one of the most torrid six month stretches we've seen since Tiger's heyday. As a rookie, Burns is in good hands.
Their opponents, Davis and Kim, are likely the biggest underdogs in the opening slate. Kim went 1-2 in Melbourne, while Davis, a rookie, has just one win on the PGA Tour. They'll rely on the vagaries of match play to give them a shot against one of the scariest duos Love could muster.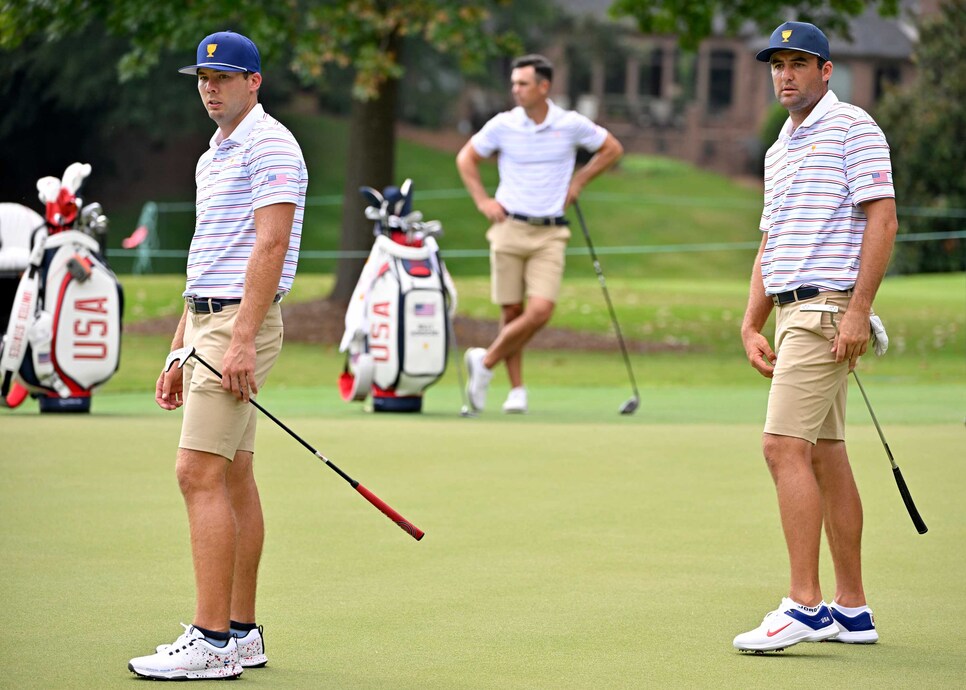 Sam Burns and Scottie Scheffler both are making their Presidents Cup debuts this week.
Ben Jared
1:53 p.m.—Taylor Pendrith and Mito Pereira (INT) vs. Tony Finau and Max Homa, USA
If Love's first four pairings were relatively obvious, here's where things got a bit more ambiguous. It seemed highly unlikely that he would sit Finau, but Homa was at least a slight surprise. Then again, was he? With four wins in the last two years, including one just three days earlier, Homa is genuinely one of the hottest players in golf, and is sitting at his highest career World Ranking (16).
The team they'll face from the Internationals is deceptively good, though; Pendrith was chosen as a captain's pick in part for his prodigious length off the tee, and Pereira one rough 72nd hole away from winning the PGA at Southern Hills in May. The bad news is that Pereira's form has suffered in the late summer, including a stretch of four missed cuts, and he and Pendrith are both rookies without tour wins. Facing the experienced Finau and the red-hot Homa is a very tall task.
Sitting: Sebastian Munoz and Christian Bezuidenhout, INT, and Billy Horschel and Kevin Kisner, USA
No huge surprises here. In both cases, the captains held back two of their weaker players, and Love's choices were probably the most inevitable of all. The interesting element here is that Horschel and Kisner are two of Love's most passionate players, and you can bet they'll be raring to go on Friday.
In every match, with the possible exception of the first, the Americans look to completely outmatch their opponents. We've known the Americans were heavy favorites for a long time, but finally seeing the pairings on paper emphasizes what a mismatch this could, and should, be. Throw in the fact that the U.S. captaincy system is operating at full efficiency, and the players will be bolstered by the North Carolina fans, and you get the sense that Thursday could be a lopsided start to a very lopsided event.