Danny Willett could only laugh. Probably to keep from crying. No, check that. It almost certainly was to keep from crying.
Max Homa successfully defended his title at the Fortinet Championship on Sunday and now heads to his first Presidents Cup in Charlotte, where he likely will be relied on heavily by U.S. captain Davis Love III considering that Homa is a former winner at Quail Hollow Club. A bit of Hail Mary-type brilliance—not Appalachian State level, but darn close—set up Homa's unlikely win when he chipped in from 33 feet for a birdie on the 72nd hole to tie Willett.
Chomping emphatically on chewing gum, Willett smiled broadly at his opponent. Then he settled over a putt of three feet, seven inches for his own birdie and the win. He hit the left lip. The ball skittered almost six feet by. On the comebacker, Willett's ball broke left, again hit the left edge and looped around and out.
Willett was still laughing as he shook Homa's hand and offered a brief embrace. Had to be shock. Had to be. Homa looked in shock, too.
"Obviously, going to remember that last, but good week, nice to be in contention basically all week from Friday," said Willett, rummaging through his emotions to focus on something positive. "Yeah, just a shame how I finished but that's golf. We're going to do it again another day."
"That was crazy. I still don't really know what happened," said Homa, 31, who won for the third time in his native California and for the fourth time after trailing through 54 holes. "Just kind of one of those weekends you just had to hang around. My coach told me that this morning, he said just hang around as long as you can and got to see what happens."
With tee times moved up because of a rainy forecast in Napa, Calif.,—that proved very accurate—Willett led for much of the afternoon after starting the final round tied with Homa and one stroke behind Justin Lower, who is somewhat of a kindred spirit. Both Willett and Lower finished outside the top 125 on the 2021-22 FedEx Cup eligibility points list, but they were able to keep their PGA Tour cards when Cameron Smith, Joaquin Niemann and four others jumped to the LIV Golf series after the Tour Championship, pushing them up the standings and giving them new life.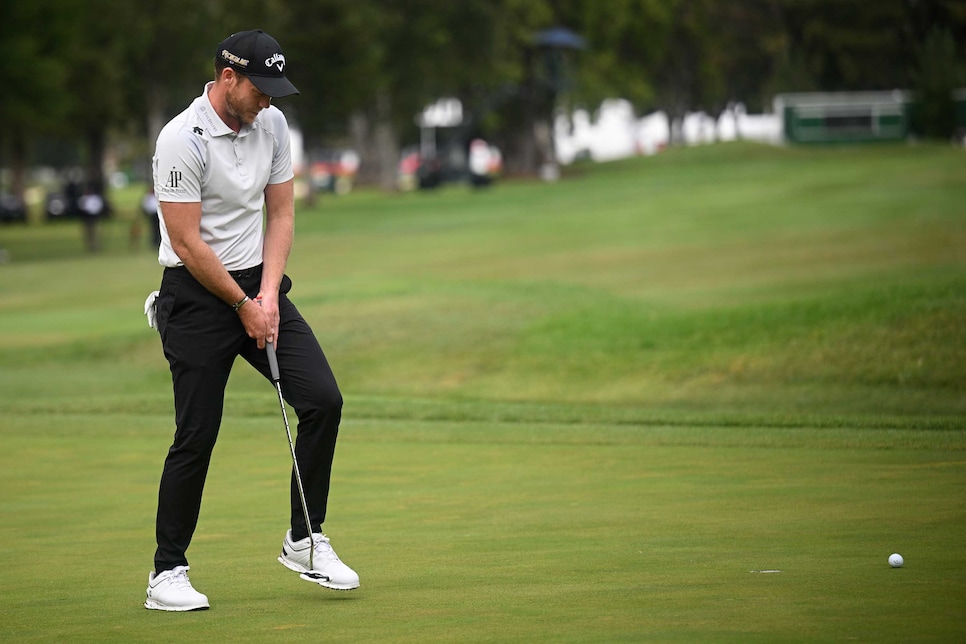 Danny Willett reacts to a missed par putt that cost him a shot at a playoff at the Fortinet Championship.
Orlando Ramirez
And they made the most of it. Well, almost. Lower couldn't keep pace with his playing partners, carded a one-over 73 as the round was contested using preferred lies in the cool, wet weather. He finished in a tie for fourth at 276. Still, his winnings of $360,000 were more than half his career earnings of $716,970 at the start of the week.
While Willett at one point held a three-stroke lead, Homa wouldn't go away. Still, Willett looked to have secured the win when he guided home a 10-foot par save on the 17th hole to preserve a one-stroke lead and then wedged his approach to less than four feet at the par-5 18th while Homa left his third shot from the front greenside bunker in a closely mown area short of the putting surface. After getting to place his ball on a slight upslope for a pristine lie, Homa went for a spinner and his ball raced into the cup.
"I spun it and once it hit the pin, it almost like spun straight into the ground. It was just one of those things," said Homa, whose wife Lacey, despite being eight months pregnant, walked the whole way in the gallery. "Golf's a weird game, some crazy stuff happens on the last hole it seems like and that was very crazy."
"I expected him to do it, but then it's still a bit of a shock when it happens," Willett, 34, said.
Willett said he hit the first putt too hard. The second one he played straight, but it broke right to left. Crusher of a finish, even with an $872,000 payday. But the Englishman held his head high and exhibited class when he said, "Bit of a shame to kind of finish how I did, but no, he [Homa] is heading off to the Presidents Cup and hopefully he plays well there, too."
Homa is intent on doing just that after being on a bit of a mission at Silverado.
"I'm just happy to be in form, to represent my country, play with those boys. They're some good golfers, so I just wanted to come in in form," he said. "Honestly, I got a lot of people ... I know this is Twitter, but I've had a lot of people tell me if the LIV guys wouldn't have left, I wouldn't have made the Presidents Cup team. So I had a little bit of a chip on my shoulder this week."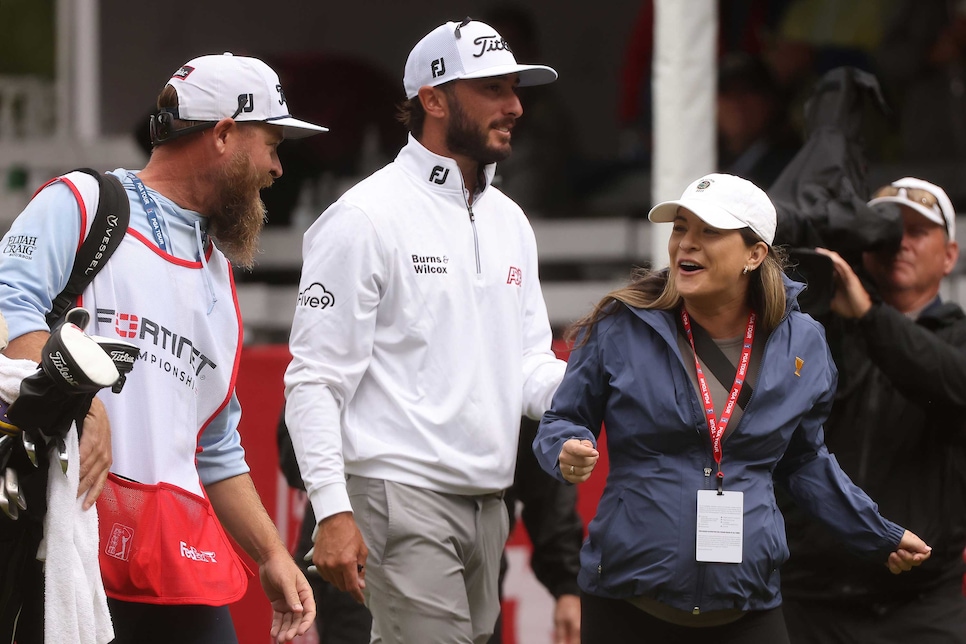 Max Homa celebrates with his caddie and his wife, Lacey, after winning again at the Fortinet Championship on Sunday.
Mike Mulholland
Homa couldn't help but feel for the crestfallen runner-up, and returned the kudos. "Yeah, he is obviously a tremendous golfer. He's won the Masters, he's won I think eight times in Europe. He's just a very talented dude and has a great attitude," Homa said. "You can see why he's had so much success. He composed himself unbelievable today, never buckled really. And then on the last, obviously that's not the way anybody could foresee it going, but still just a really classy guy."
That class included choosing not to whine as he left wine country.
"You know, first out of the season, like I said, to be in contention, things are in a good place," Willett maintained. "Yeah, we'll live to fight another day."
Not easy to say when you're dying inside. But he has no choice but to believe it.