Korn Ferry Tour Finals
After crushing 3-putt at Wyndham, Justin Lower's PGA Tour prospects are looking up, thanks to LIV defectors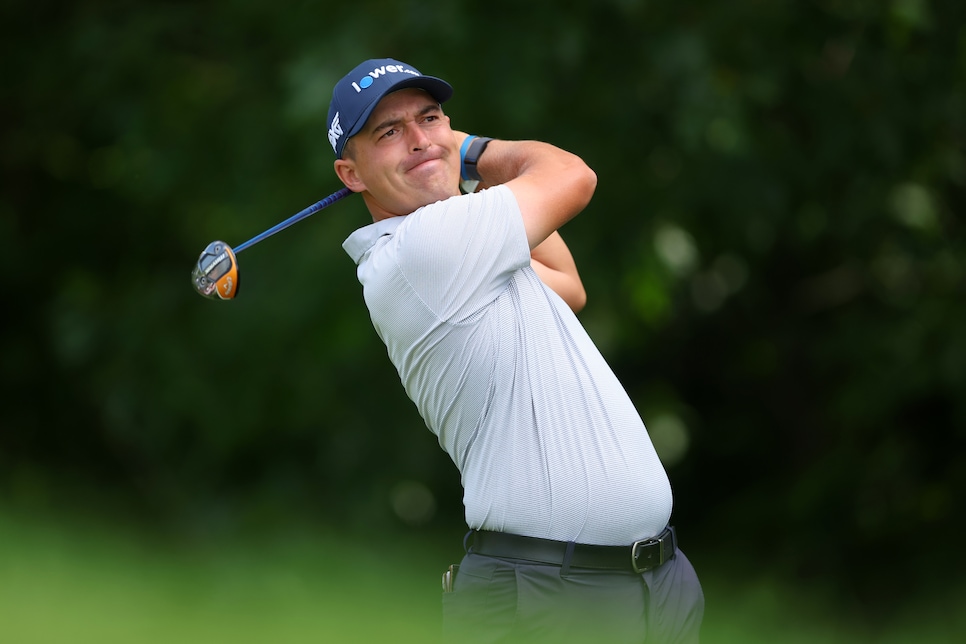 COLUMBUS, Ohio — Justin Lower is hoping that his presence in next week's Korn Ferry Tour Championship isn't necessary, and there are two ways that can happen. The first is out of his control and the second depends on continuing his solid play in the Nationwide Children's Hospital Championship.
"I would prefer just to do it myself," the journeyman pro from Akron, Ohio, said on Friday at Ohio State University after carding a second straight three-under 68 on the Scarlet Course thanks to four straight birdies on his inward nine. At six-under 136 through 36 holes, Lower put himself firmly in the top 10 on the leaderboard in the second KFT Finals event—though far off David Lingmerth's insane pace of 14 under. And if Lower continues his solid play, he'll lock up one of the 25 PGA Tour cards available.
And if he doesn't, well, he'll go to Indiana for the last Finals event knowing his status could change before the weekend.
"I think there's actually a chance I could get pulled off the course there [at Victoria National Golf Club in Newburgh, Ind.] on Friday, which would be weird," Lower said. "I'm not sure how that would even work. There's been so much uncertainty in golf this year. It's a distraction that you try to block out."
The scenario lays out like this: Lower finished 138th in the FedEx Cup standings in his rookie season on the PGA Tour, but because of the defections by a number of players to the LIV Golf Series, he has inched closer to being inside the top 125 because LIV players listed ahead of him in the tour standings have been suspended. The next round of commitments to the upstart Saudi-backed golf league is expected to be revealed next week, and reports indicate there could be as many as seven players making the move. When the first round of the next LIV event begins next Friday, those new LIV signees would be suspended from the tour and removed from the 2021-22 points standings at the conclusion of the Korn Ferry Tour Championship. Lower only needs to move up three more spots to get a second run on the big tour, and being a part of the PGA Tour's top 125 will offer more immediate playing opportunities than if he comes out of the Korn Ferry 25.
"I feel like I played well enough to keep my card, but it's tough out there. The courses are harder, the competition ... everything," said Lower, 33, who ended a 10-year odyssey last year by making a two-foot par putt on the final hole in the KFT Championship to secure the 25th and final PGA Tour card in the Finals.
Lower's accomplishment was one of the feel-good stories of the Finals. Three years earlier the Malone University product missed by one stroke when his eight-footer for par on the final hole burned the edge.
It was a dream come true, but the reality turned out to be something different.
"It's been fun, but it's not everything I thought it would be," he admitted after posting two top-10 finishes and five top-25s in 24 starts. "I don't know if it's just the uncertainty that is going on in our game right now, but … it's glamorous being out there, but it isn't as glamorous as people think it might be. But look, I'm not complaining about my awesome job. It was my dream to play the PGA Tour, and it still is."
Lower three-putted the final hole at the recent Wyndham Championship and it looked like that would cost him his exempt status (turns out it didn't). He admits he doesn't like what has been happening in the game—even if it somehow benefits him. "There are a lot of unanswered questions," he said, shaking his head. That's one reason he'd like to earn his way back through his play the next few weeks.
"I put a lot of pressure on myself, but I have high expectations," he said. "My game feels really good. I've had some nice stretches. Need to be more consistent. It's right there."
It's all in his hands. Though maybe in a few days it won't be.
"It would be awesome to just get another shot at it," Lower said. "I learned a lot—what to do, what not to do. I found that solid golf is what you need to have out there. You don't really have to do anything special. Just limit your mistakes and be smart and you can have some success out there."
That's the formula that would work well this week, too.