Korn Ferry Tour
With PGA Tour card in hand, Justin Suh is catching up to Class of 2019 standouts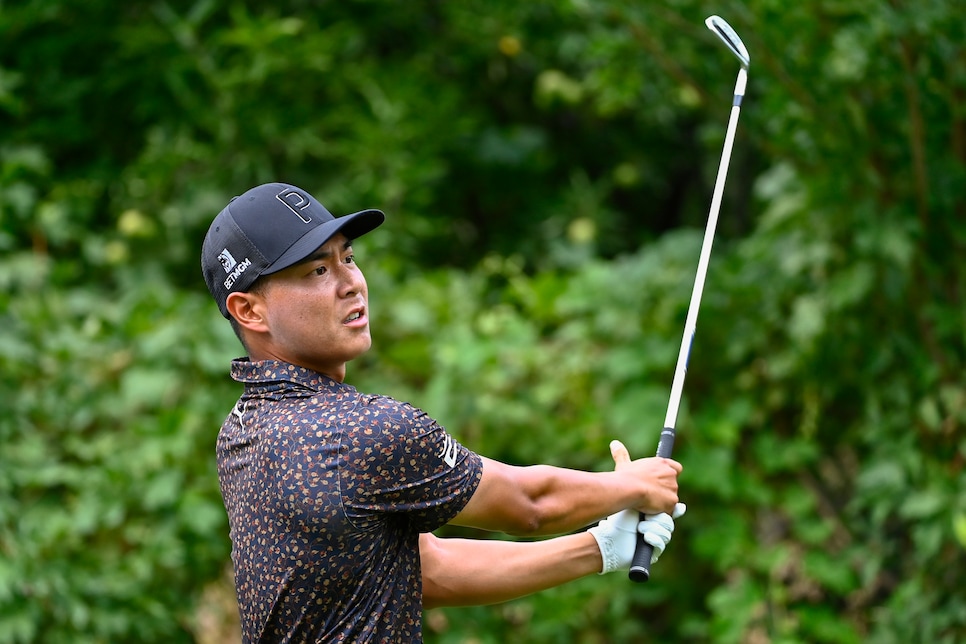 Justin Suh tees off on the 11th hole during the third round of the Utah Championship.
Alex Goodlett
COLUMBUS, Ohio — "I feel like I'm going to where I belong," Justin Suh said with a wide, toothy grin. "It feels unbelievable. It feels like it's about time."
Where Suh feels he belongs is on the PGA Tour, and that is exactly where the California native is headed after he finished seventh in the Korn Ferry Tour regular-season points standings. Suh was the fourth musketeer of an impressive group that turned professional in 2019, but whereas Viktor Hovland, Collin Morikawa and Matthew Wolff quickly established themselves to gain tour membership, Suh had to pay a few more dues.
And now, as he said, he is playing with house money at this week's Nationwide Children's Hospital Championship. Suh opened with a solid three-under 68 Thursday at Ohio State University Golf Club, an effort that underscores how far he has come in a year's time.
Suh, 25, missed the cut in this Korn Ferry Tour Finals event last year, shooting three over on the Scarlet Course, an Alister Mackenzie layout that OSU product Jack Nicklaus fortified with a renovation in 2005. It's a place that exposes weak ball-striking, and Suh left knowing he was failing to play up to the standards that made him a two-time All-American at USC and a former No. 1 player in the World Amateur Golf Ranking.
He immediately flew across the country to see his coach, Bill Johnson, based at Del Rio Golf Club in Modesto, Calif., where they worked to improve his setup. Asked which part, and Suh laughs slightly and starts listing areas of weakness. "It was all-around just lazy," he said.
Suh, who was the No. 2 amateur behind Hovland when he made his pro debut at the 2019 Memorial Tournament at nearby Muirfield Village Golf Club, has posted eight top-10 finishes and 14 in the top-25 this year in 22 starts, including runner-up at the Utah Championship. He ranks second on the Korn Ferry Tour to Taylor Montgomery in scoring with a 68.51 stroke average.
Better fundamentals always help, but so, too, does improved health. When Suh turned pro, he was battling a left wrist injury—the result of repetitive overuse that led to tendonitis. Poor swing mechanics crept in. It took time to undo the bad habits and also get the arm stronger.
"It's been a process, but it has put me in a better position going forward," said Suh, who also competed briefly on the PGA Tour Latinoamerica. "It's something you constantly work on but I've been playing very consistently. You build confidence at every step."
And soon Suh will take the big step, the one he seemed destined to make long before now. Such is the nature of professional golf, a game where you have to learn how to do it even if you know how to play it. There is a difference, and every player has his own learning curve.
Suh, who lives in Las Vegas, goes into his rookie season on the PGA Tour expecting nothing and having no goals except to keep doing the things that finally got him to the promised land. It's a mature mindset. The courses are different, the stakes and payouts higher, but it's a fool's errand to depart from proven methods that complement natural ability.
"I always had that self-belief that I was going to make it. It was just a matter of time," Suh said. "There were some doubts about how fast it was going to happen. I never got down. I never went dark being frustrated. But I knew I had to get to work. I knew if I did the right things that I was going to play well, that I had it in me.
"It's an incredible feeling to get to do something you feel you are supposed to do."